Oh Joy!
A post from last year about rhubarb, which, somehow was temporarily lost when I transferred hosting services. I have not found rhubarb this year in Denmark so far. I am, however, seeing it pop up in pictures in Instagram, from peeps I follow in the U.K. and the States. As a result, I am declaring the 2018 Rhubarb Season officially open!
Measure of Civilisation
I think I have a new measure for a level of civilization, and that is the respect with which a country treats rhubarb.
Great Britain has always been the home of the rhubarb crumble, with rhubarb happily growing in most allotments and many gardens. Americans view rhubarb with some suspicion, and hence it is hard to find in the States. When we lived in Connecticut, we became conditioned to buy rhubarb every time we saw it in the shops. Quite often I would scoop up the entire stock of pink stems, then have to explain at the checkout that I was not buying Swiss Chard.  However, in their pioneering way cooks in the USA have worked through their issues by adding strawberries into the mix.
Denmark, however, is clearly top of the class. Not only do they make 'rabarber' available all year round in the freezer section, they add it to pastries, yogurt and ice-cream. When it comes into season, you are positively surrounded by its pink.
I was so excited to find it last week at my favorite market Torvehallerne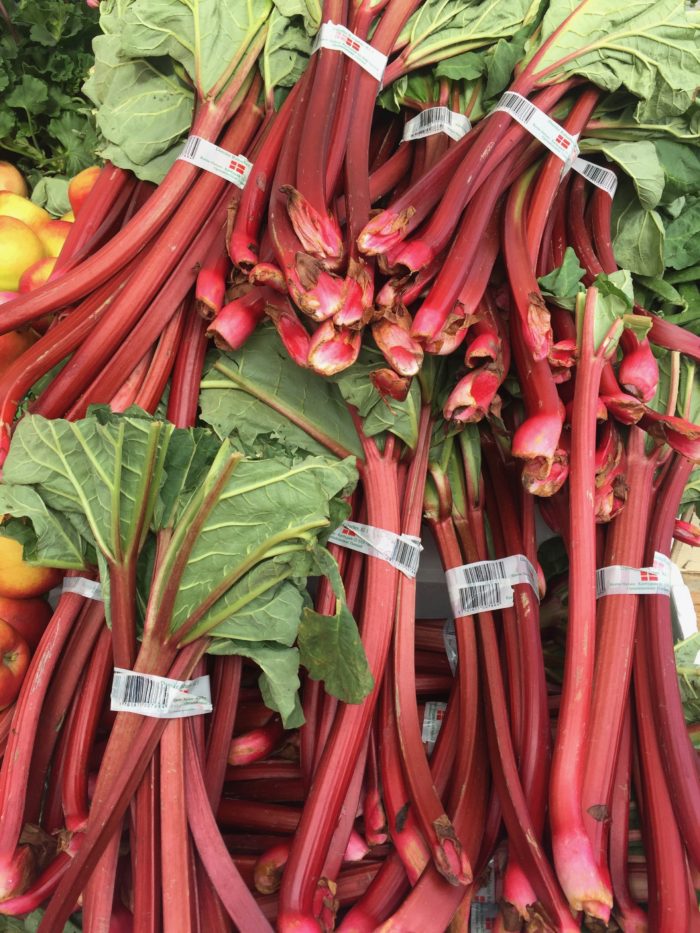 I bought a big bunch.  Alan was so excited to find it in our local Irma he bought two big bunches so this weekend it has been all about the rhubarb. Since I have already been making crumble all winter long, husbands favorite pudding, I wanted to try something different and find a way to really show off the beautiful colors of this early season fruit.  The base cake is simply our old friend a Victoria sponge to which I have added a little orange zest and juice.  I think ginger would work well too.
Pretty Pink Rhubarb Upside Down Cake
April 25, 2018
: around eight
: not too hard
Our old friend Victoria Sponge with a hint of orange topped with pretty pink rhubarb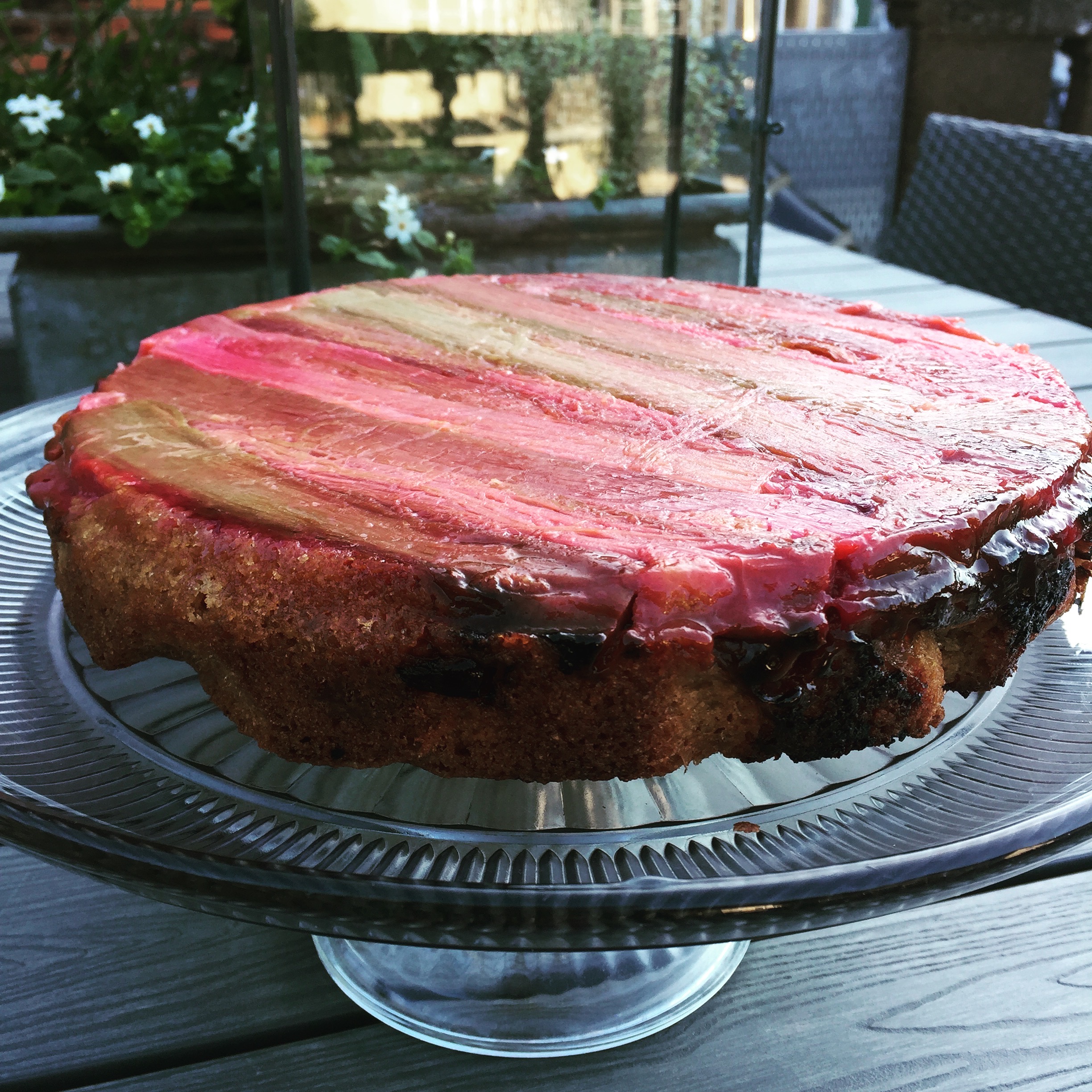 Ingredients
Rhubarb Topping
1lb (440g) rhubarb topped and tailed, sliced length wise
5oz (130g)/3/4 cup sugar
1oz (25g)/2 TBS butter
Cake
8oz self-raising flour (220g) /13/4 cups or 8oz cake flour (220g)/13/4 cups with 2 tsp baking powder
8oz butter (220g) /2 sticks at room temperature, needs to soft
8oz sugar (220g)/11/4 cups sugar
4 eggs, beaten, at room temperature
Zest of one orange, plus 1TSP juice
2-3 tbs milk
To Serve
Leftover rhubarb from top
handful of cut strawberries
creme fraiche
Directions
Step 1

Pre-Heat oven to 370F/180C

Step 2

Line a 9inch springform tin with parchment paper.

Step 3

For the Topping

Step 4

Melt butter and sugar in large frying pan wide enough to take the long strips of rhubarb.

Step 5

Add the prepared rhubarb and cook gently for about five minutes.

Step 6

Cutting the rhubarb to size line the bottom on the springform tin making sure the pink side of the rhubarb is facing out, i.e. presentation side.Add a little of the liquid and reserve the leftover rhubarb and liquid for the compote.

Step 7

To make the cake

Step 8

Add all ingredients for the cake to a large mixing bowl and beat until you have a smooth mixture.

Step 9

Add to the top of the rhubarb and bake in preheated oven for 40-50 minutes.

Step 10

Cake is ready when it is golden brown, risen and spring back slightly when touched.

Step 11

Cool in tin.

Step 12

When cool turn on to a plate and release from tin.

Step 13

Compote

Step 14

Add strawberries to reserved rhubarb and liquid and cook briefly for around five minutes.

Step 15

To serve

Step 16

Serve cake warm or room temperature with compote and creme fraiche
I