Post and photographs by Carolyn Eddie. Additional Photographs by the always fabulous Kate Stoupas
This post is a joint effort. My lovely friend, Kate Stoupas, a professional photographer, came to visit me when I first arrived in Copenhagen. Over four days, Kate took the most wonderful photos. The words are mine, most of the photos are Kate's. Check out her website for more fabulous photos.
Copenhagen, what did I know?
I lived for 15 years in Connecticut, before that, London and Scotland, land of my birth. Then my husband, Alan, got a great job in Copenhagen and it was all change.
Before moving to Copenhagen I had only seen Denmark's capital city as a backdrop to films. The first was the fabulous, but probably studio lot filmed, 1953 movie "Hans Christian Anderson'. It featured the, always wonderful, Danny Kaye as the eponymous storyteller. Hans Christian Anderson is still Denmark's most loved citizen.
My second film was the more recent, and visually stunning, film 'The Danish Girl'. It starred the, oh so talented, Eddie Redmayne and Alicia Vikander.
Both films show the Copenhagen of the past, a small city, still very much based on a busy fishing industry. One version is full of artists and the other is full of world-class ballerinas and lots of really cute children.
Copenhagen in the 21st Century
The last 'fish wife' may have left Gammel Strand (translates to Old Beach), the street where the fish market was held, but the city retains its close links with the sea and continues in its rich cultural life. It now ranks as one of the top cities to visit for a weekend getaway. This is due to its manageable size, cobbled, bike friendly streets, story tale like architecture, world-class museums, innovative dining and incredible nightlife.
Many of Copenhagen's main attractions are free and easily accessible. Pack layers and a pair of sensible, but stylish, shoes. As they say in Denmark there is no such thing as bad weather only the wrong clothes.  It is very easy to spend a couple of days exploring, shopping, eating and drinking your way through the capital city of the happiest people in the world.
Good Things to Know before you Go
English is widely spoken in Denmark. The Danes start learning English at the age of five. You only really need three words
Tak – thank you
Hej – hello
Hej hej – goodbye
There is no word for please. The danish language phrases any request in a very polite form and they see no need to add please at the end. In fact, they view it as slightly sarcastic. 'Alastair, pass the Glayva, PLEEASE!' sort of way.
Although part of the European Union, Denmark kept its own currency, the Danish Kroner.  Denmark is largely a cashless society, as banking cards are widely accepted. However, if you are not part of the Danish banking system, a little cash for buses and some smaller shops would be useful.  Some tourist shops will also accept Euros or Dollars.
The Danish public transport system is excellent. You can easily get from the airport into the centre of Copenhagen by bus (the 5C bus stop is just outside the airport) or the train for a few dollars/pounds. Buy your tickets in the airport. A taxi will cost you around $35 for the same journey but beats waiting at a cold bus stop late at night. Once in Copenhagen you can easily walk everywhere or use buses and trains. Denmark banned Uber last April.
Little Mermaid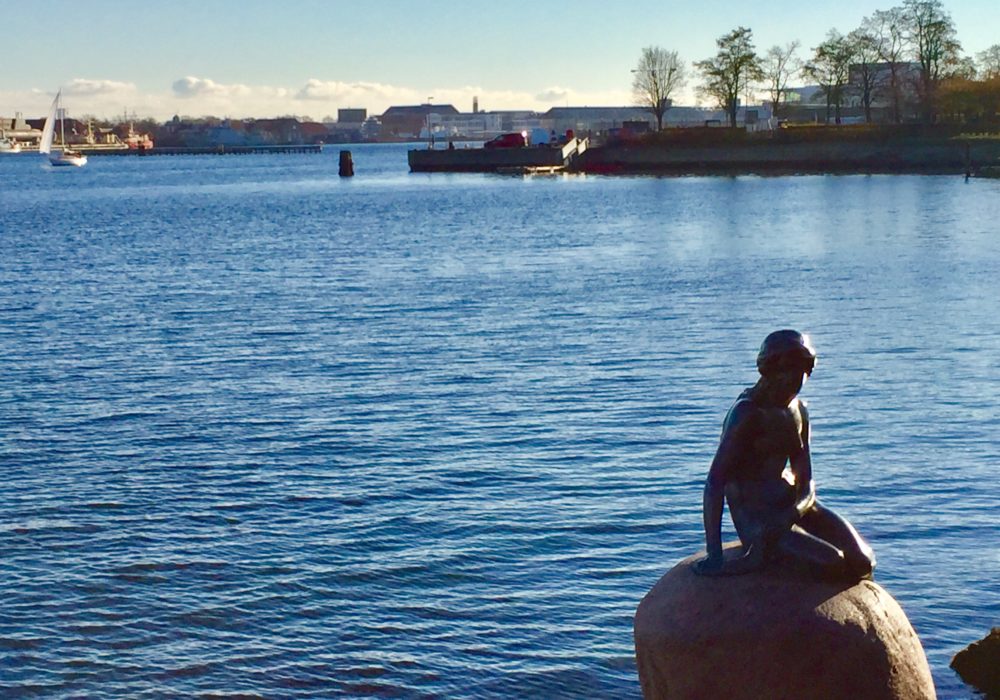 No trip to Copenhagen is complete without a visit to the Little Mermaid, one of the many gifts from the Carlsberg Foundation. The 'Lille Havfrau' has been sitting on her rock at Langelinie for over a hundred years. Although small, the clue is in the name, she is synonymous with the 'salty old queen of the sea'. The Little Mermaid often attracts unwanted attention, she is regularly covered in paint by demonstrators looking to get media coverage. Her head has also been stolen, twice!
PH Artichoke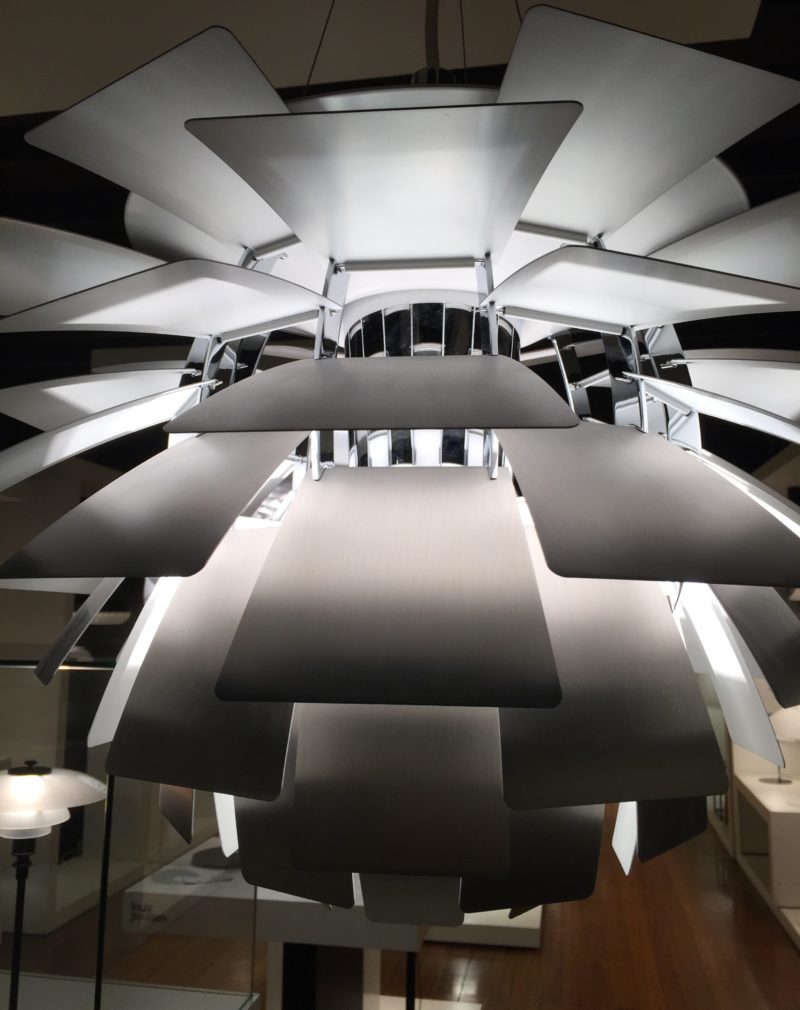 Whilst you are there, turn around and look at the modern building behind the Little Mermaid, the Langelinie Pavilion. Or, more correctly, try to peek inside.  You can see the original iconic PH Artichoke light fittings, designed especially for the pavilion by Poul Henningsen, hanging there. Fun Fact -It is the most widely copied light in the world!
Kastellet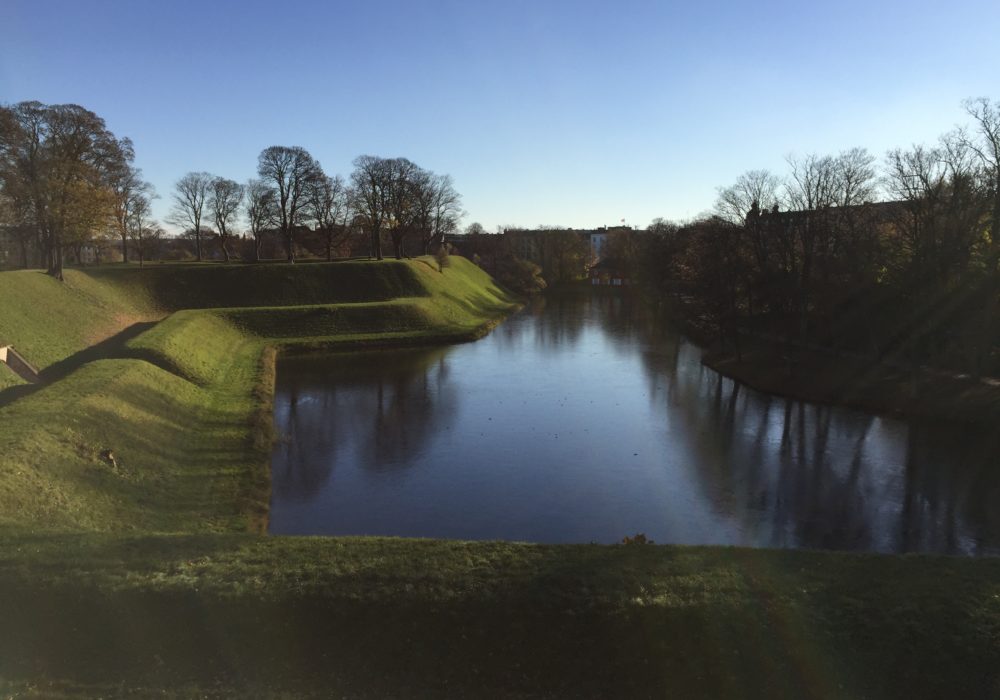 If you have time take a walk through the Kastellet or citadel, one of the best preserved star fortresses in Northern Europe, and admire the beautiful orange washed houses of Nyboler, all built by Christian 4th.
Make a wish in the Gefion Fountain , another gift from the Carlsberg Foundation, depicting Gefion, the Norse goddess,  and her four sons ploughing Zealand out of Sweden. This is my favourite statue as I love the story behind it. Meet me there and I will tell you all about it!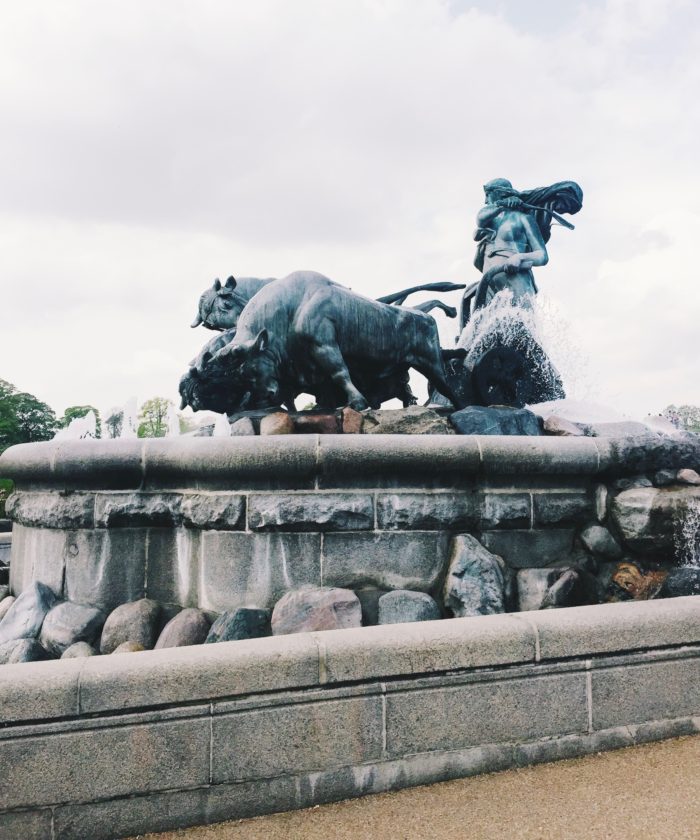 Wander back along the harbor front  passing by the Royal Cast museum with its large bronze copy of Michelangelo's David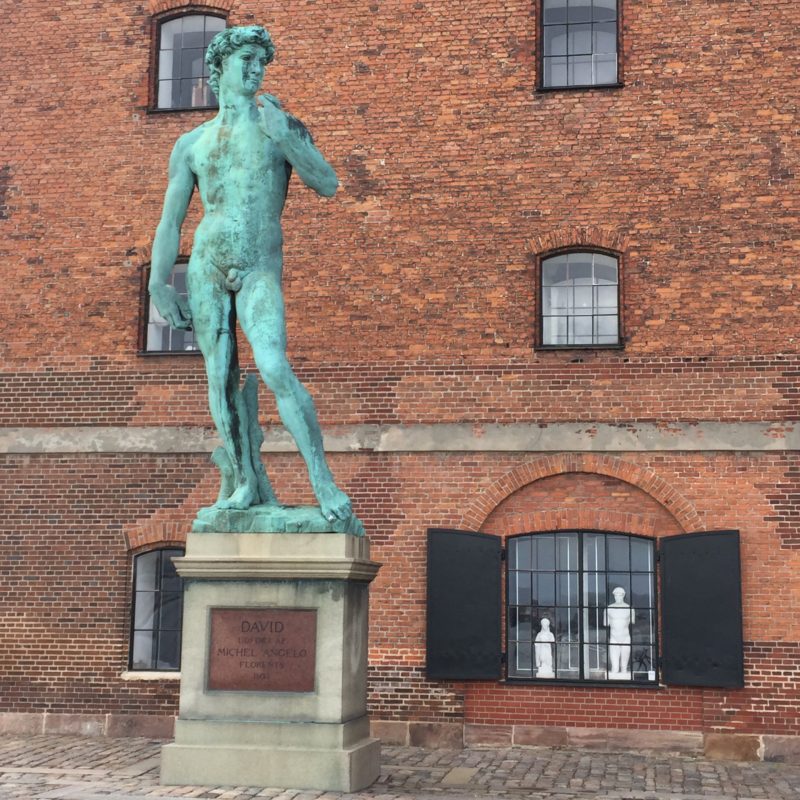 and the new $25m statue I am Queen Mary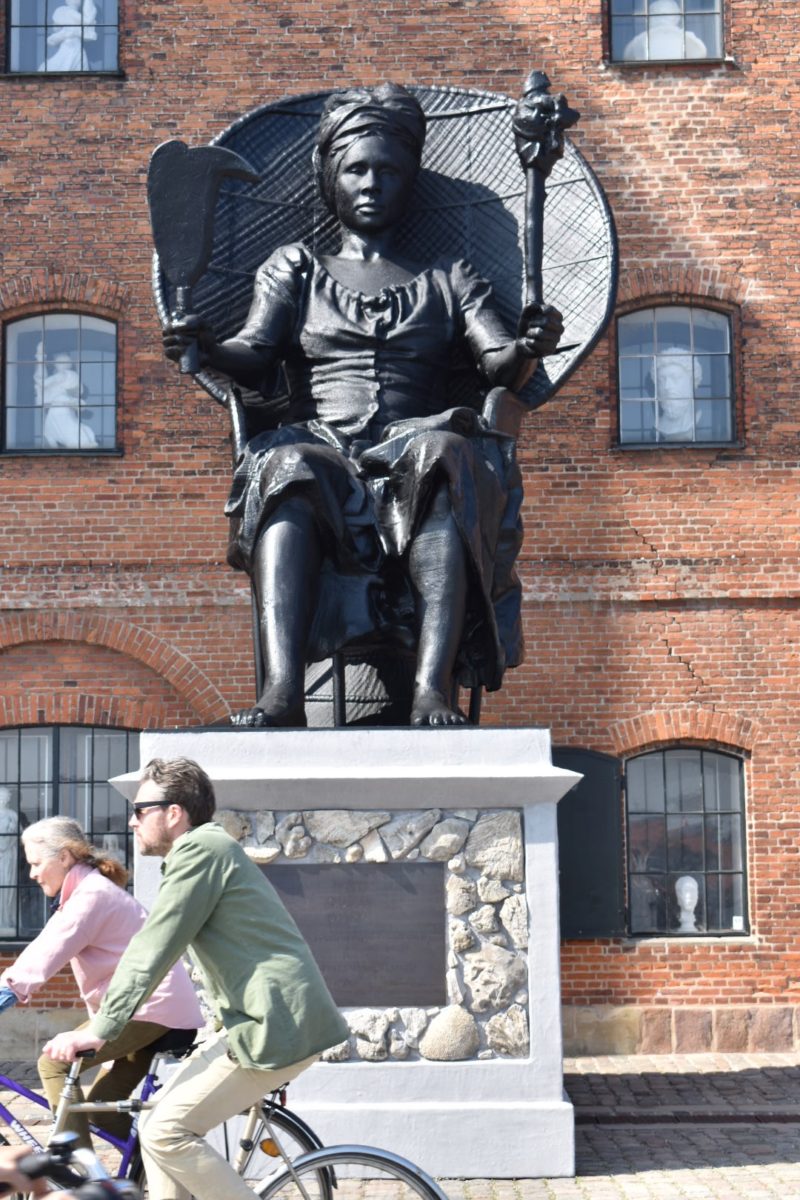 until you come to the Amelia Gardens. And stop to admire the fantastic view.  The Amelie Gardens to one side were a gift from the A.P.Møller Foundation as was the new Opera House which you can across the water on the other side. Together with the Marble Church and Amelienborg, the royal residences, they form an axis which is truly spectacular.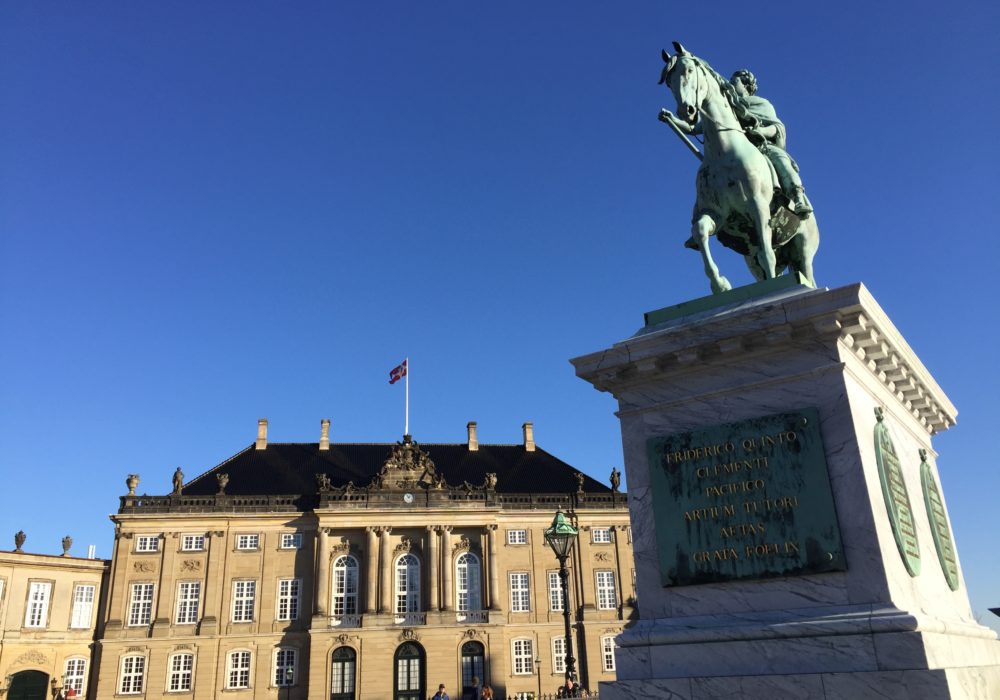 Totally in keeping with the Danish character of openness and trust it is possible to walk right into the central square of Amelienborg. Admire all four royal palaces, and make sure to take a look at the incredibly expensive statue of Frederick 5th which lies in the center.  Changing of the guards takes place every day at noon and it is not unusual to catch a glimpse of Queen Margarethe 2nd or one of the royal family as they pop in and out.
Nyhavn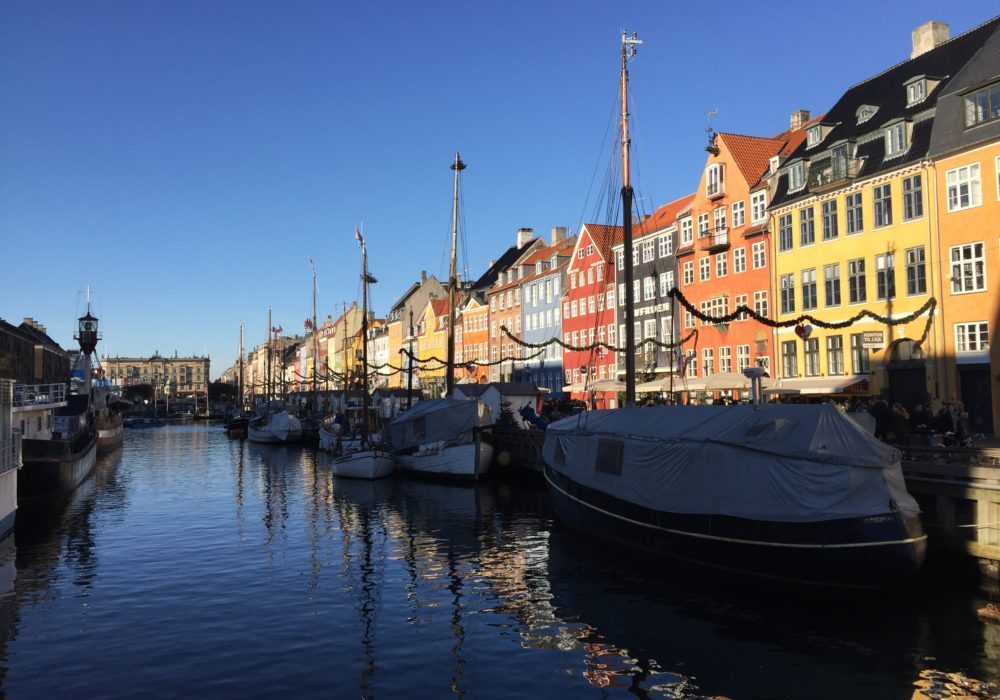 By now you have earned a well deserved rest and the colorful cafes and bars of Nyhavn are a perfect place to hygge  and watch the world go by. From here you can continue to visit Christianborg with its royal stables and kitchens.  Christianborg was the official royal residence until a fire destroyed it in 1794. At that time, the royal family moved to Amelienborg. Christianborg was rebuilt, not once, but twice but that is another story. By this time, however, the King decided he preferred Amelienborg.  Now, the royal family only use Christianborg for state receptions and it is has become home to the Danish Parliament, the Danish Prime Minister's Office and the Supreme Court of Denmark.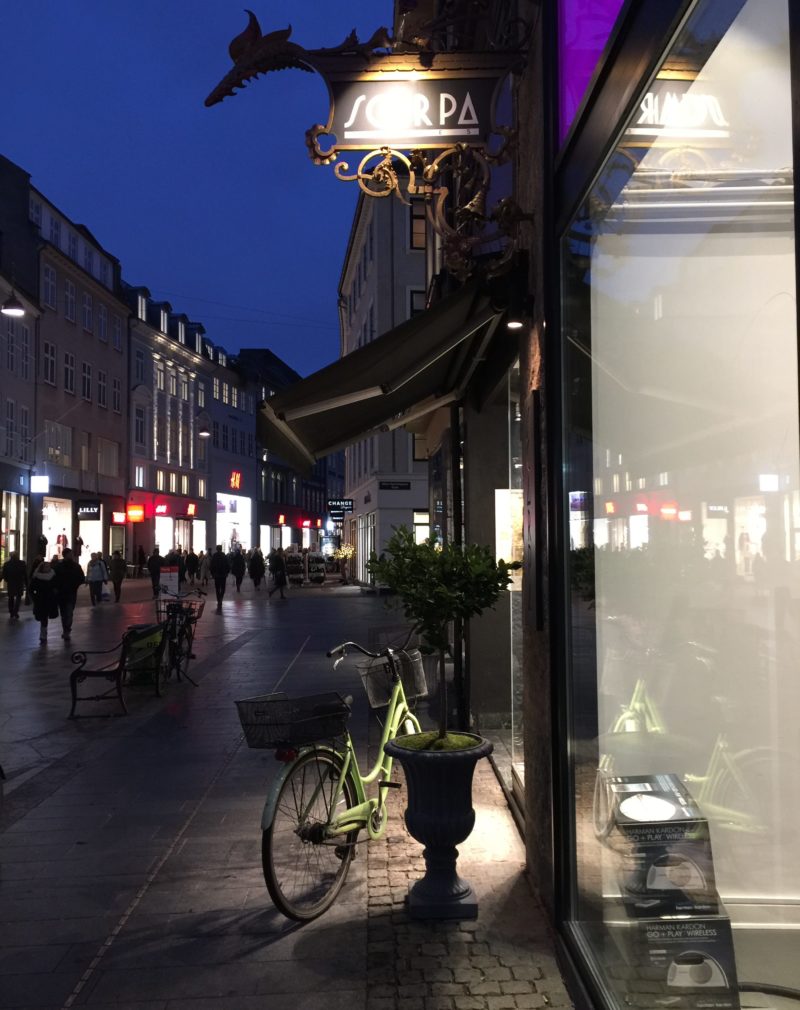 Anther option is a little bit of shopping.  Nyhavn leads up to Kongons Nytorv,or the Kings New Square. Here you will find  the department store Magasin in the Hotel du Nord building. There is also the upmarket Hotel D'Angleterre, where anyone is who anyone stays whilst visiting Copenhagen. Kongons Nytorv is also the start of the longest pedestrian shopping streets in Europe, Strøget.  Danish designers, flag-ship stores and budget friends shops snuggle together.  Be sure to pop into Royal Copenhagen if only to gasp at the prices of the world's most expensive dinner service Flora Danica. Wander around George Jenson's silver shop. Then breath in the rarified air while admiring all the designer furniture and lights in my own favorite store, Illums Bolighus.
The list of fun places to visit really is endless but three of my favorite places need a mention.  The Glyptotek, in my mind a mini Metropolitan Museum of Modern Art, is well worth a visit. The architecture of the building, especially the new addition designed by architects Henning Larsen, is as stunning as the collections. It also has a great little cafe, housed in a light filled Palm Court. Open Tuesday to Sunday 11am-6pm, entrance is free on Tuesdays. The Glyptotek is closed on Mondays.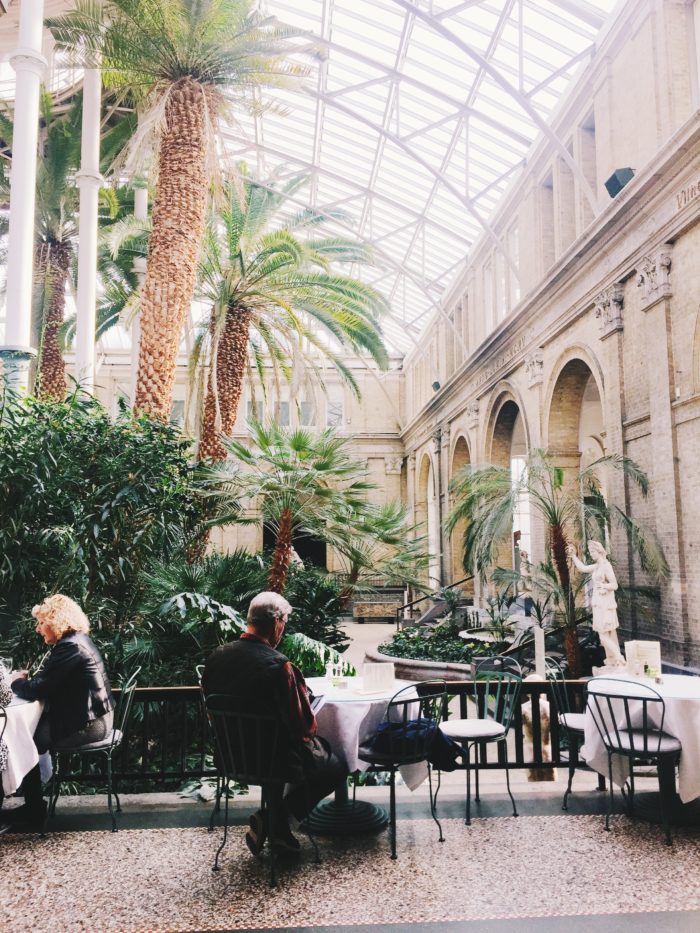 When the weather is warmer, you can go up onto roof. The view, and a roof top bar totally justifies my annual membership.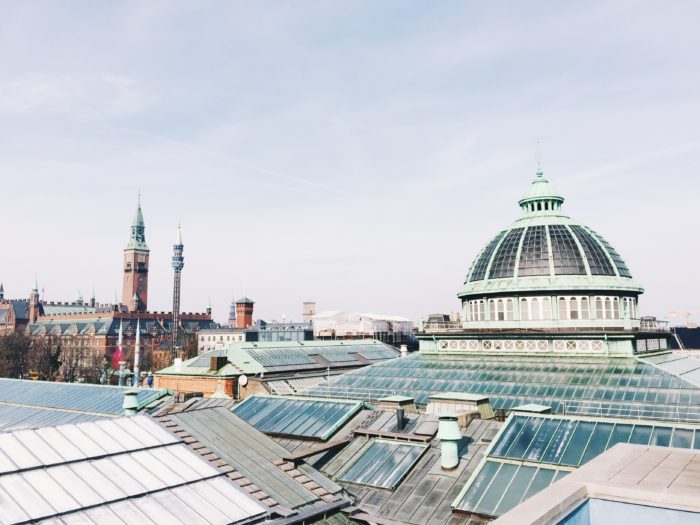 Tivoli
Copenhagen also boasts one of the biggest attractions in Europe, Tivoli Gardens is an amusement part, which is located   the right in the center of the city. Tivoli has been a favorite with visitors ever since it was built in 1843 . Visited by Walt Disney, it was also the inspiration for The Magic Kingdom in Florida.
Tivoli is however so much more than rollercoasters and rides for all the family. There are many lovely restaurants including the fairytale like NIMB, with its peacocks wandering around outside. Tivoli hosts rock concerts every Friday in summer, swing dance sessions every Saturday and many other musical events throughout the year. Last year we saw Niles Rogers of Chic and the Brian Wilson, of Beach Boys fame. There are also fireworks displays every Wednesday and Saturday.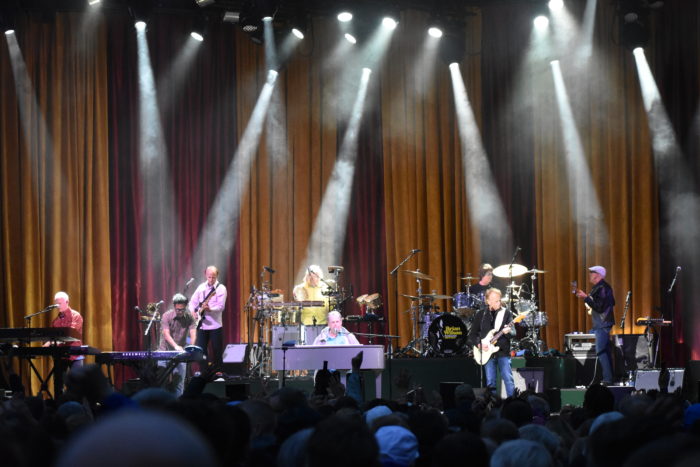 Tivoli also has Halloween and Christmas markets. The grounds are always full of flowers and the themes change with the seasons. It is fun just to wander through the gardens, and that is exactly what the Danes do. It is their happy place! Check the Tivoli website for opening times and entrance fees.
Torvehallerne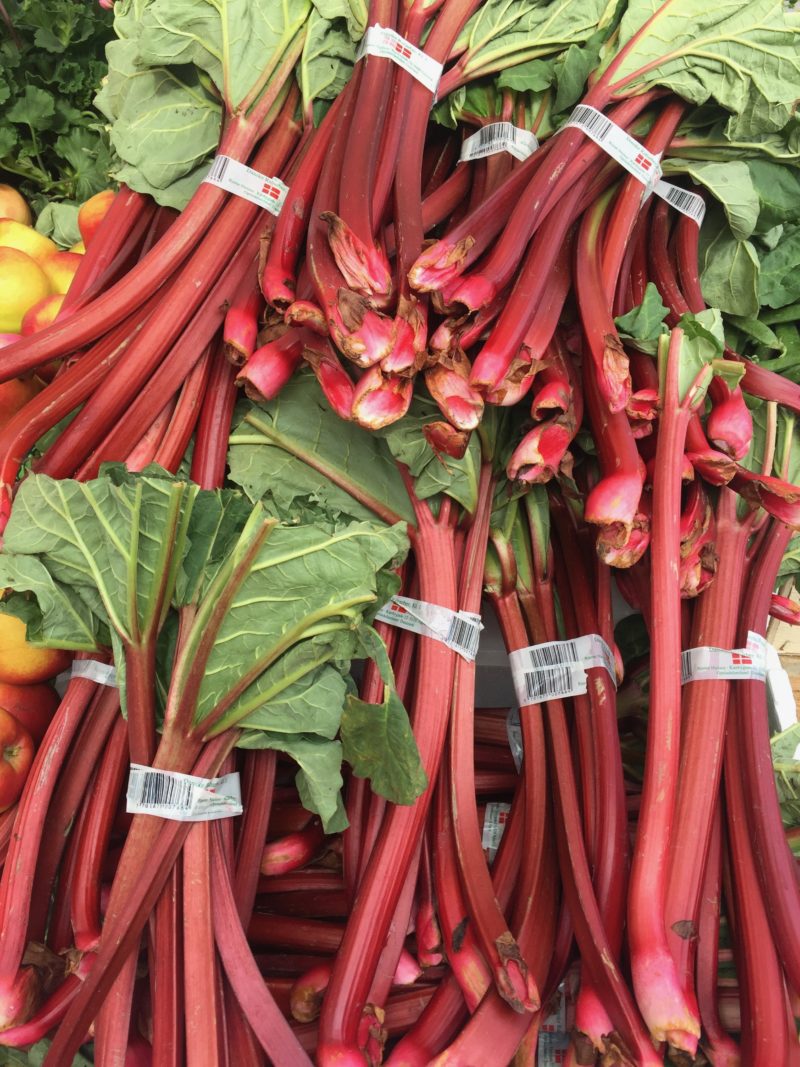 The glass markets are another must see attraction. These are two fabulous large glass buildings, full of fun food and beverage stalls. There are butchers, fishmongers, bakeries, chocolatiers and many,. many more places to spend your money. Between the two, are the most wonderful fruit and flower stalls. It is a great place to buy breakfast or lunch, drink a cup of coffee or a glass of wine and generally be in love with life.
Copenhagen's Food Scene (check out my full post on where to eat)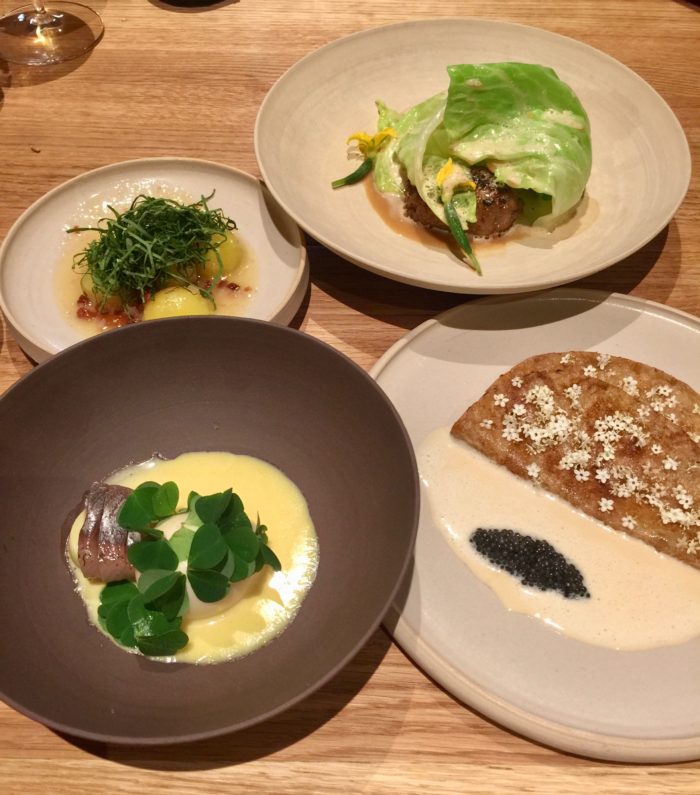 After Noma rocked the world with its new Nordic Cuisine emphasizing locally sourced and foraged food, Copenhagen has changed from a city serving only Mormor or grandmother food to a gourmet paradise. For breakfast visit Mad og Kaffe with its instagram worthy food, but be sure to get there by midday or they will only offer the lunch menu. Looking for a later brunch, then try Wulf and Konstall.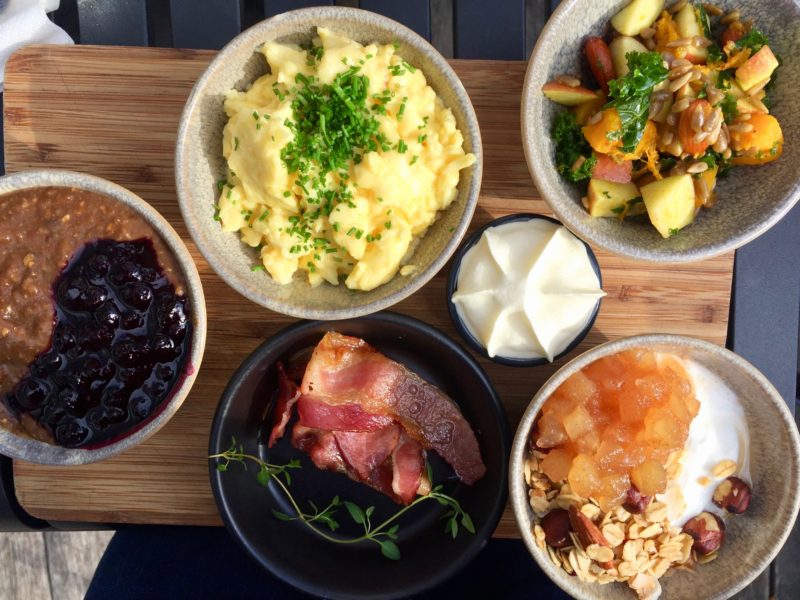 They offer the same fabulous concept, 5 or 7 small dishes where you can taste a variety of different foods. Or my new favourite The Union Kitchen
The Union kitchen does a great lunch too. Inspired by my last visit I tried to recreate their Lentil and Caramelised Onion Chutney dish. I was very happy with the result!
Traditional smørrebrød make a great lunch and you will find every second cafe is offering their own version of this classic Danish open faced sandwich. My own favourite is Hallernes Smørrebrød , which can be found at the fabulous Torvehallerne (The Glass Market). I was super excited when they opened a second location at the new Tivoli Food Court as that is much closer to where we live.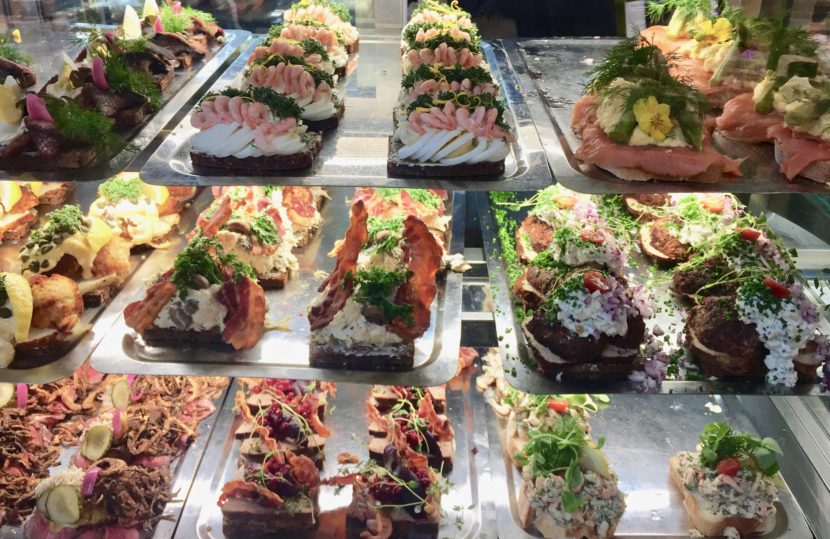 If you prefer a restaurant setting for smørrebrød, the place to go is AAmanns Dinner possibilities are endless but be sure to book ahead.  I love Höst and Noma's new sister restaurant 108, which has received a Michelin star since Kate and I went there. Our new favorite might be Barr, another one of the Noma family now located in Noma's old premises. Marv and Ben is also fabulous!
There are so many restaurants and cocktail bars I still want to try such as Bæst or Amass. I want to try some of the smaller restaurants not on the top ten list.  It is just a matter of planning ahead. On my list of places to revisit is Jægersborggade.  It is a hip shopping street that used to be a little dodgy. Now, it is so trendy it even has its own Facebook page. Among the many fun cafes and boutiques you will find an artisanal caramel shop, a cafe specialising in Grød or porridge and a Michelin stared restaurant.
Days out from Copenhagen
Roskilde Cathedral and Viking Museum