Sausage Rolls
Although you can buy sausage rolls everywhere in the UK, I have memories of my dad making them from scratch. Homemade ones just taste so much better.
Sausage rolls have a season. They are not summer food!  They generally make an appearance as the nights start to get a little colder. By Guy Fawkes night they are expected. In America, we have made them an essential part of our Thanksgiving celebrations. No Christmas gathering would be complete without them, and it would be unthinkable to spend Christmas Eve without eating at least one.
I also have a tradition of making a batch for our pastor, or more correctly for our pastor's wife. Every Christmas Eve, the wonderful Judy Livingston sings 'Oh Holy Night' as part of the family service and every year I try not to cry.  I have promised that as long as she sings  I will deliver a tray of uncooked sausage rolls to the Manse after the service. (Disclaimer, we are spending the Christmas in Scotland this year, sorry Judy!)
As you can see from the picture below, the ingredients for Sausage Rolls, a British version of Pigs in Blankets, are not complicated.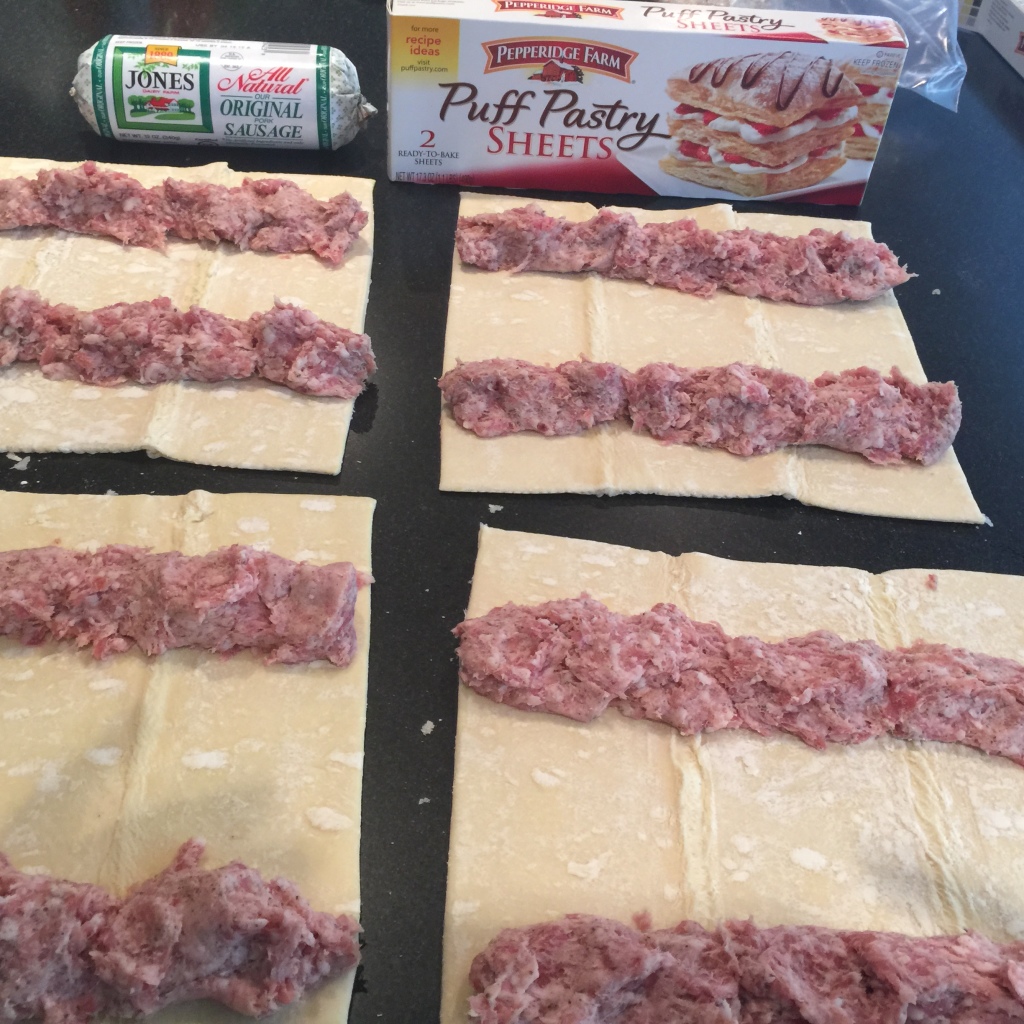 Recipe
I take two packs of frozen puff pastry.( Now those who know me know I am a purist and tend to make everything from scratch, but I love frozen puff pastry)  Add three packs of frozen sausage meat each pack is 12 ounces or 330g. Now you could add things to the sausagemeat. Minced onion, grated cheese, herbs, breadcrumbs, eggs, but I do not and they seem to taste just fine.
Once everything is fully defrosted, unfold each sheet of  pastry and divide into two equal rectangles.  Divide the three packs of sausage meat, into eight equal parts and make a long sausage down the middle of each pastry rectangle. With a knife cut each sheet int two to give eight rectangles.  Fold one side of the pastry over the sausage meat and then fold the other side on top using water or beaten egg to bind.  Repeat with each pasty sheet until you have eight rolls.  Turn each one over so it is seam side down.  Using a pair of scissors cut air vents along the top of each roll.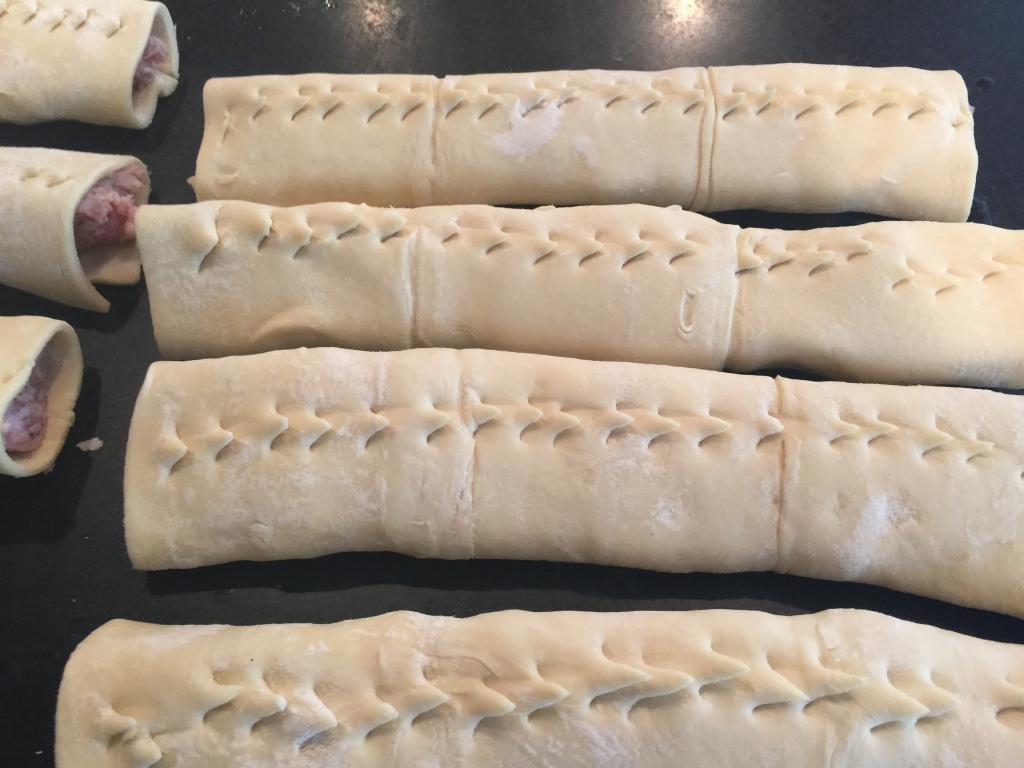 Now at this stage you can wrap each roll in cling film and store in the refrigerator, until you plan to cook them, for up to two days.
To cook, preheat oven to 400F/200C
Brush sausage rolls with beaten egg. Divide each roll into around nine and bake for around 30 mins until golden and the sausage is fully cooked.
Serve hot with either tomato or HP sauce, although I love them cold the next day.
Postscript
I will confess to having a little difficulty in finding sausagemeat that works in Denmark.  But for more on that painful subject see my post on Sausages,a cautionary tale.