Classic Custard Cream Recipe
I first made custard creams when I was 12 years old.  At Banff Academy we had home economics in our second year. Since I had baked my first cake at 8, I was slightly underwhelmed by the scrambled eggs and other basics they were teaching us (horrible child that I was). The food science part was always interesting but I was always a bit of a swotty git.  However I did like the custard cream recipe and can still remember it to this day.  I now realize it is simply a variation on the basic Scottish Shortbread recipe of one part sugar, two parts butter and three parts flour. For custard creams you split the flour into two parts flour and one part Bird's custard powder.  Easy peasy!
I also remember making vegetable soup and carrying it home in the requisite wicker basket.  Sadly the lid of the soup container was obviously not on properly and the (by now cold) soup leaked all over the basket and my school uniform. mmmm
Seven Minute Frosting
I sandwich the custard creams with vanilla frosting.  Up until recently I used to make frosting or icing by guesswork.  I would lob some butter in my mixer and add icing or confectioners sugar together with a splash of milk and then just fiddle with it until it looked about right. A few years ago Karl, my builder, who had a very sweet tooth and could carbon date cupcakes to the nearest hour shared a recipe from the 'Sex in the City' famous Magnolia Bakery.  It is called their seven minute frosting because, well because ….. It is still a bit of a guess but now I have seven minutes to go and do something else like put on a load of laundry.  The quantity will probably be more than enough for the custard creams, so either freeze it or use it to frost some cupcakes.
US Conversion
Apologies but I used my last custard powder making a batch a few days ago and I forgot to get a cup measurement for this recipe.  I will put it on my to do list. I did find Bird's Custard fairly easily in Darien, usually in the Irish section of Stop and Shop.  It is also really good for making custard!
Custard Cream
November 16, 2017
: Easy peasy
Custard Creams with seven minutes frosting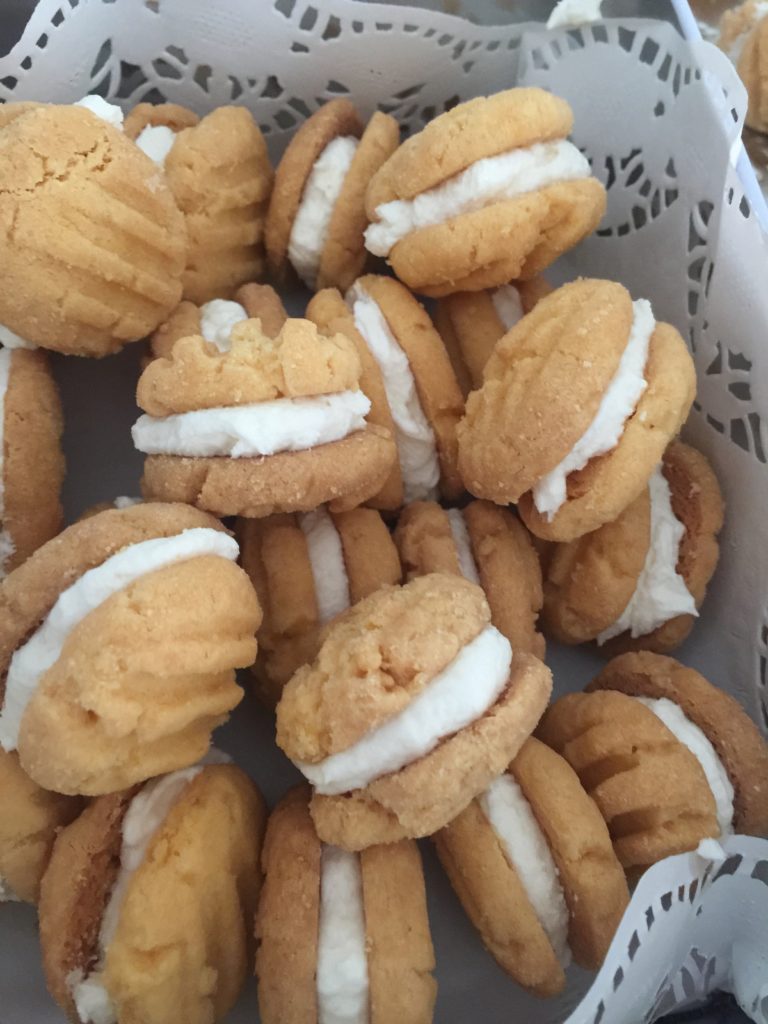 Ingredients
For the Custard Creams
4 ounces* /100g butter at room temperature
2 ounces*/ 50g icing sugar
4 ounces*/100g flour
2 ounces*/50g birds custard powder
For the Frosting
4 ounces/100g/ a stick of butter at room temperature
151/2ounces/450g/3 cups icing or confectioner's sugar
plus extra confectioners sugar to adjust consistency
large splash of milk
drop of vanilla essence optional
Directions
Step 1

In a large mixing bowl cream the butter and sugar until light and fluffy.

Step 2

Add the flour and custard powder and mix until just combined.

Step 3

Dump on a lightly floured surface and divide into three.

Step 4

Bring each part of the mixture together and form into a log about four to five inches long.

Step 5

Wrap each log in clingfilm and rest for at least 20 minutes in the fridge.

Step 6

Preheat oven to 180c/350f

Step 7

Slice each log into about 16 pieces.

Step 8

Roll each slice into a ball and place on a cookie sheet.

Step 9

Press down on each ball lightly with a fork that has been dipped in flour.

Step 10

Cook for 10-15 minutes. You want the bases to be slightly colored and dry but the custard cream should remain pale. The time will depend on the size you have made. After ten minutes check regularly. Thats what I do!

Step 11

Leave to cool on a cooling rack.

Step 12

For the frosting

Step 13

Put the butter, icing sugar and milk in a bowl and mix on medium speed for, yes you guessed it, seven minutes.

Step 14

At the end adjust the constancy by adding confectioner's sugar. Add vanilla if using.

Step 15

Sandwich the creams together trying to match up by size unless you have been very clever and have managed to make them all the same size. I never do!