This summer our daughter Kat, our California Girl, decided to stay in Manhattan Beach. She asked me to come and play for a little while before she went back to school. I have been travelling back to the States quite a lot since our move to Denmark. This time I wanted to visit the East Coast as well and catch up with some of my dear friends, so I invited myself to the Hamptons and Cape Cod. From sea to shining sea!
Manhattan Beach
Manhattan Beach is a suburb of Los Angeles which started as a small beach community. The housing is dense, with at best tiny gardens, but everyone is within walking distance of the spectacular beach.
There are several distinct neighborhoods such as "Sand Section", "Hill Section" and "Tree Section". There is even a "Poet's Section" (Shelley, Tennyson, Longfellow, Keats). Oceanfront homes stretch along the bike path and walking lane of "The Strand", and include some of the most expensive real estate per square foot in the United States. Between the Strand and the beach are small patches of green filled with roses, cactus and deck chairs.
On my first morning I was totally jet lagged. I sat on the steps outside our sweet Airbandb, which had a view of the ocean, and did some people watching. The residents of Manhattan Beach have a totally relaxed lifestyle. Everyone was in their gym kit or beach gear and toting either a surf board or yoga mat.  The area was full of beautiful people, living in beautiful homes on a quiet stretch of spectacular oceanfront.
Of course, it is within driving distance to LA. A car is essential in California as public transport is virtually non existent, and walking is never an option.  From Manhattan Beach you can reach downtown LA in 30 mins.
Like many big cities, LA is both a impossibly glamerous and slightly dodgy, sometimes within blocks of each other.  On this visit Kat took me to the quirky Last Bookstore which is California's largest new and used book and record store, followed by lunch at Grand Central a large indoor food market. The major food influences in California are Spanish and Japanese, which obviously combine to give a Sushi Burrito, a large sushi roll the size and shape of a burrito.  For lunch we had the excellent sample platter from La Tostaderia , which contained a selection of freshly cooked and cured fish on tiny tacos.
We then reparked and queued for entrance to the Broad,( pronounced to rhyme with road), a contemporary art museum founded by philanthropists Eli and Edythe Broad on Grand Avenue in downtown Los Angeles.  The hot ticket in town was the apparently life changing, Yayoi Kusama's Infinity Mirrored Room—The Souls of Millions of Light Years Away. We had no chance of seeing it as it required arriving early in the day to place your name on a list for 45 seconds of access to a room full of ever-changing lights reflected in a room of mirrors.  We did, however, visit other thought provoking collections. One, named 'Oracle' reflected on how media is changing our lives and included a  stunning display of photographs by Andreas Gursky. My personal favourite was a huge photo of a moment in time in an Amazon warehouse, rows of seemingly disconnected items waiting to be delivered.
(Upon reflection it turned out I had already seen the Infinity Room at The Louisiana, in Copenhagen,  Not so life changing after all.)
On my last night Kat, her friends and I headed to the beach to see the sunset.  The marine layer, which is a constant for much of the year, hid the sun just as it was heading towards the horizon.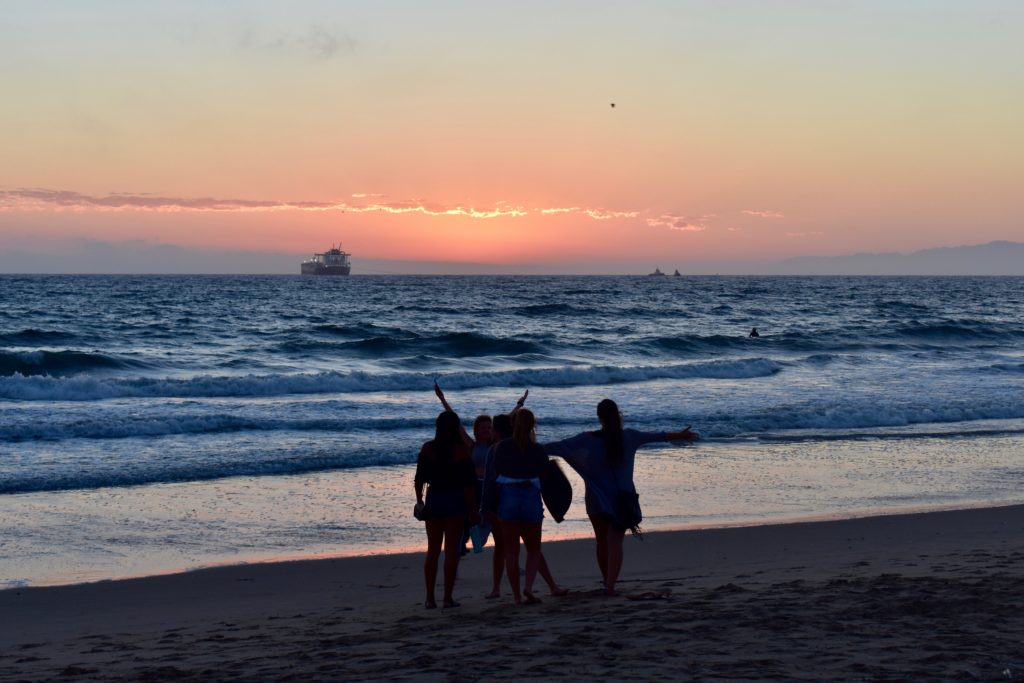 The Hamptons
Oh my!  The Hamptons is where New York goes to play.  Think Great Gatsby.  You can reach the various small towns which make up the Hamptons by taking the Long Island Railroad or the 'Jitney', a bus service which shuttles between central New York and the beach communities. Designer shops, exquisite bakeries, gourmet cheese shops and fun wineries are what you find when you arrive.
Winetasting with Ginger!
My dear friend Denise has recently moved to East Hampton and has totally immersed herself in her new life. I was so impressed. Denise only moved to the Hamptons in February and already has found a sweet job, volunteer work and her house is decorated, furnished and beyond gorgeous with its wrap around porch, pool and pool house.  I have been in Copenhagen for a year and let's just say I am nowhere near as settled and under control. Mmmm.
Denise works at Amber Waves Farm, a darling organic farm where you may meet the Clintons, or Uncle Paul (McCartny) when you shop for your local veg. Their mission down on the farm is to not only provide local produce but to reintroduce wheat to the East End of Long Island. They also provide educational opportunities through their Food Education and Apprenticeship Programmes. I also learned all about the Community Supported Agriculture (CSA) Program.  Locals can pay an amount up front at the beginning of each growing season ($750 for 15 weeks) and receive a weekly box of vegetables and the opportunity to pick as much flowers, tomatoes and herbs as they want from the farm.
As if thats not enough the farm has a huge pizza oven. When we visited parents and children were busy finishing off making their pizza, topped with freshly roasted vegetables, before heading of to pick ingredients for the salad. I heard whispers of farm to table dinning as well.  I began calculating whether I could live in Denise's spare room and offer myself for work on the farm too, maybe make a few scones?
East Hampton is also home to two of my own personal heroes, Ina Garten and Martha Stewart. Ina Garten's original shop, the Barefoot Contessa, now sadly closed, was in East Hampton. Theses famous cooks and lifestyle gurus are often spotted in town doing totally normal things!
Denise, who incidentally  looks like Martha Stewart, also volunteers at the thrift shop in East Hampton which funds the wonderfully named 'Ladies Village Improvement Society'. The money raised goes towards beautifying the town and merit based scholarships.
You can sense the wealth in the Hamptons. It is less understated than its west coast counterpart. Local art galleries stock originals by the likes of Andy Warhol. During the summer the New York Social Scene simply relocates to the Hamptons, taking place in the mansions and exclusive country clubs of the rich and famous, where, as one teenager quoted 'house parties are only fun if there is an event planner involved'.
Cape Cod
I have been going to the Cape for about 15 years. My dear friend Felicia owns a house in Wellfleet and I have blagged my way there for a few days nearly every summer since our friendship started.
The Cape is long morning walks by the sea, swimming in one of the many ponds, activity filled days cycling and exploring surrounding towns and gorgeous sunsets. It was a little sad this year as Casey, Felicia's sweet black dog passed earlier this year and my dog Fraser was in Copenhagen. It was the first time we had ever walked without our buddies and it felt strange.
The beaches of both the bay and the ocean are spectacular, filled with grasses and sand dunes.  However on the ocean side the high dunes are eroding and inching closer to the few houses that are allowed to dot the oceanfront.  A few weeks ago part of the carpark in front of the popular Beachcomber collapsed. Luckily it happened late at night and only one car was sent crashing into the beach below.  The Beachcomber was still busy when we went to look at the dune but is now only yards from the new edge.
There is a much more relaxed vibe in the Cape.  The town of Wellfleet is decidedly artsy in nature and is filled with galleries and craft shops offering the work of local artists. Many Saturday nights the galleries stay open late. They offer cheese and wine to customers to help tempt them to buy a keepsake of the Cape. It worked with us. There are also two local theatre groups, offering well priced plays over the summer season.  We went to see Persona by The Harbor Group. It was an intimate and fascinating performance.
The highlight of this year's visit was a kayaking trip. A group of us met and kayaked out to a nearby island where we enjoyed a picnic lunch.  Overhead we kept seeing the plane which was circling and looking out for sharks.There have been two sightings recently close to shore, one involving a seal being attacked.  On the far side of the tiny island a sandbar appeared as the tide went out.  Suddenly dozens of seals started going onshore for a bit of a Rand R and singing.  It was truly mesmerising to watch as out of nowhere over a hundred seals wriggled onto a tiny spur of land only feet from where we were standing. Luckily no-one had invited the sharks.
Celebrity sightings in Wellfleet.  On their last kayaking trips my friends ran into Casey Affleck.  Ben has also been known to stop off at Mac's the local Seafood restaurant. Apparently on his first visit he was not recognised and was told there were no seats available until someone enlightened the hostess.
I feel truly blessed to have had the chance to spend time in three such fabulous beach communities.  I confess I only swam once, and that was in a pond in Cape Cod where the water was little warmer. Back in Copenhagen I realise I have not even made it to the beach once this year. Arghh!