Bergen, Trolltunga and Fjordic Cuisine
Last year we travelled to Norway, land of mountains, trolls and fjords. We split our time between Bergen, on the coast and Odda, our base for hiking up to the instagram worthy 'Trolltunga' or Troll's Tongue. We also discovered Lystveret, home of Fjordic Cuisine.
Why Norway?
We travelled a lot last year. In addition to tootling around Europe, we planned one last family vacation after Middle Son's graduation. We went to Yosemite and had a fabulous time hiking in that beautiful park.
However, to our delight, MS joined us in Copenhagen for a month before starting work in San Fransisco. As we had enjoyed Yosemite so much we wanted to explore hiking in a cooler climate and Norway won. (Sorry Scotland, your time will come!). MS had done a bit of reading and discovered there was a challenging day hike to an iconic landmark called Trolltunga. Norway is also an easy plane journey from Copenhagen.
Bergen
We flew into Bergen, named for the German word for mountains. An old city which lies to the southwest of Norway, Bergen is regarded as the Gateway to the Fjords. What a joy to see hills again after a year in the vertically challenged Denmark.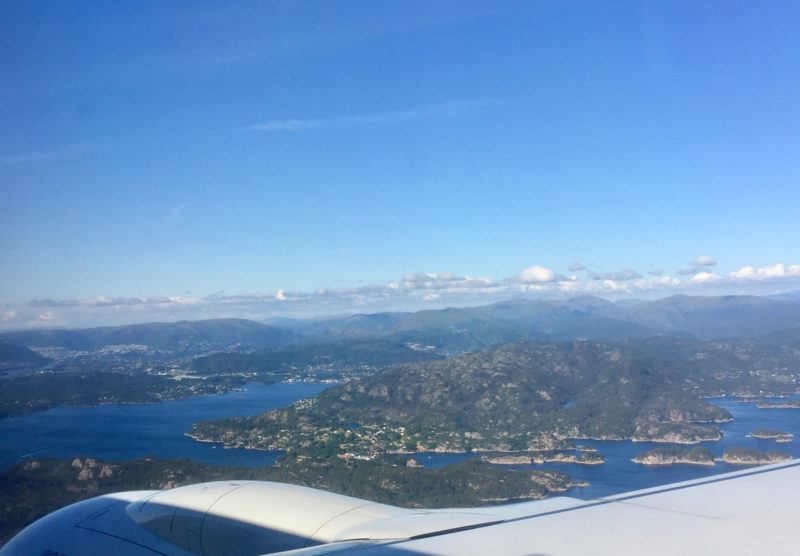 Hanseatic Town
Bergen is an old Hanseatic town. If, like me, you had never come across the term you can learn all about it by visiting the wonderfully preserved Hanseatic waterfront and museums in the centre of the old town.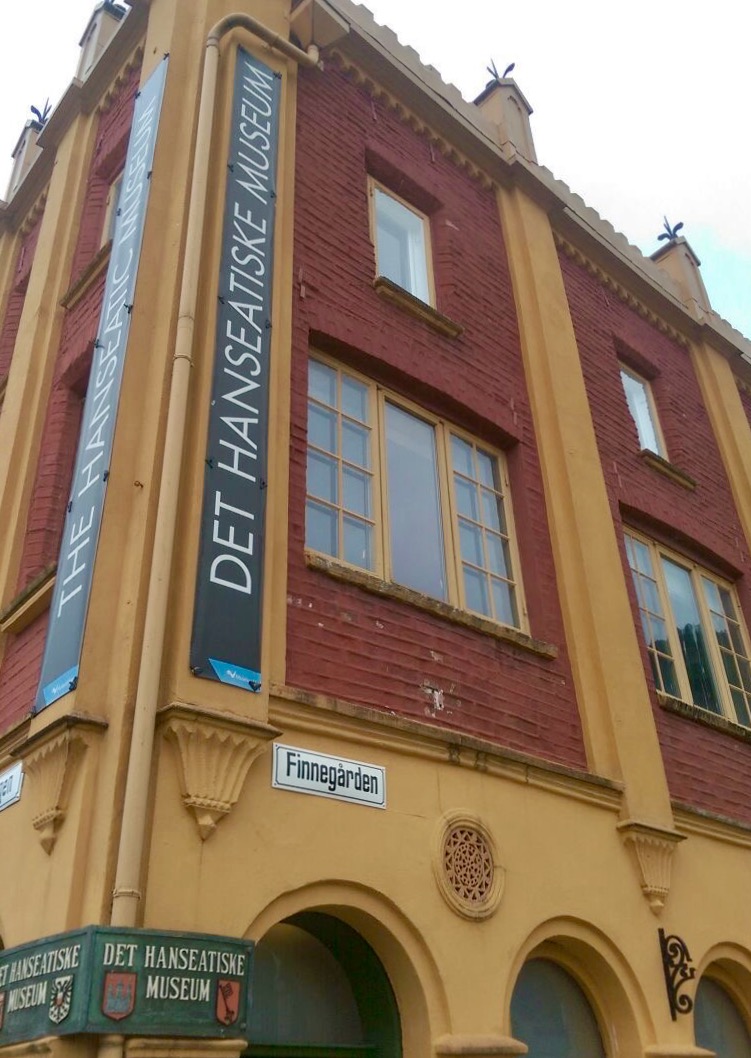 The brightly coloured houses on the waterfront are reminiscent of Nyhavn in Copenhagen, and for some reason I took no photos of them. They now contain cute cafes and craft shops selling gorgeous Norwegian sweaters and all things reindeer. Like most places we went to in July last year, it was pretty busy. Bergen is a popular cruise ship destination and the center of the town was full of peeps off the ship for the day.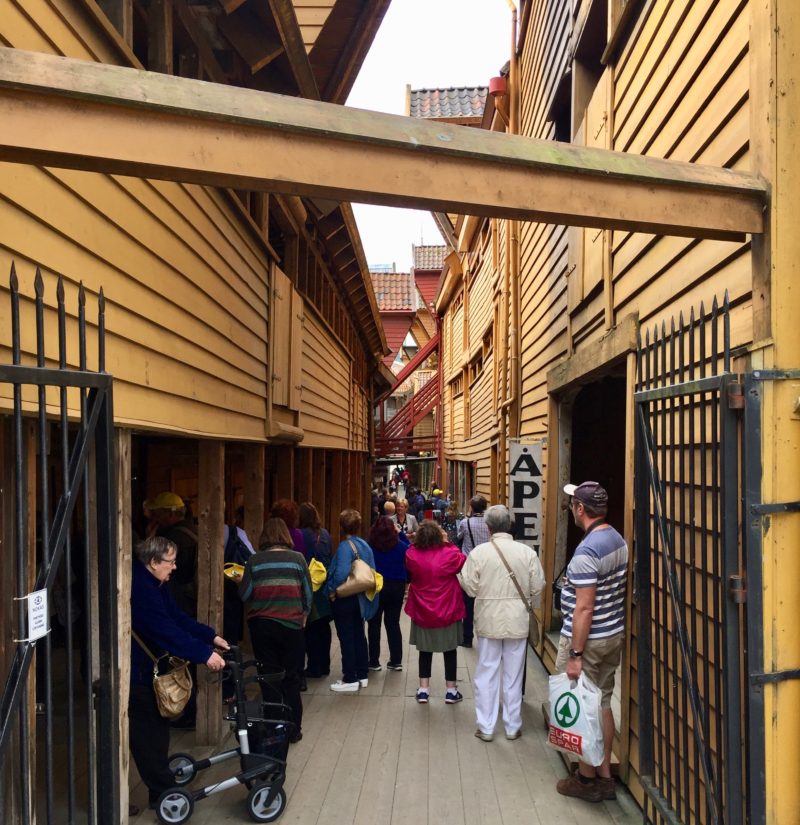 Hanseatic Merchants
The Hanseatic merchants were Germans, who set up a network of trading posts across Northern Europe in the late 11th century. These posts operated as small towns within cities, and dominated trade in the area for over three hundred years. The merchants were discouraged from mixing with the local population. They lived in monastic conditions, within a walled compound, where no stoves were allowed for fear of fires.  In the museum you can see the tiny living, working and sleeping quarters of the young boys and men who ran the show.
Subsistence Farming and Oil!
Until the discovery of oil in 1969, Norway was a relatively poor country. Ninety seven percent of its land is either water or mountains, leaving only a tiny area suitable to grow crops. Many farmers could barely grow enough to feed themselves, there was nothing to trade with the outside world.
The Norwegians only had access to flour, vegetables and other goods necessary for their existence through the trading of their one exportable commodity, fish. The Hansiatic merchants had a monopoly, and all goods went through their warehouses. Although their power declined in the 16th century, the League had an office in Bergen until 1754.
Fish!
Fish is still an important part of Norway's economy and lifestyle. After oil it is the country's second biggest export. We visited the lively market on the waterfront, where fish are still landed daily.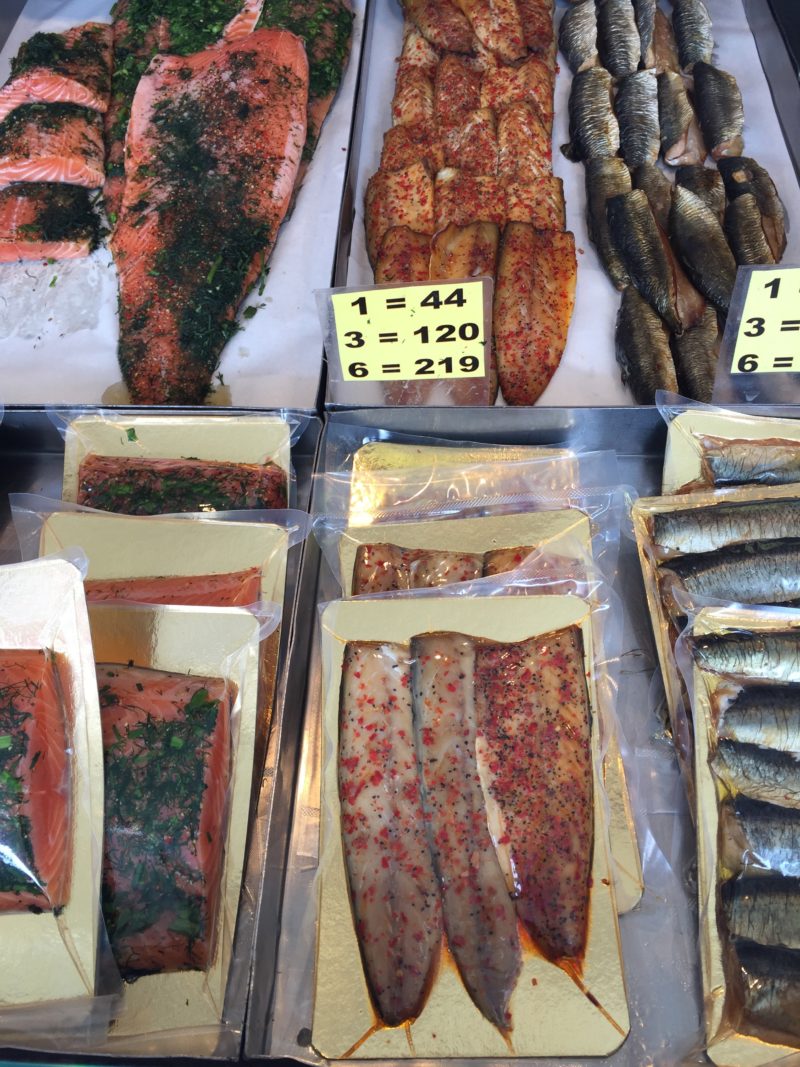 There were many stalls selling seafood and Norwegian specialities like reindeer hotdogs. They also sell a special low alcohol beer, brewed exclusively for the waterfront cafes. For the cost of a restaurant meal elsewhere in Europe, we ate, probably, the most expensive takeaway of fish and chips we have ever had, washed down with some very weak beer. Totally Fabulous!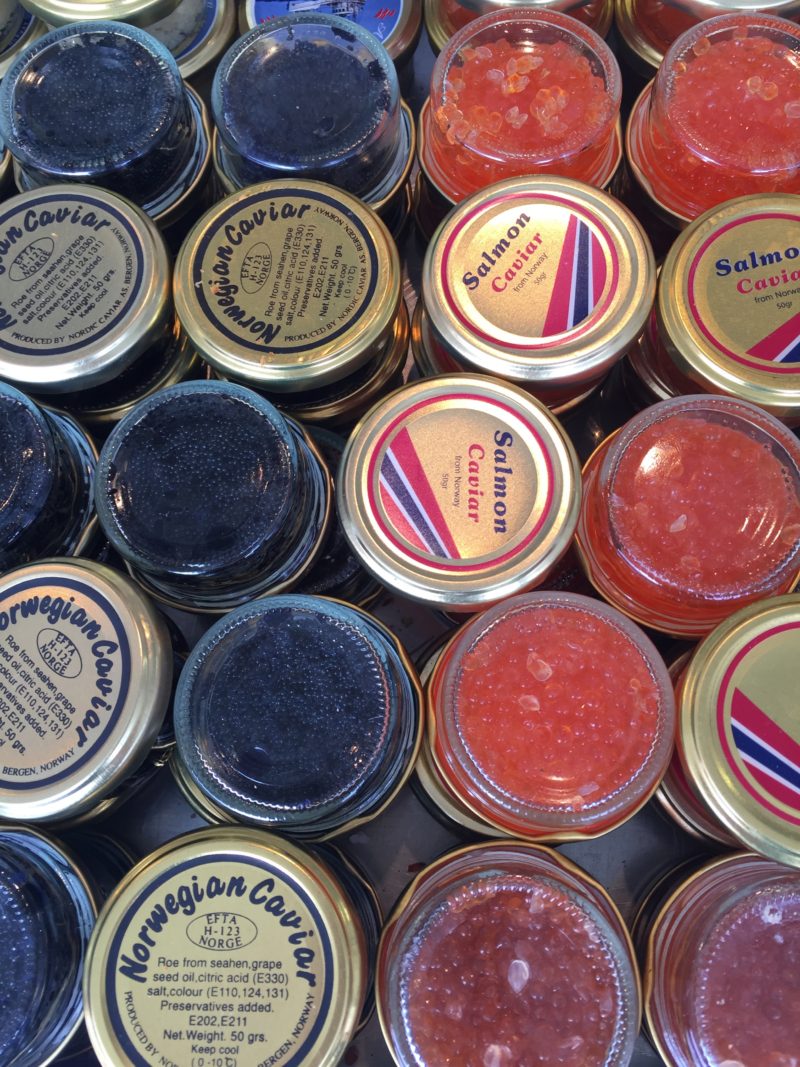 The Danish Connection
Everywhere in Bergen, you can see evidence of the close ties Norway had with Denmark.  After learning to be a tour guide in Copenhagen, I now recognise, in a totally geeky way, the emblem for Christian 4th of Denmark. The large C with 4 in the centre is still on many buildings in the old city.
Norway belonged to Denmark for hundred of years and with Sweden formed the Trekroner, or Three Crowns. After the Napoleonic Wars, Denmark was forced to cede Norway, as punishment for backing the losing side.
We visited Rosencratz Tower, commissioned by Frederik II, Christian IV's father in 1560. Built by Scottish mason, the tower looks like a fortified house in Scotland. It sits at the edge of the harbour and was a main part of the defences of Bergen up until the second world war.
Mount Fløyen Funicular
Bergen is surrounded by seven hills. The No 1 attraction in Bergen is taking the funicular to the top of Mount Fløyen.

….so obviously we walked up (on our last day we felt obliged to try it, definitely prefer walking!).
The walk is  a pleasantly strenuous, but totally doable hike  with easy paved switchbacks which take you up through the town of Bergen. You are rewarded with rather lovely views. From the top you can take further trails.
Stoltzekleiven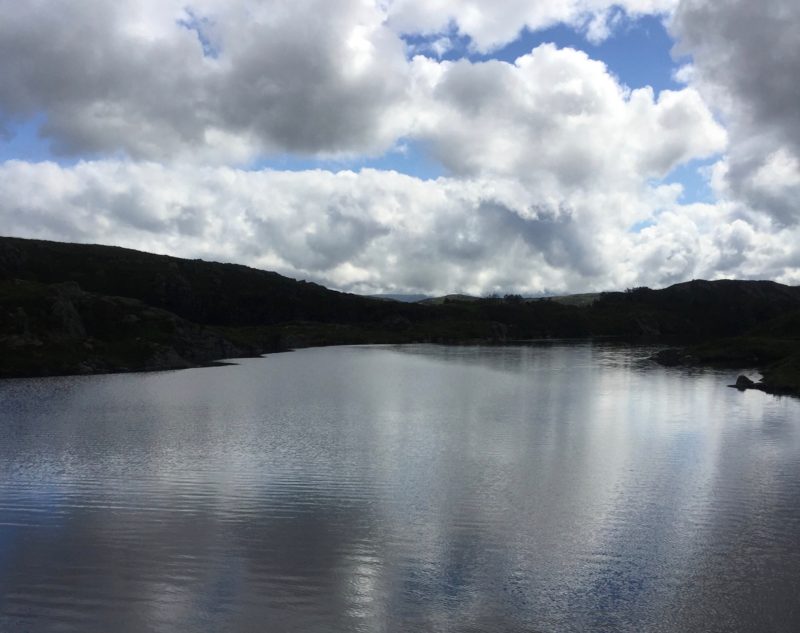 On our first day we just wondered slightly aimlessly following whichever trail seemed prettiest. We passed a reservoir and by luck found a track to bring us back down to the town. We didn't realise we had stumbled upon Stoltzekleiven,  the most popular hike in Bergen. It is a steep trail with over 720 uneven stone steps. If you want to do it, may I suggest you take the trail up and then continue to Mount Fløyen. From there you can either walk or take the funicular down. Going down Stoltzkleiven was pretty hard, although many Norwegians were running up and down the trail in that effortless, Norse God, sort of way.
Mount Ulriken and the Cable Car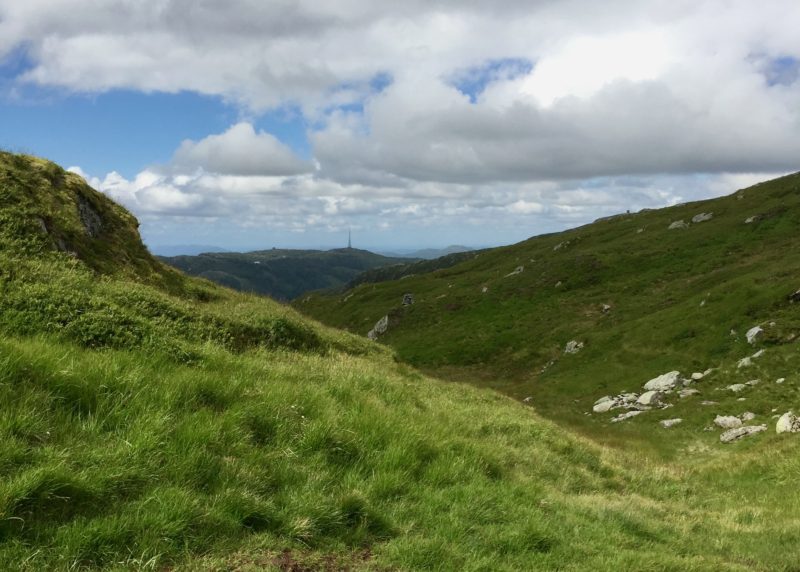 Another popular option once you reach the top of Mount Fløyen is to walk over to Mount Ulriken, and then take the cable car down. It is a 13-15km walk across easy terrain. You can meet the locals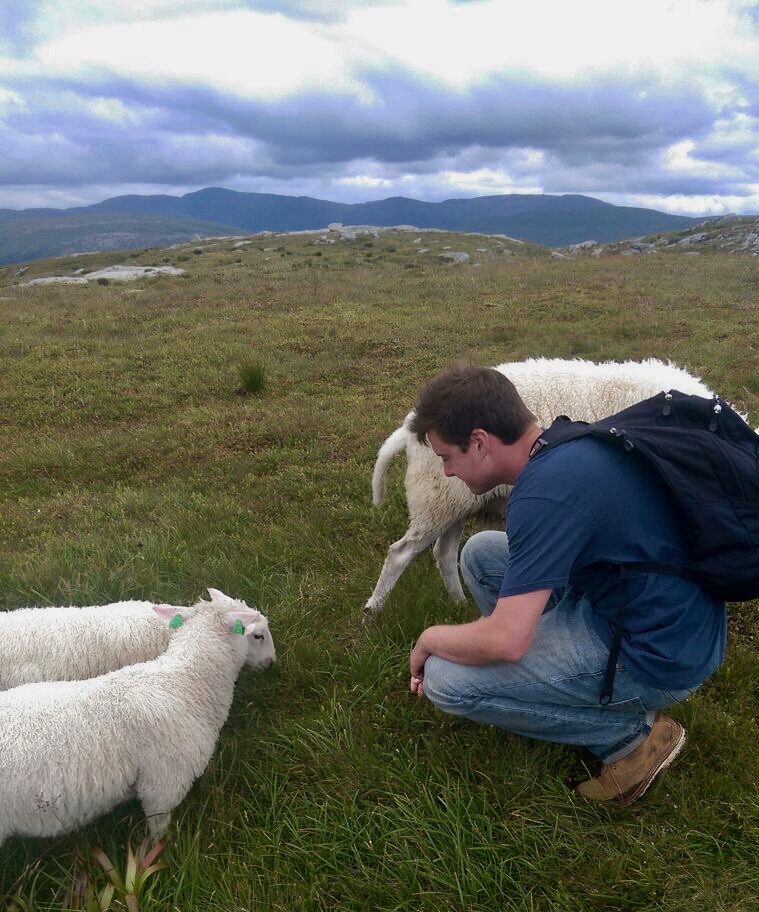 and try to resist the temptation to yodel.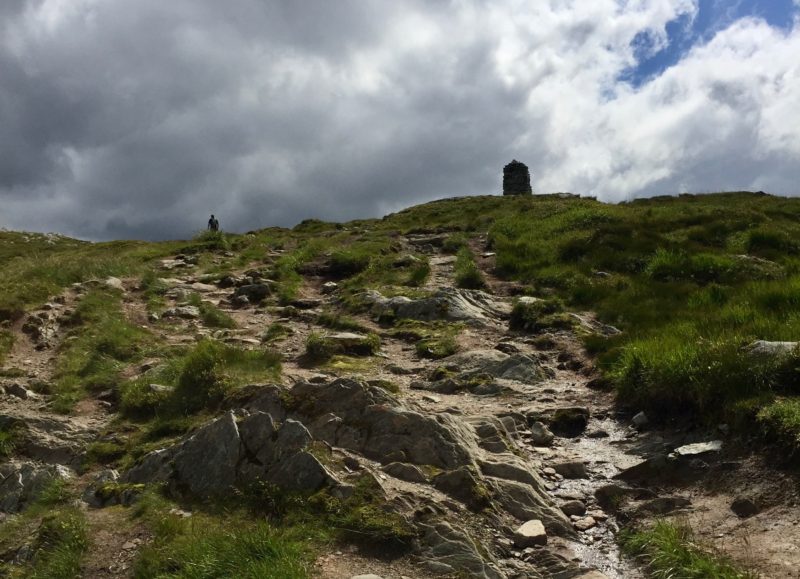 We didn't, resist that is.
Yosemite Confession
Bergen was interesting and the hiking was fun, but the main reason we travelled to Norway was to climb Trolltunga.
I have a confession to make. I wimped out of one of the trails at Yosemite. On the Mist Trails I came to a narrow walkway, slick with water from the falls above. I turned back and chose the easier path. Others in the family braved the steps and spent the rest of the day telling me about the 'amazing'  trail that lay beyond. I was apprehensive about Trolltunga but, after Yosemite, was determined to do it.
Trolltunga – The Scoop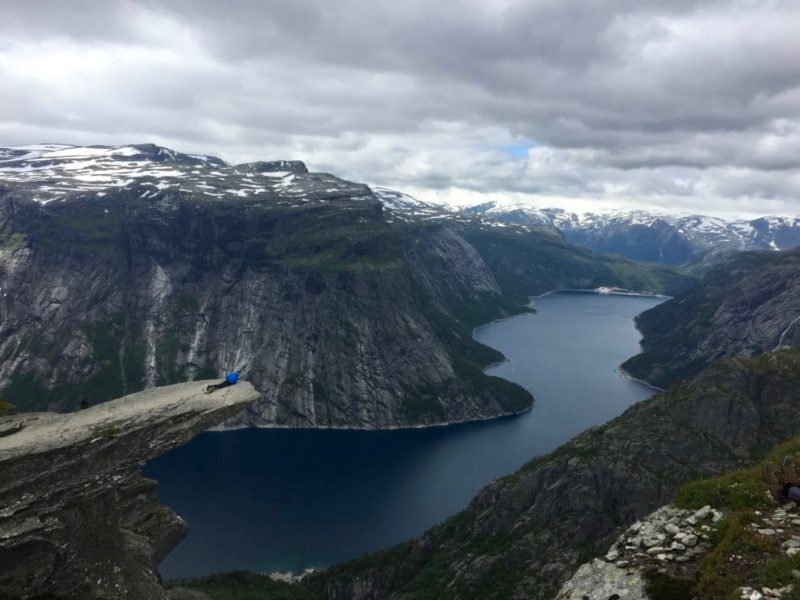 Trolltunga, translated to "Troll Tongue," is a cliff rock jutting out about 1100 meters above sea level. It hovers 700 meters above lake Ringedalsvatnet in Norway. The view is breathtaking. The Tongue was formed about 10,000 years ago from glacier erosion. The Glacier is still around. You can hike it too.
The hike to Trolltunga, 22km, takes between eight to ten hours. You can continue hiking beyond the Troll Tongue but most return back on the same route.
The best window for climbing Trolltunga is 15 June – 15 Sept. Before mid June there is too much snow, even in July we had patches that had not melted.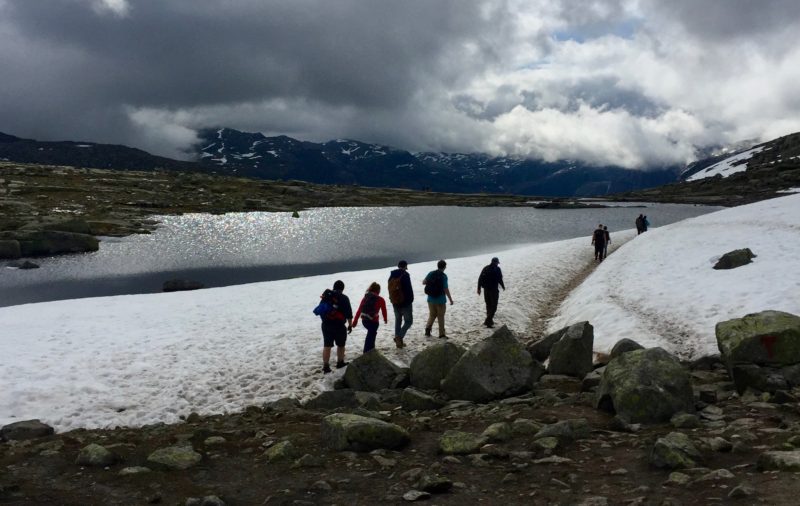 After mid September there is not enough light. The downside is that the route in the summer is very popular.
You start the ascent in the car park at Skjeggeda. It is straight up for over a kilometre, at times you need to use ropes and chains to scramble up the near vertical rocks.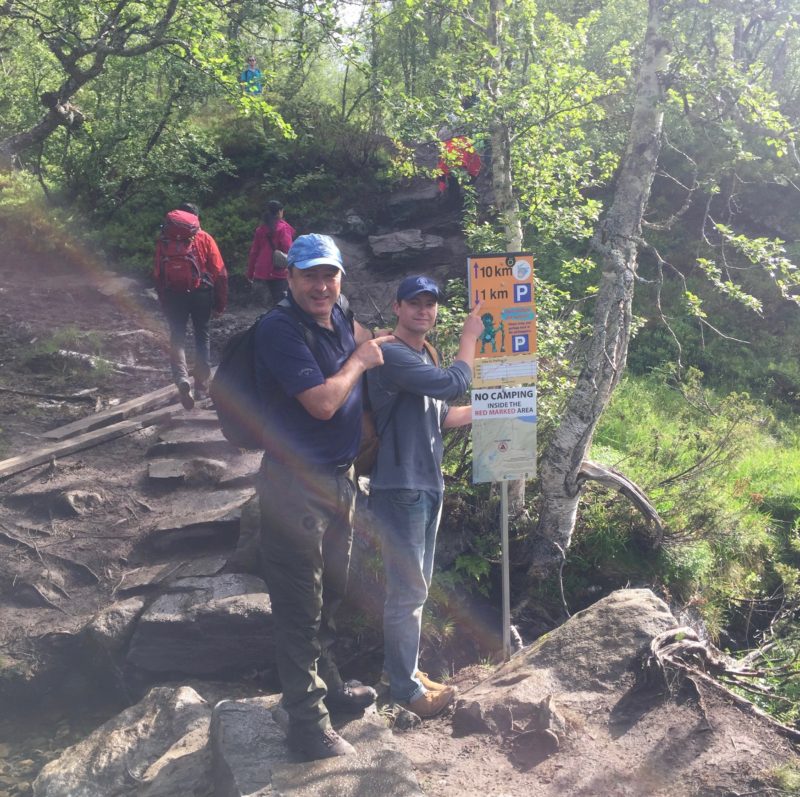 That is not the hard part. The hard part is that the first kilometre is also the last. After trekking for nine hours, the last hour is coming down the way you go up. For those of you who have hiked, you will know that coming down is much harder physically on the legs and knees. You are constantly bracing and balancing, and that is in good conditions.
There are alternatives. A funicular used to take you up the first part. The tracks are still there, and some brave fools do use them to climb up. It is allowed, but not advised.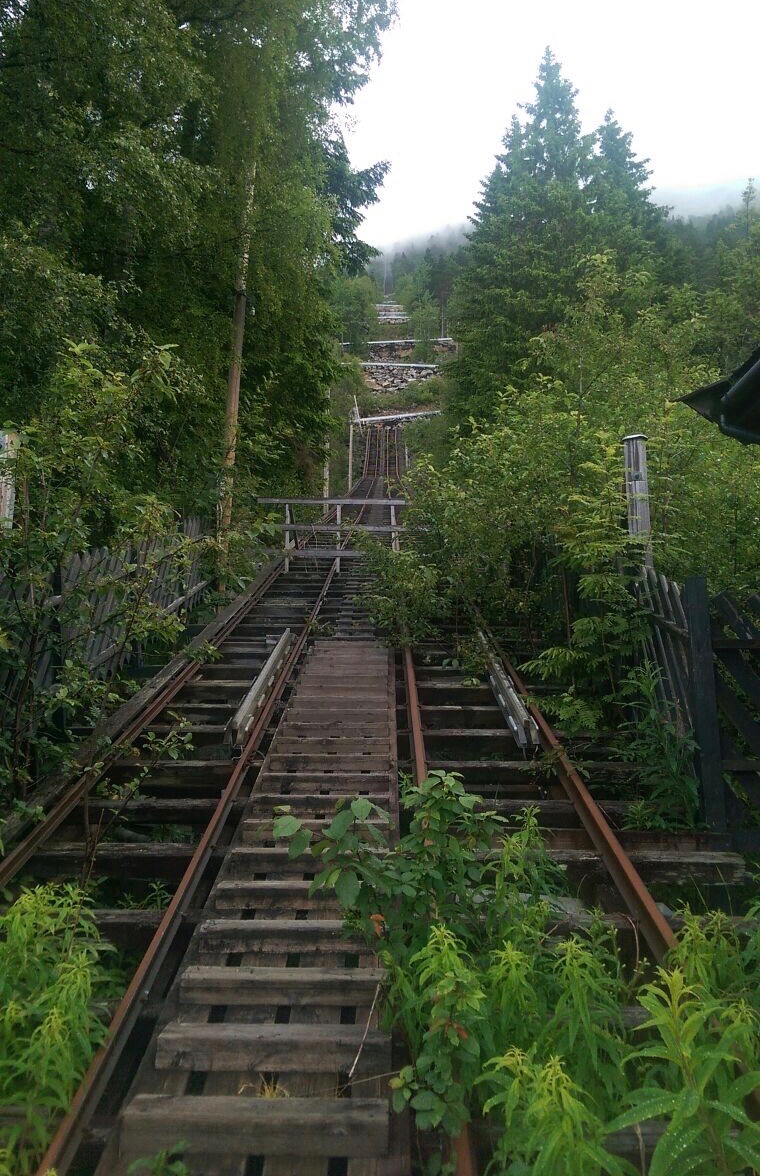 It seems a new road just opened late July, which takes you past the first four Kilometers. Be there early, as parking is limited, Or you can walk the road, being careful for traffic. Personally, I would not have missed the first part of the hike for an easier option, that is what makes it a challenge.
Once you have passed the 4km point the route becomes much easier.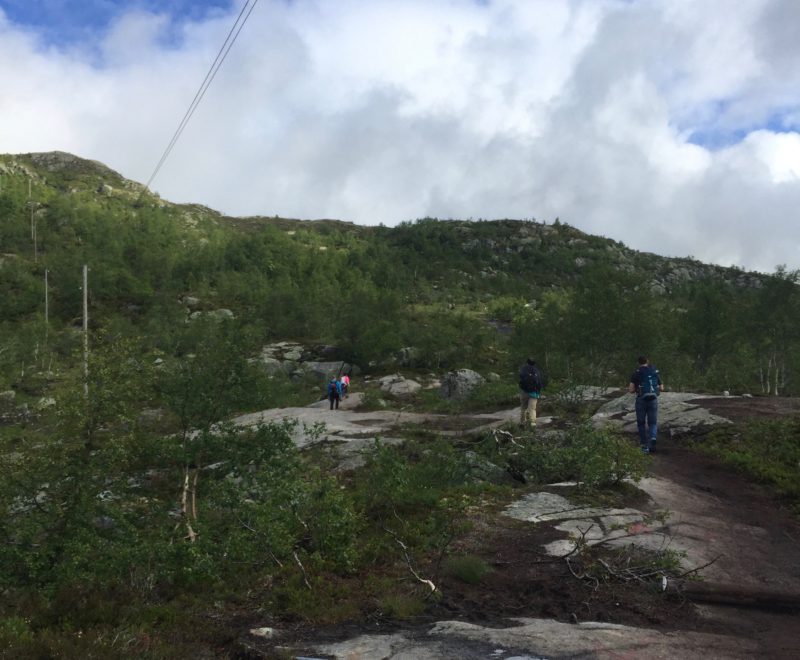 You are guided to the top by red-painted Ts. With so many people going in the same direction it would have been hard to get lost.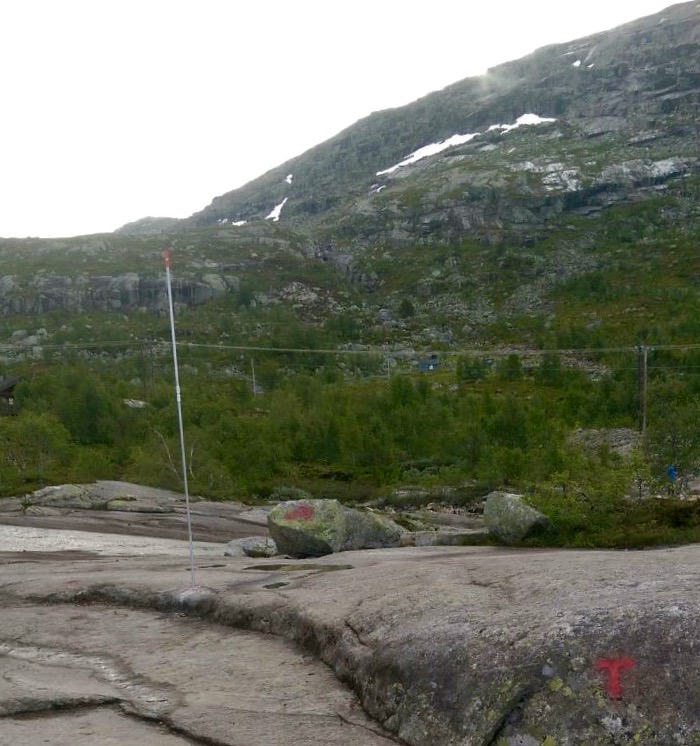 However, we were very lucky and had spectacular weather on the day of our hike.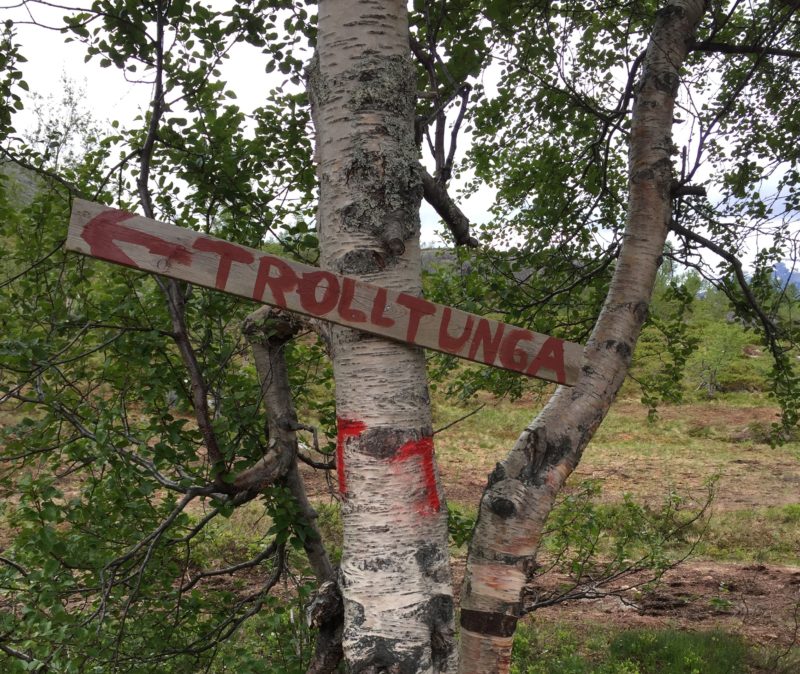 After forecasting rain, we had clear skies and the occasional glimpse of sunshine. The weather can change quickly up in the mountains. You are advised not to hike in strong wind, heavy rain or in foggy weather. Every so often we would come across emergency huts, stocked with blankets and food for anyone caught in a storm.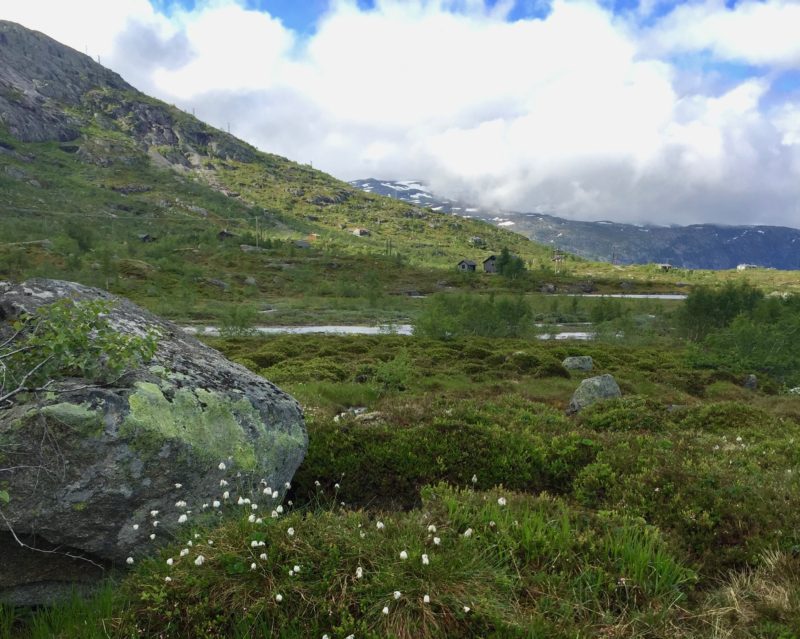 We had also been told by our saviors on the bus, see below, about the people who had been taken off the mountain by helicopter only the day before.
After a few hours you suddenly see Lake Ringedalsvatnet down in the valley. It is a spectacular sight, and a great excuse to stop for a small snack!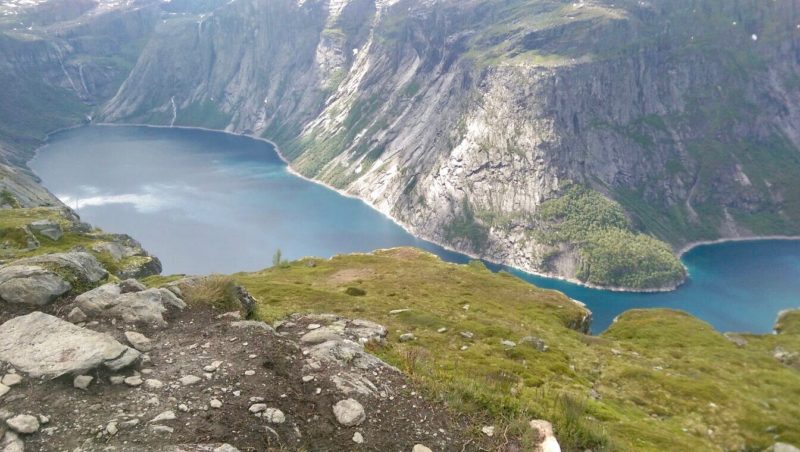 We reached Trolltunga within the five hours. It was so crowded!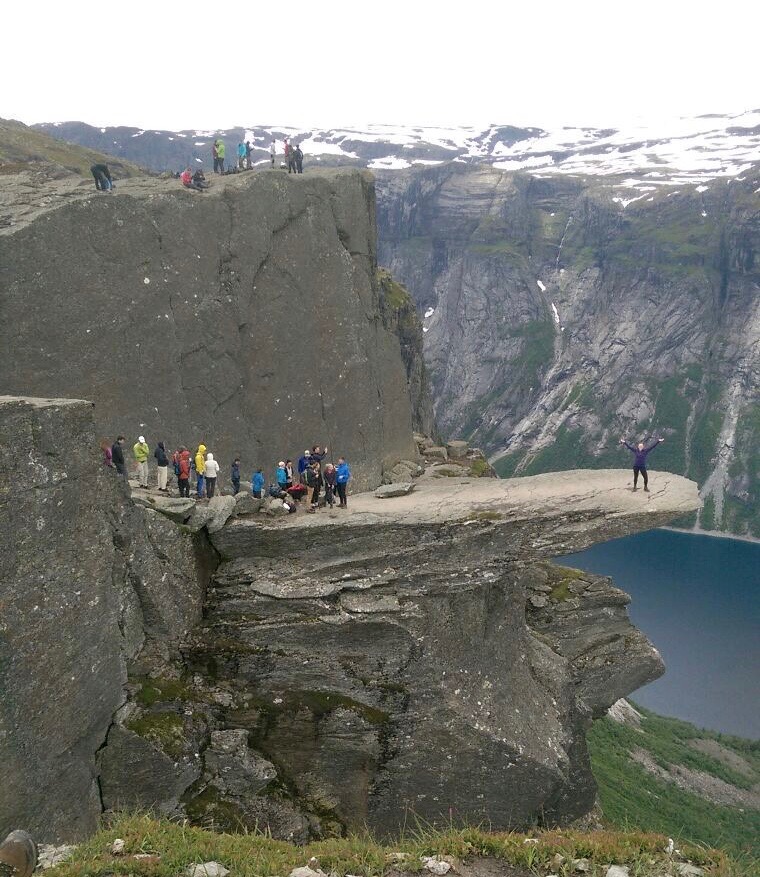 The picture above shows only a fraction of the people who were waiting to have their moment at the end of the tongue.And that is the downside of Instagram fame. I estimated it would be at least a two hours wait and, as rain was still in the forecast, did not want to hang around that long. Especially with the thought of that final descent.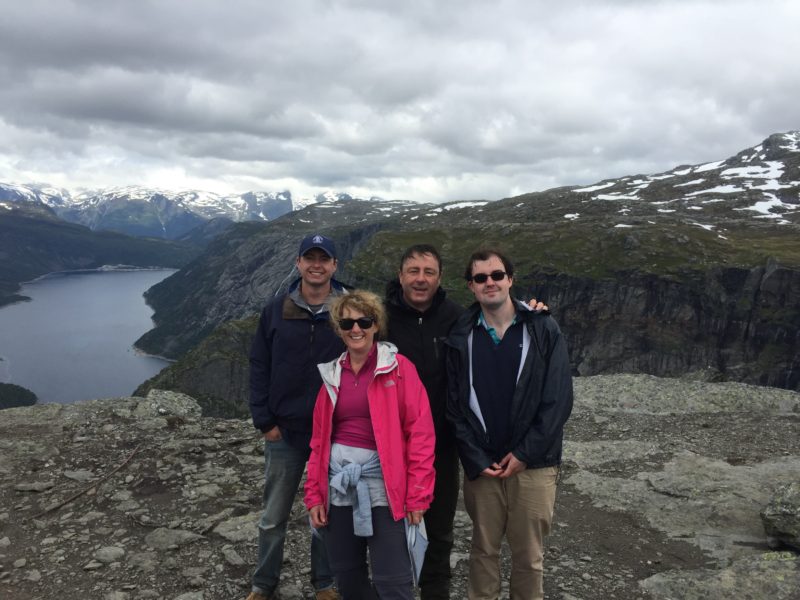 The hike back was great. There were a few challenging parts. Large smooth rocks with little purchase, boggy, marshy areas and small streams to navigate but nothing desperate.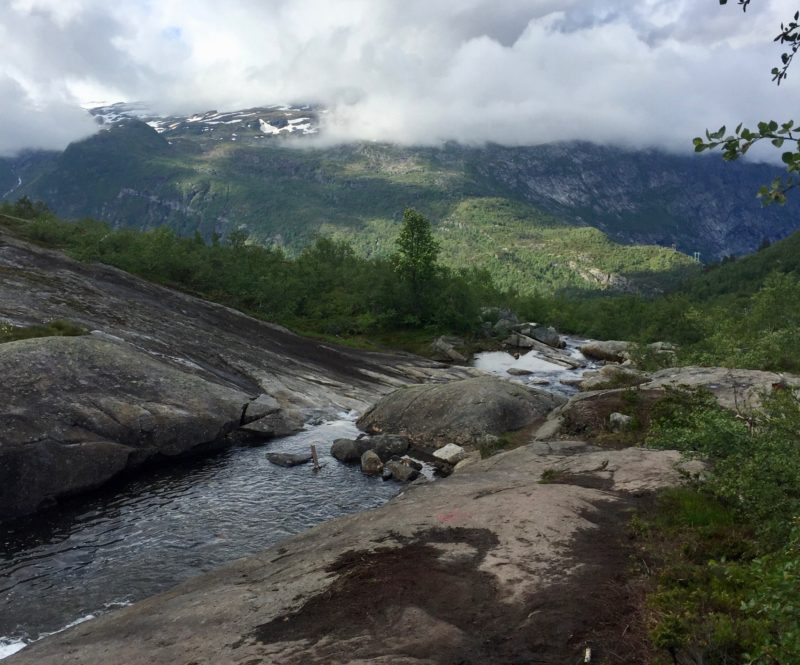 Trolltunga Water Fountain
You only need to bring a reusable water bottle, as you can drink the water from the streams. After lugging gallons of water in Yosemite, being able to drink freely from cold Nordic streams was a real treat. I also smiled each time I filled my bottle. We had been out with dear friends at a very expensive restaurant in Italy earlier that year. It was a very special night. The restaurant was so high-end, it had a water menu. Some of the bottles of spring water cost as much $40, and on our hike we could drink the same clear water for free!
Or you could drink lemonade!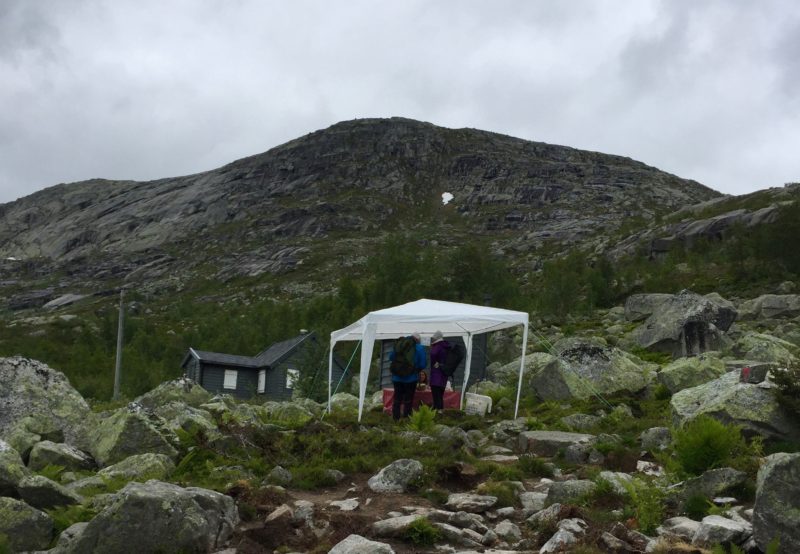 We finally made it back to the car park. No rain, meant the last descent was hard but not dangerous. We were all so happy to get to the end!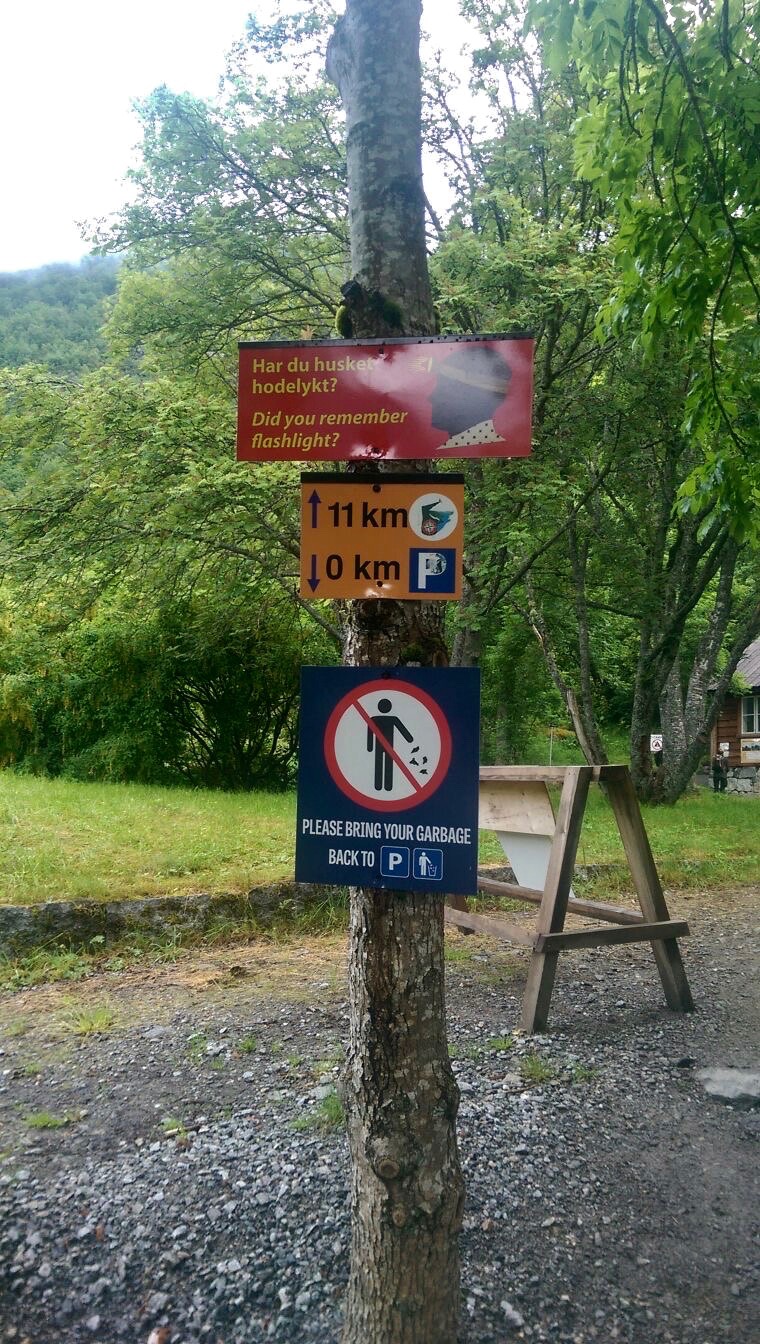 Of all the fabulous adventures I had last year, climbing to Trolltunga stands out. A little disappointing that the kids didn't get 'the photograph', but hey, we did it!

Tyssedal Power Station
The next day, after our long hike, we chose to visit a power station over a glacier. Thats the kind of geeky family we are. Super long post, suffice to say it was super interesting and if I ever had a spare moment I will tell you all about it. For now some photos
Good to Know
Like Denmark, English is widely spoken and understood.
The currency is Norwegian Krone and credit cards are widely accepted, except on buses!
It rains in Norway on average 230 days of the year. We were incredibly blessed to have only one slightly drizzly day. Bring layers, even in summer the weather is cool.
All recommendations are my own, no-one is sponsoring me!
Accommodation
In Bergen we spent two nights at the Citybox. We shared a basic, but stylish room and it was fun. There was no breakfast, but that gave us a chance to try the local buns.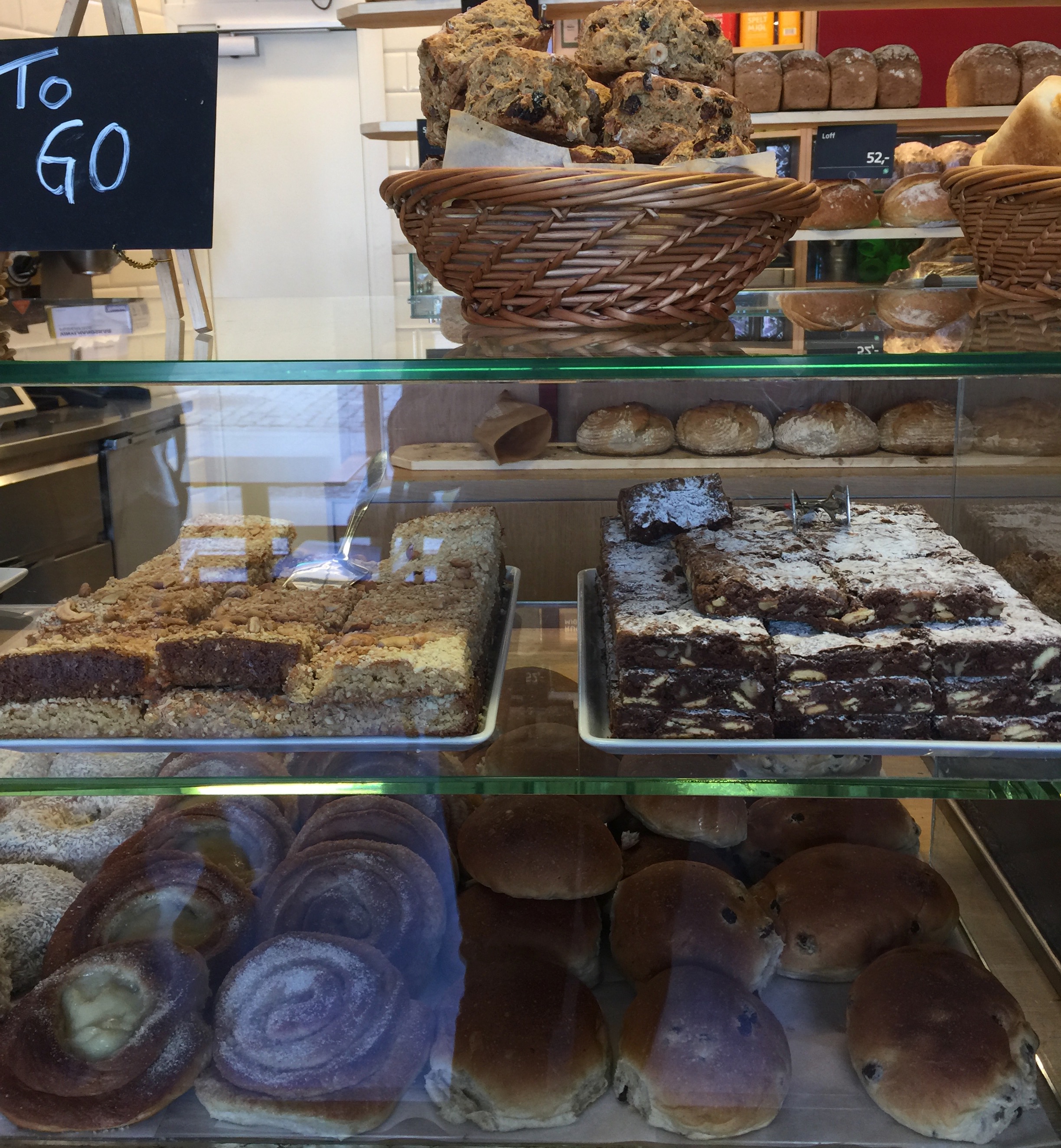 In Odda, the town closest to Trolltunga we stayed at the snappily named Trolltunga Hotel. The location was effortlessly spectacular.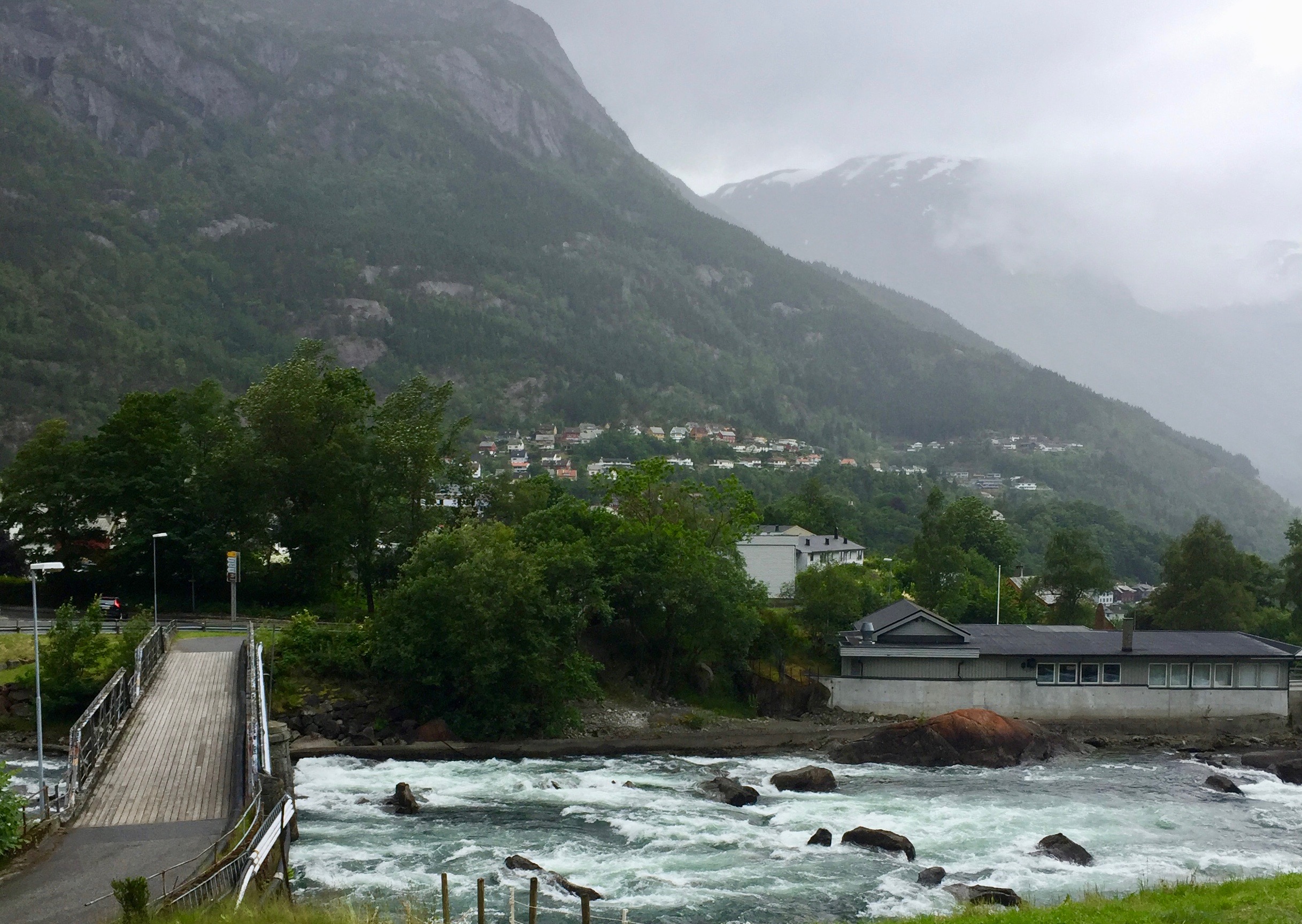 When you book, you need to ask to all be in the same room. There were four of us  and we ended up sharing with strangers.  I just assumed they would put us all together in the four person room, but no.  The hotel was basic, but perfect for us. Especially as this was our third vacation in six weeks. I was happy to feel as though I was economising somewhere.
The food at night was really good. I had steak both nights, and by Norwegian standards it was inexpensive. Breakfast was also substantial. They offer a packed lunch for days spent on the mountain. In reality, this is a paper bag with a bottle of water and the offer of helping yourself to the breakfast buffet. Probably best to pack some protein bars.
Getting around
Alan had done a lot of scary, 'can't look' driving when we were in California. He was in no hurry to tackle the hairpins bends of another mountainous country, We opted for public transport. Let someone else do the driving. A good decision! Also we wanted a chance to see the crinkly bits of Norway, and thought a ferry would be best. It was.
We took a bus from the airport to Bergen. The town itself is compact and everything is within walking distance.
The quickest way from Bergen to Odda is to take the Hardangerfjordexpress from Bergen to Tyssendal, and from there, catch a bus. Be warned, the bus only accepts cash. We almost got left at the bus stop with no other way of getting to Odda. Luckily for us two lovely Norwegian ladies pleaded with the bus driver on our behalf and he took pity on us.
In Odda, we used taxis and buses.
Restaurants – Lystveret and the Penguin
We had some lovely meals in Bergen. On our first night we lucked into the Pengvinen. The small restaurant is like a room at your granny's house, all floral wallpaper and hygge atmosphere. The food was traditional Norwegian cuisine and everything was served with potatoes. Pretty perfect for me.
We found a cute little American diner and had outrageously expensive bagels with smoked salmon.
Our most interesting meal out was at Lysverket, a restaurant recently featured in the New York Times. We have been living in Copenhagen, the home of Noma and the new Nordic food scene so know all about the food revolution of the last fifteen years. Chefs in Denmark have embraced local food, foraging has become elevated to a sacred ritual and we are all checking our food for insects.
Christopher Haatuft, the chef and owner of Lysverket, has started his own food revolution and dubbed it Neo Fjordic. Norway is even more food challenged than Denmark. There is that lack of arable land, and a less developed fishing and farm to restaurant culture. The aim at Lsyverket is to mix local with sustainable, to embrace traditional food and encourage partnerships with food providers. What do we get for that? Amongst other interesting dishes, the most delicious Bergen Fish Soup, flavored with leek oil and lightly pickled root vegetables. As soon as I got home I tried to recreate the soup, obviously did not write the recipe up but it is on my list of things to do.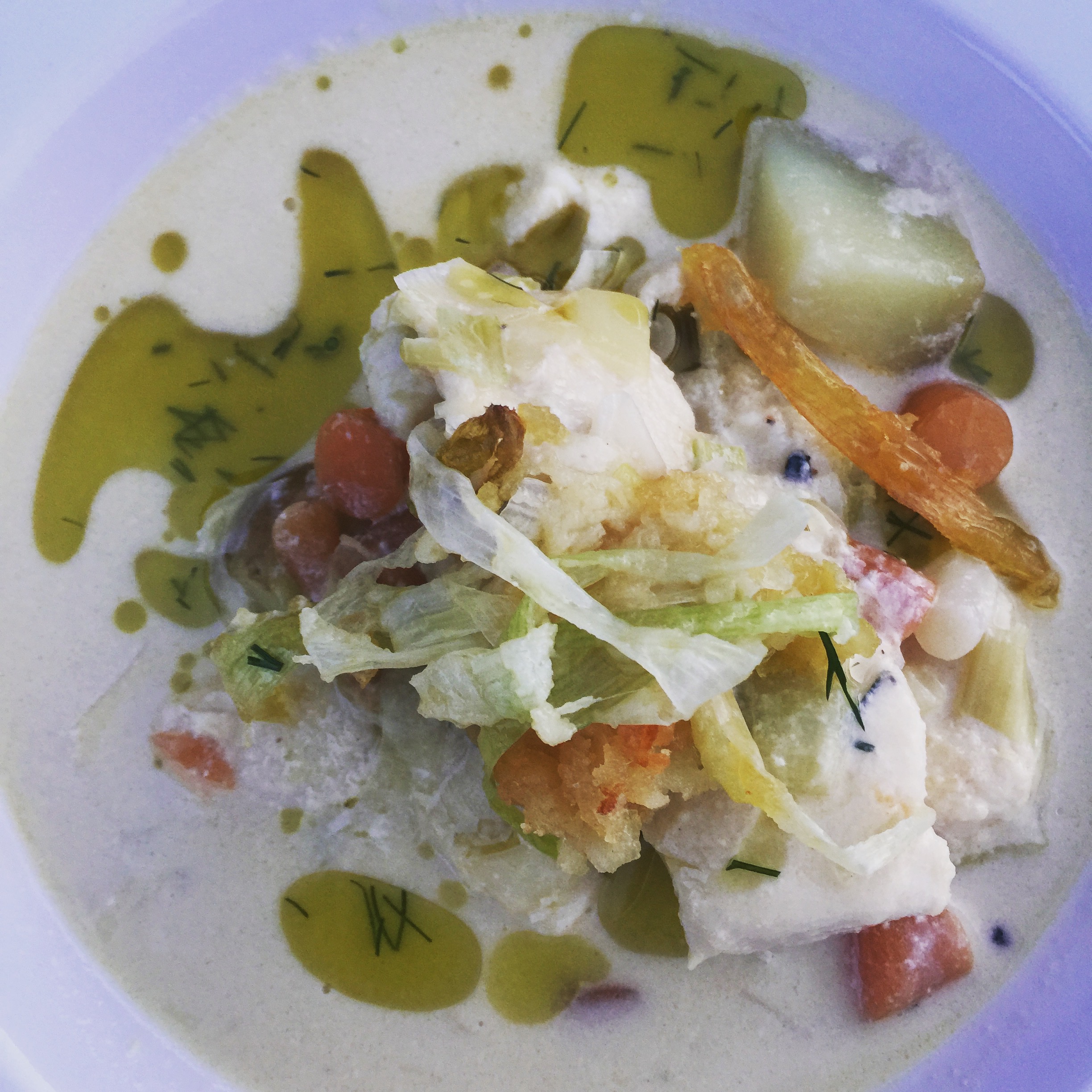 Trolltunga
After Yosemite I bought a walking stick. Just one, leaving me free to use my other hand to find purchase in the rocks. It was brilliant and I was so thankful to have it.
I had proper hiking boots, which I had worn before so knew they were comfortable.
Also packed rainproof trousers and extra socks. Forgot the camera!
Check the weather, but dress in layers anyway, the forecast can be wrong.
Start early. Give yourself enough time to get there and BACK!
There is a shuttle bus which can take you back to the hotel from the carpark. We timed our walk to catch the bus in the late afternoon.  There are taxis which will pick you up if need be. Odda Taxi +47 53641444
Make sure your phone is charged.
Bring loo roll!
Have a great walk, send me photos!