If it is Quiche, it must be Monday
Quiche for me will always mean Monday. Growing up in the North-East of Scotland, we generally had one of two things for tea on a Monday. We either had Stovies, a fabulous one pot combination of onions, potatoes, gravy and meat, made from the left over Sunday roast or Quiche made from the left over breakfast of bacon and eggs. Bit of a win win situation.
I have now bought some fantastic 10 inch Quiche tins, they are from Fat Daddio and are over an inch deep. This produces a lovely filling to pastry ratio and allows you to load the quiche with all sorts of winning combinations.
For me quiche works well for lunch. Serve with a large green salad. Any left overs make a great supper or quick snack. Quiche are also a fantastic picnic food.
Shortcrust Pastry
This a basic shortcrust recipe which I use for all sorts of sweet and savory recipes. Freezing the butter briefly allows it to form small pockets of air during the cooking process which results in a light, flakey pastry. Although the recipe makes enough for two Quiche I often make a few more batches as the pastry freezes well. I know you can buy all sorts of lovely pastry in the chill section, but I think this homemade version is still worth the effort.
I also quite often make the filling for this Quiche ahead of time as everything should be cold or at room temperature when it is being assembled.
Mushroom, Leek and Bacon Quiche
April 13, 2018
: 8 good portions
: moderate but not that bad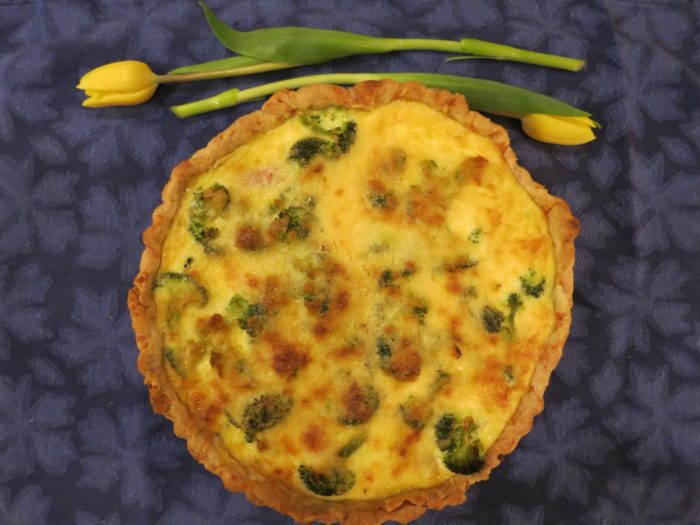 Ingredients
Quiche Pastry or Basic Shortcrust Pastry
1lb all-purpose flour plus more for rolling out
1/2 lb. or two sticks of butter or mix of vegetable shortening and butter with butter being at least half of the mix, cut into small dice
ice-cold water
1 egg, beaten
Basic savory custard
4 eggs
480ml/ two cups of heavy or whipping cream
salt and pepper
Filling
3 medium leeks, cleaned and sliced
medium-sized box of mushroom, cleaned and cut into thick slices
6oz pancetta or bacon cut into strips
1 TBS French mustard
Good handful of grated cheese, Gruyère or similar hard cheese
olive oil
knob of butter
Directions
Step 1

Pie Crust (enough for two Quiche) I use 10 inch deep Quiche tins, see comments.

Step 2

Take the tiny cubes of butter or butter and shortening mix and place in the freezer for 15 minutes.

Step 3

Tip all the flour into a mixing bowl. I use a kitchen aid to make my pastry but it could also be done by the rubbing in method.

Step 4

Add the very cold butter to the flour and, with the mixer on slow, combine until fully incorporated.

Step 5

Start to slowly add ice-cold water until the mixture starts to come together and leaves the sides of the bowl clean.

Step 6

Turn the pastry onto a floured surface and quickly work into a smooth dough. I divide the dough into two pieces, as there is enough for two Quiche.

Step 7

Leave the dough to rest for at least half an hour in the fridge.

Step 8

To make the Quiche roll out the larger disk of pastry. Dust your surface and rolling-pin with flour. With a constant pressure roll the pastry in one direction, make a quarter turn and again roll the pastry out in one direction.

Step 9

Repeat until the pastry is large enough to cover your Quiche tin with a small overhang. Do not stretch the pastry as it will only shrink during the cooking process.

Step 10

Make sure the pastry in pushed firmly into the Quiche tin and the overhang is turned back into the tin to form a slight double layer at the top of the tin. Prick pastry all over then line the pastry with foil or parchment paper.

Step 11

Use either baking beans or regular dry beans, such as kidney or white beans, to weigh down the foil or parchment, bake the pastry until the top is just starting to color (this is called baking the pastry blind).

Step 12

Depending on the size of Quiche tin this may take 15-20 minutes. Remove lining paper and beans and brush the inside of the pastry with the beaten egg. Return to the oven for a further five minutes.

Step 13

Pre-cooking the pastry and sealing with egg mixture prevents the pastry becoming soggy when the filling is added.

Step 14

In a large frying pan gently sauté the mushrooms in a little butter. and olive oil. Cook gently for five minutes, then turn up the heat until all the liquid has evaporated and the mushrooms are slightly browned.

Step 15

In a skillet, or large frying pan heat a little oil and butter and sauté the leeks for 15-20 minutes.

Step 16

Finally cook the bacon or pancetta until crisp.

Step 17

Spread the mustard evenly over the base of the cooked Quiche.

Step 18

Add the cooked leeks, mushrooms and bacon and cheese.

Step 19

Carefully pour the custard into the Quiche tin until it almost reaches the top of the pastry.

Step 20

Be careful not to overfill.

Step 21

Gently return to the oven and bake until the filling is set and slightly risen, 40-50 minutes.  
The Quiche reheats well at 350F for around 30 minutes, or until hot. Again allow to cool slightly before cutting and serving. In our family we think we might prefer it cold out of the fridge.
Assorted Quiche
April 13, 2018
: 8-10
: not too bad
There are all sorts of lovely filling you can use for quiche, do not be limited by my suggestions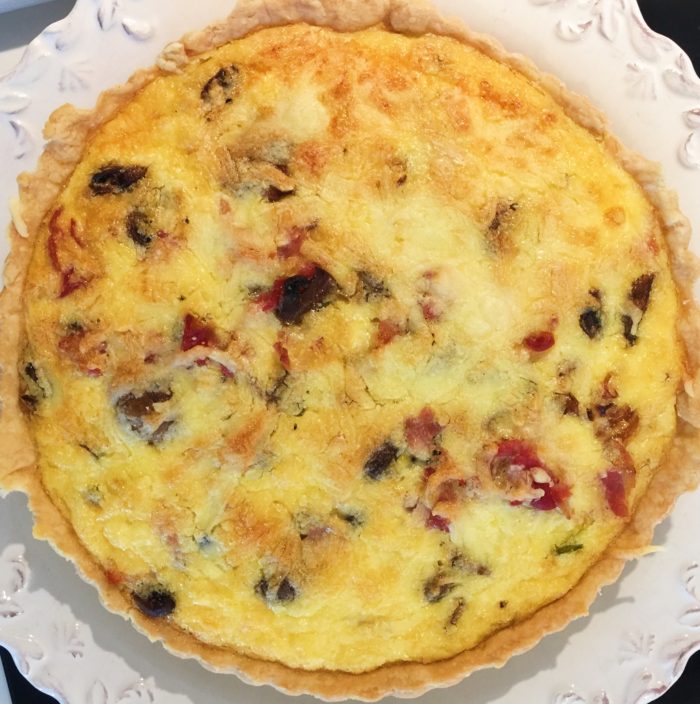 Ingredients
The savoury custard for all the quiches is the same
2 eggs for every cup or 240ml of heavy or double cream
add salt and pepper
Smoked Salmon and Asparagus
4oz/100g smoked salmon. cut into slices
bunch of asparagus, trimmed
pack of boursin or similar herbed soft cheese, crumbled into small pieces
olive oil
Pesto, Goat Cheese and Tomato
1-2 TBS good pesto
baby tomatoes , halved( amount will depend on the size of you quiche)
small log of soft goat cheese
Provençal
one eggplant (aubergine), sliced
two large tomatoes, sliced
green pepper, cut into slices
TBS mustard
good handful of hard cheese such as gruyere
olive oil
some black olives
small handful of herbs such as basil, parsley, chopped
Smoked Salmon and Asparagus;Preheat oven to 400F/200C;Roast the asparagus in the oven for around ten minutes, or until it is cooked but still retains a little bite. The time will depend on the size of the asparagus.;Cut asparagus into bite sized pieces.;Spread the smoked salmon over the base of the quiche.;Top with the asparagus and boursin.;Cover with the savoury custard and cook as before.;;Pesto, Goat Cheese and Tomato;Spread the pesto over the base of the quiche.;Scoop out the inside of the halved tomatoes and arrange in a single layer on top of the pesto.;Scatter with goat cheese.;Cover with the savoury custard and cook ss before.;;Provençal ;preheat the oven to 400F/200C;place the sliced eggplant/aubergine on a baking tray together with the green peppers and drizzle with olive oil.;Roast in the oven until the eggplant/aubergine is cooked and the edges of the pepper starts to brown, around 25-30 mins. Turn the eggplant/aubergine half way through;Spread the mustard over the base of the quiche, top with the;aubergine/eggplant, green pepper slices, sliced tomatoes and olives. Scatter the grated cheese over the top.;Cover with enough of the savoury custard to just reach the top of the pastry crust. Do not overfill.;Bake as above, adding the herbs five to ten minutes before the quiche is due to be ready;;[/lt_recip
Smoked Salmon and Asparagus
Preheat oven to 400F/200C
Roast the asparagus in the oven for around ten minutes, or until it is cooked but still retains a little bite. The time will depend on the size of the asparagus.
Cut asparagus into bite sized pieces.
Spread the smoked salmon over the base of the quiche.
Top with the asparagus and boursin.
Cover with the savoury custard and cook as before
Pesto, Goat Cheese and Tomato
Spread the pesto over the base of the quiche.
Scoop out the inside of the halved tomatoes and arrange in a single layer on top of the pesto.
Scatter with goat cheese.
Cover with the savoury custard and cook as before
Provençal
Preheat the oven to 400F/200C
Place the sliced eggplant/aubergine on a baking tray together with the green peppers and drizzle with olive oil
Roast in the oven until the eggplant/aubergine is cooked and the edges of the pepper starts to brown, around 25-30 mins. Turn the eggplant/aubergine half way through
Spread the mustard over the base of the quiche, top with the;aubergine/eggplant, green pepper slices, sliced tomatoes and olives. Scatter the grated cheese over the top.
Cover with enough of the savoury custard to just reach the top of the pastry crust. Do not overfill.
Bake as above, adding the herbs five to ten minutes before the quiche is due to be ready