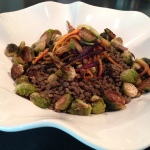 So I already have one lentil recipe on my site but I made this version and am really excited that I managed to include both kale and sprouts, you really can't get more on trend than this!
Ingredients (serves eight)
Two cups of lentils, rinsed in cold water
41/2 cups water, stock may be substituted if desired
2 onions thinly sliced
a few handfuls of chopped kale
6 medium carrots cut into cubes approx. 3/4 inch
2 or 3 medium potatoes also cut into cubes approx.3/4 inch
two cup of Brussel sprouts, trimmed and cut into two
olive oil
a little white wine
salt and pepper to taste
Method
Heat oven 425f
Cook the lentils in salted water or stock until tender, around 40 minutes. Drain.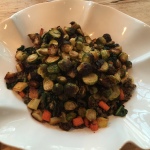 Toss carrots, potatoes and sprouts in olive oil and roast in oven for 30 minute until cooked and crispy, turning half way through.
Meanwhile heat a little olive oil in a pan and fry onions over a medium heat until they start to caramelize.  When they are cooked and nicely browned add the kale, a handful at a time, along with a little water.  Cook until the kale has turned a bright green but has not begun to lose its shape.
To put the dish together mix the onions and kale with the lentils, then combine with the roasted carrots and potatoes.  Top with roasted sprouts and stand back and admire. Season to taste.
If you try this or any other recipe on my  website I would love feedback.  If you like this recipe feel free to pass it on.  If you love this recipe please subscribe using the link below, and I promise you a regular supply of absolutely fabulous ideas for feeding family and friends.