Welcome Plate of Chocolate Chip Cookies
Alan came in from walking our dog Fraser last Saturday morning and told me he had just been helping our new neighbour carry some belongings in from her car. He suggested I go and say hi. It occurred to me that when I lived in Darien I would never go empty-handed to greet a new neighbour. At the very least I would bring a plate of cookies. I was suddenly horrified to realize that since our arrival (when the lovely Anne-Louise brought me chocolate cake) that three sets of neighbors had moved into our stairwell and I had not brought any of them any form of food.
I decided I had to rectify the situation immediately, and for good measure I would also bake for Anne-Louise and Lisbeth who occasionally look after Fraser when we are away. In all fairness the weather was rubbish and I could think of no better way of spending the afternoon than making an variety of 'ultimate chocolate chip cookies'.
Ultimate Chocolate Chip Cookie Recipe
Have you noticed how it seems to be impossible to have a recipe for simple chocolate chip cookies? They must be 'best ever', 'world's greatest' or in my case 'the ultimate recipe'. I dispatched Alan to go off on his bike and buy chocolate (Trader Joe's I miss you). It only took him two attempts to get it right, bless. While he was out I searched my folder stuffed with pages from magazines and hand written notes begged from friends but could not find my' ultimate' recipe. Disaster! I must have thrown it out when I moved. What was I thinking?
After consulting various trusted sources I came up with following recipe, as usual a hybrid of a classic recipe with some minor changes. I only had Demerara sugar so adjusted my sugars as I did not want the molasses taste to overpower the chocolate. If using light brown sugar equal amounts of each type of sugar will work well.
Points to Note
The best chocolate chip cookies are not made with chocolate chips, as they are specially engineered to hold their shape at high temperatures hence do not melt, and they also are not chocolatey enough. The best cookies are made with chunks of chocolate. Use thick chocolate bars, then, with a sharp knife cut, them into chunks. Please Be Careful!
I made two batches, one using milk and one using white chocolate. Anne Lousie told me later that her daughter refused to eat the white chocolate cookies as she did not believe there was any chocolate in them. Technically she was absolutely correct, as white chocolate is not real chocolate.
The second important thing to remember is that it is important to UNDERBAKE the cookies, as that makes them soft on the inside. I also find that cookies are really best eaten on the day they are baked. When I had my catering business I would shape the dough then freeze it in bags with enough shaped dough to make a dozen cookies. The dough could be quickly baked straight from the freezer. If you do not think you will eat all the cookies, the recipe gives you around 48, freezing them is a good option.
To roll or scoop?
You may use a small ice-cream scoop to measure out the cookies in which case the mixture is the correct consistency. If you decide to rolls them into balls you will need to flour for hands and the work surface as the mixture is super sticky
Ultimate Chocolate Chip Cookie Recipe
October 24, 2017
: around 48
: Easy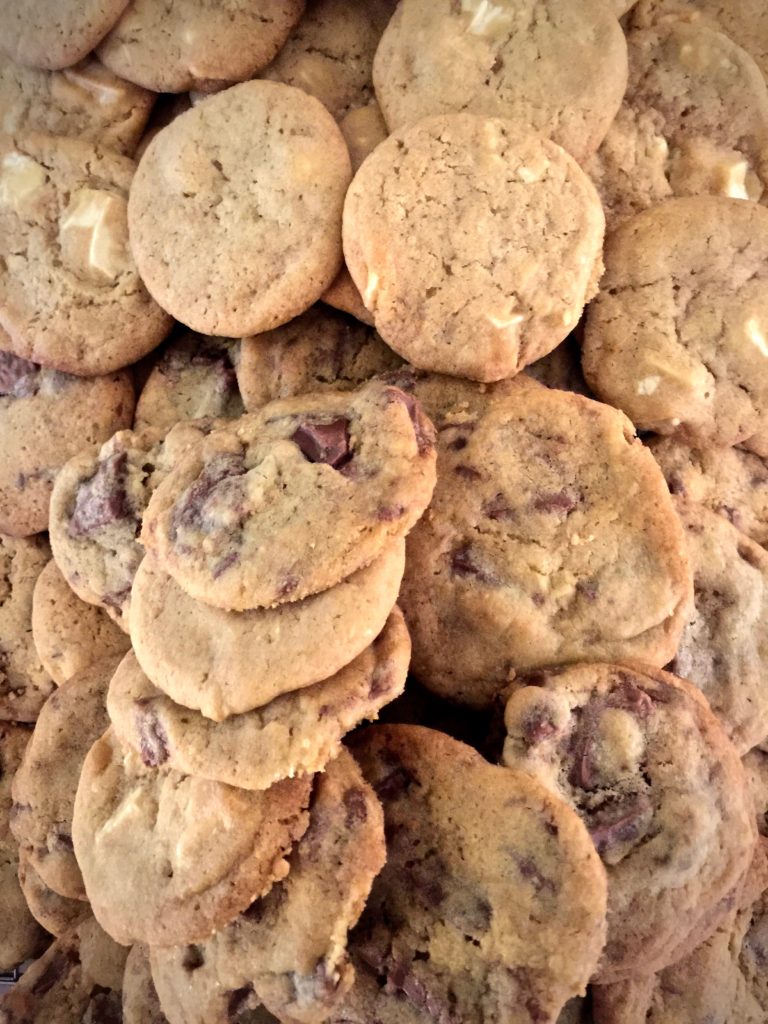 Ingredients
2 sticks butter (8oz/225g) (I use salted butter so omit salt from this recipe, if you use unsalted add a large pinch of salt)
3/4 cup light brown sugar ((smidge over5oz)/150g)
3/4 cup granulated sugar (6oz/170g)
1 tsp vanilla (or use vanilla sugar)
2 large eggs, beaton
21/4 cups plain flour (10 1/4oz/295g, plus another quarter to a third if you are rolling them)
11/8 tsp baking soda
11/4 pounds/560g chocolate, white, milk or dark - I love Trader Joes Belgian Chocolate - cut into small chunks
handful of chopped nuts optional
Directions
Step 1

Preheat Oven to 350F or 180C and line cookies sheets with parchment paper. Have a cooling tray ready for when the cookies come out of the oven.

Step 2

Add the butter and both sugars to a mixing bowl and cream until light and fluffy.

Step 3

Gradually add the beaten eggs and the vanilla if using.

Step 4

In a separate bowl sift the flour and baking soda.

Step 5

Add to the creamed mixture and beat until just incorporated.

Step 6

Fold in the chocolate chunks.

Step 7

Using a teaspoon take small amounts of the mixture and roll into balls about the size of a golf ball, you may need to add flour to your hands, work surface or the mixture itself if it seems too sticky.

Step 8

Place on prepared cookie sheet and flatten slightly, make sure to leave enough room for the cookies to spread.

Step 9

You may need to bake them in batches depending on how large your cookie sheets are.

Step 10

Cook for between 13-15 mins, until just underdone!

Step 11

Once removed from the oven allow them to cool slightly and then remove to a cooling rack.
Postscript
I plated my cookies and went and delivered them saving the last plate for my new neighbors. I knocked on their door for about five minutes until finally someone answered. It was the painters. It seems my new neighbors will not move in for another few weeks. The painters were very happy with the cookies!