One the most fabulous things about living in Copenhagen is all the 'places you can go', and how quickly you can travel to somewhere completely different. A few weeks ago, we went to Istanbul, where East meets West, a city of Turkish Baths, Turkish Delight and, bizarrely, lots of cats!
I had just finished rereading 'The Historian' by Elizabeth Kostova. A retelling of the Dracula story, the heroes follow clues to Dracula's secret hiding place, leading them through many of the fabulous old cities in Europe. I was temped by Prague and Budapest, but finally opted for Istanbul as I assumed it would be warmer than Copenhagen. Got that bit wrong.
However, after over two years of Scandi Monochrome Cool, it was fantastic to be in a city with so many colours.
A Little Geography and History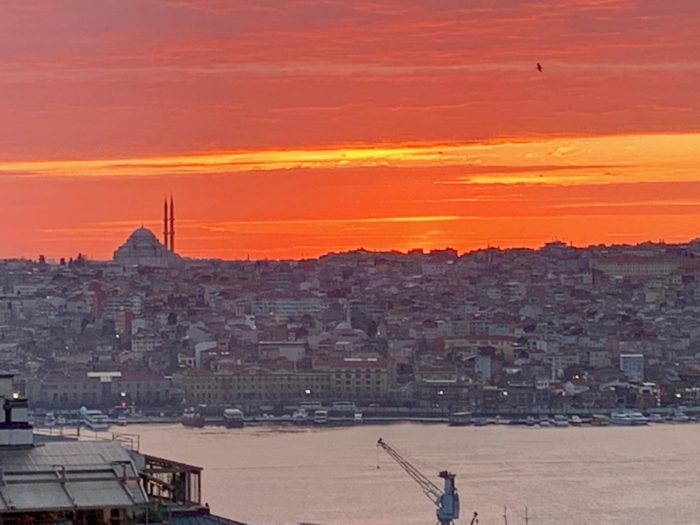 Istanbul, with a population of over 15 million is the largest city in Europe and fourth largest city in the world. Its position, straddling the Bosporus, the narrow strait joining the Black Sea to the Mediterranean, makes it a bridge between east and west and the only city to lie in two continents. The city has always been a great commercial and trading centre, and also been the centre of more than one fabulous empire.

Istanbul was founded by the Greeks in 660 BC, and at that time was known known as Byzantium. Constantine the Great made it the new eastern Capital of the Roman Empire in 330 CE, renaming it Constantinople.
The city fell to the Ottomans in 1453. Mehmed II, or Mehmed the Conqueror, declared it the centre of his Islamic empire. In 1924, the Turkish War of independence, marked the end of the Ottoman Empire, and the city took the name we know it by today, Istanbul. How can one city have so many great names?
Much of the city is urban sprawl, but a fabulous historic centre remains, with buildings dating back to the 4th Century.
Getting around in Istanbul
At first we used only taxis to get around Istanbul. On arriving at the airport we went to one of the many booths to book our trip to and from the hotel. We managed to haggle on the the price, but were not sure whether we got a good deal or not. In the city, we were quoted fixed prices on taxis that did not seem to use a meter. Again, we had no idea whether we were being ripped off or quoted a fair price.
As we were not far from the old part of town, we decided we were happy to walk and were lucky that the weather was fair for most of our trip. Walking in a new city is great, and we loved the fishing rods!
After walking for miles, we finally worked out the tram system and travelling around by public transport in general. You can pay per trip. or, a slightly cheaper option, you can buy a travel card at small booths or shops around Istanbul and then load it with money. The card costs the equivalent of $7 and individual trips are $4-5, much cheaper than the $30 we paid for the same journey by taxi.
Someone very kindly offered to sell us a travel card for $30. This seems fairly typical of Istanbul. It is not that the locals are trying to rip off the tourists, but there is a gentle game being played to see how gullible they are. Everything is done with good grace, and a smile.

Accomodation
On the recommendation of the wonderfully Polly, we stayed at the Pera Palace Hotel, a fabulous historic hotel, built in 1892 for travellers arriving on The Orient Express. From the main station in the historic city centre, guests were carried by Sedan chair, a distance of one and a half miles.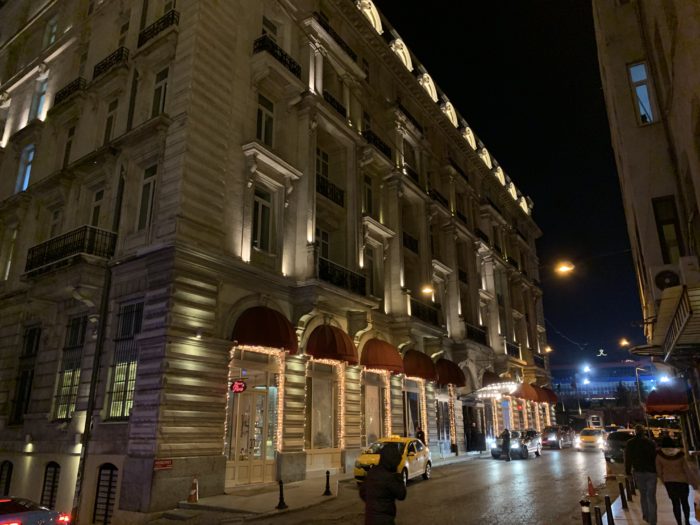 On arrival, travellers found a hotel with plumbing and electricity, the first hotel to have both installed in Istanbul. The Pera Palace also boasted an elevator, a recent invention. At the time, the only other elevator in Europe was in that 'temporary' world fair building The Eiffel Tower.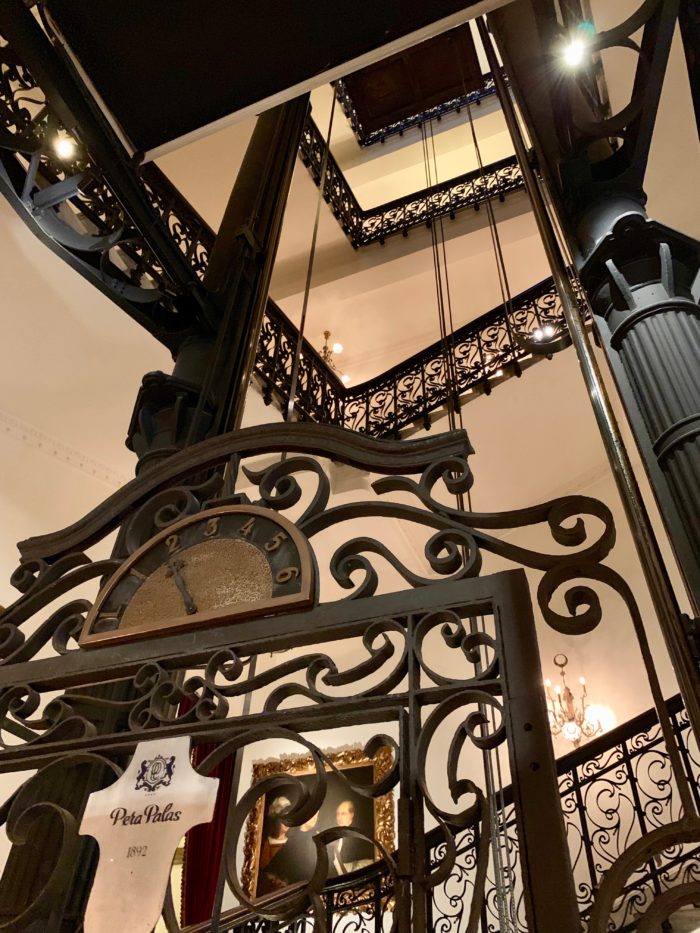 Staying in the Para Palace, you can still imagine yourself newly arrived on the Orient Express. You can take afternoon tea in the gorgeous grand salon with its domed ceiling,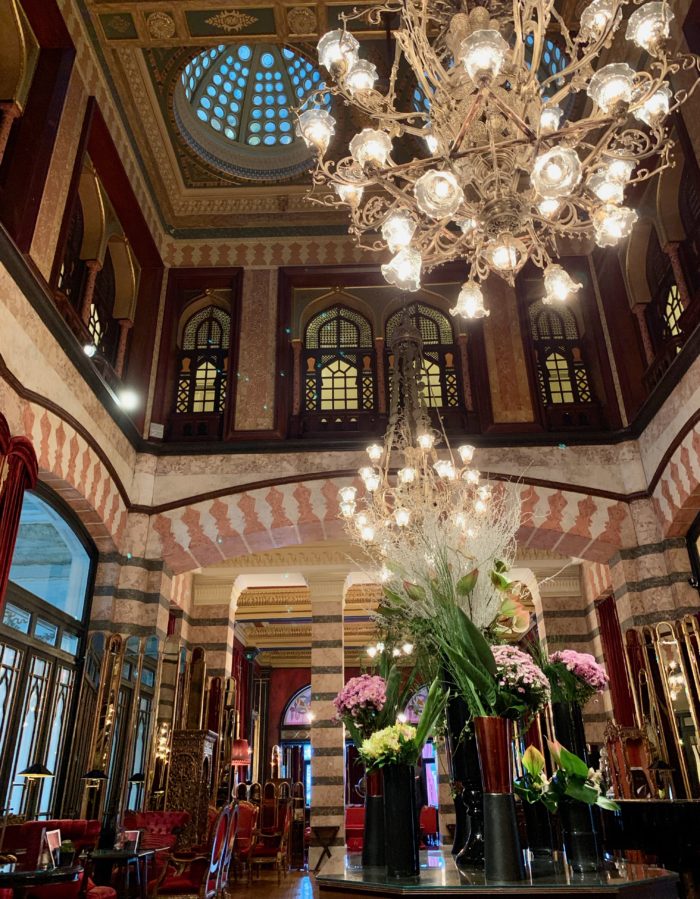 or meets for drinks in the Orient Express Bar.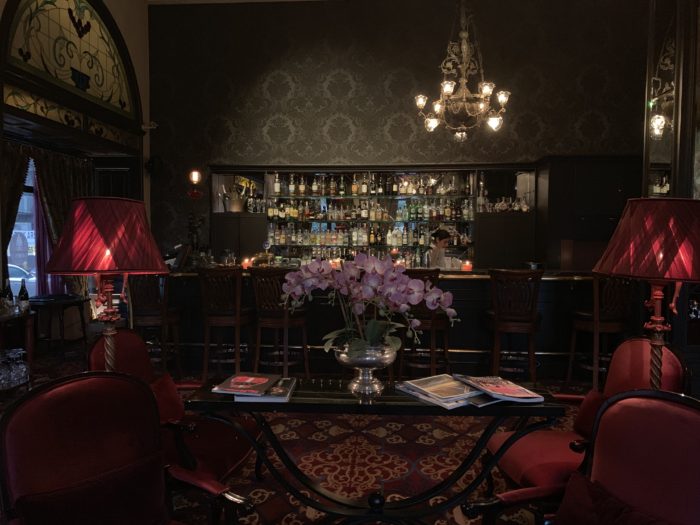 Agatha Christie wrote her book, "Murder on the Orient Express" in room 401, and the room is still preserved as a memorial to the author. Twice a day, you can tour the hotel and find out about the famous people who have stayed there.

The main attractions

Very conveniently, you can find the four main historical sights of Istanbul in the centre of the old city. They are only five minutes from each other and connected by a large square filled with fountains. We visited over two days, but if you get there early enough you could easily see all four on the same day. Check closing times as we just missed seeing the Harem (part of the Tokpaki Palace, but a separate ticket), as it closed at four.
The Blue Mosque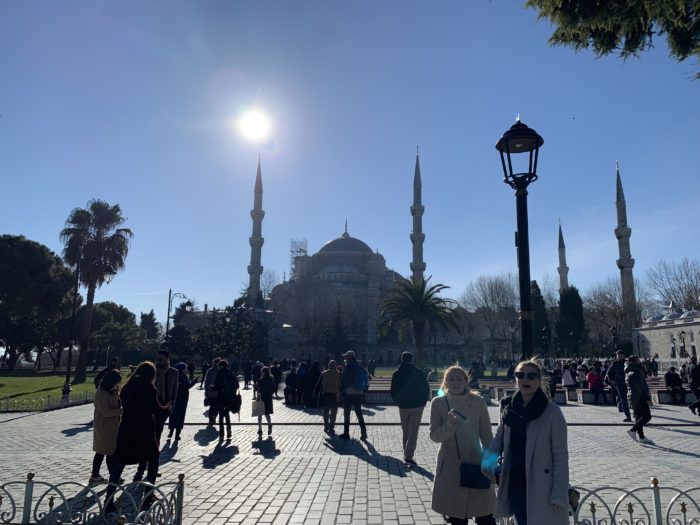 As you would expect, there were dress requirements for entering the Blue Mosque. You must remove your shoes and woman must cover their hair (you can borrow a scarf). We had to put our shoes into clear plastic bags and carry them around. Once inside, however, you walk on luxurious Turkish carpets, which came as a bit of a surprise!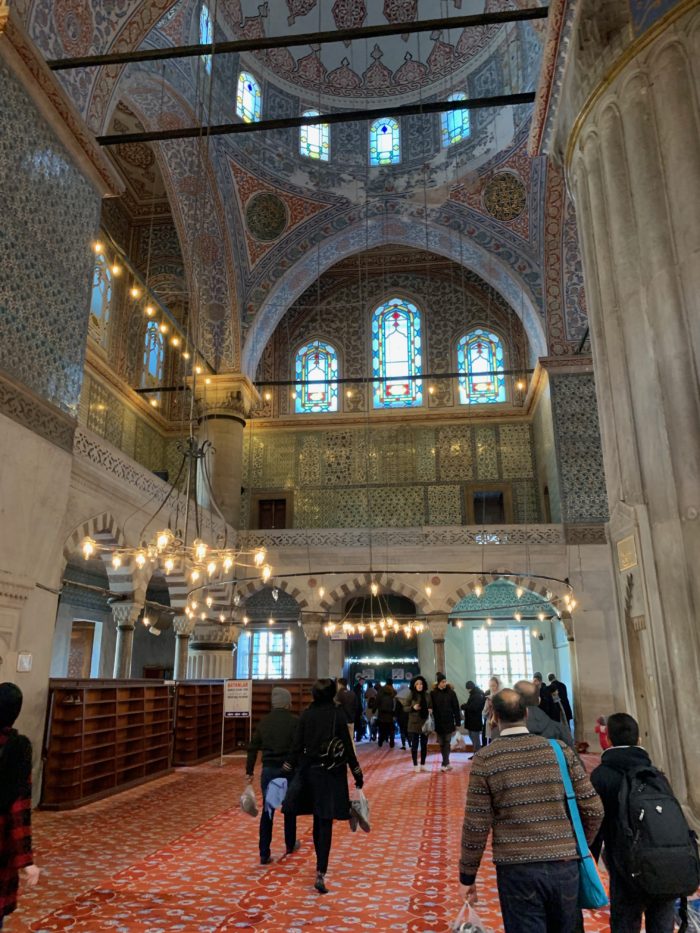 You may also only enter certain parts of the building unless you are muslim, and the mosque is closed during the hours of worship. As the Muslim faith does not allow images of people or animals, the interior is filled with beautiful tiled walls.
Hagia Sophia
I must admit to having being slightly overwhelmed by the inside of this beautiful mosque, and found myself becoming quite emotional. Originally built as a Greek Orthodox church, the Hagia Sophia was converted to a mosque by Mehmed the Conqueror. From 1935 it has been open to the public as a museum, but is still retains the feeling of a holy place.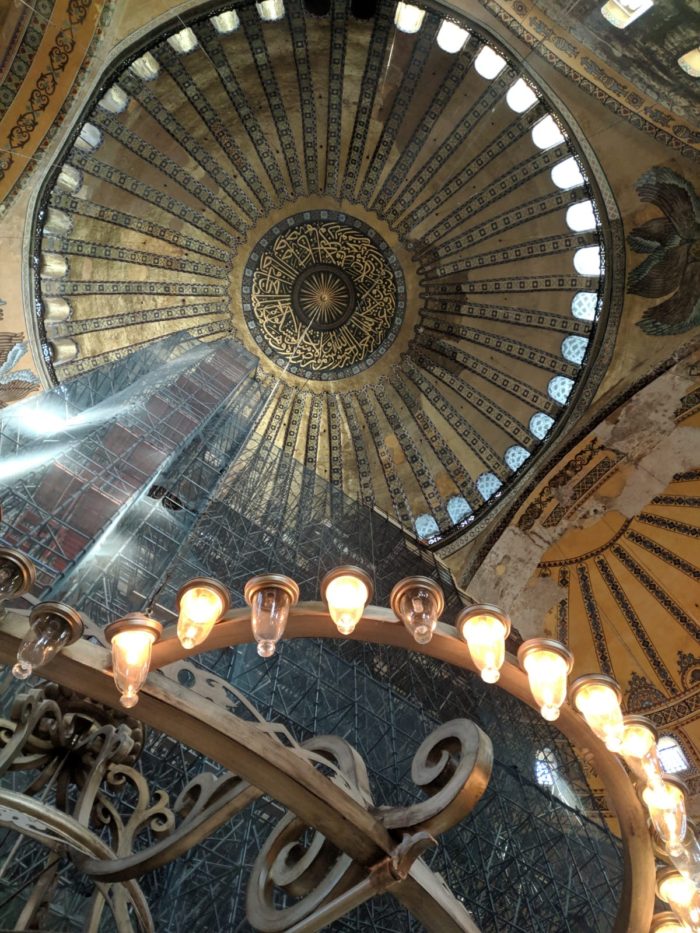 The inside is truly magnificent, and has a completely different feel from the many large cathedrals I have visited in other parts of Europe. The dome is regarded one of the best examples of Byzantine architecture, and. when built, was the largest in the world.
The Muslim faith forbids pictures of people or animals so the walls are adorned with scripture from the Koran. Upstairs, however, some ancients Christian mosaics have been found under the plaster and are being restored.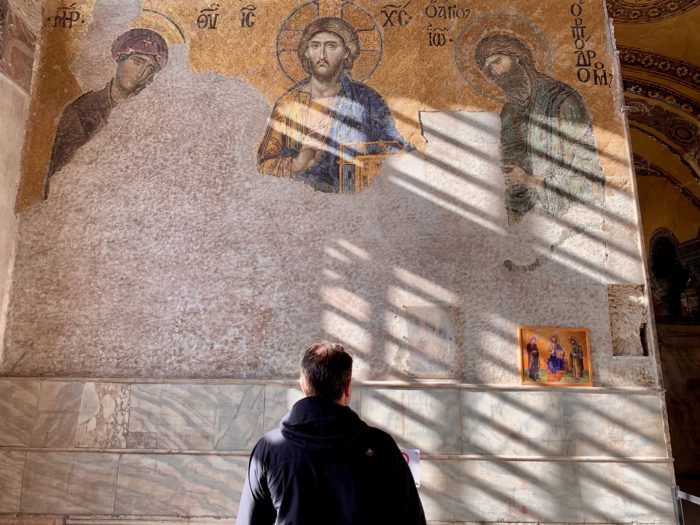 Topkapi Palace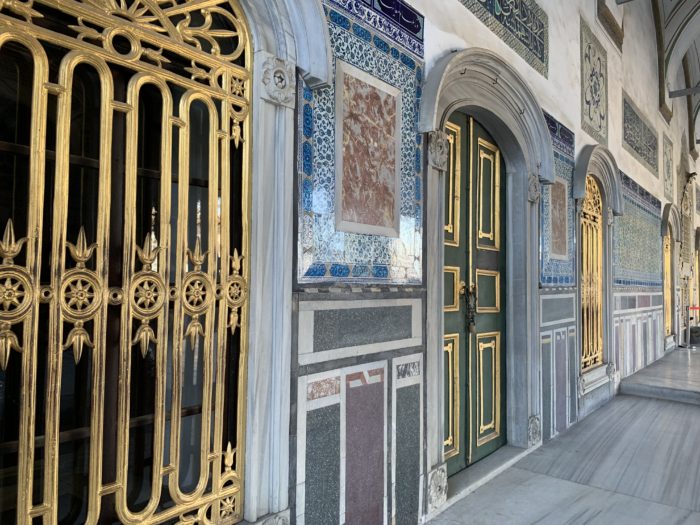 The old residence of the Ottoman Sultans, Topkapi Palace, has also been turned into a national museum. There are rooms filled with scimitars and clocks and relics of the muslim faith and the walls and doors are covered with mosaic tiles and gold.
As we visited the palace, the call went out for afternoon prayers . The noise from the loudspeakers on every minaret rose up and added to the noise from the markets. It was really loud, which was slightly startling, as the palace is high above the old city walls and feels as though it should be a place of quiet contemplation. You have magnificent views over the water to the eastern side of Istanbul.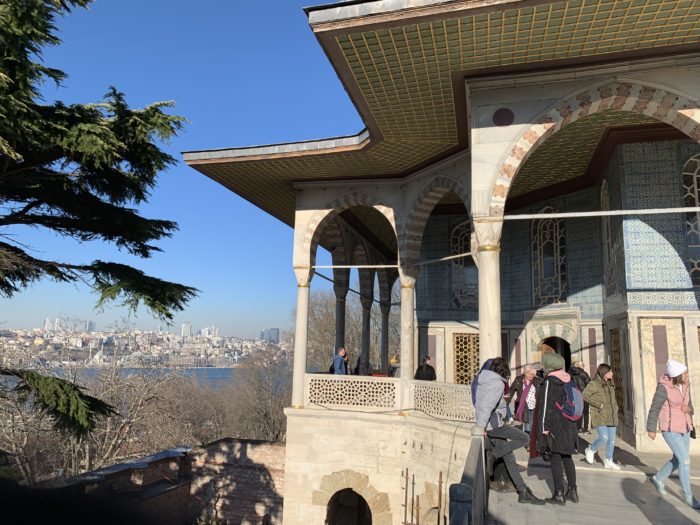 The many building are mainly empty of furniture, containing only large couches, but the walls are richly decorated inside and out with magnificent colours.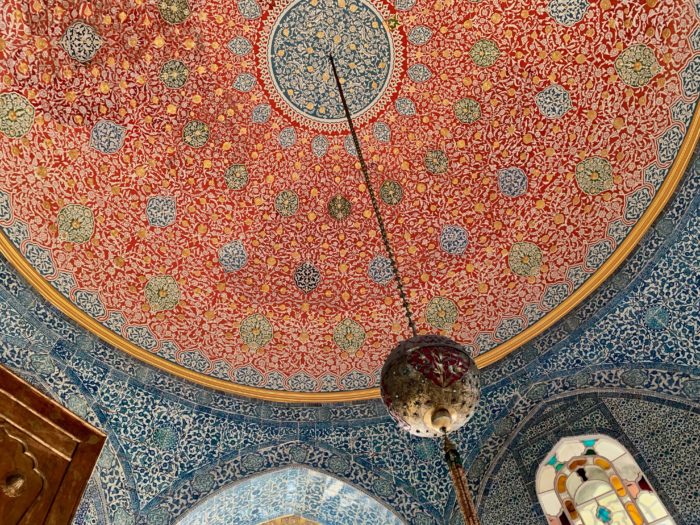 We suddenly realised that the odd shapes in many of the rooms were for turbans, in fact one of the rooms was specifically designed as a large turban closet!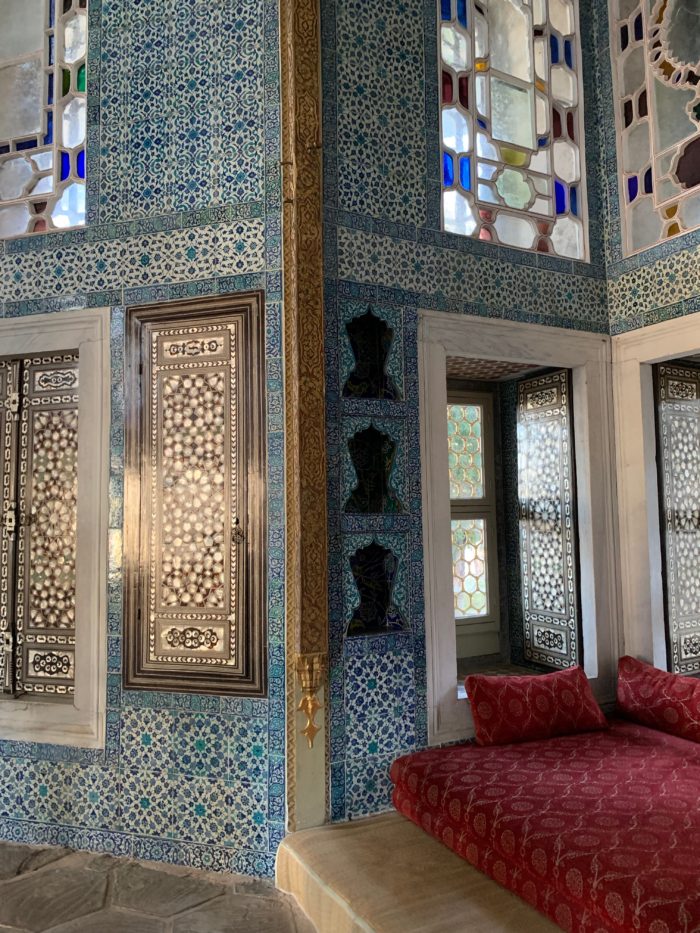 Cisterns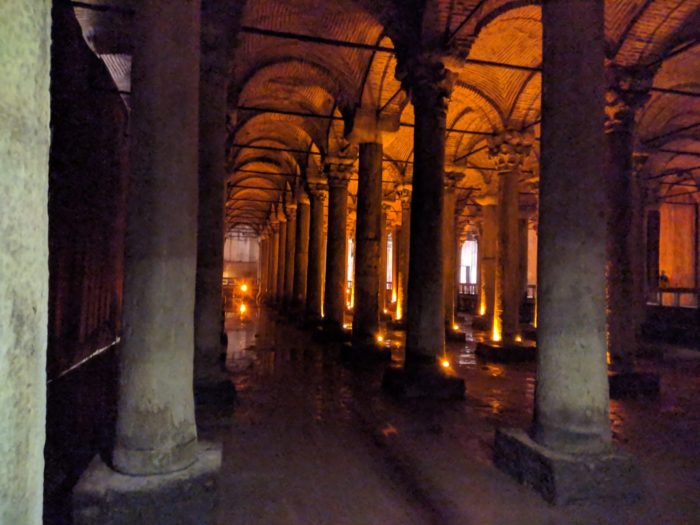 The Basilica Cistern, one of over several hundred cisterns in the city, was build in the sixth century and is another example of Byzantium architecture. Once filled with water it is now empty and you can walk around admiring the splendid engineering feat that supplied the citizens of Istanbul with fresh drinking water.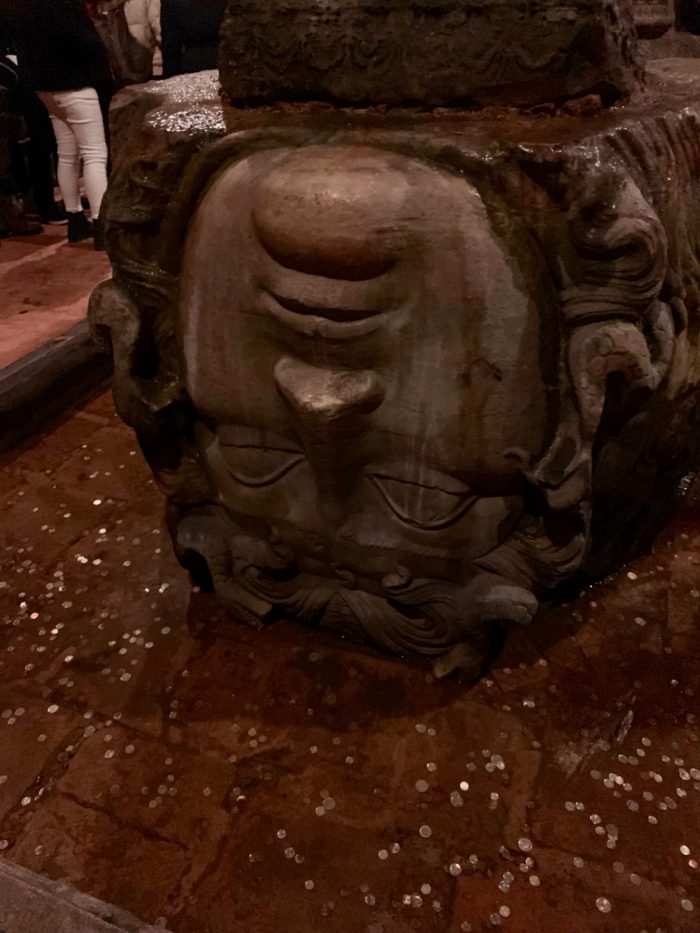 Treasures, such as this Medusa head, which would have been originally under water, can now be seen clearly. Medusa, with her powers to turn people into stone, was often used to protect large stone structures. A lucky charm, if you will.
Grand Bazaar and Spice Market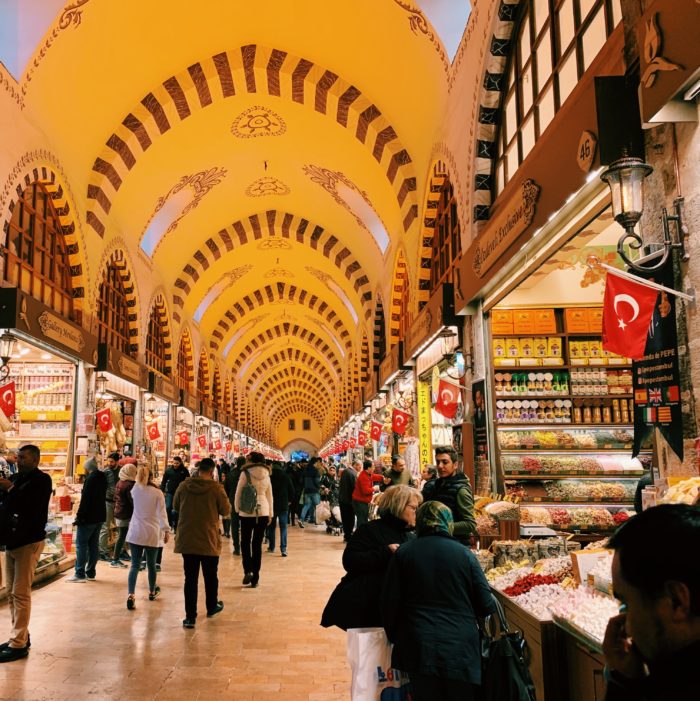 I loved the Grand Bazaar so much, we went twice. Like the Topaki Palace, the bazaar was built on the instructions of Mehmet the Conqueror. Opened in 1455, it was the world's first shopping mall! Today, the bazaar is one of the world's most popular tourist attractions with over 91 million visitors each year. And you get to buy stuff, like carpets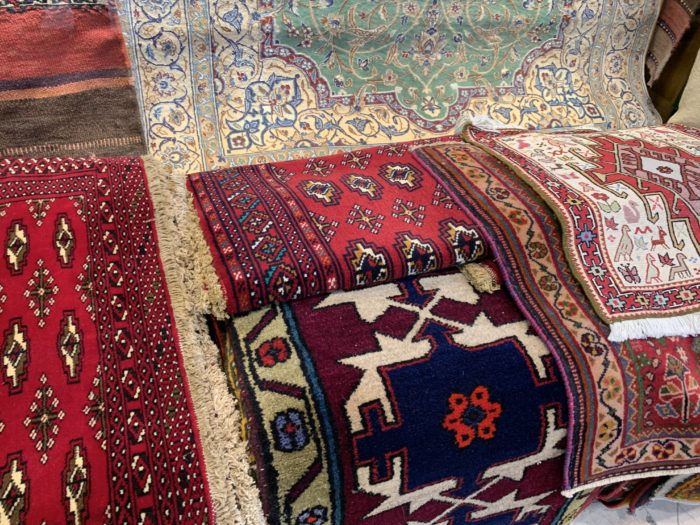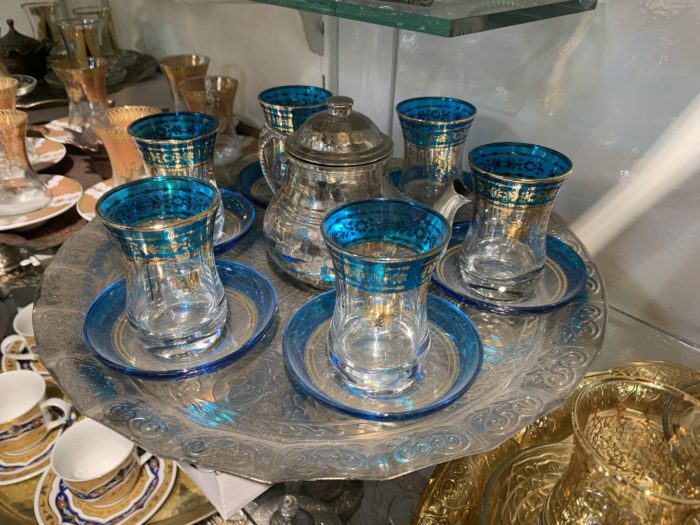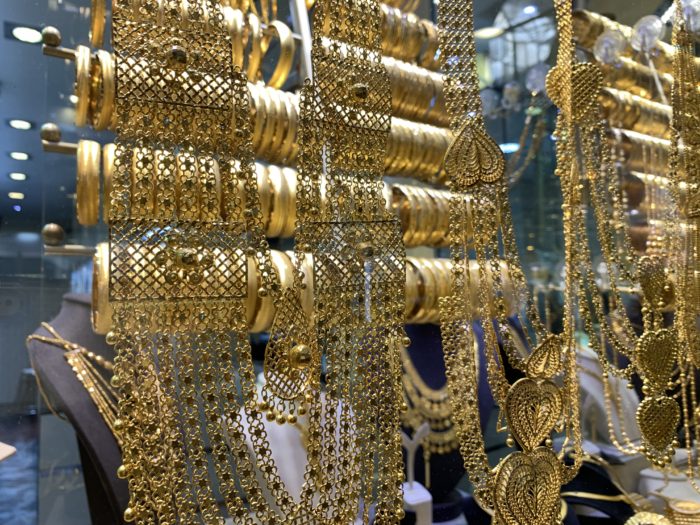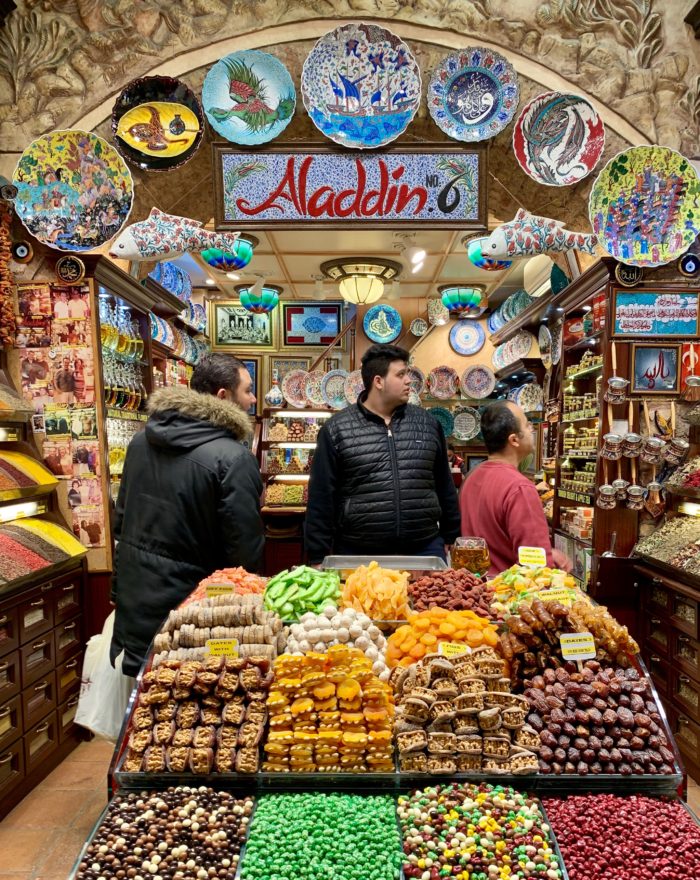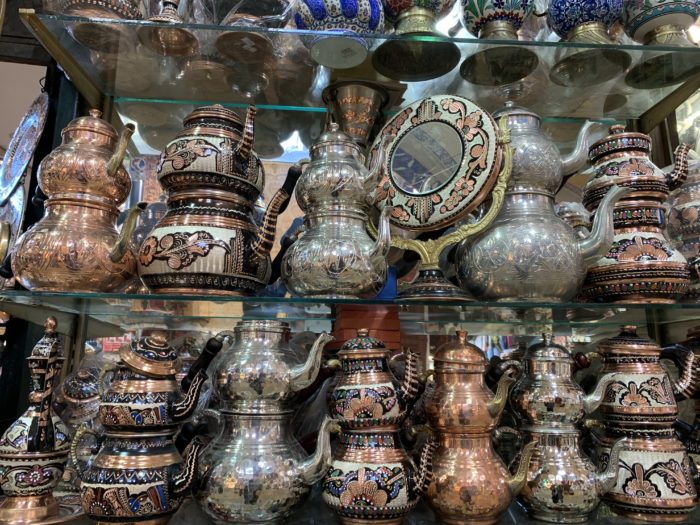 Technically you should shop around and bargain, walking away if the price is too high. We just got lost and forgot where we had seen things. But that was okay, as many of the shops sell the same or similar items. Around us, people were delivering tea to the stall owners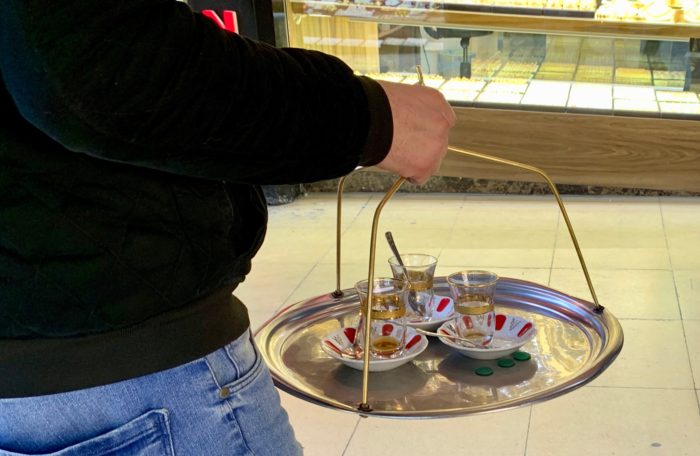 We eventually bought some tea glasses and pottery and of course, now I wish I had bought more. We also, somehow, managed to buy our body weight in Turkish delight., and paid quite a lot for the privilege Not quite sure how that happened. We still have an embarrassing amount left in our fridge!

There is also a Spice Market. The colours were amazing.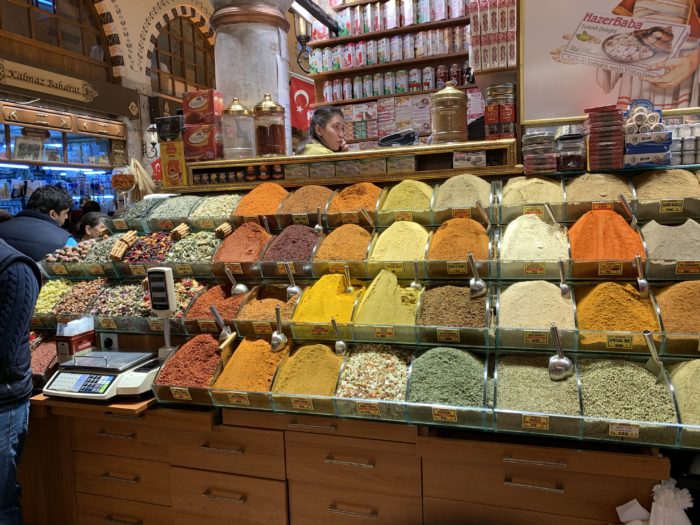 Turkish Baths
We were given a recommendation for the best Turkish Baths, an 'experience' when visiting Istanbul. I was not sure I could be bothered to go. You had to book, in advance, and the baths were open at different times for men and woman. It was falling into the too hard category. However, when we went to book a time for Alan later that day (could not seem to figure out the online booking system), I was offered a slot immediately. Which was hard to refuse.
From the moment I entered the Turkish Bath I was a convert. I have never been a lover of Spas. Windowless dungeons, with indulgent treatments I would rather go for a run or a long walk. But this felt completely different. The whole area was like a sanctuary. The building was beautiful, with a high domed roof and beautiful windows.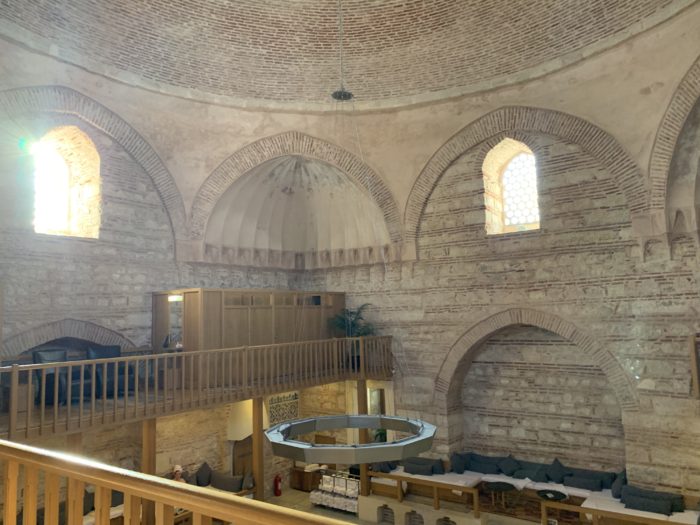 Around the outer walls were couches, piled with pillows for relaxing, and quiet woman brought glasses of sherbet or tea. Shades of life in a harem?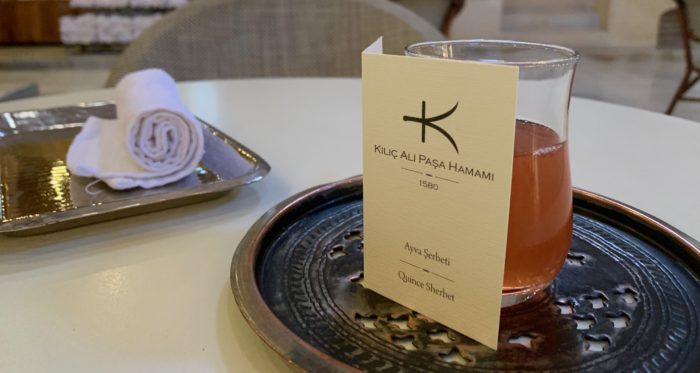 Wrapped in a gorgeous Turkish towel, I was led into a white marble room. After having a few buckets of warm water thrown over me, I was invited to lie on a warm marble seat and relax, whilst waiting my turn. The ladies who bath you are dressed in sports bras and towels, No Scandinavian nudity in this country. And also the woman have real figures, not super toned bodies meant to intimidate, but the sort of bodies that most of us have under our spandex and stretch leggings.
The 'bath' itself involves lots of bubbles, being rubbed down with scratchy mitts, a little massage and lots of warm water. All whilst sitting on a warm marble step. They even wash your your hair. I must admit it felt a little as though I was back to being a baby and getting an evening bath,. It was a totally lovely experience, followed by being wrapped in a warm towel and given more tea.
Details for the Baths are found here.
Turkish Delight, Baclava and food in general.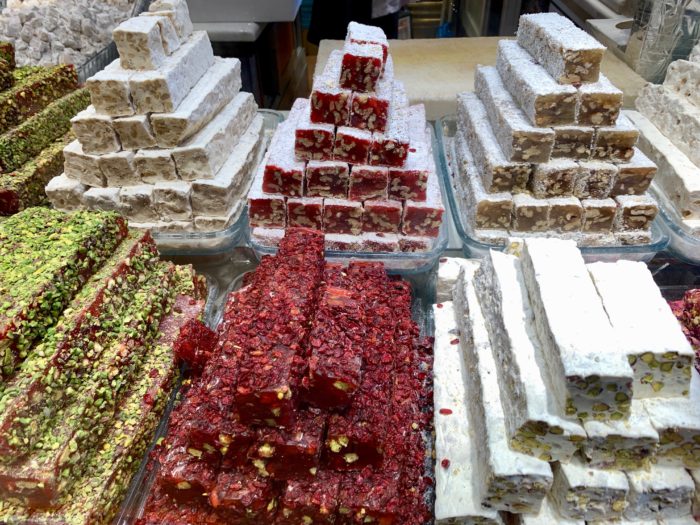 Half way through our visit I realised I was really enjoying the food. Turkish food in Istanbul is influenced by Ottoman court cuisine. Most meals consisted of a variety of small plates, alway hummus, and generally a fabulous salad made from herbs, parsley, basil and mint and tomatoes..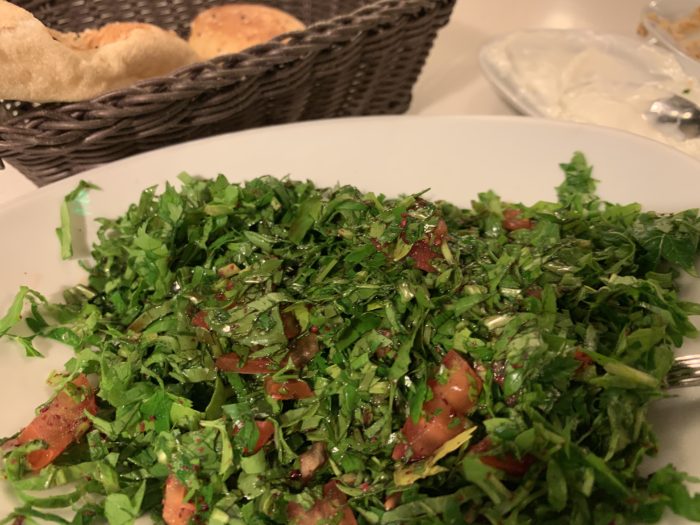 Served with bread and a little chicken or lamb, I loved the simplicity and also the different tastes and textures. Polly, once again, recommended a wonderful restaurant. Only minutes from the hotel, Aheste served our favourite meal, a sort of New Turkish cuisine!
And then of course, there were endless shops serving Turkish delight and baclava. Just fantastic!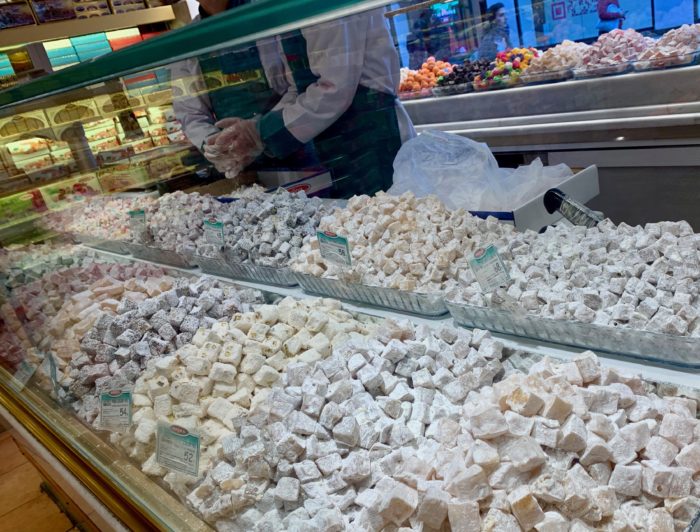 Cats
Cats rule in Istanbul. They are everywhere.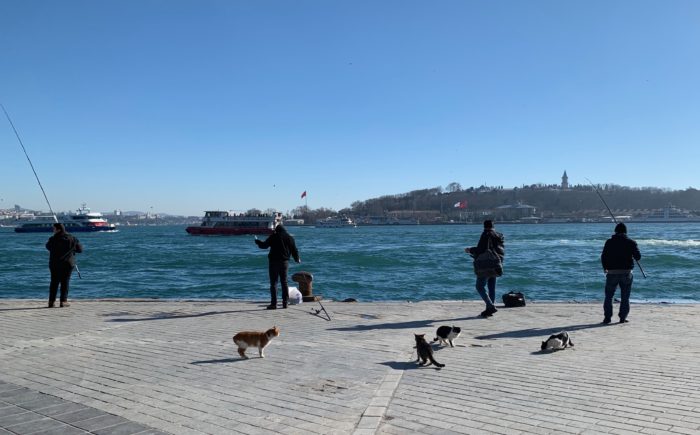 Probably brought in to manage the rodent population, these little furry friends now roam the streets as though they own them. They are neither tame nor feral, and happily sit in the sun alongside coffee drinking tourists. People feed them, and take them into their homes when it gets too cold.
We found the original office of the Orient Express. It is now a museum, full of railway memorabilia, and cats. One of the cats had just given birth to a litter. The kittens were sleeping in a drawer under a red blanket when we visited. The mother was gathering her strength on a nearby desk. They were not the only cats in the museum!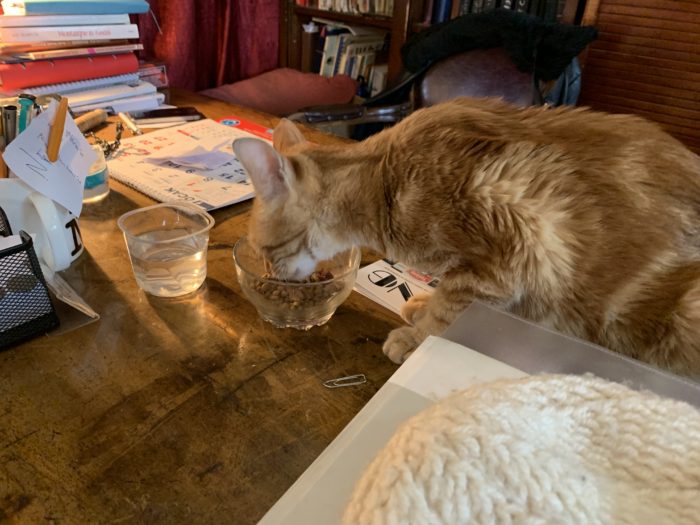 Safety and Security
Throughout history, the city has been multicultural and tolerant of many faiths. We felt very safe. There is extra security. The entrance to the bazaar is through a metal detector and there are a few armed guards, but the atmosphere is calm and relaxed. We went in winter when it was cold and people were wrapped up. I presume in summer you would be advised to wear more conservative clothing as a sign of respect. After a few bad hair days, the colourful head scarfs, worn by many of the woman there, began to look very appealing.
Allow a little extra time on your return to the airport as everyone one and their luggage is scanned prior to being allowed into the terminal.
Istanbul was a totally unexpected magical experience. We did not cross to the Asian side, or visit outside of the main area. We stayed closed to one of the main shopping streets, and the whole area had a Parisian charm.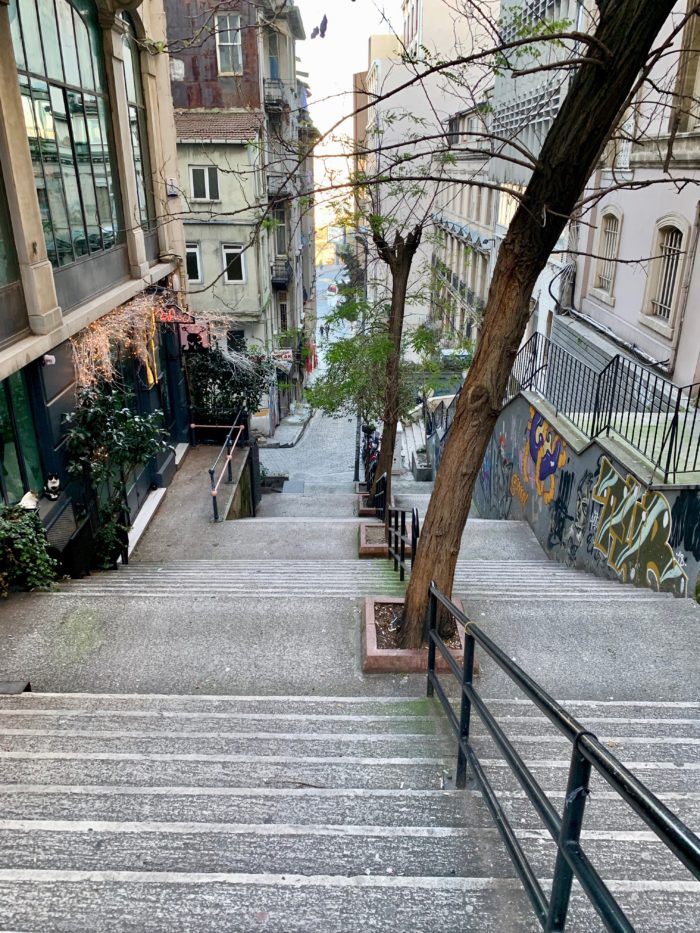 JUST WITH MORE CATS.