Just in case you have not seen my Facebook or Instagram recently, I am back in Darien, Connecticut. It all happened a little suddenly. One minute we are living in the center of one of Europe's coolest cities, and the next we are back home in Darien surrounded by all our lovely mates.
Thank you to all of you who have supported me in my adventures, all the lovely emails saying you have enjoyed reading about foreign food, culture and travel.
Confession
I must admit, that, for the first year, I was a little miserable in Copenhagen. I missed my life in Darien, I missed the afternoon teas and other catering events. I missed playing bridge, and I missed my friends. Two of my children lived in California, thousands of miles and a nine hour time difference away. Hence, the countless trips to the west coast.
But it was never Copenhagen's fault. If you are going to be miserable, there are certainly worse places to be unhappy. Copenhagen is spectacular. When else am I going to live somewhere that my shortest route to the center of town, a fifteen minute walk, is through a royal castle? Where coffee bars and cafes and world class restaurants are all within walking or biking distance? Where hygge, the idea of warm and fuzzy, is part of the national identity? A city that is, literally, walking the walk (or more likely biking) to achieve a carbon neutral footprint. Not to mention universal healthcare and free eduction.
So what is Hygge – Read my post Ultimate Hygge and Auntie Gertie's Coffee Cake
Before I moved to Denmark, I think I bored everyone with my Harry Potter analogy. Part of the main story line is how Voldemort splits his soul into seven parts in an attempt to become immortal. After living in Scotland, London and Darien, I felt that moving to another country was like splitting my soul apart. I already had left so many places I loved and was not sure I could settle in yet another location.
However, last Thanksgiving, I had an epiphany. Rather than seeing leaving a little part of me in so many places as a bad thing, I suddenly realized how blessed I was to consider so many different places 'home'. As I reflect on my two and a half years abroad, I understand what a gift I have been given. What an experience!
So now, in no particular order, the things I will miss about Copenhagen!
1. World Class Museums, five minutes away
We chose to experience city life and rented an apartment in the center of Copenhagen. I could see the fabulous dome of the Glypotek, a mini Metropolitan Museum of Art, from my apartment, and walk to it within five minutes. I was a member, and often met friends for coffee in the light filled palm court. Even if the skies were gray outside, somehow the inside of the museum was always bright and rather wondrous. For more local museums read https://www.carolynsabsolutelyfabulousevents.com/places/denmark-places/copenhagens-lapidarium-kings-royal-cast-museum/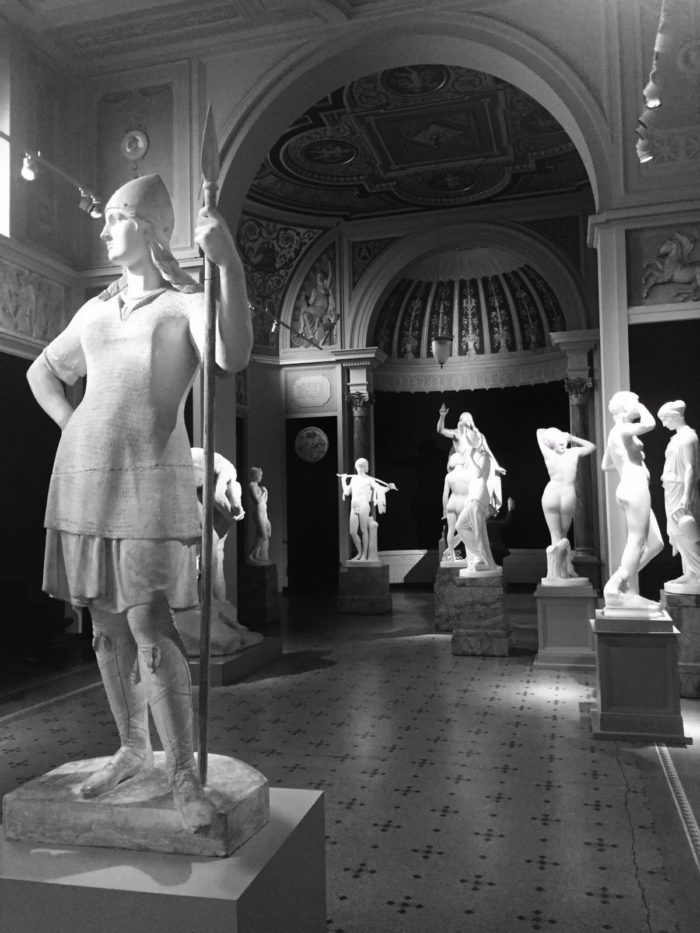 2.Fabulous Royal Palaces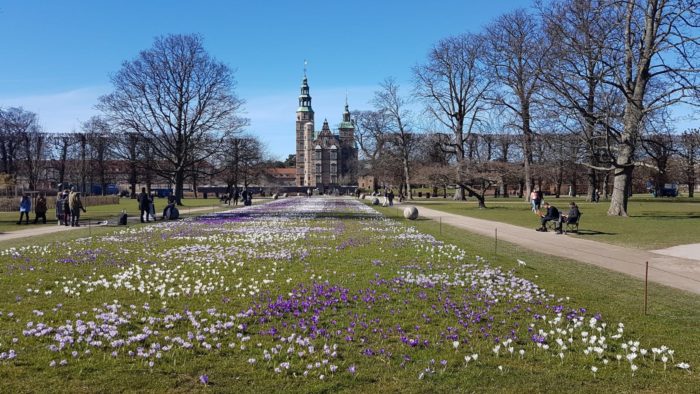 Copenhagen boasts three royal palaces. The one in the picture is Rosenborg, built by Christian IV. Technically a summer palace, it is very much within the center of Copenhagen. However, Denmark has thousands of castles and we loved hopping on a train to go visit. For more castles readhttps://www.carolynsabsolutelyfabulousevents.com/places/denmark-places/day-trips-from-copenhagen-by-train/
3. Photo opportunities everywhere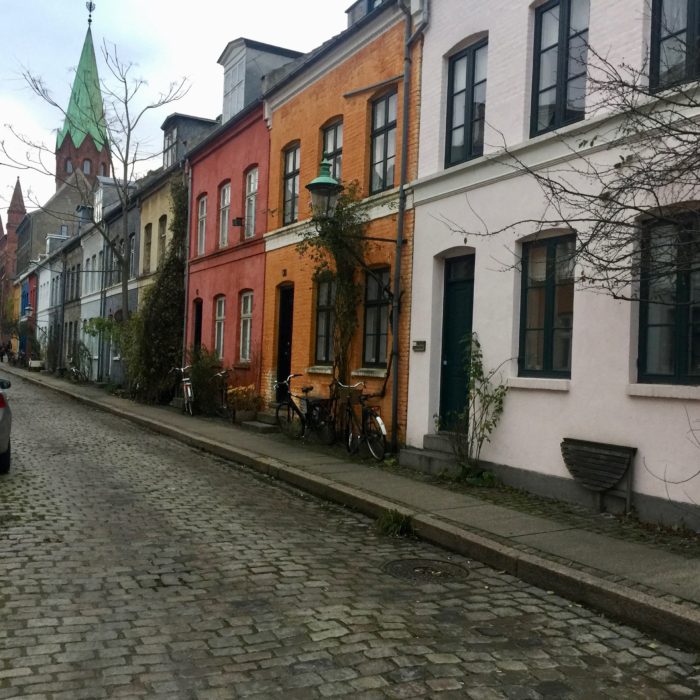 Copenhagen is ridiculously photogenic. It took me ages to get anywhere, as I was constantly stopping to take photographs. Even when I was cycling, I would sometimes just have to stop and get my camera (phone) out!
4. Iconic design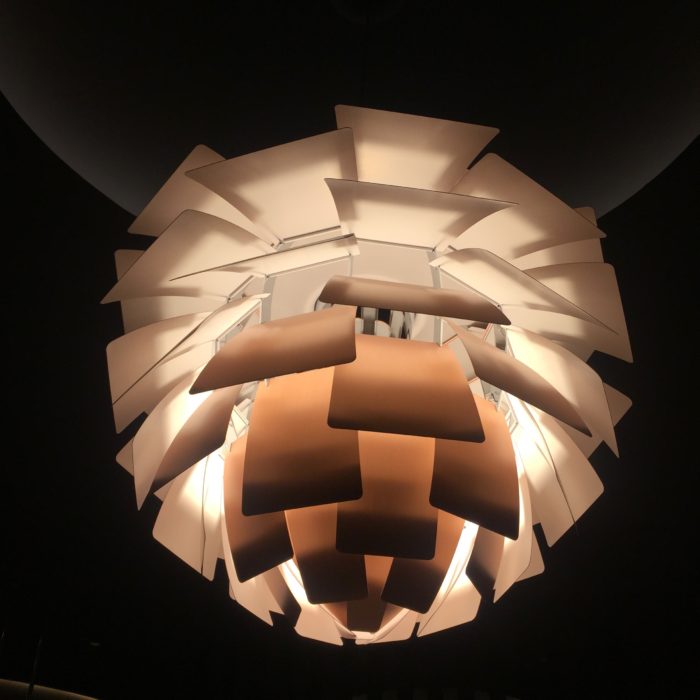 I became completely obsessed with Danish design. For such a small country, population 5.5m, Denmark certainly punches above its weight in the design world. The PH Artichoke, by Paul Henningsen is considered a design masterpiece. An original light will set you back over $12,000. However, it is the most copied light fitting in the world, and you can find a replica online for hundreds rather than thousands. And don't get me started on chairs, I now believe that almost every chair we sit on has its origins in Denmark!
5. Bikes everywhere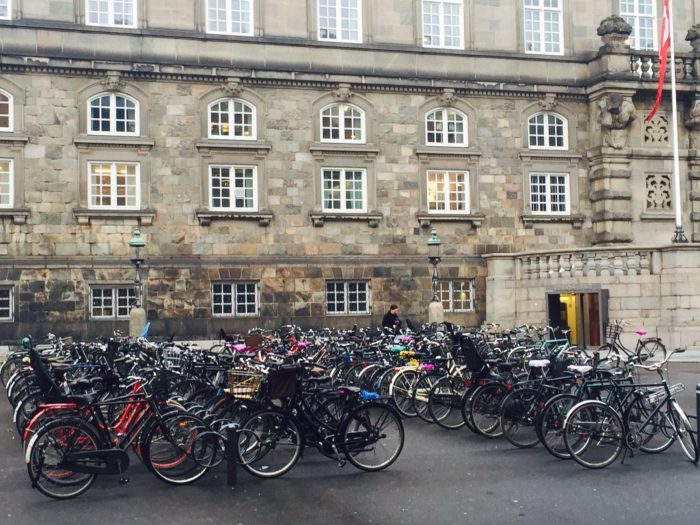 Copenhagen has pledged to be carbon neutral by 2025, and, as part of that mission, encourages everyone to cycle, walk or use public transport. During our time in Denmark, we did not own a car. I came to love cycling, and truly believe it may be one of the core reasons that the Danes are consistently ranked as the world's happiest people. This is the parking lot outside the Parliament building, where over half of the members cycle to work. Parliament is housed in one of the three Royal palaces, Christianborg, and I passed it every time I walked into town as it was only ten minutes from my apartment. And, yes, look at the complete lack of security.
For more adventures on a bike https://www.carolynsabsolutelyfabulousevents.com/places/denmark-places/day-trips-copenhagen-bikes/
6. Adopting visiting exchange students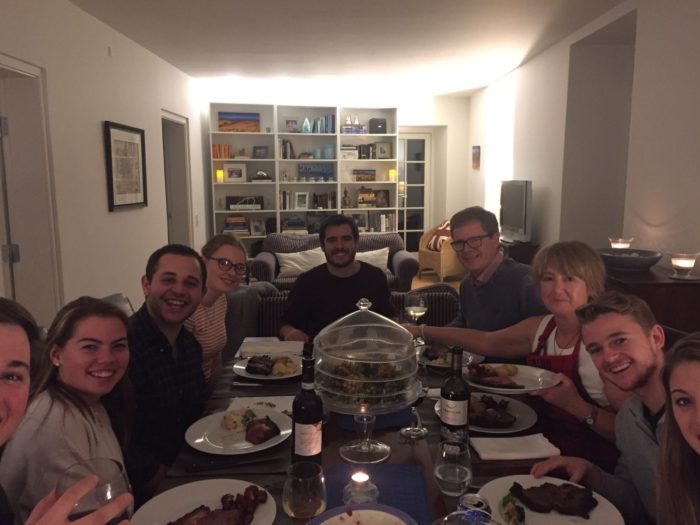 Goodness me, what fun we had this night! We adopted any student coming from Darien to Copenhagen for their school exchange, and offered them a place to call 'home'. This evening, our 'son' turned up with five friends from various parts of the world. Somehow, we ended up singing Hallelujah, as Leonard Cohen had just died, and then just carried on singing until it was time for some of our guest to run to catch their bus back TO BERLIN.
We also hung out with parents when they came to visit, which was so fun. I regret not keeping a guest book now, as so many people passed through Copenhagen and reached out to us to meet for drinks or dinner, or a guided tour.
7. Flying home to Scotland for family birthdays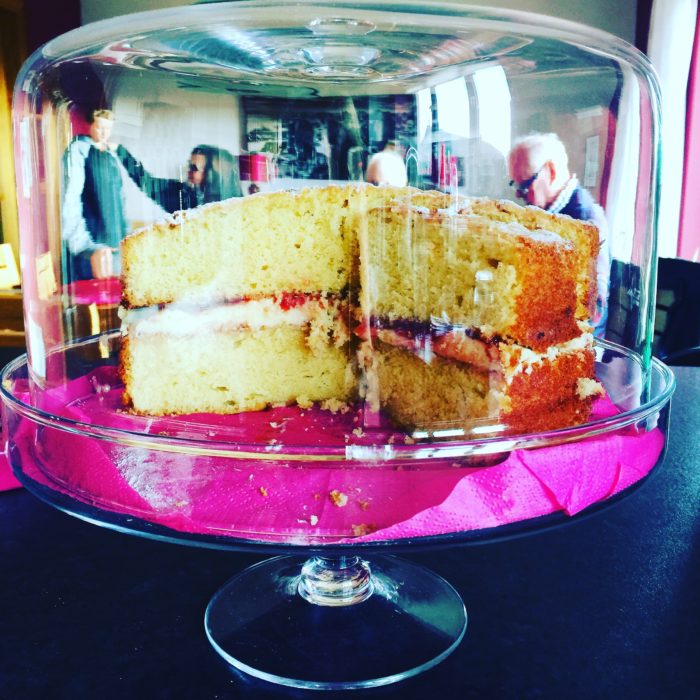 It was very lovely being so close to family in Scotland and London. I think I popped over for every one of my parents's birthdays, two Christmases and two weddings during our time abroad. The Victoria sponge cake was made by my super talented sister-in-law, Teresa!
For the recipe
https://www.carolynsabsolutelyfabulousevents.com/british/victoria-sponge/
8. History on my Doorstep – The Børsen with its dragon tails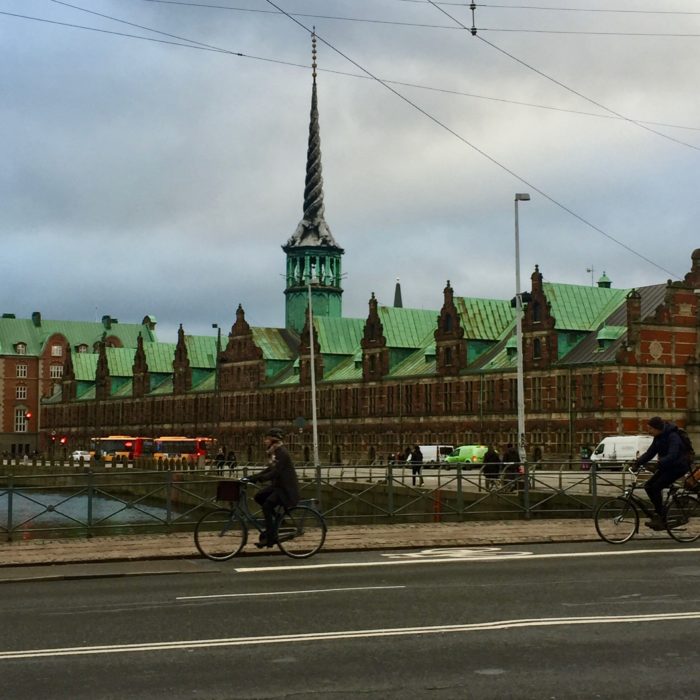 Living in America is fabulous, but the country is so new. I love the effortless history of Europe. everything is so wonderfully old! Above is the Børsen, the stock exchange built by Christian IV in the 17th century. We are talking the original Game of Thrones, as the spire is made up of four dragons with their tails twisted to a point. Again, I passed this building on a regular basis, and it sparked joy each time.
9. Candles (very hygge)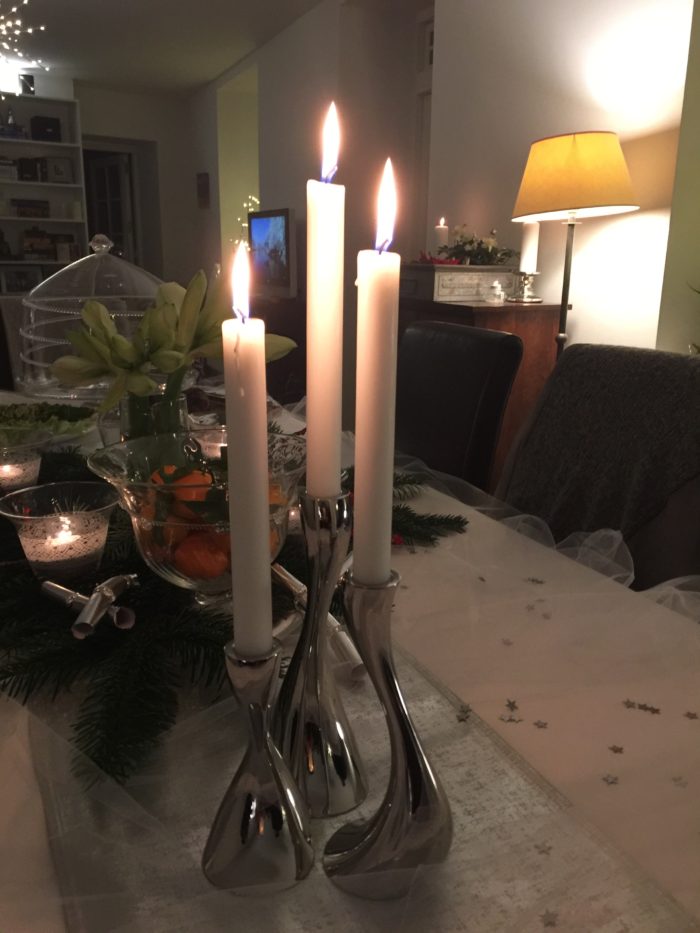 An essential part of hygge, that snuggy Danish concept, is candles. These beautiful Georg Jensen cobra candles were a hostess gift from Alan's colleagues when they came for a Christmas party. They were presented, almost reverently, with a hope that we might experience hygge during our time in Denmark. We lit them every night as we sat down to dinner. we still do that here in Darien.
10. Smørrebrød (danish open faced sandwiches)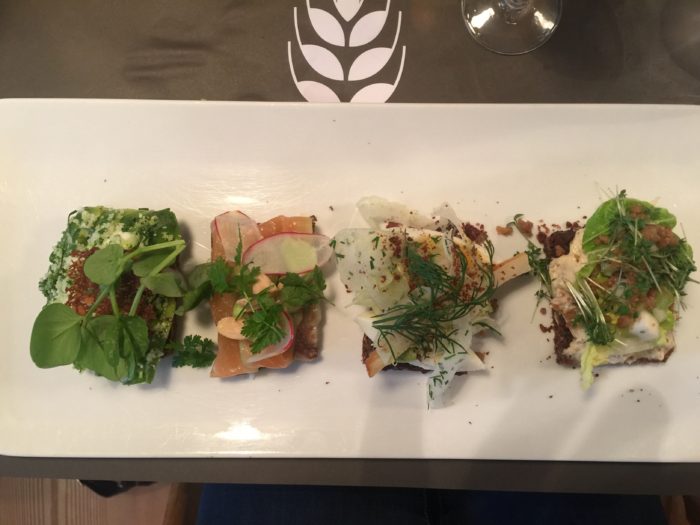 The Danes take sandwiches to an art form, piling impossible amounts of food onto small pieces of bread. These are from one of the best restaurants, Aamans, certainly worth a visit. This type of open-faced sandwich is eaten by most Danes every day for lunch. Often accompanied with a little shot of aquavit, Danish snaps.
11. Actually going to Comic Con (Copenhagen) – bucket list stuff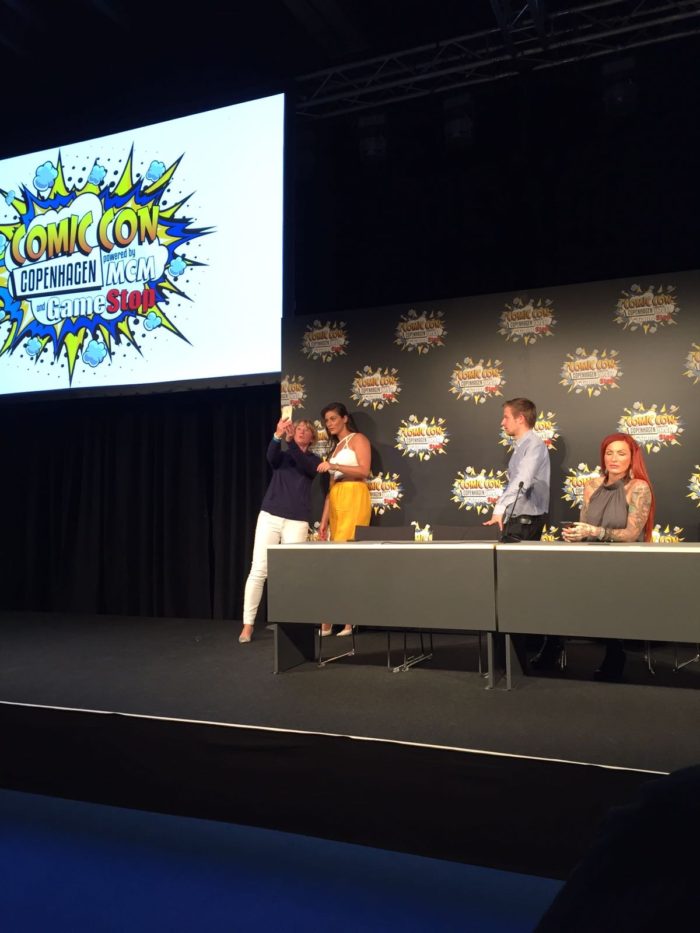 So, maybe it wasn't San Diego or New York, and maybe the famous celebrities were not super famous (Stannis Baratheon's daughter, the one with grayscale) but it was Comic Con and now I have been!
12. Torvehallerne – The Glass Markets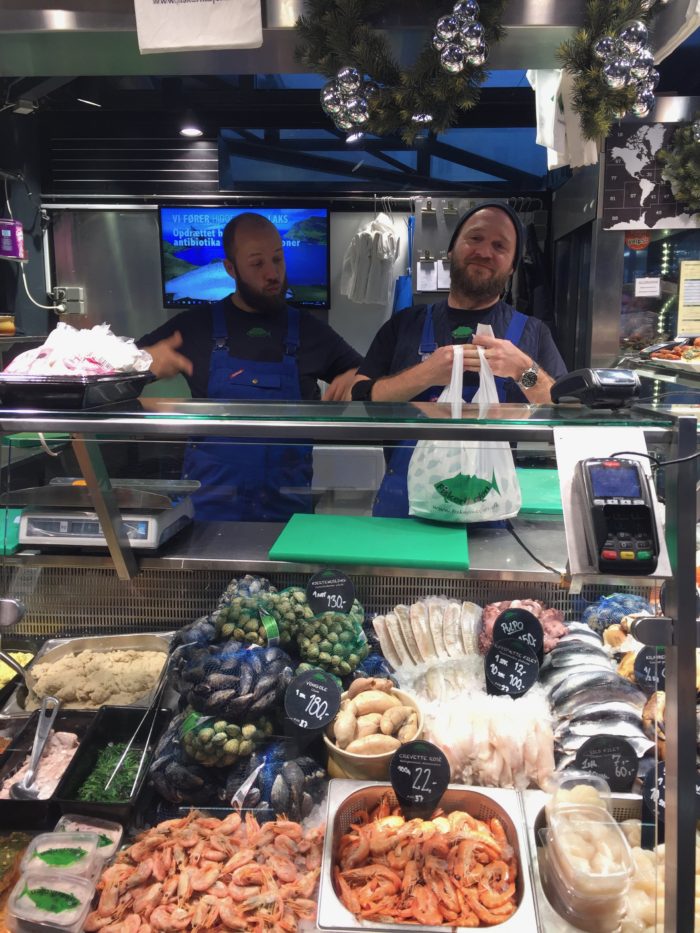 The glass markets are on my must see list in Copenhagen. Two large greenhouses are filled with hygge wine bars and coffee shops or little stores selling up-market foods and drinks. Between the glasshouses, you find all year round fruit, veg and flowers stalls with beautiful produce. Too expensive to frequent on a daily basis, I loved going there and buying flowers for parties. It felt very Parisian. It was also a perfect destination on a dreary winter afternoon for a glass of wine or, nearer Christmas, award winning Gløgg.
13. Walking up our stairs m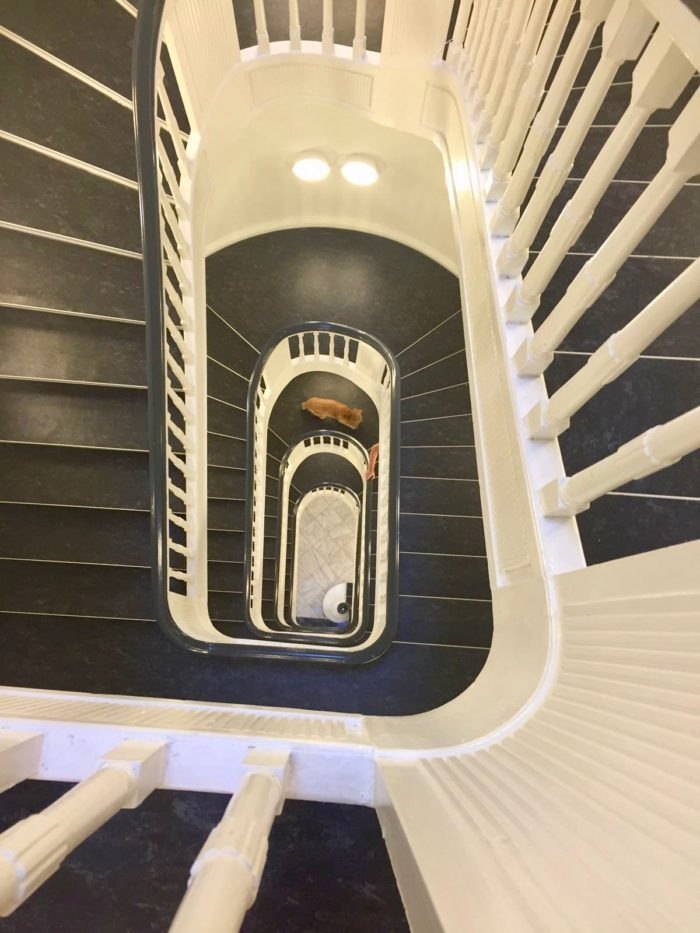 Our apartment was four flights up. Unless I was carry shopping, I walked up all eighty steps. You can see our lovely dog walking with me. Sadly, just towards the end of our stay, he developed arthritis. We were so grateful that he decided that the elevator was not too scary to use. (now home in Darien, we have to carry him up the stairs)
14. Walking upstairs with friends in cool European cities (Pisa)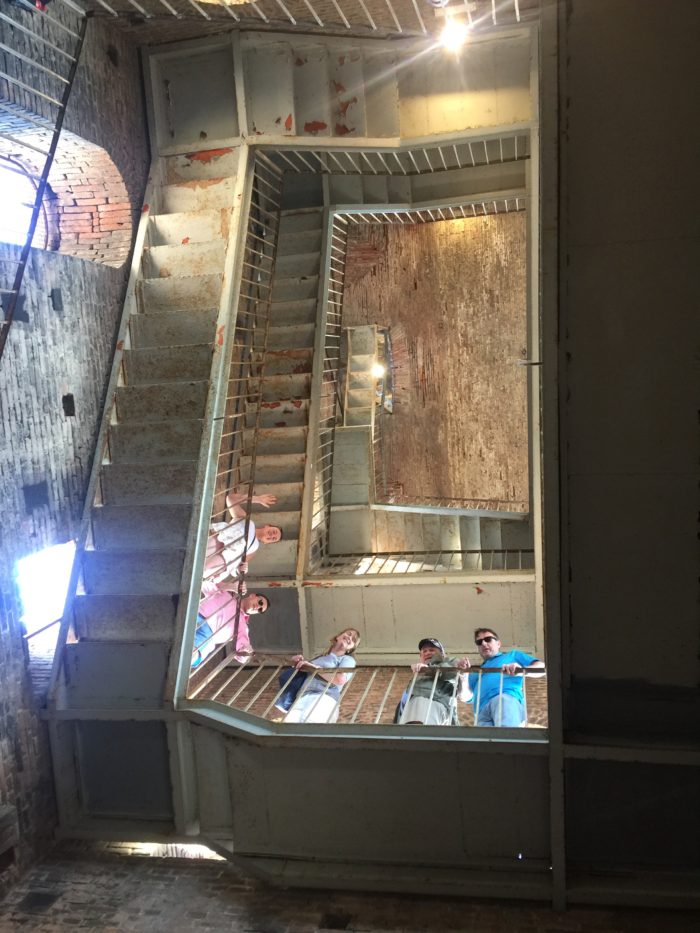 Europe is so easy to navigate and a short plane ride takes you to so many different cool places. We met friends from Darien in Italy and had great fun exploring with them. (sorry, never got round to writing that post, maybe one day)
15. Where even the trash bins are designer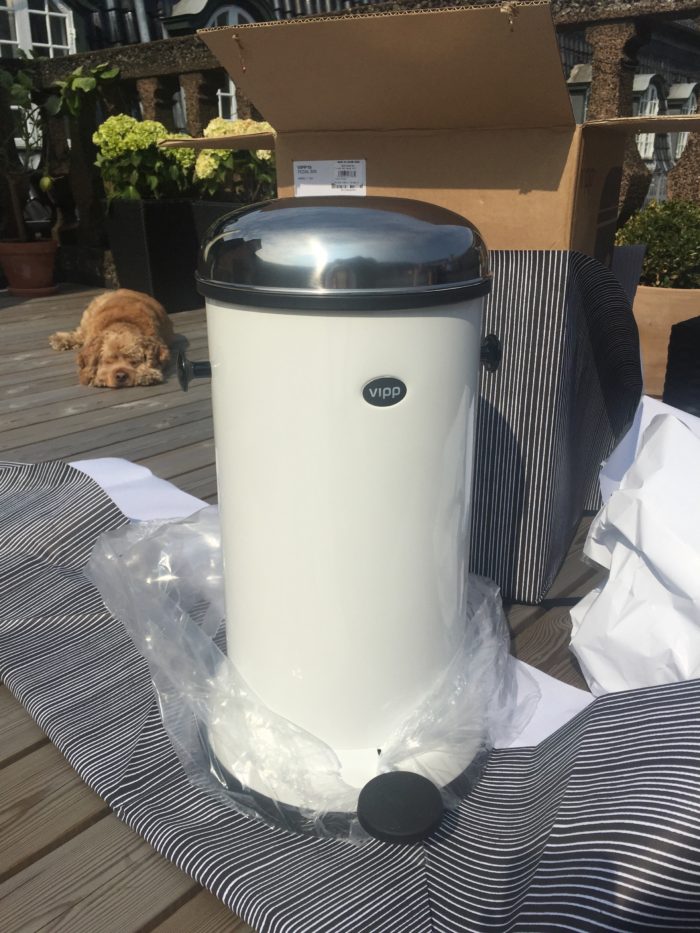 This rubbish bin was my Mother's Day gift two years ago. Isn't it beautiful? In fact, far too beautiful to use. And we do not. We simply admire, and shout NO at anyone who tries to put rubbish into it. Bought at Illums, my favourite store in Copenhagen.
16. Making new friends while learning a new language (that's me in the corner)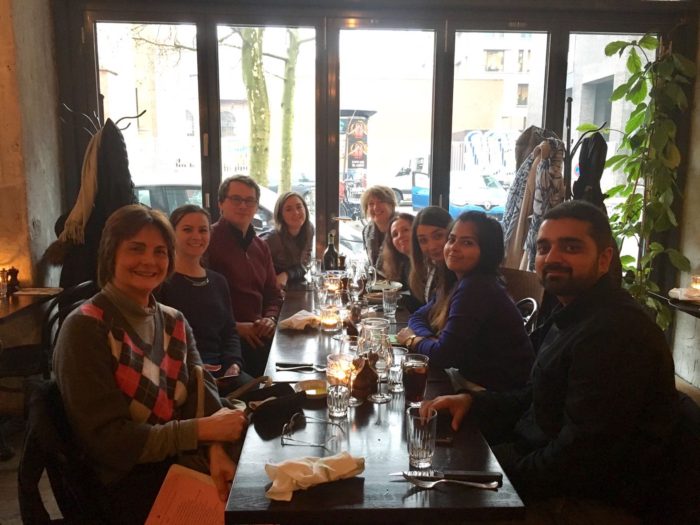 This is my class celebrating passing level one Danish. Super fun all day celebration, which brought me back to my university days. Failed miserably to learn Danish, but made some great friends. One of them, a fabulous young English lass working in Copenhagen, we 'adopted'. We became her home away from home. Totally worked in our favor. She managed some super cool restaurants and hotels, where we brought visiting friends knowing we would always have a great time.
14. Visiting old haunts and old friends
hanging out in cool places (Ottolenghi cafe)

Visiting old friends (and singing)

Snow shoeing in Switzerland

meeting old friends
Super easy to nip to London to see old friends or visit friends from Darien in new locations. I also passed through Heathrow so many time that Paddington and I became good mates.
15. Horses exercising at my 'local' castle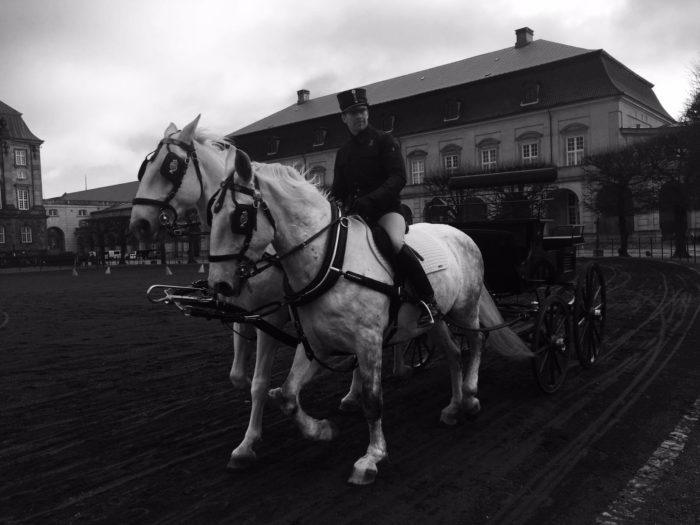 This is the front of Christianborg, the royal palace closest to my apartment. The royal stables hold twenty beautiful white horses, which are exercised daily.
16. The Danes Ridiculous Obsession with Licorice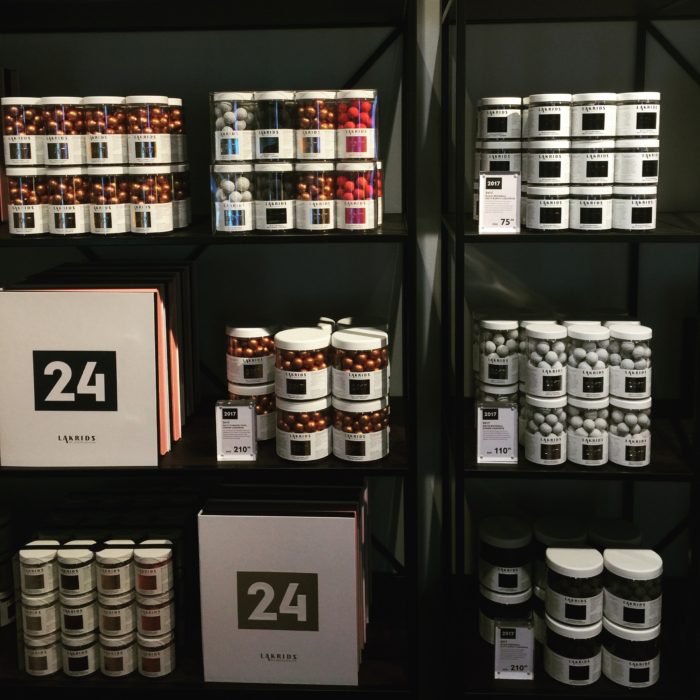 Did you know that the Danes love licorice, I mean really love licorice. It is a Scandinavian thing. They put liquorice in everything, and are just waiting for the rest of the world to get with the program. Tea, ice-cream, dates, beer and, as we see here, all kinds of confections have licorice in them(those are advent calendars). When they want a special treat, they just eat licorice with salt. An acquired taste.
17. Super Cool Festivals (Copenhagen Light Festival)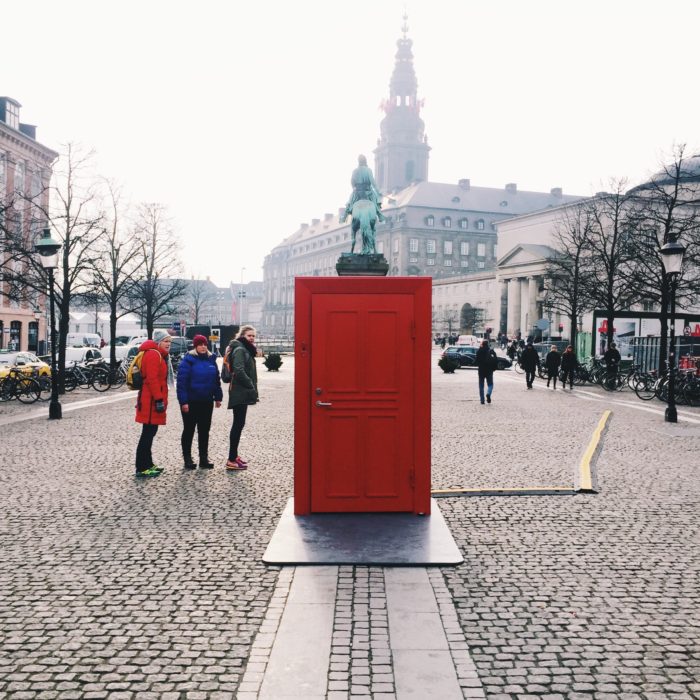 It seemed that there was always something new going on, every week, in Copenhagen; art, fashion, food, culture, music and architecture. It was exhausting NOT going to things!
For the last two years, February (definitely a contender for the cruelest month), has been brightened by the Light Festival, with installations popping up all over town. Always something to do, once you open the door.
18. Fabulous Food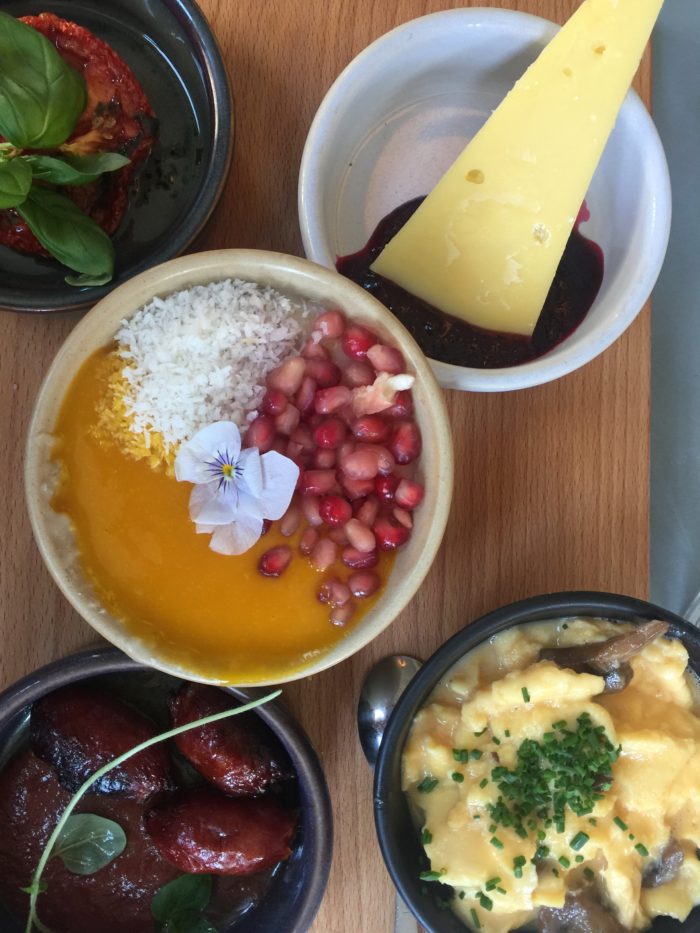 Phenomenal food. For more on that subject read
https://www.carolynsabsolutelyfabulousevents.com/places/denmark-places/copenhagen-food-scene/
19. Doing cool stuff with new friends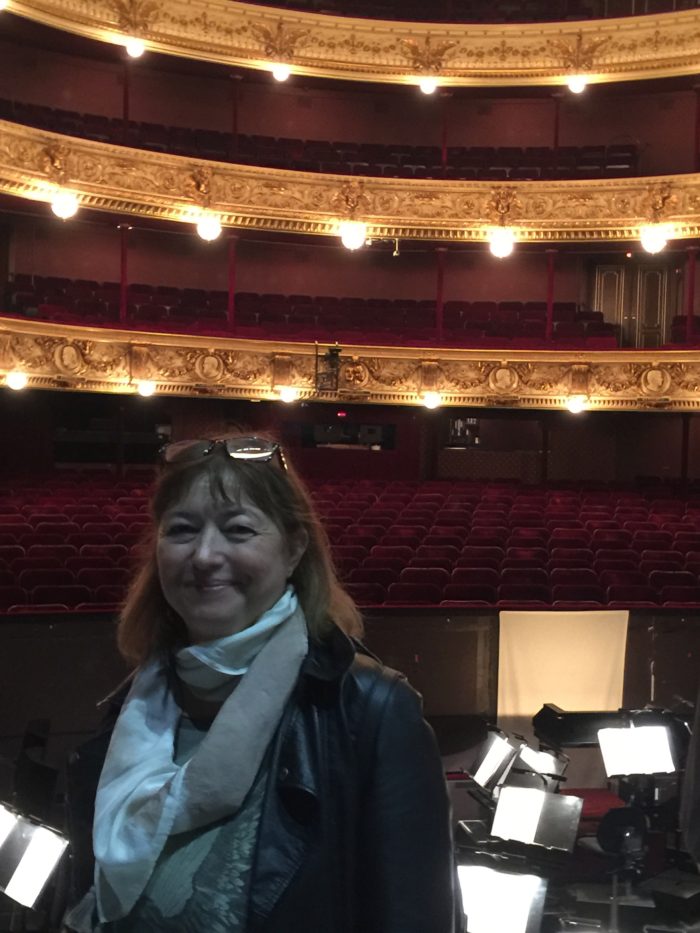 There was always something to do in Copenhagen and always someone to do it with. I spent a great day with my Danish thespian friend, doing a behind the scenes tour of the Royal Ballet and the Royal Playhouse. Unfortunately it was all in Danish, should have kept up with those Danish classes!
20. Living in a city with a long Royal history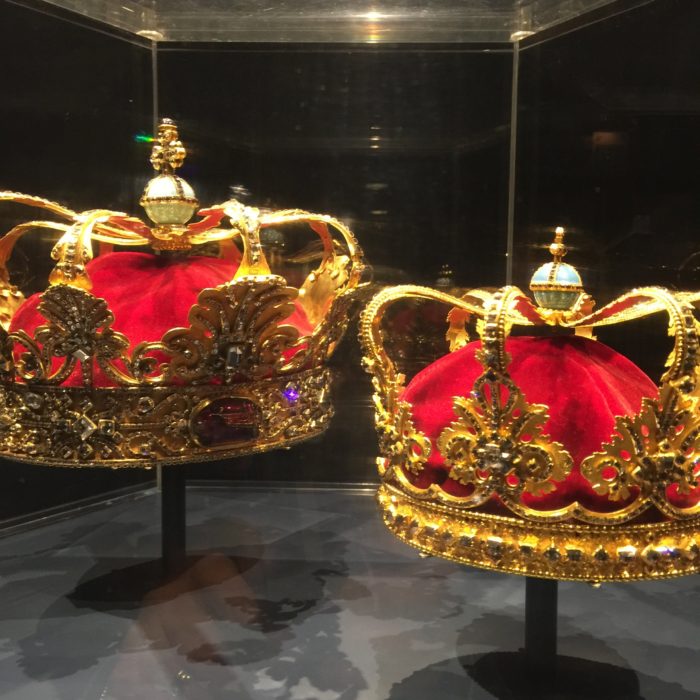 Denmark has the longest continuous reigning monarchy in Europe, with a tradition of kings and queens reaching back to 880AD. The Royal Crown jewels are on show at Rosenborg, the summer palace. They belong to Denmark not the royal family, and may never leave the country. I particularly like the large jewel which used to be held over the Kings head during banquets. Apparently it prevented hangovers.
21.The History behind fabulous statues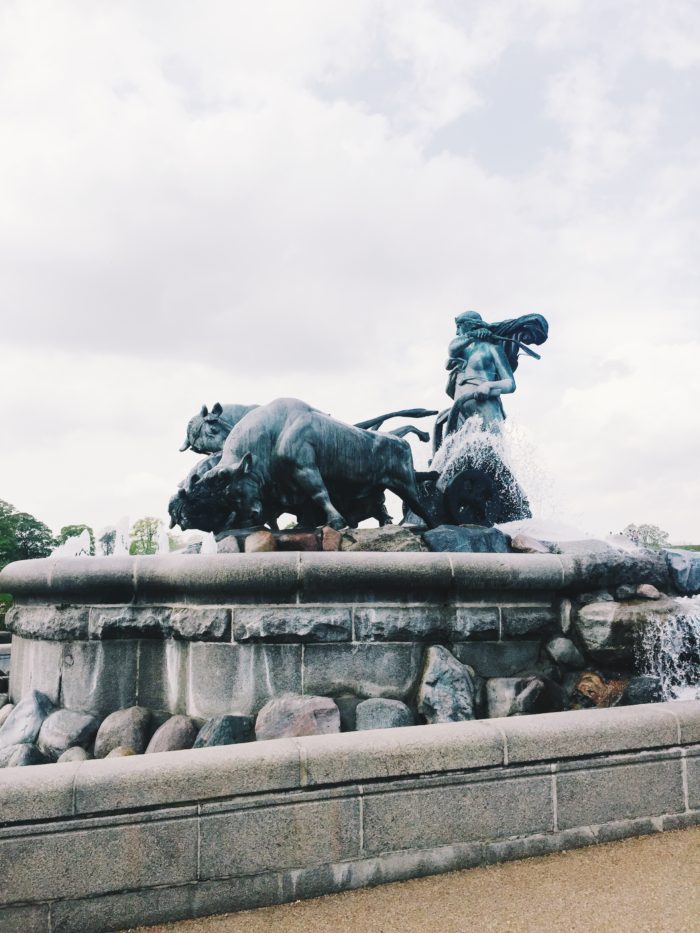 One of the best things I did in Copenhagen was learn to become a tour guide. I found out so many cool facts about Denmark's history, its buildings and statues. Come with me one day and I will tell how Gefion and her four sons plowed Zealand out of Sweden.
22. Having Family come to visit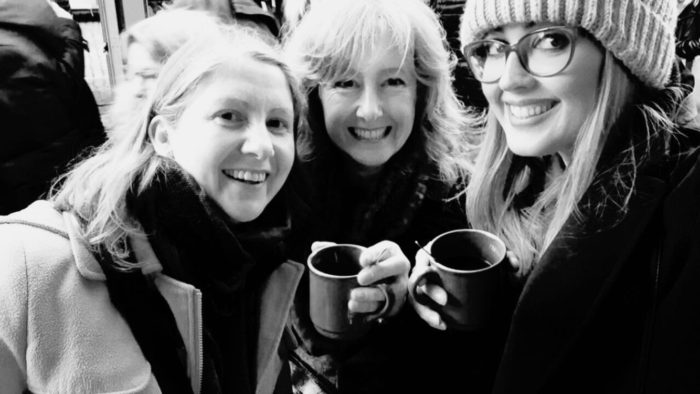 Totally lovely hanging out with friends and family who came to visit and stay in our bedroom and bathroom challenged apartment.
23. Celebrating Burns Night with the Danes (in an Irish pub) and another bucket list item ticked off.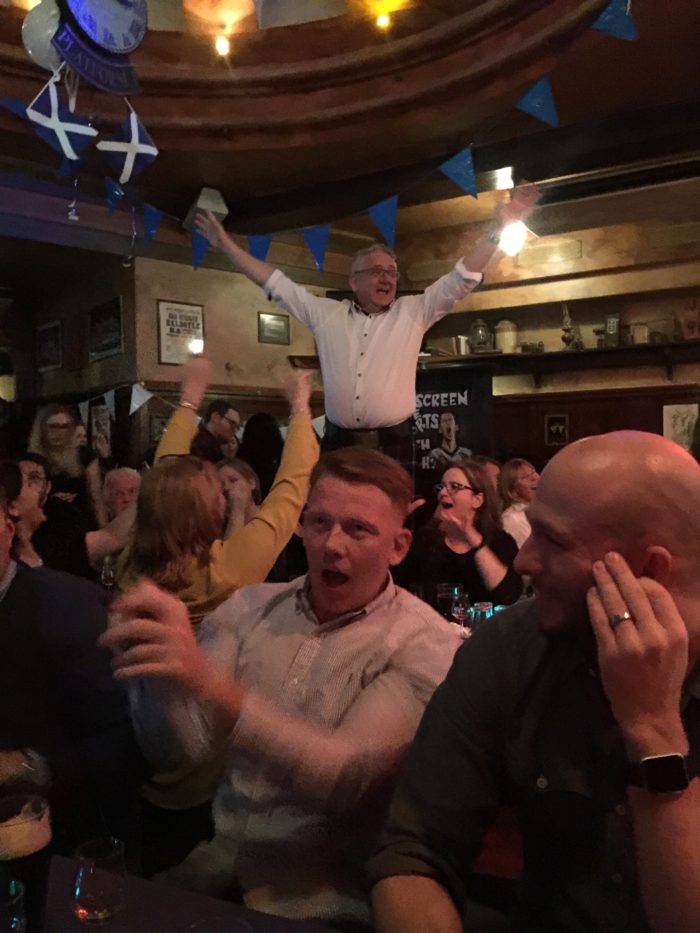 I had a surreal experience, in an Irish pub, celebrating Burns nights. At one stage we were all standing on the benches, arms linked, singing that well known Scottish song, Bohemian Rhapsody (bucket list, long story).
For a more traditional Burns Night celebration, see my posthttps://www.carolynsabsolutelyfabulousevents.com/places/great-britain/scotland-great-britain/burns-night/
24. Really cool coffee shops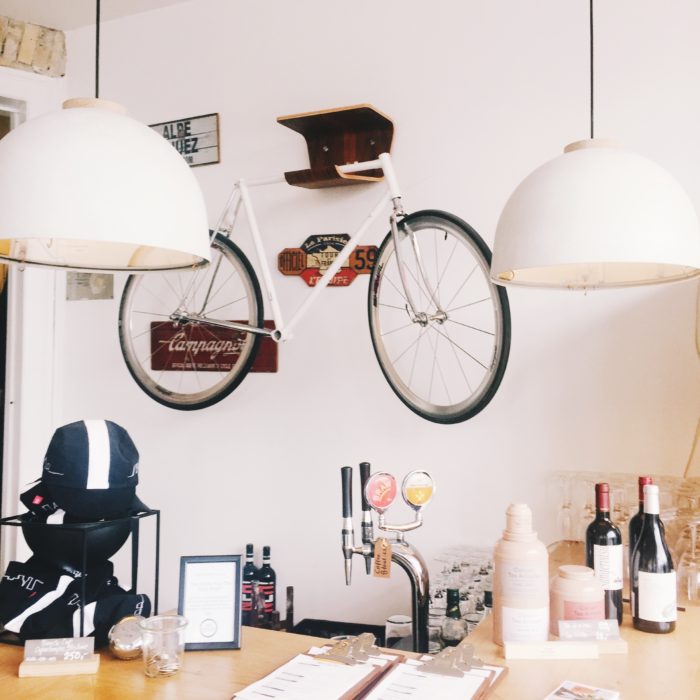 I had a great plan to document all the great coffee shops in Copenhagen, it never happened. And yes, that is a bike hanging on the wall. I loved this place, even though the food was not brilliant and, at one stage, my hair caught fire on a misplaced candle! It was very hygge.
25. Easy access to fun events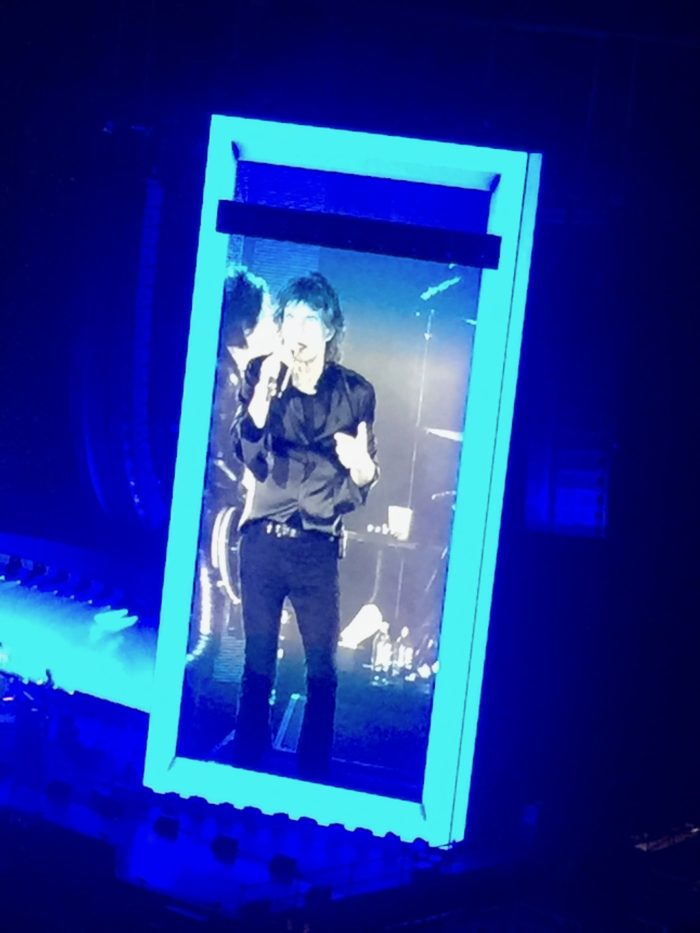 We managed to go to fun events, as you could actually buy tickets when they went on sale.
26. New friends and new challenges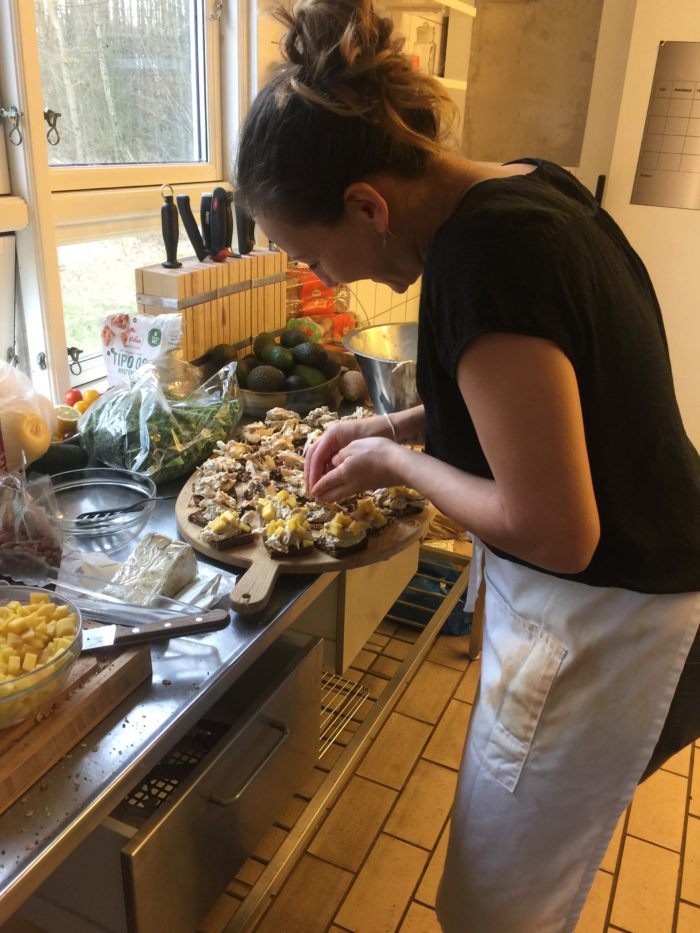 And yes, I know I said 25 things but honestly I could keep going. However, what I will really miss are all the fabulous new friends I made and all the fun experiences I had.
So, I am leaving a little part of my heart in Copenhagen, and looking forward to adding that fabulous city to my grand tour of all the places I love. In fact, heading back with my greenhouse group on Friday!
Postscript
For my birthday in December, my very clever best friends in London gave me the most inspired present. A necklace, with the longitude and latitude coordinates of the street where we all lived in Wimbledon. I already have a Tiffany starfish necklace, given to me by my friends in Darien, which I have worn as my good luck totem for fifteen years. I am Scottish, so carry Scotland around with me constantly. And my reminder from Copenhagen? Well, I did change my attitude towards tattoos!