Afternoon Tea Sandwiches
For four years the Fabulous girls and I offered Afternoon Tea at the Darien Community Association, the DCA in Darien, Connecticut. I am currently living in Denmark but the fabulous Vicky, a superb professional pastry chef, is now catering Teas at the DCA.  Check out their website for more information and dates. The next tea is December 7th.
An essential part of any afternoon tea is a selection of afternoon tea sandwiches. I had already posted afternoon tea sandwiches recipes last year, but sadly they were part of the posts I lost when I transferred my web hosting. So, once again, I am going to share the sandwich fillings that I used most frequently for my afternoon teas at the DCA. The coronation chicken also makes a good salad or appetizer. For completeness I am including my recipe for mango chutney and mango salsa.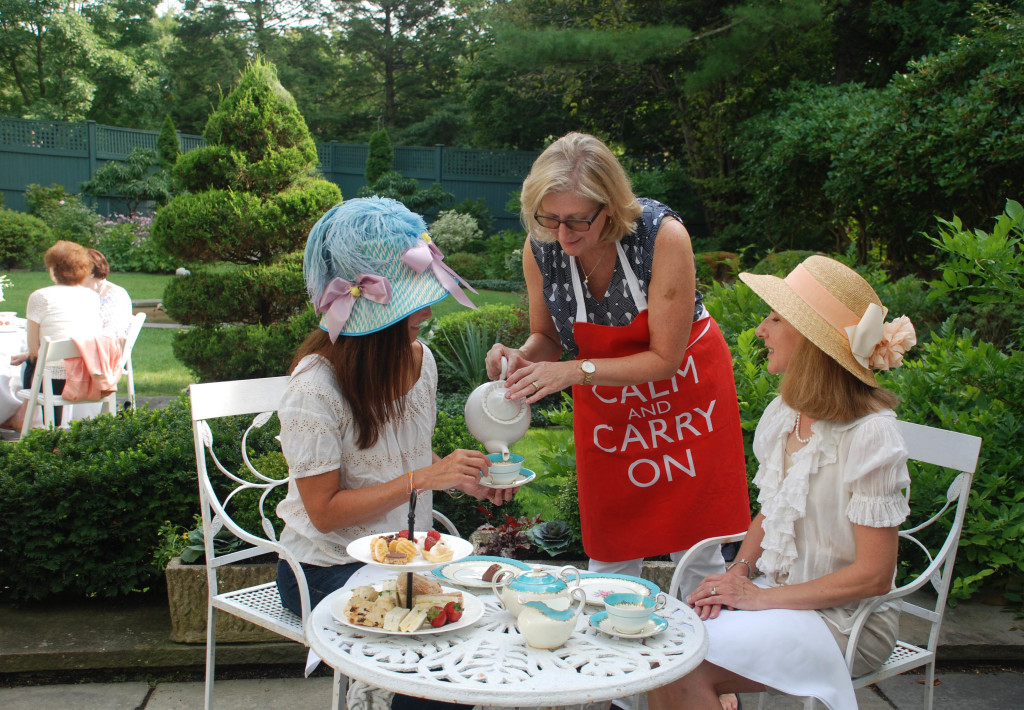 I loved working with my fabulous team on Afternoon teas at the DCA. Of course the best sandwiches were made by Sue and Caroline, my 'sandistas', using the special cutco sandwich spreader.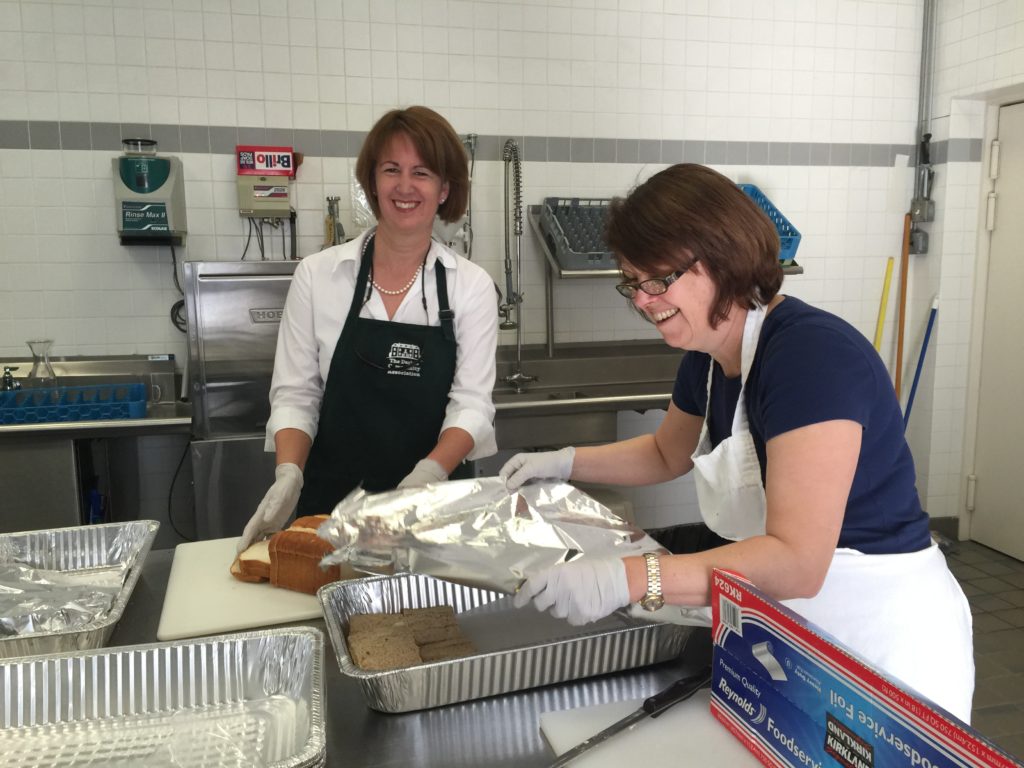 They really had sandwich making down to a fine art. My main role was to handle the mandolin and cut the cucumber into really thin slices. Mandolins can be tricky and I felt it was my duty to be the one risking life and limb for the perfect sandwich filling.
Tradition
The four traditional  sandwiches are Smoked Salmon, Egg, Cucumber and Coronation Chicken. I also occasionally added a ham and mustard sandwich or brie and grapes.
The idea of these sandwiches are that they are dainty little crustless morsels, really just a couple of bites, to tide you over from lunch until dinner. I use fairly regular sliced bread, and generally make cucumber with white bread and smoked salmon with brown. For the other two I give you a free choice.
Best bread to use
In the US I found Pepperidge Farm had the best sliced bread.  In Denmark I have discovered that Irma's sliced bread works well. What is really exciting, is that it is square.  This means I can cut the sandwiches into triangles, which for some reason makes me very happy.  Now sandwiches do not have a great shelf life, and once out in the open air the bread tends to dry out quickly. If you want to make them ahead, best to cover them with some damp paper towel then wrap tightly in either cling film or tin foil. I used to use Costco foil trays (love Costco) and then sealed them with tin foil.
Not really a recipe
I hesitate to call sandwich fillings recipes.  The only real recipe is for Coronation Chicken, and this is my cheats version of the classic dish created for the Queen's coronation in 1953 by Le Cordon Bleu London
Coronation chicken is also great served as a salad for lunch.  I served it with either a topping of mango chutney or mango salsa.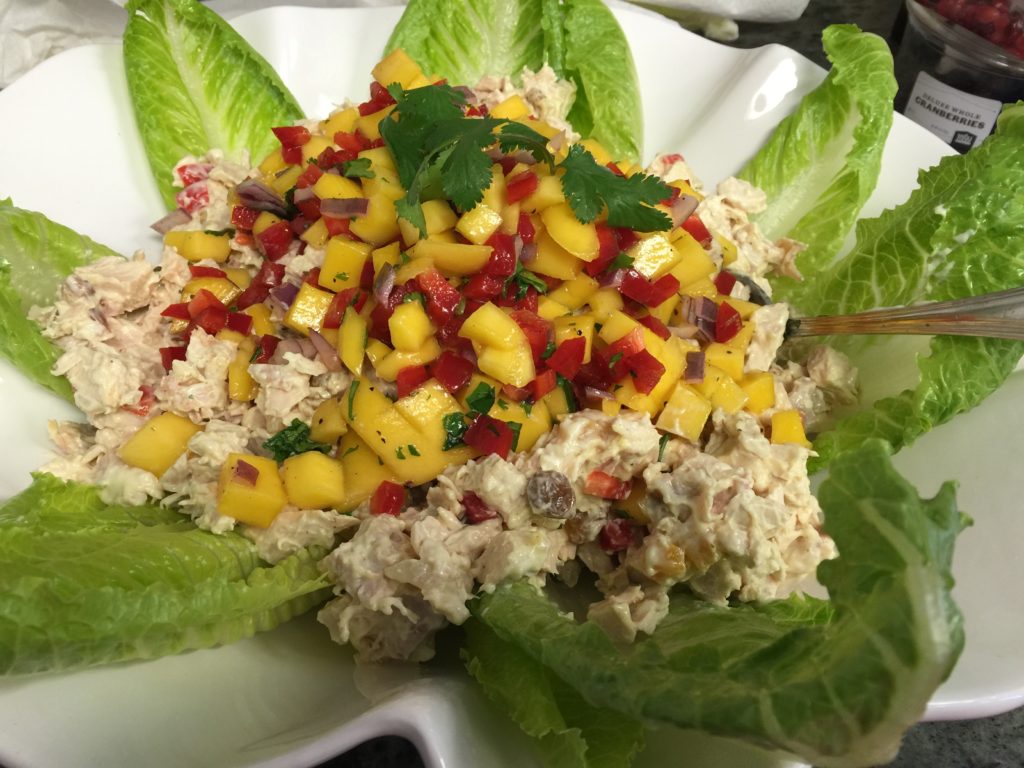 It also makes a great appetiser, served on mini toasts and topped with mango chutney and some cilantro or coriander.
Coronation Chicken
Two large chicken breasts cooked, and cut into small pieces or cooked chicken from a whole chicken. I loved Costco cooked chickens, or their packs of meat already taken off the bone. So easy!
Mix
4 Tbs good quality mayonnaise
2 Tbs greek yogurt or creme fraiche (my favourite is Trader Joe's European style natural yogurt)
2 TBS mango chutney either bought or homemade( see recipe below)
Lemon juice to taste
Curry powder to taste
Salt and pepper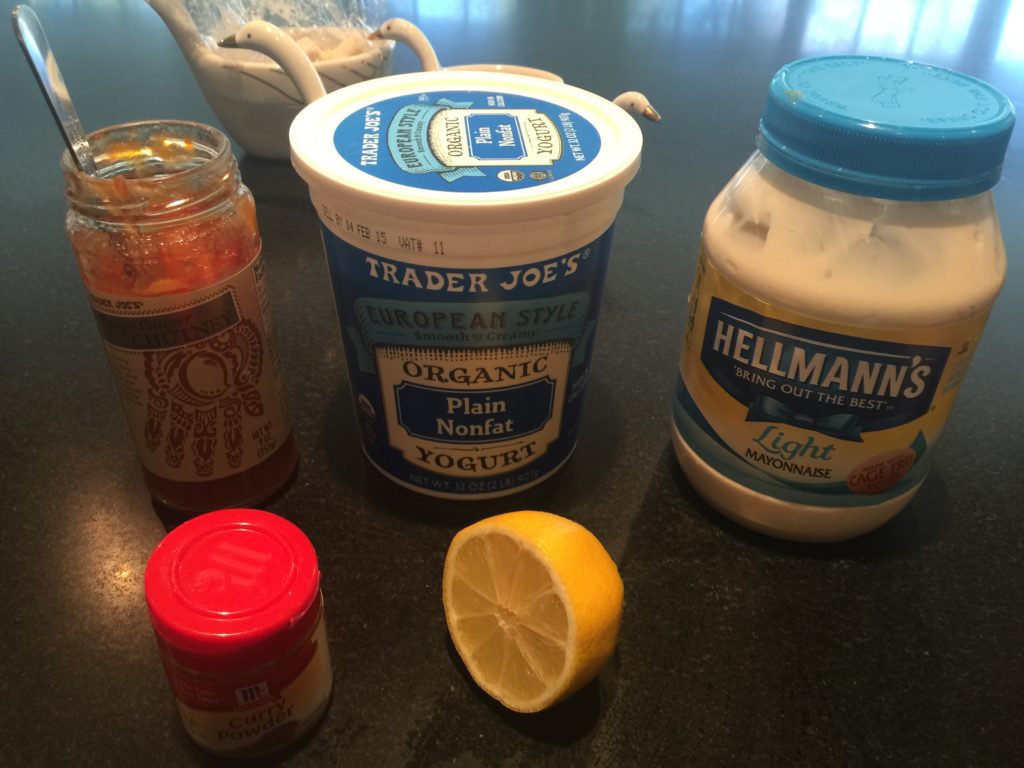 Optional extras to add – dried apricots, diced and/or slivered almonds. As I knew of at least two people who had allergies to those ingredients I generally did not add them.
To be honest I do not normally measure too precisely. I work with a two thirds mayo to one third yogurt then add mango chutney, curry powder and lemon juice to taste. You want the curry to be a little stronger as you want to taste it in the sandwiches. Also it is best to make ahead to allow the flavour to mix and develop. Add the 'sauce' to the cut chicken but only enough to blend. You do not want to use too much mayo. As you can see from the photo.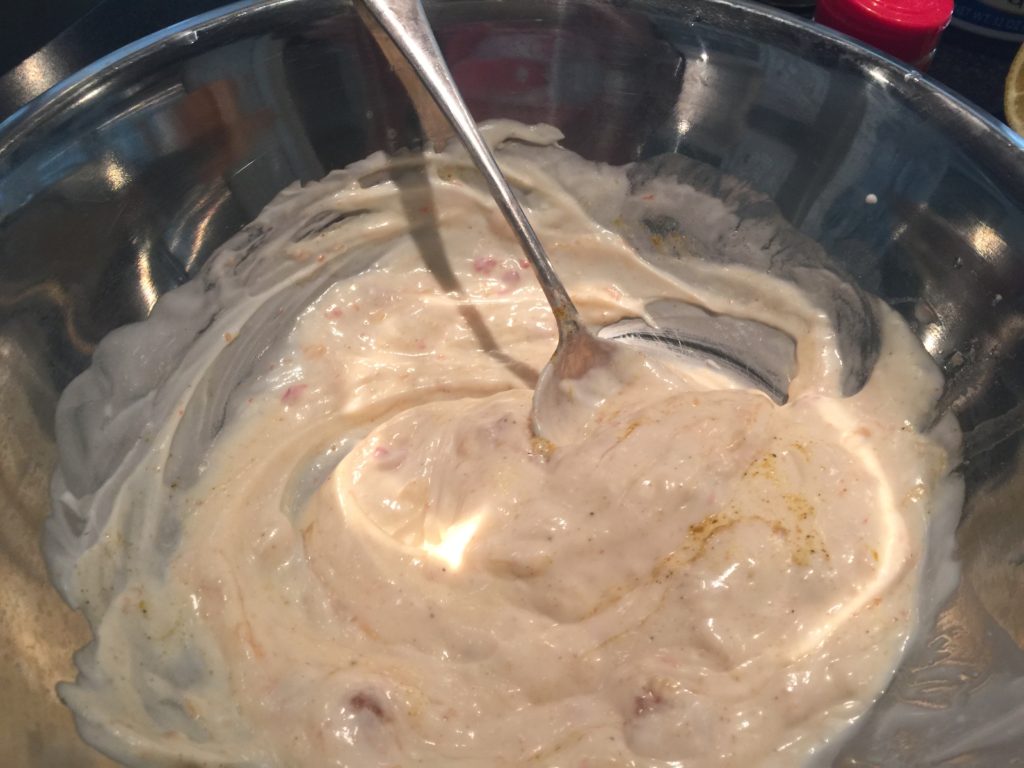 Egg Salad
Use one hard boiled egg per round of sandwiches. Finely chop, then mash the egg together with just enough mayonnaise to bind.  Add salt and pepper to taste. I sometimes add chopped tomatoes or top the egg filling with some micro greens or cress to add a bit of colour.
Cucumber (always on white)
Mix cream cheese with chopped chives. Spread a thin layer of the cream cheese mixture on each piece of bread, then top one side with a layer of thinly sliced English cucumber.
Smoked Salmon
In addition to a layer of smoked salmon I spread one side of the sandwich with a thin layer of tzatziki.  Another option is some cream cheese mixed with chopped dill.
Ham and mustard
The best ham sandwiches are made with proper ham, sliced from a whole cooked ham.  Costco offer a couple of choices, I love the unsliced one they sell with a recurrent glaze. Hams are aplenty in the UK so sourcing some should not be a problem. Like sausages, I am still trying to source a ham in Denmark. I add a little wholegrain mustard to softened butter and use that to spread both sides of the bread. Lovely with white bread.
Brie and Grape
This is a great combination. Thinly slice brie and top with halved green grapes. Works really well with cranberry and pecan bread.
The fillings and the cream cheese mixtures can all be made in advance.
To make Proper Tea Sandwiches I cut off the crusts and cut each sandwich into either four triangles or fingers.
Mango Salsa
2 Mangoes cubed,
1/2 red pepper, diced
1Tbs finely diced red onion
Juice of 1-2 limes to taste
1 Tbs cilantro, finely chopped
salt to taste
Mix all ingredients together. Does not keep terribly well so do not make too far ahead.
Mango Chutney recipe adapted from SimplyRecipes
Mango Chutney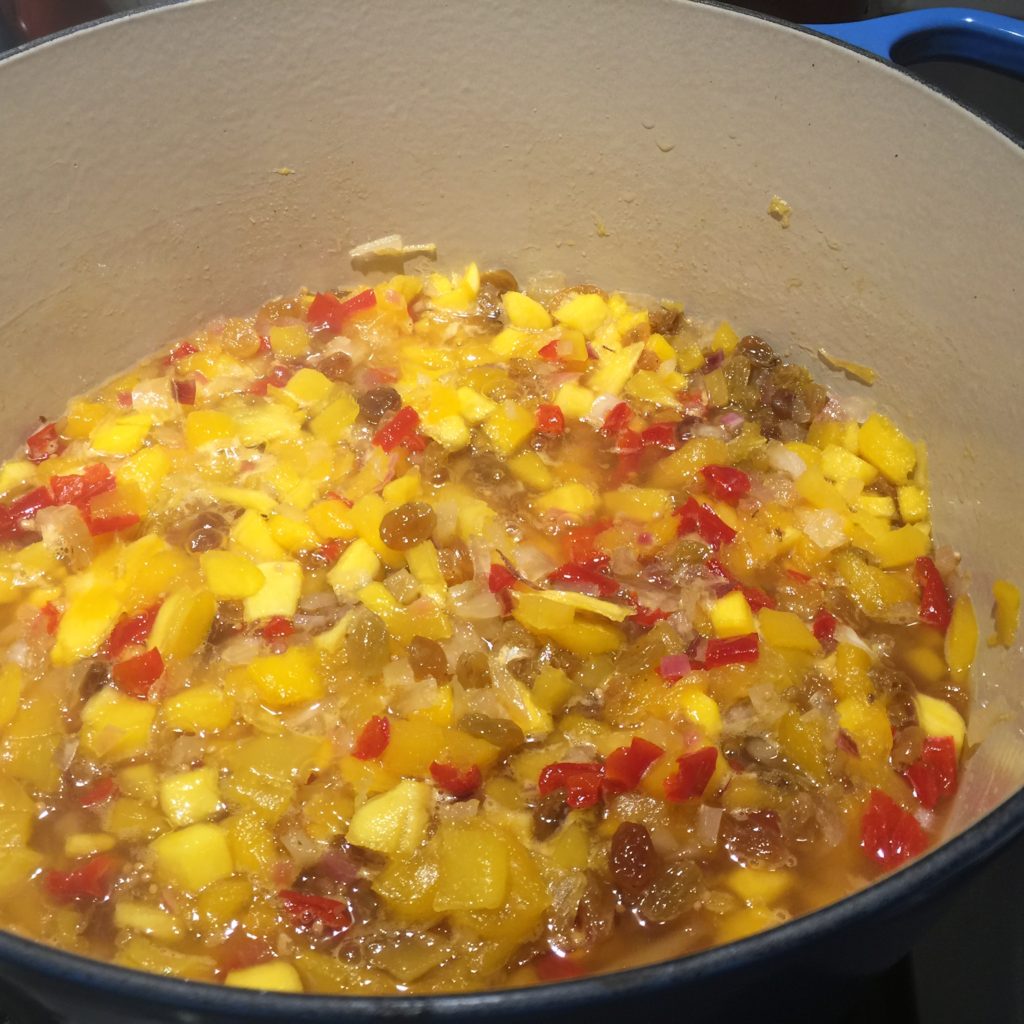 Ingredients
If making this in the UK or Europe a cup is 8fl ounces or 250 ml. Promise to add conversions but this post is already taking soooo long
2 cups sugar
1 cup distilled white vinegar
4/5 mangoes, cut in small pieces
1 medium onion, chopped
One red pepper, diced
1/2 cup sultanas
1/4 cup crystallized ginger, finely chopped (Trader Joes sells this)
1 teaspoon mustard seeds, whole
little olive oil
Directions
Step 1

I like to saute the onions in a little olive oil before I add the vinegar. Be careful not to let them brown at all.

Step 2

In a large pot add the vinegar and sugar and heat gently until the sugar dissolves completely.

Step 3

Add all the remaining ingredients and simmer for about 45 minutes to an hour until chutney is slightly thicker.

Step 4

Once cool store transfer into sterile jars and refrigerate. Keeps well and you will finish it before you need to throw it out.
For full tea menus and more information about Afternoon Teas check out my Afternoon Tea page here