Plant Sale and Tea – Friday, May 8th, 2015
Click here to go to registration page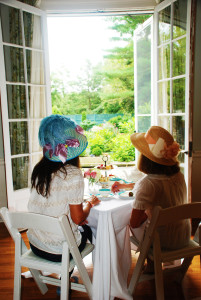 This might be one of my favorite days of the year.  My wonderful greenhouse group works hard all your growing beautiful plants which are sold to raise money for the DCA. Darien Community Association.  Choose from over 1,700 organically grown, hardy perennials from our greenhouse, shade-loving, deer resistant and highly prized new plants  See a selection of plants available at Dariendca.org/dcaplantsale. In the UK every garden center has a tea room attached, and you wouldn't dream of passing up the chance for a spot of tea and some cake to fortify yourself before heading home to spend the afternoon in the garden with all your lovely new plants.
So join us on Friday, May 8th.  Plant Sale Hours  8.30am – 12.30pm
                                                         Afternoon Tea Hours  11.00am -3.00pm
Enjoy a traditional British Afternoon tea with freshly-baked scones and homemade goodies in the stately setting of Darien's historic House
Dainty sandwiches to include cucumber,
Scones with jam and clotted cream,
A selection of seasonal cakes and pastries.
For the full British experience we would recommend a pot of PG Tips, Britain's number one selling brand of tea.
We do also offer a selection of herbal, green, caffeine-free and other specialty teas.