I know the chance of finding flour, sugar and most of all marzipan at short notice is pretty slim (Wholefoods had nothing left in the baking aisle this week), but just in case you have access to the supplies and some spare time, thought I would repost this epic Easter project.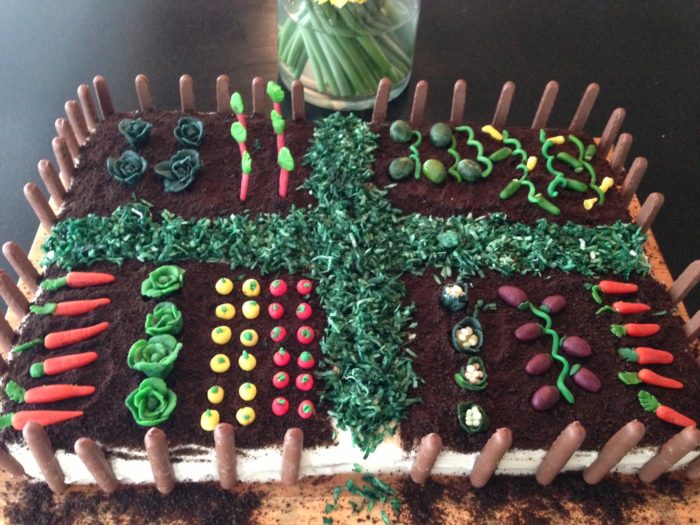 Easter Cake with Marzipan Vegetable Garden- origins
This fun Easter cake was inspired by the fabulous Martha Stewart's gorgeous coffee table book  A Year of Celebrations.  As soon as I saw the picture in the book I had to give it a try. I think it reminded me of the miniature gardens I used to make as a child.
Banff Flower Show
Every August, when I was little, Banff held a Flower Show in the Banff Castle Grounds. It was a glorious affair, with a large tent where all the judging took place. Of course it was not in the same league as the famous Turriff (Turra) Show. That had real farmyard animals, and lasted a whole mud filled weekend.
Our wee Banff Show was over in a day. The best bit was going into the main castle for tea and cakes. Each table would get its own cake stand and you could eat as much as you wanted. Everything was 'home baked '  and I used to polish off every last cake. Happy days.
I think over the years I put in entries for the wild flower arrangement and the Best Victoria Sponge competitions. But the category I remember most was the miniature garden. My granny used to help, and we would put together a small pretend garden from cabbage leaves and small flowers and other odds and ends. Did I say happy days?
New Traditions
I foolishly made the Easter Cake for the Darien's Woman's Group Lunches  one year, and then of course the wonderful Peggy Raleigh suggested I make it every year.  When I started catering the  Darien Men's Association Wednesday morning meetings, I had to make one for them too so they did not feel unloved.
Chocolate and Orange Cake
The cake can really be anything, but the 'earth' is crushed chocolate flavored wafers so that to me shouts orange cake and chocolate brownie cake sandwiched with chocolate ganache and covered with orange frosting, obviously!
The orange cake is simply my recent lemon cake but all the lemon bits are replaced with orange bits. For the chocolate brownie cake I turn to the other fabulous American icon, Ina Garten and make her Expresso Brownies without the coffee, or the caramel, if that makes sense.
Carrot cake would be perhaps the more obvious choice. As I only eat my dear friend Sue Hayes's excellent carrot cake I would have to ask her to make them. (I do have her recipe somewhere  and promise to share it soon.)
I am giving the recipe for a double orange cake but really suggest clicking on the link to Ina's cake and using that for one of the layers. I am also suggesting chocolate ganache as a filling and have found this great video and website explaining how the proportions of chocolate to cream affect the consistency. Check it out.
Quantities
The above cake is four quarter sheet cakes  sandwiched two deep , and feeds a lot of people.  You can make it any size or shape you want because the fun part is making the vegetables.
Vegetable Garden
The vegetables are made with coloured marzipan.  It is a rather relaxing way to hang out together with family, and/or and a glass of wine.
I made orange carrots, red and yellow tomatoes, cabbages and cauliflowers, purple eggplant and these red things with bits of green on the top are rhubarb!  The green spirals are made by twisting a length of green marzipan around a pencil.  Martha used some complicated white substance to make a lovely picket fence, but for me being British the, again obvious, choice is Cadbury's chocolate fingers. I also sometime add the marbled jelly belly beans as rocks.
If anyone tries this I would love to see pictures posted either on my Facebook page or website.
Easter Cake with Marzipan Vegetable Garden
April 3, 2020
: all depends
: fun!
A Chocolate and Orange Easter Cake with a Vegetable Garden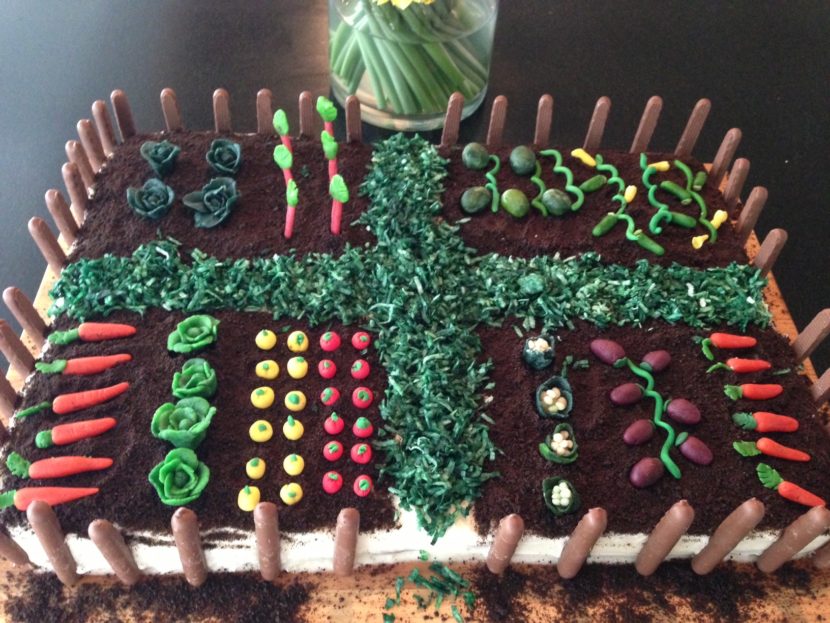 Ingredients
This recipe makes one large quarter sheet size so if you are making two, double the amounts. Word of warning I find it easier to just make the cake twice as somehow doubling the recipe never works too well. (As before it will also make two 8 or 9 inch cakes). I use a funky grass effect nozzle for the grass but a star shaped one would work too.
Quarter sheet size baking tins, greased and lined with parchment paper
!Orange Cakes
8oz* self raising flour (220g* / 11/2 cups) or 8oz all purpose flour (220g) or 11/2 cups with 2 tsp baking powder
8oz* butter (220*g)/2 sticks at room temperature
8oz* sugar (220*g)/little over 1 cup plus two level TBS sugar
4 eggs, beaten, at room temperature
Zest of one large or two small oranges
2-3 tbs milk
!Orange Syrup
1/2 cup/120ml orange juice
1/2 cup/31/2 oz/100g sugar
!Orange Frosting for outside
4oz/110g /1 stick butter, at room temperature
/10-13oz/280g-360g/3-4 cups icing sugar
little of the orange syrup
little milk
!Chocolate Ganache
1 pound of good quality dark chocolate ( I confess I mix a little milk into mine as I do not like my chocolate too bitter, at Christmas I use Terry's chocolate oranges)
2 cups/480ml of double or heavy cream.
Tablespoon of good honey or golden syrup ( I don't always do this, not a big honey fan)
1/4 teaspoon of salt
Marzipan Vegetables
two packs of Marzipan or almond paste
food coloring
Chocolate wafers, finely crushed
two or three packets of Cadbury's chocolate fingers, worst case scenario you have some left over.
Directions
Step 1

Pre-Heat oven to 400F/200C

Step 2

Orange Cakes

Step 3

Add all ingredients to a large mixing bowl and beat until you have a smooth mixture.

Step 4

Pour into prepared baking tin and level out the surface. If using the quarter sheet cooking time will be 30-40 minutes.

Step 5

Cakes are ready when they are golden brown, risen and spring back slightly when touched.

Step 6

Cool in tin as it makes it easier to catch all the syrup.

Step 7

Orange Syrup

Step 8

Add orange juice and sugar to small pan and heat gently until all the sugar has dissolved.

Step 9

Poke holes in the cakes with a toothpick and pour syrup over them, reserving a little for the frosting.

Step 10

Frosting

Step 11

Beat together butter, the lower amount of icing sugar and the orange syrup and splash of milk until totally combined and fluffy, around 5 minutes. See my notes on Auntie Gertie's Coffee Cake

Step 12

Add icing sugar as required until frosting reaches a soft spreading consistency.

Step 13

Chocolate Ganache

Step 14

Chop chocolate into small pieces and place in a large bowl.

Step 15

Heat the cream until just boiling.

Step 16

Pour scalded cream over the chocolate and add honey or syrup and salt.

Step 17

Stir occasionally until all the chocolate has melted.

Step 18

Leave to cool either in the counter or in the fridge.

Step 19

Will keep for up to a week in the fridge so good thing to make ahead.

Step 20

To assemble

Step 21

Spread of the syrup soaked cake with a layer of ganache, you may need to leave out to soften if it has been in the fridge. If using the chocolate brownie that makes a good base layer.

Step 22

Top with the second cake.

Step 23

Spread the orange frosting to cover the cake top and sides, reserve some to color green for grass.

Step 24

And now the fun part.

Step 25

Use the finely crushed wafers for earth and make your vegetable plot. Mark in your green paths (green colored coconut would work for this too) and arrange your rows of tomatoes etc. Finally surround your garden with chocolate fingers.Take picture to send to me!
I