I think I may be having a bit of a identity crisis. Pancakes in America are eaton for breakfast with maple syrup.  Scottish pancakes are essentially the same recipe but you make them a wee bit smaller. They are a 'fine piece' you eat, spread with butter and jam, with a cup of tea in the middle of the afternoon. Here I am suggesting Scottish pancakes, dropped scones or bannocks as they are more commonly known, be served with fruit for breakfast. What is the world coming to? I think it may be the effect Denmark is having on me.  I blame foraging! See my other posts for scones with foraged berries and foraged berry crostata.
A word on equipment.  These are traditionally made on a Scottish griddle (or girdle) which has a flat wrought iron disk, to which a semicircular hoop handle is attached. Before the advent of modern stoves the hoop allowed the griddle to be suspended over the fire from a central chain and hook. Girdles are used for cooking scones, bannocks and pancakes. Now the griddle can be placed directly on the stove and allows for more even cooking.  I remember using a girdle when I was a wee girl. It was black from constant use and extremely heavy.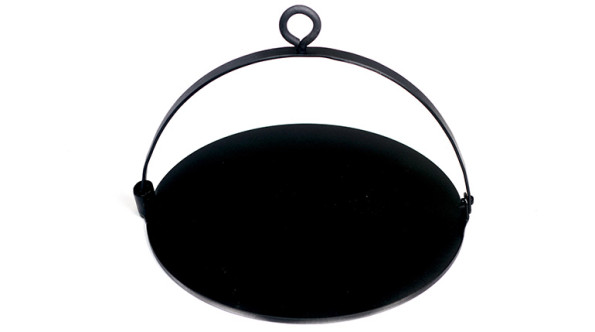 Scottish Pancakes with foraged berries
Ingredients
8 oz/225g/12/3 cups self raising flour with 1/2 tsp baking powder or all-purpose flour with 21/2tsp baking powder
1 TBS sugar
2 eggs, beaten
1oz/30g/1/4 Stick melted butter (cooled)
around 12floz/300ml/11/4 cups milk to make thickish batter!
Fruit Compote
selection of (preferably foraged) berries, such as strawberries, raspberries, blackberries or brambles as they are called in Scotland, red currents or black currents, washed and hulled if necessary
add a little sugar, depends on how sweet the fruit
little lemon juice
Directions
Step 1

To make the Scottish Pancakes add the flour and sugar to a big bowl and stir.

Step 2

Make a well in the centre, and add the eggs, melted butter and a little milk.

Step 3

Slowly stir the flour into the liquids then, once incorporated, add enough milk a little at a time, to make a thick, smooth batter.

Step 4

Place a large ovenproof dish in a low oven. Line it with a clean tea towel. You will pop the cooked scones in here to keep warm whilst you are cooking the remainder.

Step 5

Heat a griddle or large, heavy-based frying pan over a moderate heat and grease it with a little butter. The trick is to get the temperature just right so the butter is hot, but does not burn. If it does burn, wipe off with kitchen roll (paper towel) and start again.

Step 6

Using a small cup or ladle, drop the mixture onto the heated surface to make pancakes around 2-3 inches wide.. Depending on the size of the griddle, you should be able to cook 4–6 pancakes at once. You can tell when the pancakes are ready on one side as they push bubbles up to the surface. Flip and cook until lightly browned on both side.

Step 7

Once ready, keep warm in the tea towel. The griddle or pan needs to be lightly buttered between each batch.

Step 8

To make the berry compote add the berries to a small pan and add a little sugar.

Step 9

Heat gently for 2-3 minutes until the juices run but the berries still keep their shape.

Step 10

Add a little squeeze of lemon juice.

Step 11

Serve with warm pancakes and a little creme fraiche or whipped cream
And since we are going back to my youth I giving you a wee taste of that famous Scottish Band The Bay City Rollers!