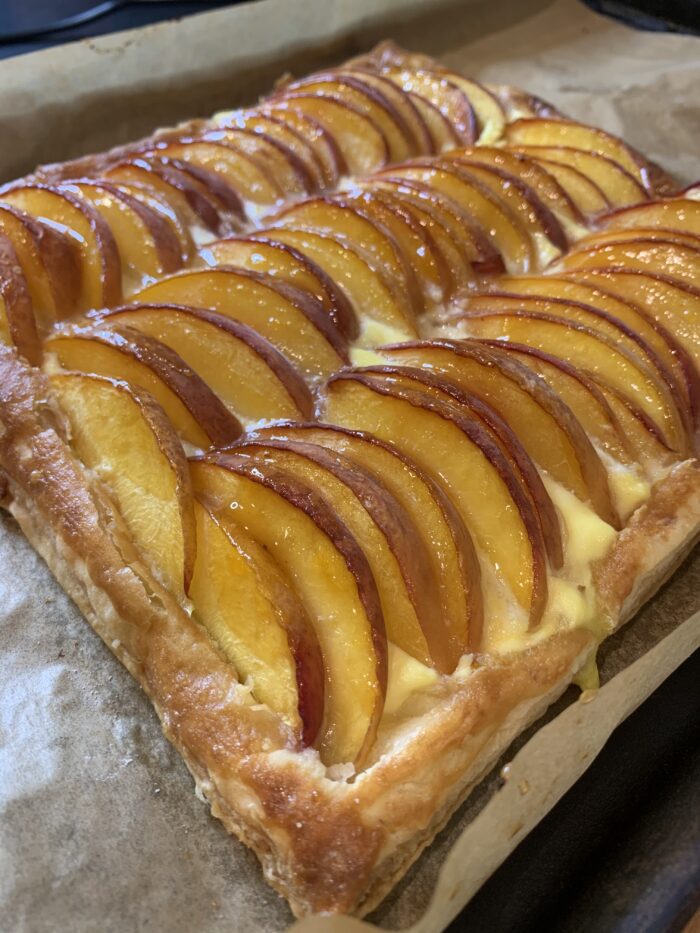 Fabulous, and easy, Summer Peach and Ricotta Tart
I want to share my new favorite recipe for a fabulous and super easy Peach and Ricotta Tart. I also want to do a shoutout to Stoneledge Farm, who have been providing me with gorgeous organic produce through their community supported agriculture program (CSA)
We are in the fabulous stage of summer when all the stone fruit, apricots, peaches, nectarines and plums are piled high in the produce section. For a glorious two or three weeks, we can feast on beautifully ripe, locally grown fruit. We can simply eat the fruit, or we can add it to salads with combinations such as nectarines, prosciutto and buffalo mozzarella or we can make fruit crumbles or we can make my new favorite, fabulous and super easy fruit tart!
I have become slightly obsessed with this recipe. It is so adaptable, and did I mention easy? oh, and super impressive. I have used the same method to make a savory version. Switching out the sliced peaches in the tart above for thinly sliced zucchini (or courgettes, as we say in old Blighty).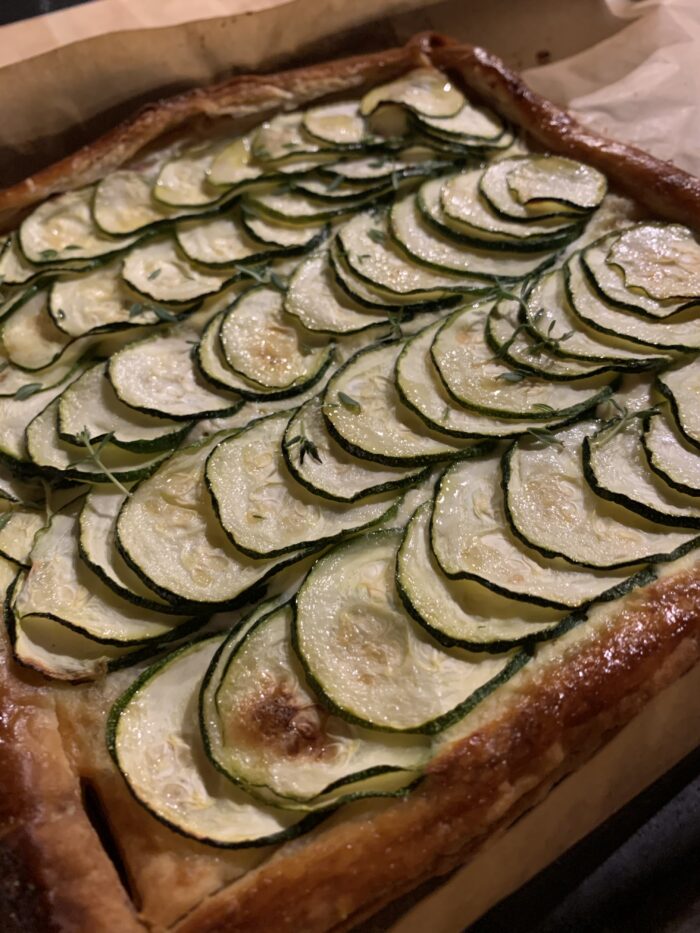 I may write up the savory version separately, but the method is exactly the same. This recipe really can be used for anything that can be sliced or layered.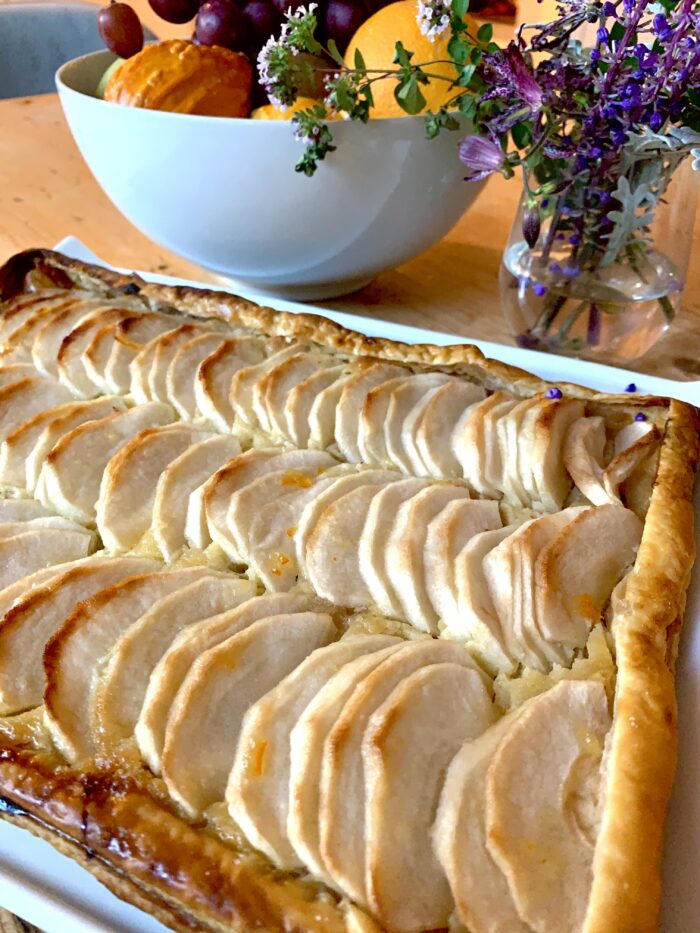 I have even made another video to show you exactly how easy the tart is to make.
Fabulous, and super easy, Summer Peach and Ricotta Tart
Ingredients
One sheet of frozen puff pastry, defrosted ( I use Pepperidge farm)
2 large, beautifully ripe peaches, thinly sliced
1 egg, beaten
2 Tablespoons Full Fat Ricotta Cheese
apricot jam to glaze, optional but highly recommended
Method
Preheat oven to 400F/200C
place defrosted pastry sheet on a baking tray, lined with parchment paper
with a sharp knife, score a 1/2 inch border all the way round the pastry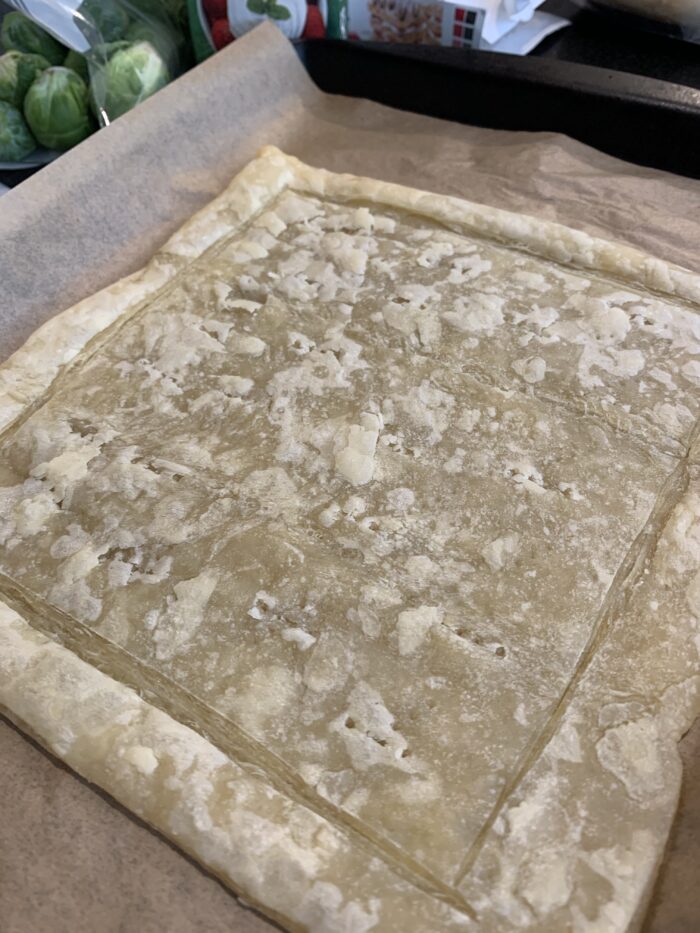 Prick the inside of the square with a fork.
Using a pastry brush, brush the outside borders of the pastry square with the beaten egg
cook in the preheated oven for ten minutes until the pastry is golden and has puffed up
release the air from the central square using a fork, and press down to form a base for the filling
add the ricotta cheese to the remaining beaten egg and stir to combine
pour the cheese mixture over the inside of the pastry, and spread to cover the inside square
arrange the sliced peaches in rows to completely cover the filling
return to the oven and bake until the filling is set, around 25-30 minutes
dilute a tablespoon of the apricot jam with a little boiling water
remove the tart from oven, and, whilst still hot, lightly brush with the apricot jam
serve warm or room temperature with cream, ice cream or on its own!
Top Tip
I love these parchment sheets. They make cooking and baking so easy, no more searching for scissors and finding you have cut the paper too small! If you click on the link I do earn a tiny fraction from the transaction, but there is no extra cost to you!