In this post, I am going to give you ideas about how to use seasonal summer produce to make four fabulous side salads. In July, peaches and nectarine are at their best, watermelons are plentiful and strawberries are in peak season. And for a few short weeks, you can find fresh figs. Paired with cheese, and in some cases, salty cured meats, these salads are a fun was to use fresh produce.
General notes re salads.
Salad dressings can be made ahead and will keep in the fridge for days. Make more than you need, and then use to make a quick salad. So much better than anything you can buy ready made! The olive oil may solidify in the fridge, so allow it to come to room temperature before using.
Most salad dressings use a ratio of one part vinegar and three parts olive oil. Any size of measuring spoon or cup can be used, just keep the ratio. With the lemon dressing, I have changed the ratio slightly, because that is what Jamie Oliver told me to do!
Save old jam jars and use for salad dressing. The lid makes it easy to shake all the ingredients together.
Salad leaves should be just covered with salad dressing. Add the dressing slowly, and use only as much as you need. Use salad tongs by all means, but salads are best tossed by hand.
I use a separate bowl to toss my salad leaves. Once tossed, I transfer them to my presentation dish or platter and top with the remaining ingredients.
I know we think of serving salads in bowls, but I find salads look great on flat platters or shallow bowls. Experiment!
Strawberry, Pistachio and Salami Salad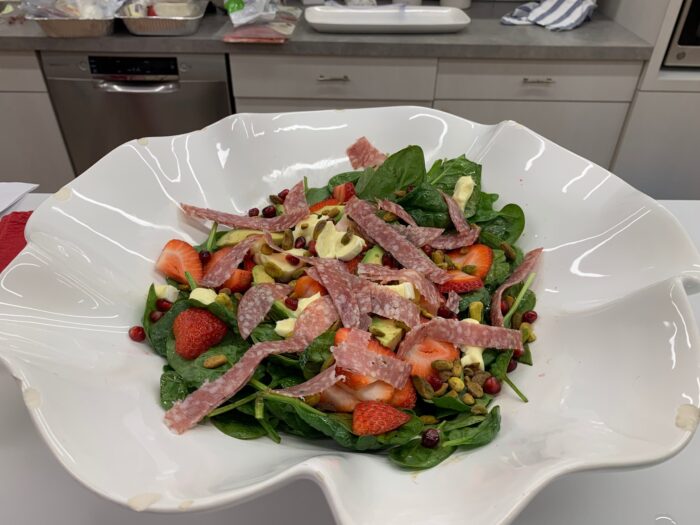 My first salad is one of those happy accidents. I have been making lunches at my friend's new co-working space since it opened in late May. Over the first few weeks, there were a lot of events, and I had a chance to try out some new recipes along with my more tried and tested salads. However, this combination of strawberry, pistachio and salami came about because it was what was left in the fridge at the end of the week. I threw a quick salad together for the members, rather than throw out the leftovers, then went home. The mix of strawberries, salami and leftover cheese was a big hit. Obviously, I cannot quite remember exactly what was in the salad, but I think it was something like this…. oh, I forgot about the salami when I was demoing the salad, and had to add it at the end. It should be the first thing you layer, before the strawberries and cheese!
Ingredients
Strawberries, hulled and sliced
Small handful of shelled pistachios (or candied pecans)
A few slices of salami
Ripe avocado, sliced (the original salad did not have avocado, I think it is a good, but not essential addition)
Good brie type cheese, such as Dauphinoise from the Darien Cheese shop
A few good handfuls of spinach salad leaves
Pomegranate seeds would look lovely

Dressing
2 TBS aged balsamic vinegar
6 TBS Extra Virgin Olive Oil
Salt and pepper
1/2 Tsp Dijon mustard
To assemble
Combine all the ingredients for the dressing in an old jam jar and shake well.
Dress the leaves by hand until they are just coated. You may not need all the dressing, and any extra will keep in the fridge for a few days. Layer the strawberries, salami, cheese and nuts. Top with avocado and pomegranate seeds, if using.
Nectarine, Buffalo Mozzarella and Parma Ham (feeds six ish)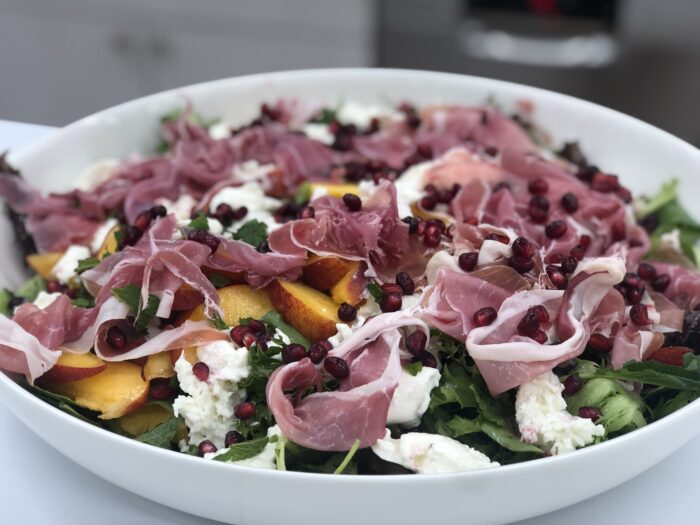 I have a 'go to' menu which I often make for special lunches, and my usual salad is one with oranges and golden beets. However, I am currently obsessed with the next salad as nectarines are fabulous just now. I use buffalo mozzarella as it pulls apart so beautifully, but if that is too hard to find, a burrata would work well too. Lastly, using proper Parma ham, with its super thin slices, is the perfect balance for the fruit and soft cheese. The salad is inspired by Jamie Olivers. ( I modified the dressing, used nectarines not peaches and added the pomegranates, because why wouldn't you?)
Ingredients
2/3 Ripe peaches or nectarines, sliced
2 balls Buffalo Mozzarella, torn in small pieces
6-8 slices of Parma ham, torn into strips
3/4 large handfuls of salad greens
A little fresh mint to finish, chopped or torn by hand
Pomegranate seeds (optional, but very pretty)
Dressing
2 TBS fresh lemon juice
5 TBS Extra Virgin Olive Oil
Salt and Pepper
Little ground mustard powder or made up Colemans mustard
To assemble
Combine all the ingredients for the dressing in an old jam jar and shake well.
Dress the leaves by hand until they are just coated. Top with the nectarines, mozzarella, and Parma ham. Sprinkle with pomegranate seeds and mint.
Feta, Watermelon and Rocket with Balsamic Glaze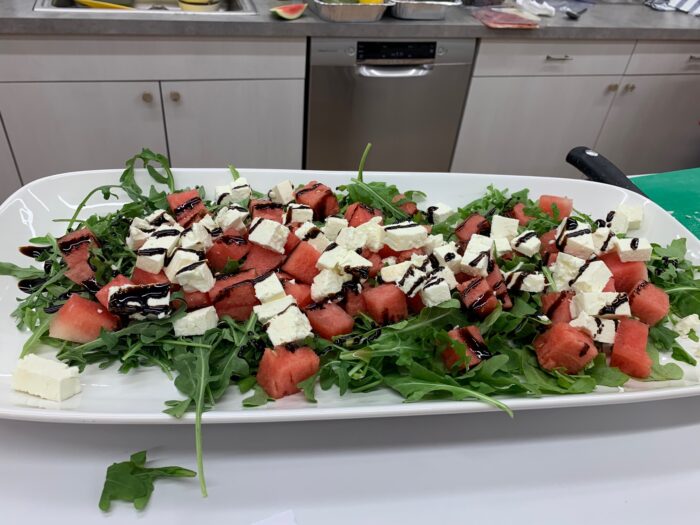 I learnt how to make this super easy salad at a rowing regatta. My daughter rowed all through high school. I had so much fun helping out in the food tent, our outdoor kitchen, feeding 40 plus athletes and the parents who traveled all over New England to see them.
We needed fresh, easy to prepare, fun food. This salad was a favorite, with its combination of peppery arugula, salty cheese and sweet balsamic glaze. With so few ingredients, it is essential to use the best quality feta. Judy, who created the salad, was Greek and would only use feta from a speciality Greek shop in Norwalk. I like the one in the blue box from Trader Joes! Look for a feta in a block, preferably in brine, and cut it into squares yourself. Do not be tempted by the already crumbled packs, they have a completely different taste and texture.
Ingredients
Watermelon cut into cubes
Good quality feta cheese, cut into cubes (I like Trader Joes)
A few handfuls of rocket/arugula
Balsamic glaze (available in most stores next to the vinegars)
To assemble
Scatter salad leaves on a platter, top with watermelon and feta, then drizzle with the balsamic glaze. Super easy!!!
Fresh Figs, Goat Cheese and Honey with Salad Leaves
Sadly, no photo!
My last seasonal salad is a bit of a revelation! You see, I am not a huge fan of goat cheese, and I do not like honey (and yes, I can hear you gasp, who doesn't like honey?). However, I have discovered that I love the combination of the two together. So, I added honey to the lemon dressing above and threw some goat cheese in with some fresh figs and salad leaves. And then, for good measure I drizzled a little extra honey on the salad. Delicious result and I felt very cosmopolitan for having invented a new salad! (yes, I know mixing goat cheese, honey and figs is hardly revolutionary, ancient greeks and romans etc, but it was a first for me)
Ingredients
a few fresh figs, quartered
some goat cheese
baby salad greens
honey to drizzle
maybe even some pomegranate seeds!
Dressing
2 TBS fresh lemon juice
5 TBS Extra Virgin Olive Oil
Salt and Pepper
Little ground mustard powder or made up Colemans mustard
TBS honey (because I love honey now)
Method
Combine all the dressing ingredients in a jar and shake well.
Toss the Salad leaves with just enough dressing to lightly cover them. Add figs and crumbled goat cheese. Drizzle with a little more honey. Serve with some warm crusty bread!