If you are not a Game of Thrones fan then there is little point in continuing…..
Complete confession? My main motivation for our family trip to Croatia was to be a complete tourist and find as many filming locations as possible. We only had a few days so split our time between Dubrovnik and the seaside resort of Makarska, fitting in a visit to Split.  Once I 'shared' my location I found out many of my dear friends had already discovered Croatia years ago. They gave me so many suggestions of things to do and places to go which our trip just did not allow. Since we now live so close to Croatia I would love to return. The Plitvice Lakes in particular look amazing, but they have not been used for GOT so were not on this year's agenda!
Croatia
Croatia has always been a popular holiday destination. It lies on the Adriatic coast and with its many small islands offers miles and miles of gorgeous beaches. The climate is Mediterranean. You can expect over 12 hours of sunshine during the summer months.  Copenhagen are you listening?. Much of the architecture dates back to the middle ages. There are also well preserved buildings and ruins from Roman times.  It is relatively inexpensive, and now they have dragons!
 Dubrovnik or King's Landing
Overlooking the sparkling blue waters of the Adriatic, Dubrovnik, with its white limestone streets and baroque architecture, is one of the most fabulous walled cities in the world.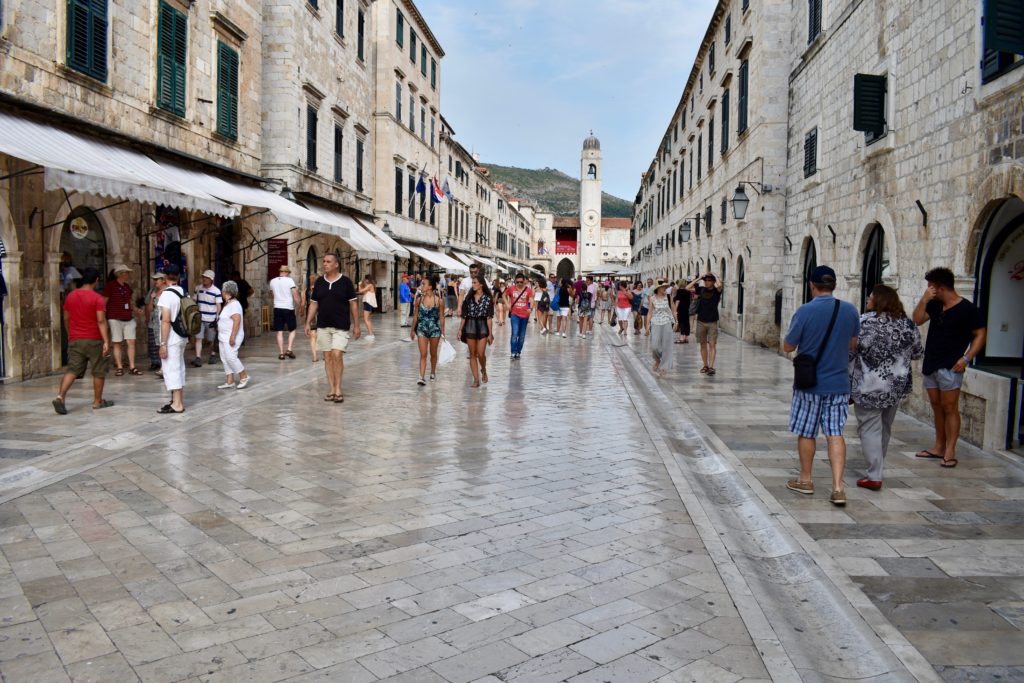 It is also Kings Landings, the Red Keep, the House of the Undying and the backdrop for the Purple Wedding. In the fantasy world of Game of Thrones its many small street and alleys are used for clandestine meetings and public humiliations.
We were so excited when we stumbled across Pile Bay almost immediately. Many scenes have taken place in this cove. This is where Cersai stood watching her daughter both leaving and being carried home from Dorne. Littlefinger talked to Sansa about her escape from the court from this causeway. It is also Blackwater Bay.  Both the fortresses have been used to represent different parts of Kings Landings  One was used as courtyard where Joffrey's name day took place and in the other Tyrion told Varys he was 'quite good' at being the hand of the king. Both have been transformed by CGI!
We then walked back and entered Dubrovnik through the official gate,
Ploče Gate
which is used as the Red Keep Gate.
To be honest everywhere you walk in Dubrovnik feels as though it could have been used as a backdrop to a GOT's  scene.  I have new admiration to the peeps who source locations as it must be hard to keep track of all the places you have filmed. Tough job!
Shame!
One of the highlights of visiting Dubrovnik is walking the walls. It is best to wait until the cooler part of the day to tackle the two kilometers (1.2 miles) walls around the old town. Built in the 13th Century they offer fabulous views over the sea and labyrinth streets of Dubrovnik.
Then all there is left to do is eat and drink!
Every second shop was either selling sweets, ice cream or GOT memorabilia. There are also an amazing number of bars and restaurants.  As we left after dinner we had the distinct impression that Dubrovnik was only just beginning to come to life. My 21 year old who arrived home after four confirmed our suspicions.
Split
Split is Croatia's second-largest city. It is build around Diocletian's Palace, a ' retirement home' constructed by Emperor Diocletian in the 3rd century. Whilst only ruins remain of the upper floors of the palace, the underground rooms and tunnels are gloriously intact. For centuries the inhabitants of Split used the them to store rubbish, sending it into the tunnels via a chute from the palace above, until the space was filled. They were only excavated in 1952 and now offer a stunning insight into Roman architecture.  When not being used by Daenarys to train her dragons or receive her subjects in her throne room, the underground rooms are filled with craft stores. They mainly sell jewelry and other goods made from the local limestone, polished to a smooth white lustre.
Split itself is rather fabulous. It has a feel of the south of France, chic with lovely cafes overlooking expensive boats moored in the rather pretty harbor. They also sell exceedingly good cake.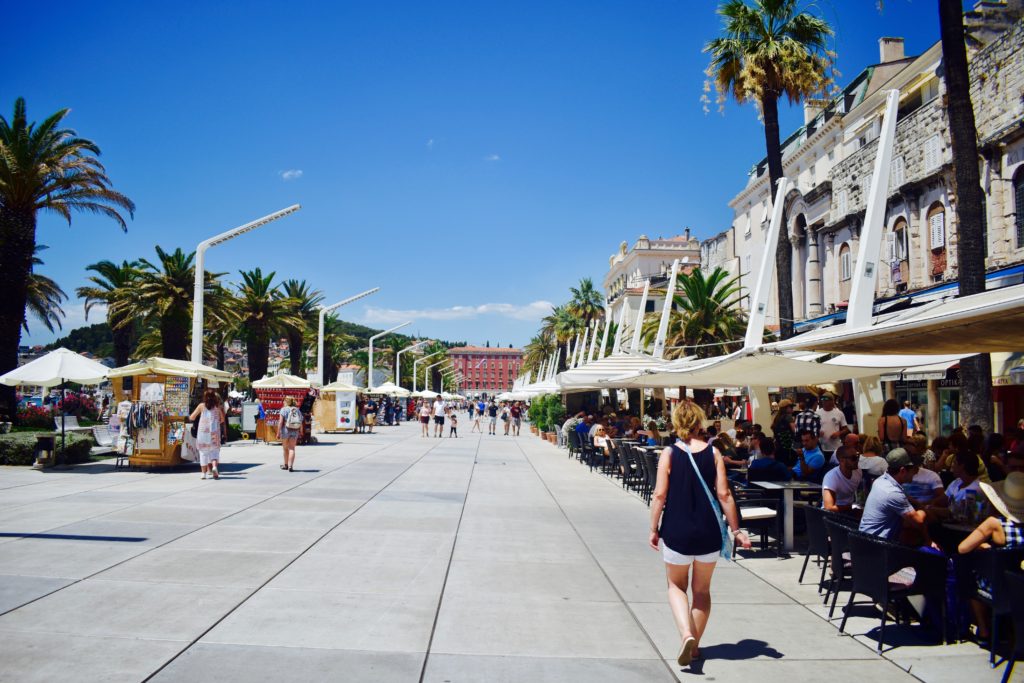 Klis Fortress
The scenes for Merren took place at Klis Fortress, which lies in a mountain pass between Mosor and Kozjak. The medieval fortress is built into the rock and stands on the site of older hillside ruins which date back over two thousand years. From the battlements you have incredible views  of Split, the Adriatic and many small islands. Strangely the fortress, whilst spectacular, seemed somewhat deserted and overgrown.
We had the place pretty much to ourselves which after the hordes of visitors in both Split and Dubrovnik was rather a treat!
Entrance to Dubrovnik is free. There are many tours offering to take you GOT sites or you can wander on your own. The cost of walking the walls is 70K or $11.50 per person. Times vary but in June and July the walls are open from 8.00am to 7.30pm
To enter the underground rooms of Diocletian's Palace requires a ticket but you can explore above ground for free. Cost 20-40Kn around $3-6. Open June – September from 8.30am -10.00pm
Klis Fortress The fortress is open every day, except for Monday, from 10.00am till 4.00pm; the entrance fee is 10 kn for children and 20 kn for adults, around $2-4. Best reached by car.