The Places you can go, from Copenhagen, by Bike, Train and Car. The final instalment – by Car!
I have already posted about day trips from Copenhagen by bike.
It is not a full list but a starting point. Even since I wrote the post I have had to update it, because I keep finding new places to go. It now includes pictures of Reffen, the new food market in the new trendy area of Refshaløen (shhh, its where Noma recently reopened, so now everyone wants to be there.)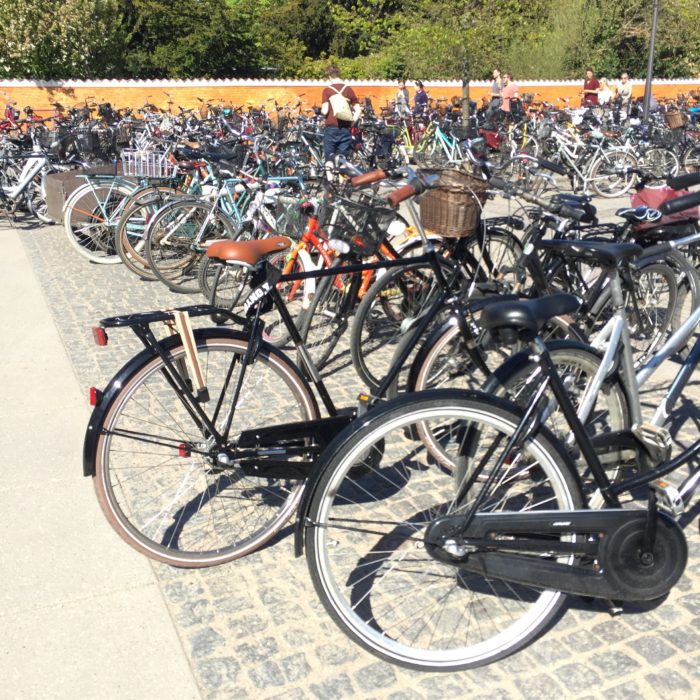 Last week I posted about all the trips we have done by train. To be honest, you can reach most places in Denmark using public transport. The Danish train system is truly excellent. The trains are inexpensive, frequent, fast and run late into the night. And trains are fun.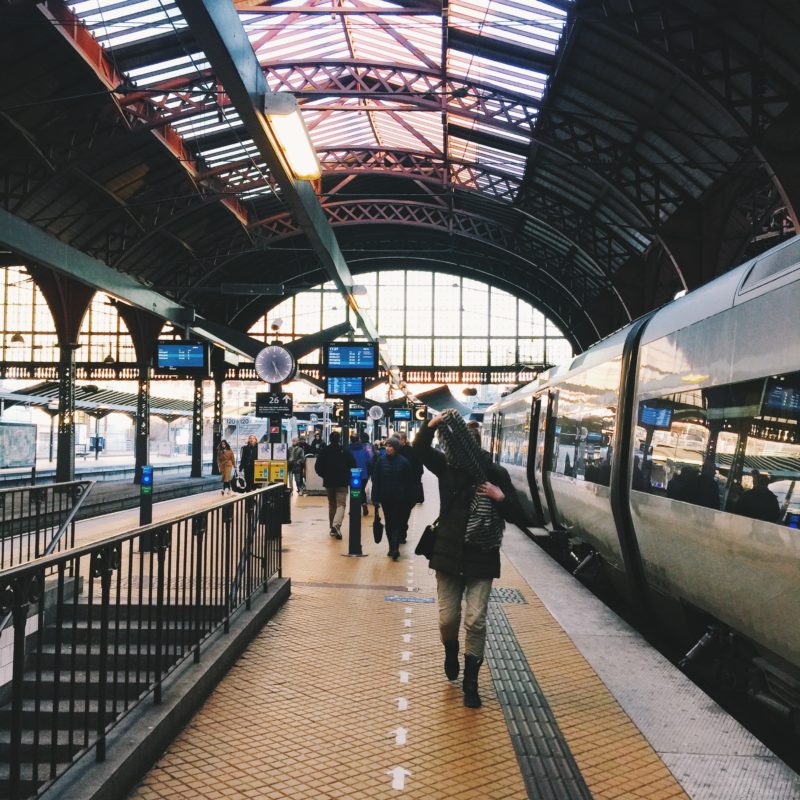 Day Trips by Car
This week I am writing about the trips we have done by car.
Hiring a car, because we only have bikes in Copenhagen, is a bit of a treat. Driving a hired car just means we can get places a little more quickly. And we can pack a picnic. It is also easier to bring our dog, Fraser.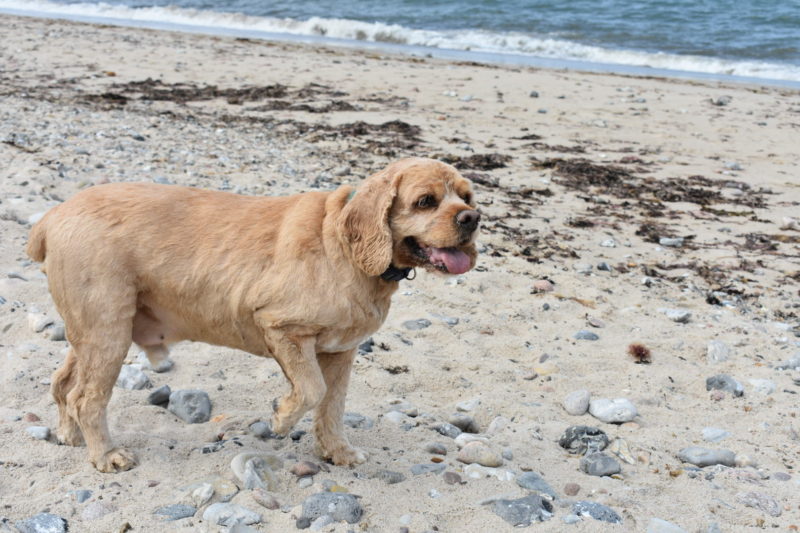 although dog are welcome on trains.
Mons Klint (Think Cliffs of Dover)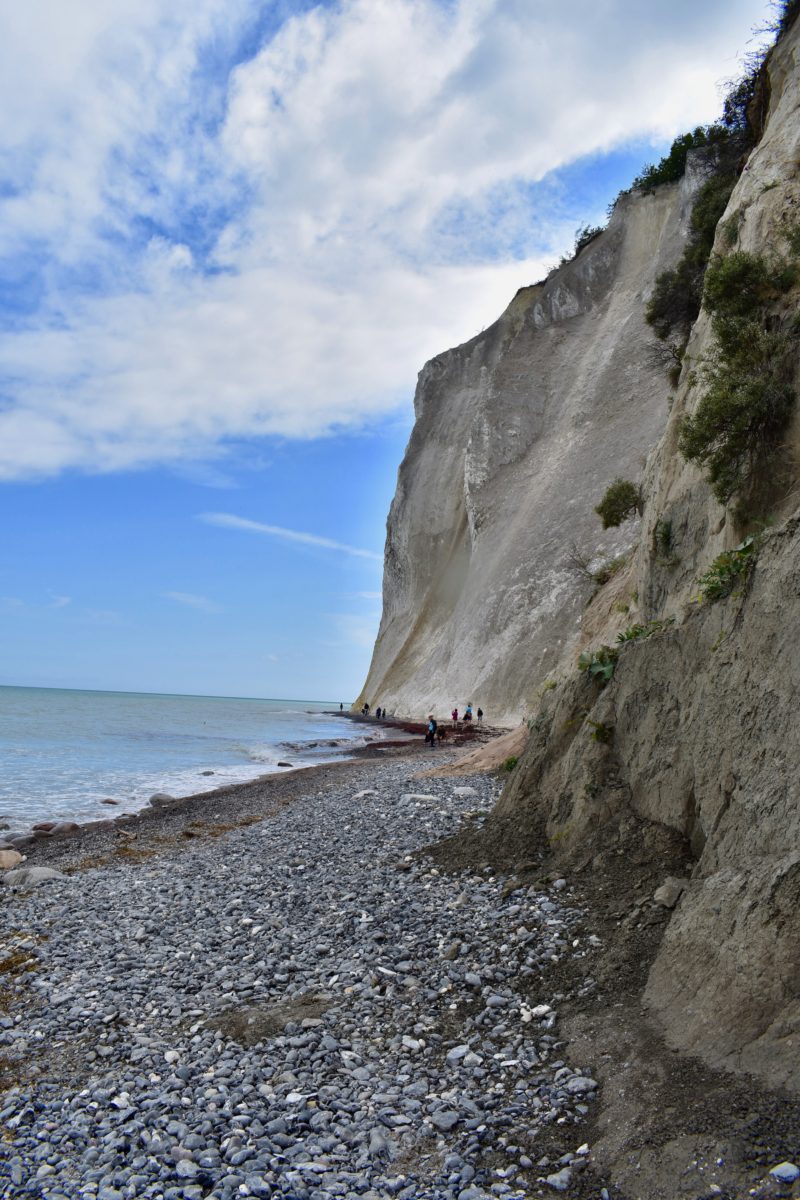 We went to Mons Klint last summer, 6km of chalk cliffs on the Danish coast south of Copenhagen. It was a lovely drive down to the island of Mons, and took just a little under two hours from the centre of Copenhagen. We parked at the Geo Centre, a child friendly museum which explains the geology of Denmark. From the car park you can follow the well signposted track along the top of the chalk cliffs.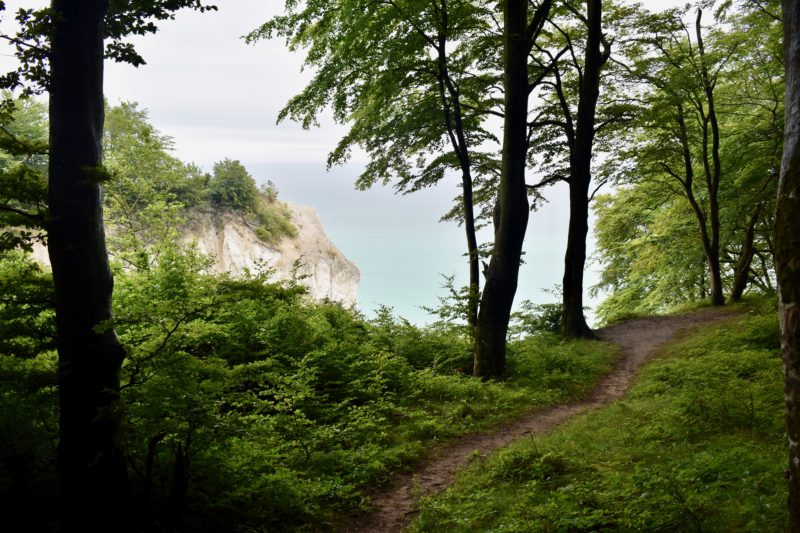 The cliffs are made up of fossils from over 70 million years ago. They were formed by the action of glaciers and were revealed when the last ice age ended. As with many coastal areas they suffer from erosion and chunks of them have fallen onto the beach below. So, be careful!
From the top of the cliffs, you have magnificent views from one of Denmark's highest points (143m, don't laugh, Denmark is a very flat country) across the Baltic Sea.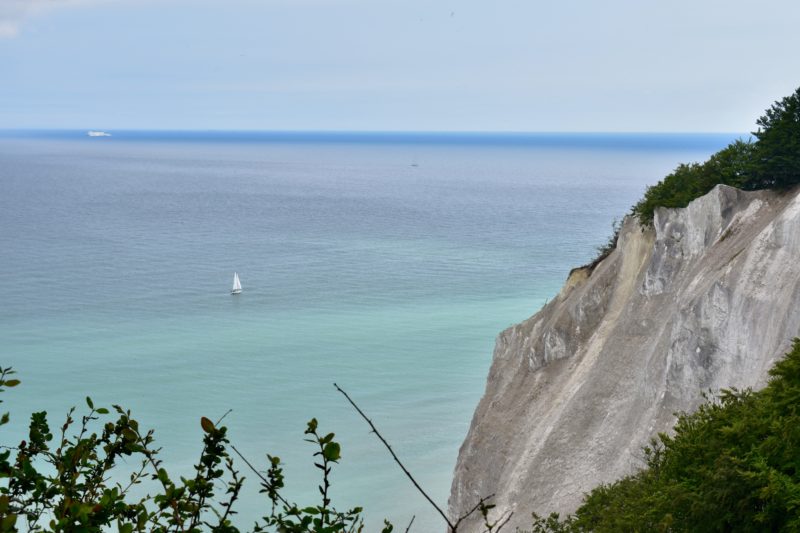 Check the Tide Chart
At various points you can take the over 400 steps down to sea level and walk back along the stony beach to the Geo Centre end, if the tides are in your favour.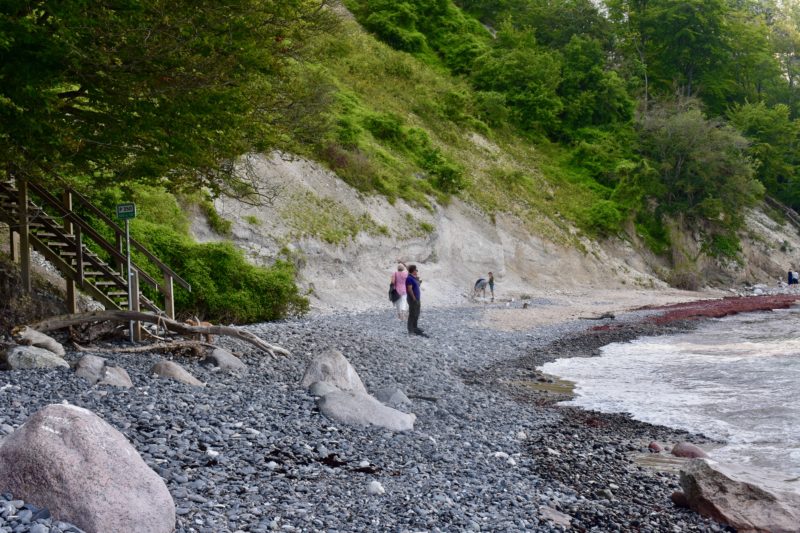 Along the way you can easily find tiny fossils in the walls of the cliffs.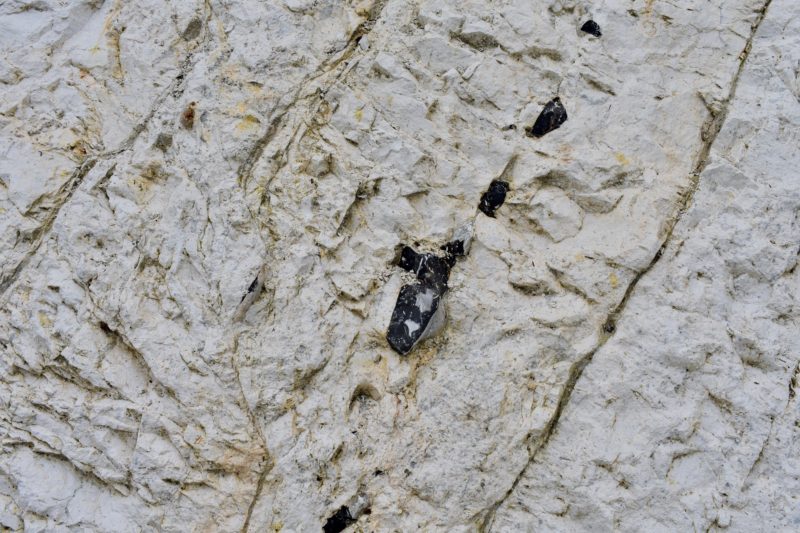 And admire the driftwood on the shore.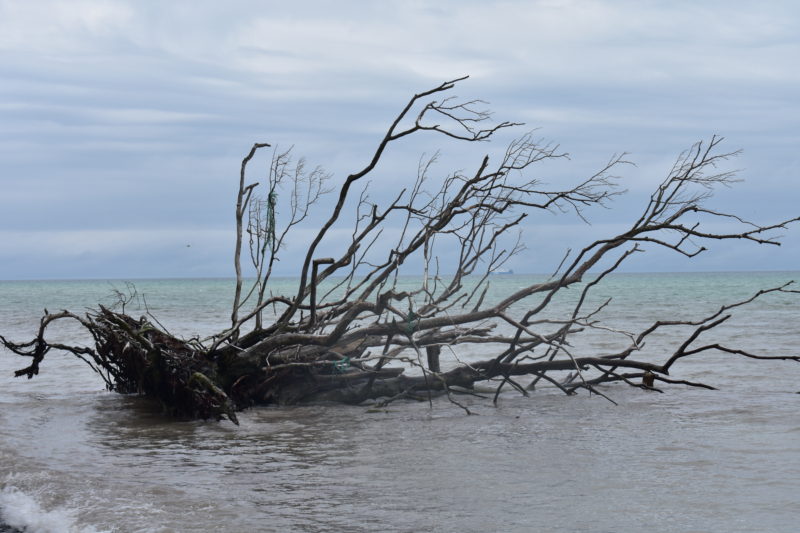 The beach path however becomes unwalkable as the tide comes in.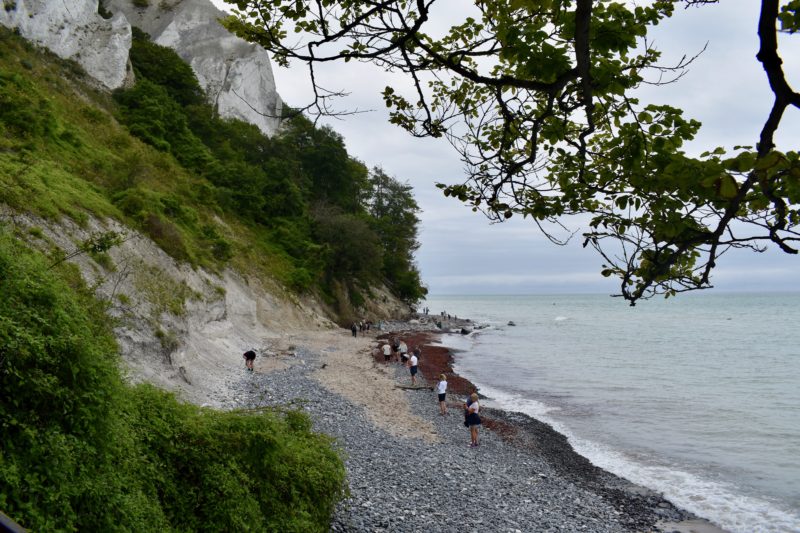 We admitted defeat three-quarters of the way along but got further than some of my friends who, visiting during high tide, didn't even get onto the beach.
Then you have the joy of walking all the way back up the stairs. We were glad we didn't have to carry Fraser back up. What a trooper!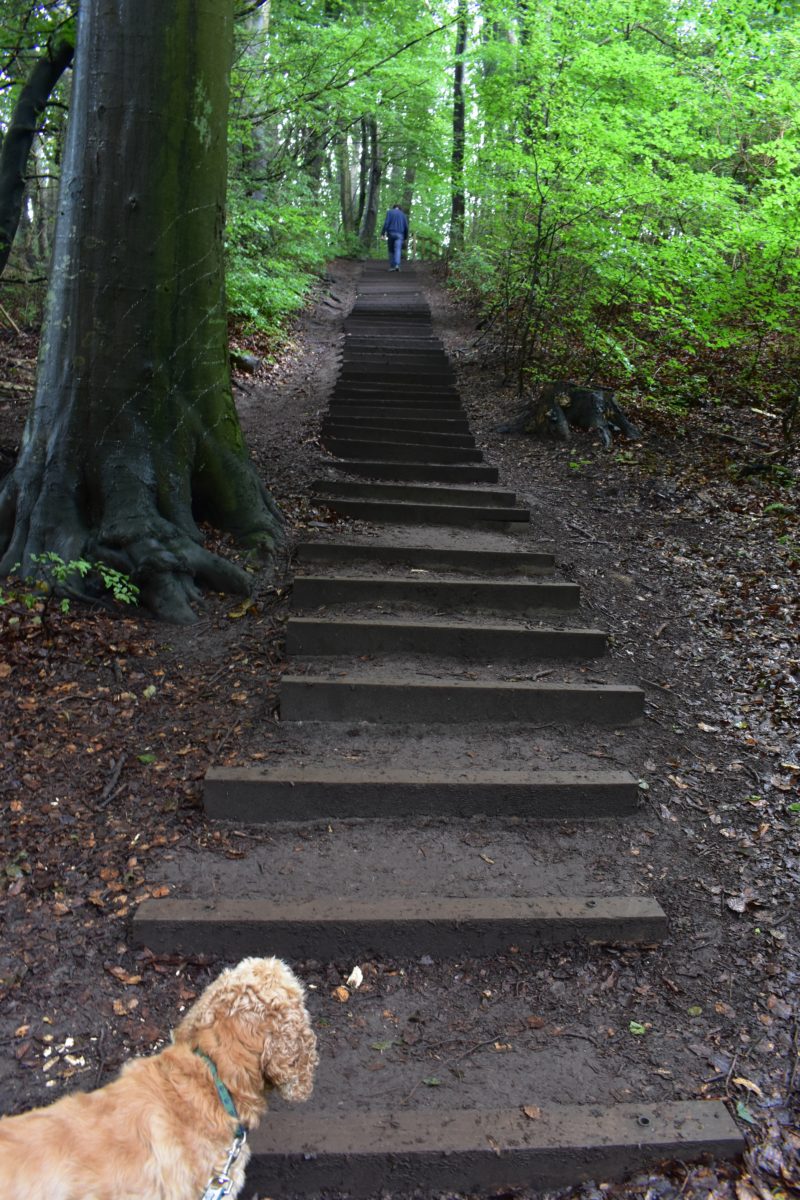 The Geo Center has a little cafe where you can have a well deserved cup of tea and cake.
Arken (very funky Art Gallery)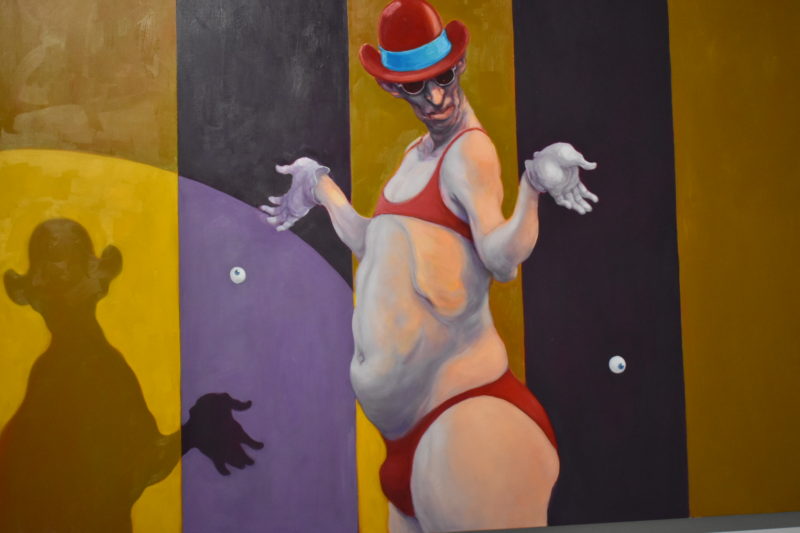 Confession. You can get to Arken, an art gallery in Ishøj on the outskirts of Copenhagen by train, within an hour. Just. By rental car it took us only twenty-five minutes from our apartment. We live close to Tivoli.
I think we were buying furniture so whilst we had the car we decided to throw in a quick culture visit. Arken had been on our 'must see' list for a while.
It was a miserable day in the middle of winter when we went.  I assumed no-one else would be out and about. I thought everyone would be at home, getting all snuggly and hygglig. Arken feels a little more out-of-the-way, so I was astonished by the full car park and the hordes of visitors. Obviously after months of cold, dark winter everyone had a little cabin fever and art was their top choice. The Danes are so cultured!
The Ark
The museum is shaped like a boat, Arken means 'The Ark' in Danish. It sits in a little island and from inside you have wonderful views of the Danish coast. In good weather you can enjoy the sculpture park and 7km of beach.
I had not read anything about the museum, so was not expecting the first thing I saw as I walked in to be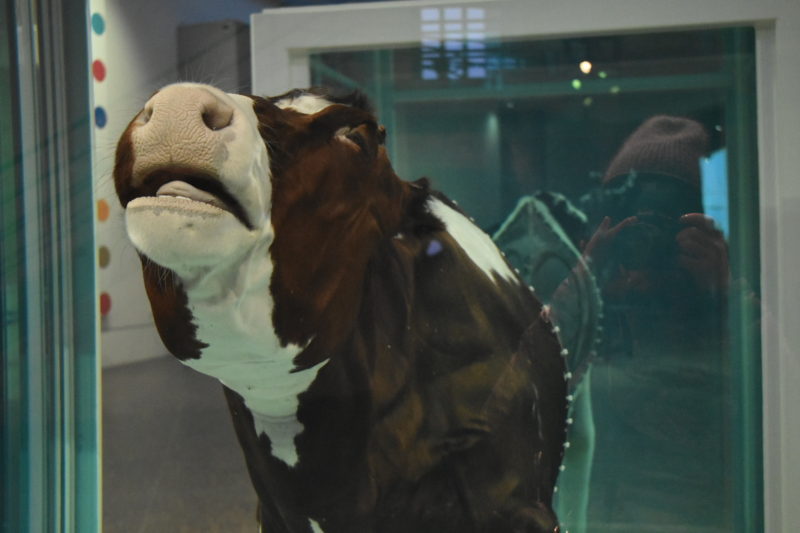 In fact, Arken has a permanent exhibition by the controversial British artist Damien Hirst, including the Diamond Crusted Skull. It was a bit of a shock, which I suspect is the point of the exhibition.
There were other weird and wonderful things like a room full of clowns, scarily lifelike and just a little creepy.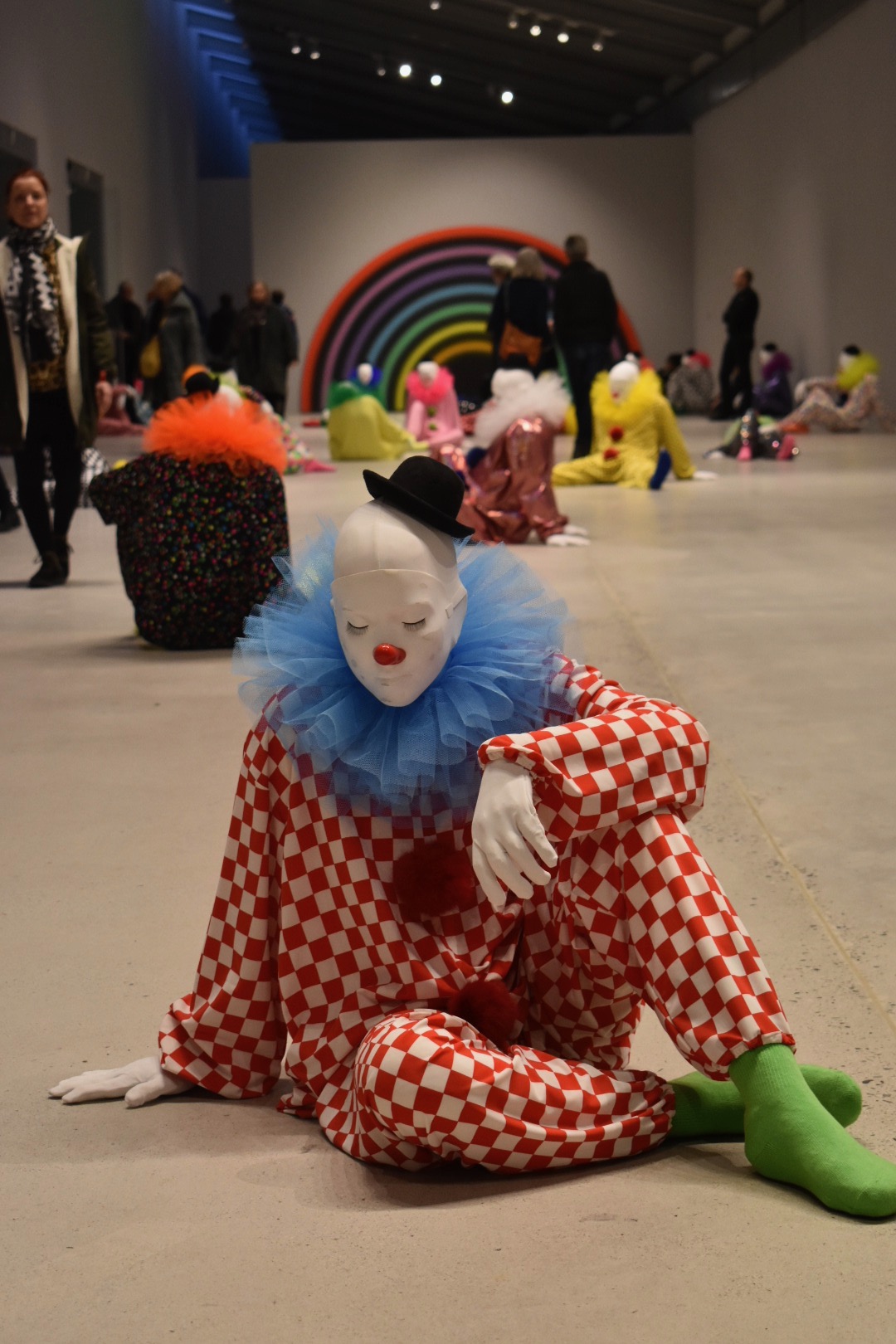 The museum seemed to be a good mix of stuff (that's a technical term). There were pictures but there was also interesting installations and objects to admire.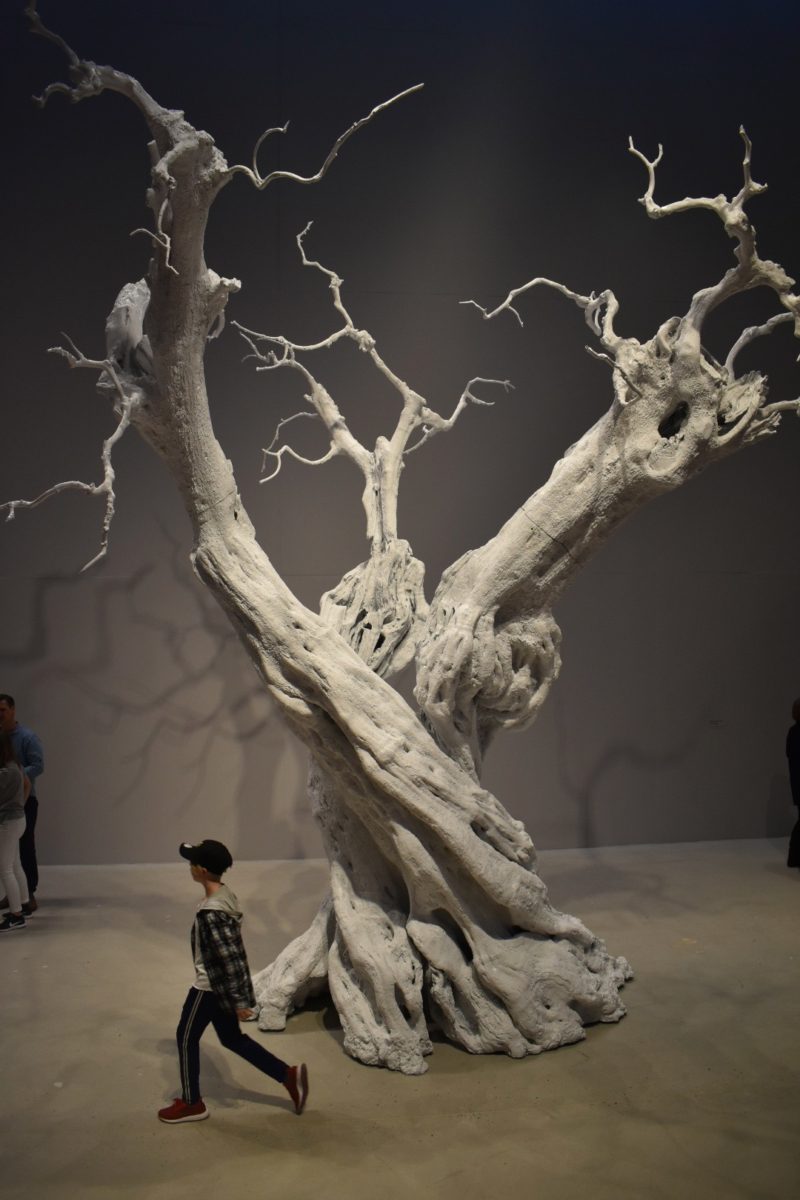 The exhibits change frequently, the clowns are there until the end of December but the Circus (see above) has left town. There is a cute little cafe and a gift shop on the way out. For more details and opening times click here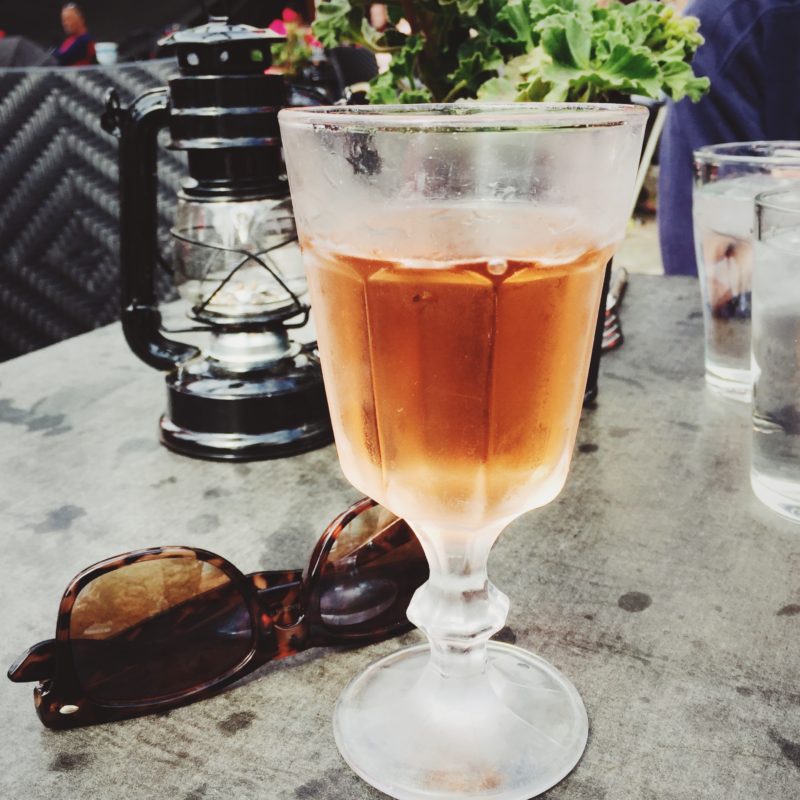 The coastline along the north of Island of Zealand, one of the four main parts of Denmark, is known as the Danish Riviera. It has long sandy beaches, some of the best in Europe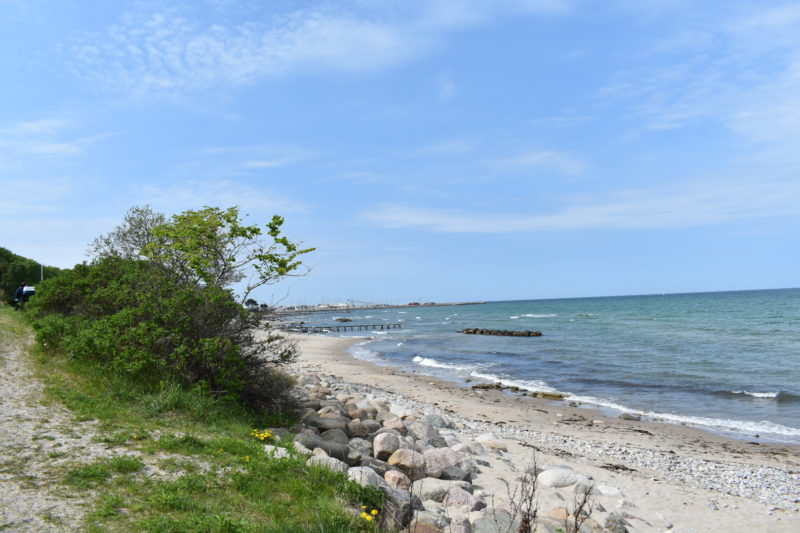 and super cute little towns.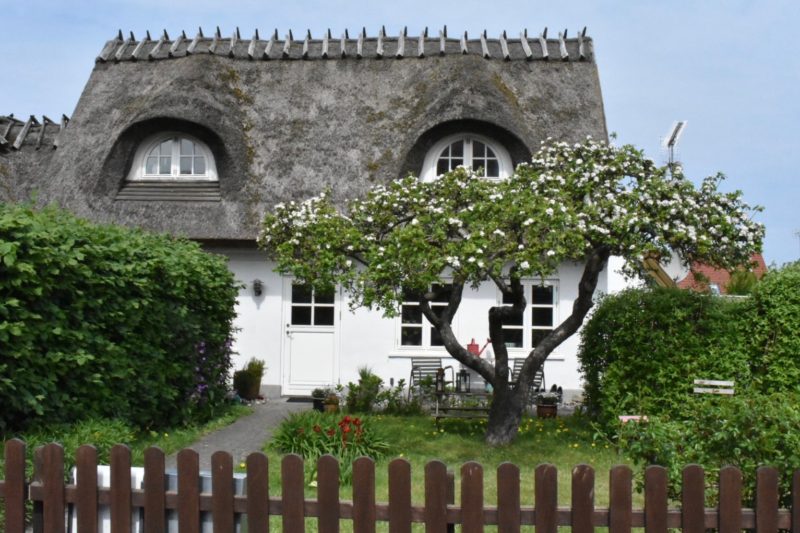 Being so far north, a visit would normally involve bringing lots of layers and a good attitude. But have I mentioned the recent weather in Denmark?
Danish Weather and The Summer of 2018
We are not quite sure what has happened to the weather in Denmark. Already, and we are not even into June, Denmark has had the best summer in over a hundred years. It has been absolutely beautiful, sunny and temperate. My gorgeous American friend Paula once described the weather In California as
Spring in the morning
Summer during the day
Fall in the evening
In Denmark, we have been living in California for the last month. Other theories involve mass abduction by aliens and transportation to a parallel universe where Denmark has a Mediterranean climate. Whatever the reason, everybody is very happy and there is a constant party atmosphere in Copenhagen.
So, for the moment, the Danish Riviera is living up to its name.
Sommerhus
We only went to the Danish Riviera for the day but the whole area is full of hotels and summerhouses. For more on a typical Danish Sommerhus see my recent post. Many Copenhageners decamp for long holiday weekends but the area is a popular summer destination for Danes and hardy foreigners looking for peace and quiet.
Gilleleje
On the recommendation of one of our Danish friends, we headed for Gilleleje at the top of Zealand. We stopped for lunch and had a little walk around.  Like most Danish towns Gilleleje has an attractive town centre. Denmark has not fully embraced the internet yet, although Amazon is about to start. There is also an absence of large out of town shopping centres so people still shop locally. It is lovely.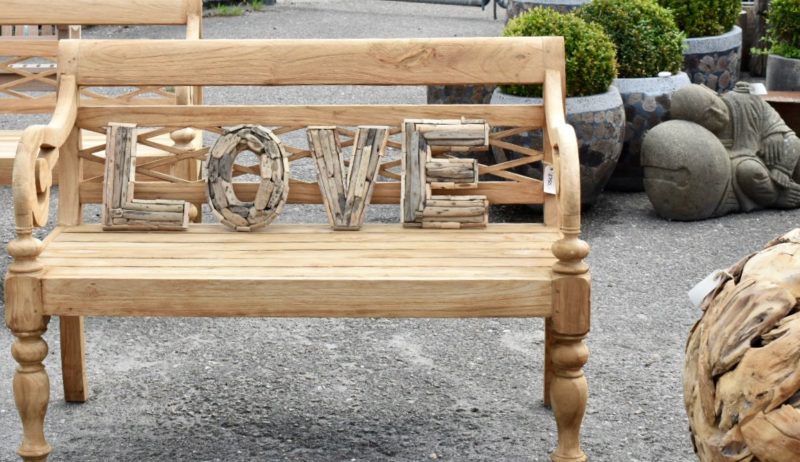 After a quick walk on the beach at Gilleleje we were ready to move on. We had chosen the one slightly cooler day for our visit and hanging around did not seem terribly inviting. I must admit to having been a little underwhelmed after the big build up; sweet town but no more so than many I had already visited.
One more look
On the drive out of town we saw a sign for another beach and I suggested we have one more look. The glimpse of water at the end of the lane seemed inviting.
We walked down a little path and suddenly I understood the attraction of the area.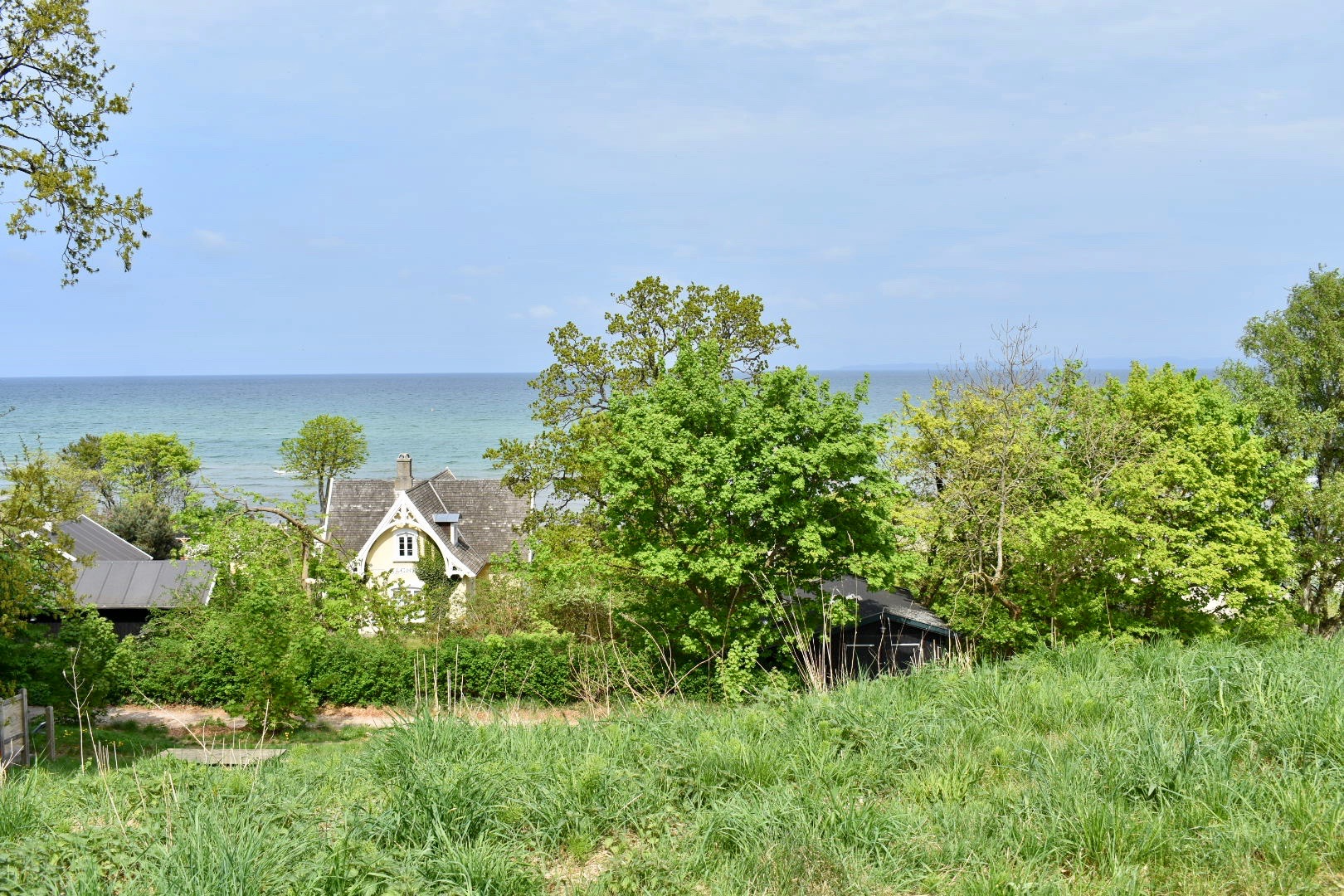 We were in a beautiful, totally unspoilt bit of heaven. It was the same day and yet everything was different. I felt calm and could totally understand why you would want to spend time renting a little hus and simply being. We walked along the higher ground until we found a picnic table.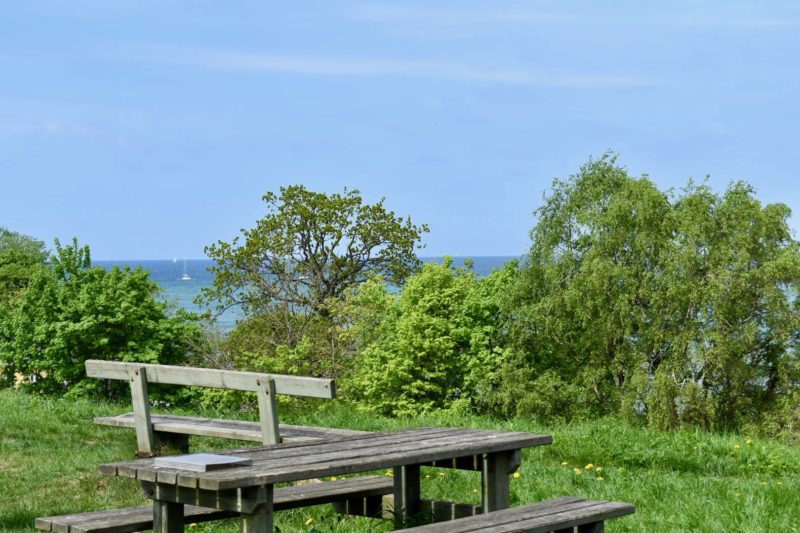 As we sat drinking tea and eating digestive biscuits, bit of a last minute picnic, the sun started shinning. Bliss!
We took a path down to the sandy beach. It was lovely.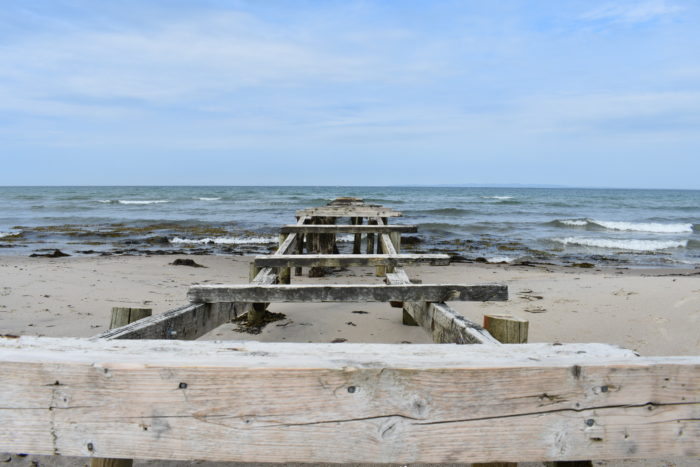 I was so glad we had stopped and explored a bit more. I am finding that more and more with Denmark. So much of it is lovely, but look a little further and it gets even better.
As you can see from the map some of the other day trips I have written about are in the same area as Gilleleje. We popped by Hillerød on the way home as my husband and son had not been there. The joys of having a car!
For more details on the Danish Riviera click here