Brandy Baskets
By Carolyn Eddie | June 9, 2017
Alan and I are celebrating our 30th Wedding Anniversary on the 12th of this month, to be honest I am not sure how he has put up with me all this time!
I have to share the recipe for the dessert that was served at our wedding. Brandy Baskets filled with cream, strawberries and kiwi fruit, drizzled with caramel sauce, I have no real memory of the rest of the meal, chicken maybe, but this dessert, for a Banff lass, was the height of sophistication.  Remember, this was a time, when strawberries only made a brief appearance for a few weeks of the summer.
The basic recipe is for brandy snaps, the cream filled cigar shaped dessert which is only really around at Christmas. I have changed the shape to  create baskets to hold the fruit and cream. The baskets can be made in advance and stored in an airtight container. Fill them with the fruit and cream just before serving, otherwise  they will get soggy.  High humidity is not great for them either
The key to making them is to cook them until golden brown then, once out of the oven, shape them over a small water glass.  If the lacy biscuit (cookie) becomes too hard to work with you can pop them back into the oven to soften them again.
The caramel sauce is based on a recipe by the fabulous Ina Garden.  I always ended up with a pan of crystallized sugar so the recipes below suggests you add little lemon juice or vinegar which seems to help my success rate. It can be a little tricky so I allow you to buy a good quality sauce in a pinch.
Good things to have in your fridge
If you succeed with the caramel it will keep beautifully in the fridge for quite some time.  Make it together with chocolate the ganache from the Heart Shaped Almond Torte and you have two sauces which you will find suddenly become useful for a variety of desserts, apple pie, ice cream Sundays and so on.
Allow a good hour as you need to cook the mixture in batches.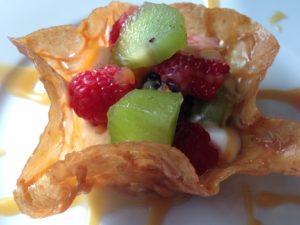 Brandy Baskets
Ingredients
4oz/120g Butter
21/2oz/75g all purpose flour
31/2oz/100g sugar
3 TBS Golden Syrup
1tsp ground ginger
2 TBS brandy
Caramel
101/2oz/300g/11/2 cups sugar
3fl oz/80ml/1/3 cup water
10 fl oz/310ml/11/4 cup heavy cream
splash of vinegar or lemon juice
To finish
Strawberries topped and halved, Kiwis pealed and sliced. then halved. Raspberries or any fruit you would like.
Whipped cream
Instructions
Preheat oven to 350F/180C and line baking sheets with parchment paper.
Have four small drinking glasses to hand.
Melt butter and syrup in a small pan, remove from heat once melted.
Add remaining ingredients and stir until smooth.
Keep pan on a low heat to keep mixture warm.
Take 1tsp of mixture and drop onto on quarter of parchment paper.
Using the teaspoon spread mixture out in a circle until 4inches/10cm wide.
Repeat three more times.
Bake for around 5 mins until nicely browned.
Allow lacy wafers to cool enough so you can handle them then drop them over the glasses. lacy side out to form cups.
They should harden quickly allowing you to work with the next batch.
If mixture becomes too hard it can be soften by turning it briefly to the oven.
Repeat until all the mixture is finished.
Caramel
In a heavy bottomed pan add sugar, water and a little splash of vinegar.
Melt the sugar over a low heat until it is dissolved, without stirring.
Increase heat to medium and boil until sugar turns a deep brown, be careful as mixture goes from perfect to burn very quickly. 5-7 minutes
Be careful caramel is very hot!
Once it has reached the desired color take pan off heat.
Slowly add the cream, which will make the caramel splutter and harden,
Return pan to a low heat and, stir constantly until the mixture is smooth.
Leave to thicken for a couple of hours
To finish
Just before serving fill brandy baskets with whipped cream and fruit, drizzle with caramel sauce.