Jump to recipe
By Carolyn Eddie | April 9, 2017
Its all about the cake, Lemon Drizzle Cake!
As many of you know I had my own small, totally amateur, but oh so fun catering company in Darien, Connecticut. This blog started as a way of sharing recipes with all the lovely people who attended my events. For me it was a way to capture a recipe before I forgot exactly what  I had done.  And then my husband was offered a rather fabulous job in Copenhagen so here we are. Since I have been here I have made the odd scone and a batch or two of chocolate caramel squares. I am really doing no catering as such and am really missing the buzz of my old life. Cooking for two is so much harder than cooking for thirty, or fifty and as at this stage of life moderation is always the goal so having too much cake lying around is really not a good idea.
Thankfully every so often my husband commissions me to bake for his office, shout out to all my husband's lovely colleagues. After making this Lemon Drizzle cake I am being asked why the recipe is not on my website.
Really Lemony Cake
This really lemony Lemon Drizzle cake is fabulously appropriate for so many occasions.  In its simplest form with just a lemon drizzle it is great for a breakfast cake. It goes well with a fresh fruit salad and either plain scones or fresh blueberry scones and lemon curd .  I often serve it deconstructed with either whipped cream and fruit or a mixture of whipped cream and lemon curd as part of a lunch buffet.  The full monty however, a double layer lemon infused sandwich cake filled with lemon curd and a lemony frosting and topped with a lemon drizzle is, well, lemony!  So there are variations in the recipe below.  You can simply make the cake, infuse with syrup and cover with glaze. Instead of the frosting and lemon curd filling you could use whipped cream, either with or without the lemon curd. Likewise omit the lemon curd and just fill with frosting. I also use it when making 'proper birthday cakes'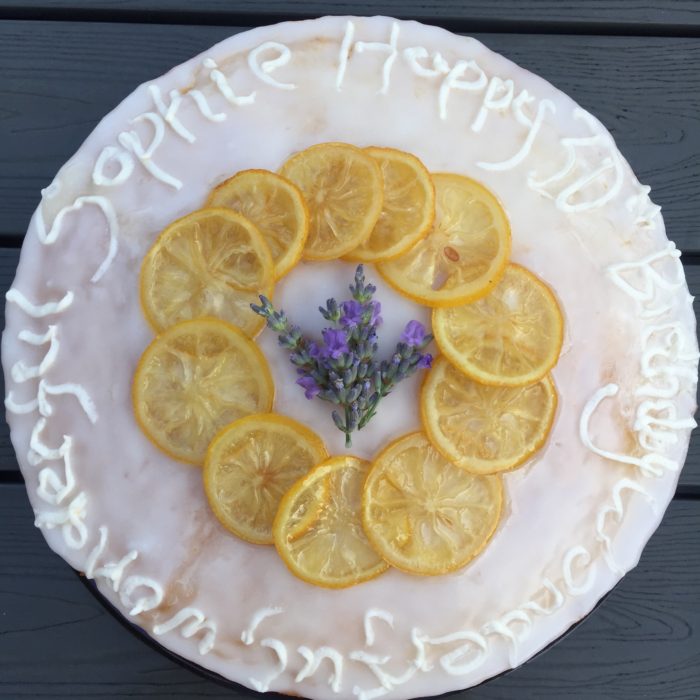 A word on measurements.
I grew up with good old fashioned ounces and to be honest cannot get my head around grams. They will forever be a mystery to me.  Having spent 15 years in America I can see the attraction of cups. Certain recipes just work in their original system of measurement. I would not dream of making scones in anything but cups, the beauty being that being a recipe based totally on cups works with any cup.  I also found a great shortbread recipe which was something like 1 cup of flour, 1/2 cup of butter and a 1/4 cup of sugar, how beautiful is that.? A basic cake on the other hand should be made with imperial measures.  The Victoria sandwich is based on the measurement of an egg. This just happens to be around 2 ounces. For every egg you add the same amount of butter, sugar and self raising flour.  Any self respecting eight year old can remember that recipe! My advice to any bakers would be to invest in a set of scales which converts from ounces to grams and have a set of cups handy as well.

Ingredients
2 8 or 9 inch ( 20cm- 22.5cm) round baking tins, greased and lined with parchment paper or if making the simple sheet cake a quarter size sheet pan
Lemon Cakes
8oz self raising flour (220g/11/2 cups) or 8oz all purpose flour (220g/11/2 cups) with 2 tsp baking powder
8oz butter (220g/2 sticks) at room temperature
8oz sugar (220g)/little over 1 cup plus two level TBS sugar
4 eggs, beaten, at room temperature
Zest of one large or two small lemons
2-3 tbs milk
Lemon Syrup
1/2 cup/120ml lemon juice
1/2 cup/31/2 oz/100g sugar
Frosting
2oz/85g /1/2 stick butter, at room temperature
10-12 oz/250 - 300g/11/2-2 cups icing sugar
little of the lemon curd and lemon syrup
little milk
Lemon Curd( this is a half measure of the lemon curd recipe elsewhere on my website)
4 egg yolks
31/2 oz / 100g / 1/2 cup of sugar
5Tbs/75ml lemon juice
zest of a lemon
21/2 oz/70g/5TBS cold butter. cut into cubes
Lemon Drizzle Glaze
Instructions
Pre-Heat oven to 400F/200C
Lemon Cakes
Add all ingredients to a large mixing bowl and beat until you have a smooth mixture.
Divide mixture evenly between the two prepared tins and bake in preheated oven for 15-20 minutes.If using the quarter sheet cooking time will be 30-40 minutes.
Cakes are ready when they are golden brown, risen and spring back slightly when touched.
Cool in tin as it makes it easier to catch all the syrup.
Lemon Syrup
Add lemon juice and sugar to small pan and heat gently until all the sugar has dissolved.
Poke holes in the cakes with a toothpick and pour syrup over them, reserving a little for the glaze and frosting.
Frosting
Beat together butter, the lower amount of icing sugar and the lemon curd, syrup and splash of milk until totally combined and fluffy, around 5 minutes.
Add icing sugar as required until frosting reaches a soft spreading consistency
Lemon Curd
Whisk eggs, sugar, lemon juice and zest together in heavy bottomed pan.
Cook over low heat, whisking all the time until the mixture is thick enough to cover the back of a spoon.
Remove pan from heat and start adding the cold butter, one piece at a time, whisking well between each addition until mixture is smooth.
When all the butter has been added chill in fridge until needed.
Will last up to five days.
Lemon Drizzle Glaze
In a small bowl mix a little of the lemon syrup, a tablespoon of cold water and icing sugar. This is a bit of a trial and error just keep adding a little bit of each ingredient until you have a nice runny, but not too runny consistency.
To assemble
Spread of the syrup soaked round cakes with a layer of frosting and lemon curd,
Top with the second cake.
Drizzle the lemon drizzle over the cake and encourage to come to the edge and drip over the sides.
I often use edible flowers to decorate this cake
Leave to set before slicing.
.