Salad Niçoise – Classic French Dish (apologies if you have seen this already, trying to test my website, as it seems to have stopped sending emails properly, if you receiving this for the first time love to hear from you)
Salad Niçoise is a classic French dish. I switch it up slightly and use fresh roasted salmon instead of the traditional tinned tuna. With a lemon dressing, the combination of salmon, baby new potatoes, French green beans and locally grown tomatoes is perfect for a summer lunch or light supper.
Origins
Whilst doing a bit of research on the origins of Salad Niçoise (thanks Wikipedia) I discovered I am joining a long list of chefs and cooks who disagree on what makes a classic Niçoise. There is no dispute about where the salad came from, Nice, but after that it is all downhill.
I am offending purists by including cooked potatoes and green beans. I am switching out salmon for the more traditional tuna (feel free to switch it back). My dressing is a light lemon vinaigrette, no mayonnaise is involved. I insist on both black olives and anchovies.,
As with all recipes, what you do in the privacy of your own kitchen is entirely up to you!
Fabulous Salad for Entertaining
Salad Niçoise was one of my go to salads when I was catering back in Darien. All the bits (technical catering term), can be cooked and dressed in advance The salad itself can be assembled just as guests arrive, but it will happily sit around until you have poured that first glass of rosé. It also looks spectacular. Are you beginning to see the attraction?  It gets better.
I use salmon left over from my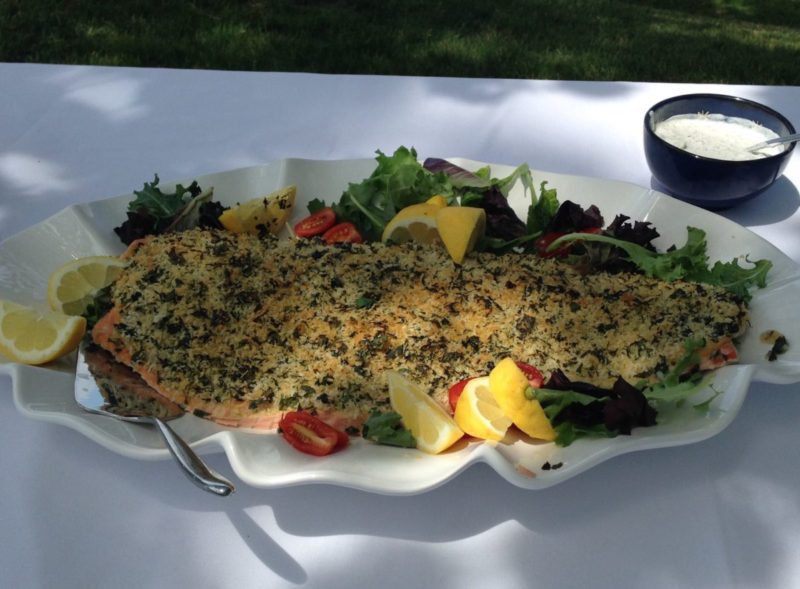 as a  way of making the salmon go a little further.
Or you could use some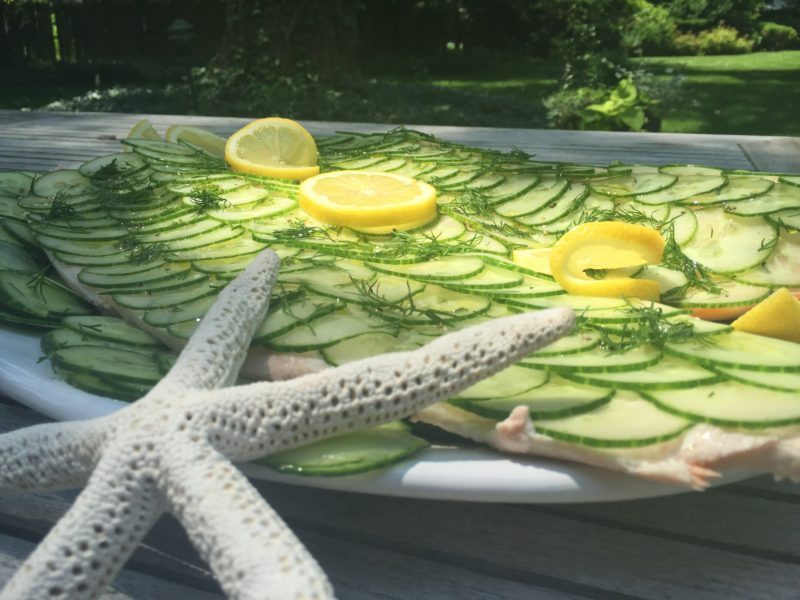 Tinned tuna really works well too.
Use Seasonal Vegetables
Apart from French green beans almost all the ingredients,
Eggs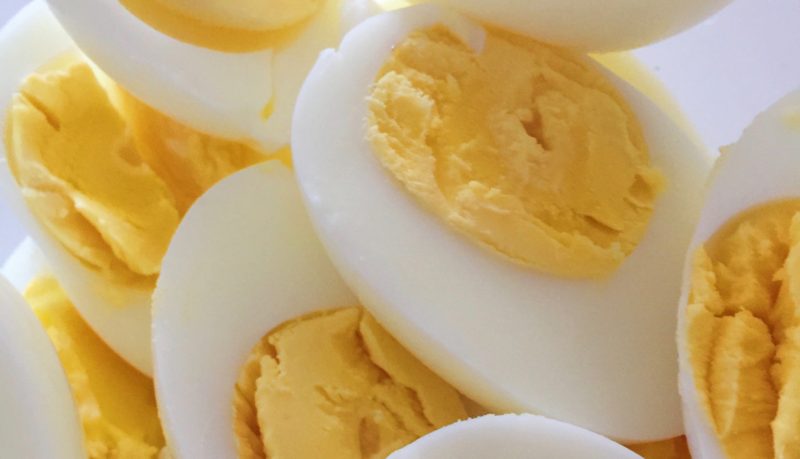 potatoes, tomatoes and lemons are the sort of thing you generally have in the house. However, at this time of the year, in Great Britain and Denmark, we are blessed with fabulous 'new potatoes'.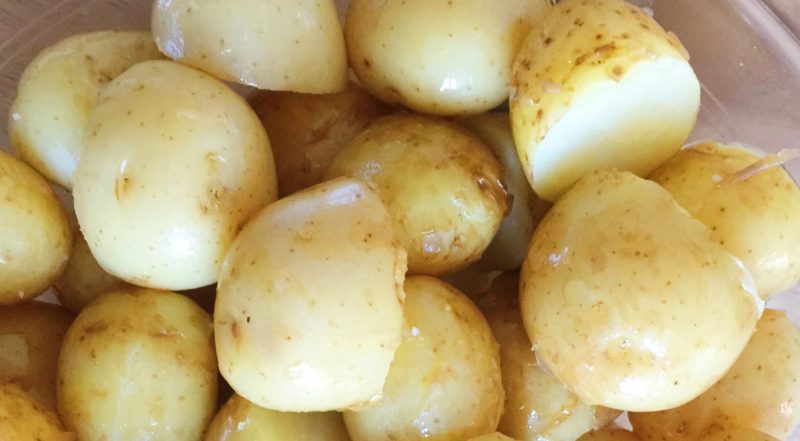 New Potatoes
Now I think I may have mentioned my potato obsession?  For some reason 'New Potatoes', the ones where the skin is paper thin and can just be rubbed off, is something I could not find when I was living in America. The closest I ever got was fingerlings.
During the summer months, when I was growing up in Scotland, we existed almost exclusively on new potatoes and butter and strawberries and clotted cream.  Jersey Royals would appear early in the season, and then later, local potatoes would be available either in the shops or directly from the farm. It was heaven.
Most people also grew a few drills of potatoes in their back garden.  My dad would often go out and dig up just enough potatoes for the next meal. Now that is a new potato!
One of the many attractions of living in Denmark, is, that with a similar climate and heritage, I can once again enjoy "New Potatoes". And I do!
Larder Items
And I am assuming everyone always has tinned black olives and anchovies in their well stocked larder?
Salad Niçoise
July 9, 2018
: To feed six for lunch or a hungry four for dinner. There really is no right or wrong set of proportions. I usually cook everything, then layer the salad adding more tomatoes or lettuce so it looks balanced. Serve with crusty French bread to mop up the delicious lemony dressing.
: easy
Salad Niçoise is a classic French dish. In this version I use fresh roasted salmon instead of the traditional tinned tuna. With a lemon dressing the combination of potatoes, green beans and tomatoes is perfect for a summer lunch or light supper.
Ingredients
3 eggs-not too fresh as this makes them hard to shell
Handful of French beans, topped and tailed
12-14 small baby new potatoes ( now you know me, so there is no such thing as too many potatoes). The new Danish ones are unbelievably good.
Handful of beautiful baby tomatoes, cut in two. I sometimes use the multicoloured ones as they make the salad really pretty.
Some crisp lettuce leaves such as cos or romaine
4-6 inch fillet of salmon
Small tin of black pitted olives or olives of your choice. The proper Niçoise ones generally have stones so can be a pain.
For the Salmon
small bunch of parsley, washed, stalks removed and finely chopped
Dijon Mustard
Panko
Olive Oil
Lemon Zest from half a small lemon
Salt and Pepper
Lemon Dressing
2TBS freshly squeezed Lemon Juice
5TBS Extra Virgin Olive Oil
1/2tsp Dijon Mustard
Salt and Pepper
Directions
Step 1

Everything can be prepared and cooked ahead of time and the salad is served room temperature.

Step 2

Begin by making the salad dressing. Combine all the ingredients in a small bowl and whisk until combined. I like using an old jam jar with a lid so I can shake the dressing. Will keep for days in the fridge.

Step 3

Cook the eggs by placing them in a small pan and covering them with water.

Step 4

Bring to a simmer, then boil the eggs for around six to seven minutes. Run pan under cold water until the eggs are cold. Shell them immediately, and cut into quarters. Place in bowl, cover with plastic wrap and refrigerate until ready to use.

Step 5

For the green beans, bring a small pan of salted, boiling water to the boil. Drop the beans in and cook for around three minutes. You want them nice and green but still with a bit of bite. Cool them under running cold water or in an ice bath. Dress beans with a little of the Lemon Vinaigrette. Refrigerate until ready to use.

Step 6

Wash and cut potatoes into even sizes if some are a little large. Boil potatoes until nicely done, drain and dress with a little of the Lemon Vinaigrette. Refrigerate until ready to use.

Step 7

For the Salmon I use my Herbed Salmon, but any left over cooked salmon would do. Preheat oven to 425F/210C

Step 8

For the Herbed Salmon, place the fish on a baking tray lined with parchment paper. Spread the salmon with a little Dijon mustard. Mix parsley with lemon zest, a handful of panko, salt and pepper and a plug of olive oil. Spread parsley mix over the mustard. Cook until the panko is beautifully browned. The cooking time will depend on the size and thickness of your salmon, but check after 15 minutes.

Step 9

To Assemble. Take a large flat platter. Lightly dress the lettuce and layer on the bottom of the plate. Build up the salad with layers of tomatoes, beans, potatoes, flaked salmon and lettuce. I flake the salmon by hand. Finish with black olives and anchovies, if using.

Step 10

Drizzle any left over dressing over the finished salad.
Salad Niçoise
Serve with crusty bread to mop up the lovely lemony dressing, and a glass of Rosé. Close you eyes and pretend you are in the South of France.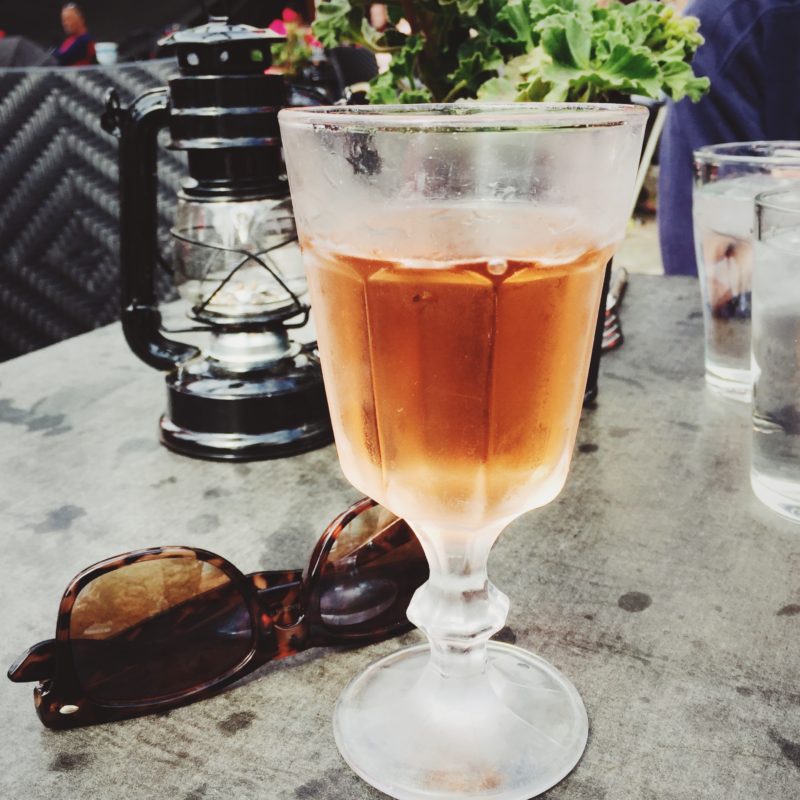 Bon Appetit!