Jump to recipe
Repost from 2015!
Poached salmon is a fabulous dish for summer. A whole poached salmon is an impressive centrepiece and can be made ahead of time.
I have great pleasure in giving you an updated post from a few years ago. There is recipe for poaching salmon, a cucumber salad and a dill sauce. Some baby new potatoes would also be very lovely for this classic summer lunch. Any left salmon can be used to make Salad Niçoise with Salmon.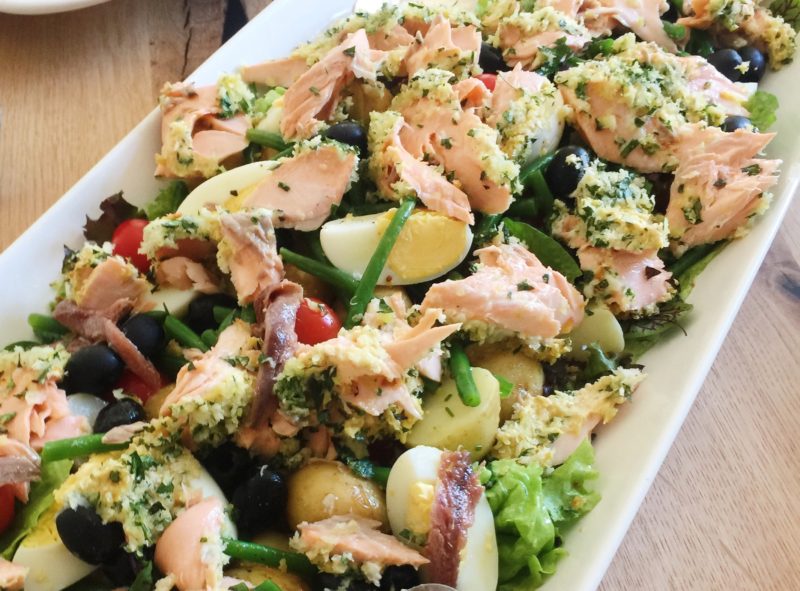 Stealing recipes from Post 1020, Darien CT!
I was at 1020 Post recently in Darien, and, after seeing it on a friends plate, I ordered the poached salmon with dill cucumber sauce. It was out of this world. I then spent the rest of the evening trying to worm the recipe for the sauce out of the kitchen. I was not convinced that the list of ingredients they gave me would produce the sauce I had eaten.
Success!
I am delighted to report that I have succeeded in recreating the dish and recently served it as lunch to a large crowd, together with lentils, a traditional accompaniment to salmon. I topped lentils with roasted Brussel sprouts, cranberries and candied pecans.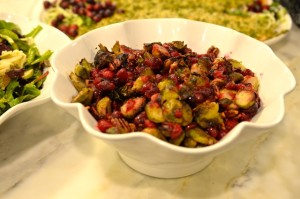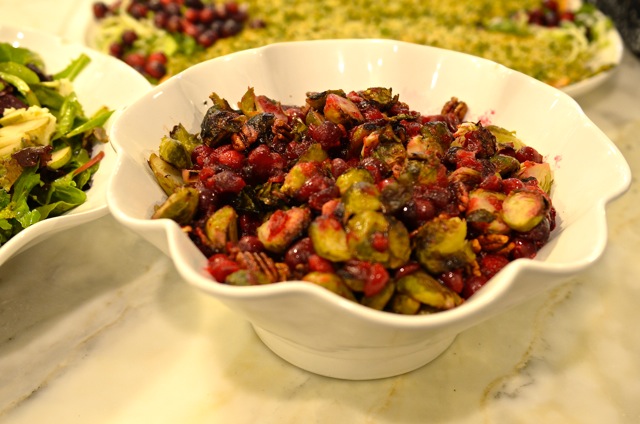 The cranberry and Brussel sprout mix was inspired by a dish I tasted at the Harlan Social in Stamford. Admittedly, it was last December but it worked just as well in July and I could not believe how excited everyone was by Brussel sprouts!
Poaching hack
I cheated slightly with the poaching liquid. Normally I would use a bottle of dry white wine and top up with water. However, when I went to the wine fridge there was not more than two glasses left (ahem). A classic court bouillon can be made with wine and shrimp tails so I improvised with what I had to hand. It worked well, but feel free to use wine only, if you have not drunk it all!
To poach the salmon I also used a proper poaching kettle. If you do not have one, you can use a roasting tin as long as it is deep enough to allow the poaching liquid to cover the fish completely.

Ingredients
Whole side of salmon, around two to three pounds
One cucumber, thinly sliced, preferably using a mandolin
One lemon, sliced
Dill to finish
For the poaching liquid
2 glasses of wine
Some sliced carrots
Shrimp tails and shell
dill or parsley
Cucumber Salad
3/4 cucumber, thinly sliced, preferably using a mandolin
Dressing
2 Tablespoons champagne or white wine vinegar
6 Tablespoons Extra Virgin olive oil
1 Tablespoon Dill, finely chopped
large pinch of mustard powder
salt and pepper
Cucumber Dill Sauce
3 Tablespoons mayonnaise
6 Tablespoons sour cream
2 Tablespoons dill dressing
1/4 Cucumber, finely chopped
salt and pepper
lemon juice to taste
Instructions
Put the salmon in the fish kettle or deep roasting tin and add the wine and enough water to cover completely.
Add the carrots, shrimp tails and shells, herbs and salt and pepper and place the fish kettle on the stove top. You will probably need to light two rings. Slowly bring the liquid up to boil. When you see large bubbles start to break the surface, turn off the heat immediately. Cover and leave until completely cold, then refrigerate until needed.
Make the dressing by whisking all the ingredients together.
Both the cucumber salad and decoration for the salmon are made in the same way.
Slice the cucumbers very thinly, using a mandolin if you have one. If you do not have one I highly recommend buying one.. Reserving two tablespoons of the dressing for the sauce, toss the cucumbers in the dressing. This salad will sit well in the fridge until ready to serve.
To decorate the salmon, take the thinly sliced cucumber and arrange in rows along the salmon to ;look like scales. You can also add slices of lemon, dill, radishes or even caviar as decoration.
Finally, to make the sauce combine all the ingredients for the dill cucumber sauce in a blender and mix well. Do not puree but rather try and leave some of the cucumber as small chunks.
Use any remaining dressing to sprinkle over the dressed salmon.