Sticky Toffee Pudding –
Probably the best dessert in the world!
We all know the story of Scheherazade? The clever girl, who saved her life by telling a different tale every night for a total of one thousand and one Arabian nights. She always reached the most exciting part of her tale just as the sun was rising. The prince, eager to hear the end of the story, always granted her one more day. Finally, he realised that he had fallen in love with her, and decided that maybe he was not going to kill her after all!
Well, I think I could do that with food; cook a different dish each night for one thousand and one nights and live to tell the tale. There would probably be more sweet than savoury dishes on the menu as I suspect I really am more of a baker than a cook. But totally Doable!
But what would I offer on the first night? To be honest the choice is easy; I would start with, what is probably, the best dessert in the world. Sticky Toffee Pudding!
Pudding
I should clarify for non-British readers that 'pudding' is a term we Brits use for all desserts, not just the gloopy custard like 'pudding' found in America. We Brits love our puddings, crumbles, tarts, mousses, cakes and tortes.
However, we reserve a special place in our heart for what we term 'proper puddings'. These are desserts which are always cooked, and tend to be on the stodgier side. They can be baked, such as a crumble, or quite often boiled, as in sponge puddings or the traditional Christmas pudding. They are the desserts of our youth, often remembered from school lunches, with fabulous names like Spotted Dick or Jam Roly-poly.
Generally they go well with proper custard, which for most Brits means Bird's custard, a thick sweet yellow sauce made from Bird's custard powder.
I would claim that the most popular proper pudding, certainly when I lived in the U.K. was sticky toffee pudding. You would find a version of it on most pub menus. I think it is still popular today, and it was the star of the show at my niece's wedding last October.
We do love our puddings.
Origins
The origins of Sticky Toffee Pudding are disputed, with both the Sharrow Bay Hotel in Cumbia, England and the Udny Arms in Aberdeenshire, Scotland claiming to have come up with the recipe.
Now the Udny Arms holds a special claim on me. When I was at Aberdeen University, the Udny Arms was where we went for a posh meal. The kind of meal that us starving students could not afford, but maybe our parents or new boyfriend could?
Although they offered a selection of desserts or puddings, everyone came for the sticky toffee pudding. If you could not get to the hotel, they would gladly ship the pudding to you. Anywhere in the world.
It was also where my husband proposed marriage to me. Alan asked 'the question' just after the main course, and I was so shocked, I could not even eat pudding!
I was a little sad to learn when I was researching this post that the Undo Arms is currently closed. However, its looks as though there are plans to reopen it as a boutique hotel.
Ingredients
That being said the version I give here has it's origins in the Lake District, based on a recipe from the late John Tovey.
Appropriately, for saving my life from a vengeful Arabian Prince, the secret ingredients in Sticky Toffee Pudding are dates and coffee. The not so secret ones are cream, butter and sugar.
Sticky Toffee Pudding
April 3, 2014
: not too hard
A classic British dessert, Sticky Toffee Pudding is a fabulous way to end a meal. A light sponge base, flavoured with dates and a hint of coffee, covered in hot caramel sauce. Best served with ice-cream, cream or creme fraiche.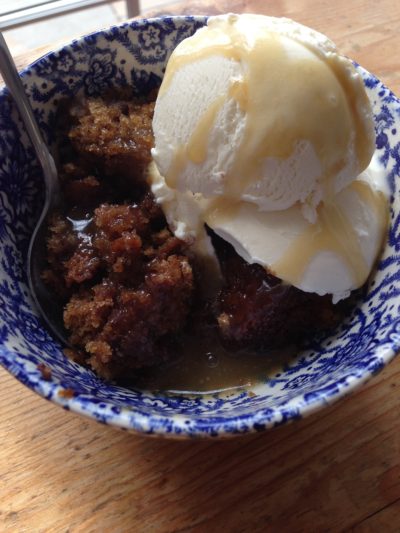 Ingredients
1 stick/4oz/115g of softened butter
5 oz/140g brown sugar
6 oz/170g Self raising flour or 6oz/170g plain flour with 11/2tsp of baking powder
5 oz/140g dates
6 fluid oz/170ml boiling water
2 eggs
3/4 tsp baking soda
1 heaped tsp instant coffee
Toffee Sauce
8oz butter/200g/ 2 sticks
12 oz/250g soft brown sugar/13/4 cups of brown sugar
14 tablespoons heavy cream
To serve
Pecans or candied pecans
Strawberries
Cream, ice-cream, clotted cream
Directions
Step 1

Preheat oven to 360F/180C

Step 2

Put dates, baking soda, coffee granules in a bowl and add the boiling water, leave to cool slightly.

Step 3

Cream the butter and sugar until light and fluffy, about three minutes.  

Step 4

Add the eggs, one at a time, beating well after each addition. Fold in the flour then finally add the date mixture.

Step 5

Divide mixture between eight 3-inch ramekins.

Step 6

Place on baking tray and bake for approx. 25 minutes until well-risen and golden brown.  

Step 7

I also make one large pudding using a 12 inch oval casserole dish. The cooking time for this will depend on the size of your dish. The sponge is ready when it is brown and well risen and set in the middle. When touched it should spring back.

Step 8

Toffee Sauce

Step 9

Place all ingredients into a saucepan and heat gently until sugar has melted and sauce is bubbling.

Step 10

Now pour some sauce over the warm puddings and serve with whipped cream, ice cream or clotted cream.  I like to throw in strawberries for color. Candied pecans (I get mine from Trader Joe's) work too.