Happy Memorial Day or Bank Holiday, depending on where you are! I hope you are able to celebrate with family and enjoy the holiday.
I have just done a live cooking webinar for Hayvn Halftime, and wanted to share the link with you.
Check out some the other videos too, so much good stuff being offered for free by Hayvn.
Salads as a main course!
Have you noticed that salads have moved up in the world? No longer relegated to the side of your plate, salads are taking center stage. A dish in their own right. The recipe I am sharing today is one of those types of salads. It contains everything you need for a perfect lunch or dinner. It is gluten free. If you serve the protein separately, it works for vegans. Add the goat cheese back for vegetarians and lactose free. Add it back for me, because it looks so pretty!
This is an accidental quinoa salad.
My fabulous friend, Felicia, has a co-working space in Darien. She is just about to reopen, and is offering private offices for anyone you know who wants to get out of their home, but is not quite ready to return to NYC.
Check out www.Hayvn.com
Over the past year, I have been catering a series of events, lots of working lunches. I wanted to create something tailored to what we really want to eat. A salad with a bit of protein. Something more than lettuce with cucumber, tomato and a side of dressing. The sort of thing I would eat every day if I wasn't too lazy to make it for myself. I sort of stumbled on this salad, as I wanted an alternative gluten free option to serve alongside a platter of sandwiches. This is the quinoa salad I created, named
The Hayvn Signature Salad
in honor of my friend Felicia.
Really uses what you have in your fridge
I am now using a commercial kitchen in Darien, and I had a two-hour window to cook whatever I had at hand, all sorts of odds and ends, plus an organic chicken! This is the result. The salad was such a hit, and I promised everyone I would write it up and share the recipe. But I didn't do it straight away. Ahem. So,' this week, when I went to replicate it, I realized I had kind of forgotten exactly what I had done. This weeks salad was okay, but it definitely was not as well received as the one from the previous week. Then, I discovered that not all was lost as it seems I had taken a photo, which showed all the components. Yeah!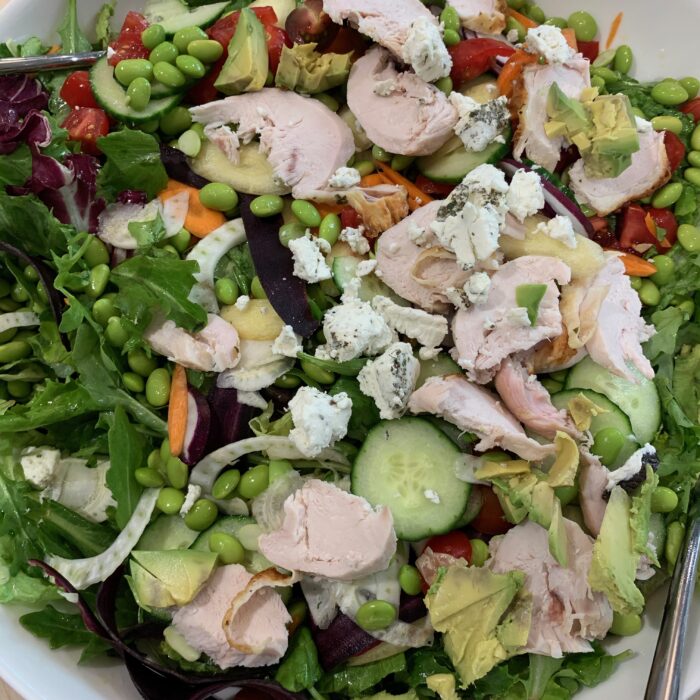 Ingredients for Quinoa Salad
half cup of quinoa, I used white
salad greens of your choice, at least one bag. I often mix several bags so I have some crunch with my leaves, but not all crunch!
handful of green beans, chopped into bite sized pieces (or asparagus or, my new favorite, sugar snaps)
kernels from one sweetcorn
pack of edamame
one or two peppers, roasted
half a large red onion, roasted
a few radishes, thinly sliced
a little thinly sliced fennel (optional, I mean who normally has fennel lying around?)
handful of cherry tomatoes, halved
cucumber, sliced
carrots, shaved with a potato peeler
avocado, cut into cubes
herbed goat cheese
sliced cooked chicken
any fresh herbs you have like basil, mint or parsley
Salad Dressing
2 TBS fresh lemon juice
5 TBS Extra Virgin olive oil
little French mustard
salt and pepper
Method
All the components of the salad can be made ahead. I often cook enough to make more than one salad, things will generally keep for five days in the fridge. Generally I look in the fridge and see what I have lying around, left over barbecued sweetcorn, ends of bags of green beans. My father would be proud of me, using things up! Aim for a variety of textures, soft, chewy and crunchy.
Rinse the quinoa, then cook in one cup of water with a little salt added. Once the the water comes to a boil, cover the pan and simmer until all the water has been absorbed, around ten to fifteen minutes, and the quinoa has those little distinctive halos around it. Allow to cool.
Green Vegetables
For the green vegetables, bring a pot of salted water to the boil then add the vegetables. Green beans take the longest, around three to four minutes. Test them. You are looking for al dente, where they still have a bite to them, as the salad dressing will 'cook' them further. With sugar snaps, simply drop into the boiling water and drain immediately. Run the vegetables under cold water, or drop the colander into an ice bath. I never have enough ice, so generally keep the water running until the vegetables are cold. This stops them from continuing to cook, and lets them retain their crunch.
Roasted Vegeatbles
I roast the zucchini, peppers and onions in a hot 400f oven. Cut them into bite sized pieces, and place in a roasting tin lined with parchment paper. Drizzle with extra virgin olive oil. This should take around twenty-twenty five minutes. If you remember, turn them half way through. You are looking for them be slightly caramelized, but not burnt! The taste from roasted vegetables is well worth the effort. A Maillard reaction occurs creating bursts of incredible flavor, meaning you can add layers of complexity to your salad with resorting to a heavy use of salt.
To make the salad dressing, add all the ingredients to a clean jam jar and shake! You may not need all the dressing, and any extra will keeps for days in the fridge.
To Assemble
To assemble the salad, I use a large flat bowl or serving dish. I often toss the greens in a separate bowl, which keeps the edges of my presentation dish clean. Add a little of the dressing and mix through, hands are best for this part. You want to lightly dress the salad, so add the dressing slowly until all the leaves are just coated! Mix in the cooled quinoa and green beans. I add my dressed leaves to my presentation bowl at this point.
Then layer the other ingredients. First the roasted vegetables, then the edamame and corn. Finish with the crunch salad vegetables, avocado and top with the creamy white goat cheese and chicken. Sprinkle with fresh chopped herbs.
Bring to the table with a flourish, take a picture, tag me in Instagram @carolynsfabfoods and the just wait for the applause!
Check out my other salads!
Orange, beets and goat cheese with salad greens and Marconi Almonds