I hope this finds you well.
I think we are around week five of lockdown, and it looks like we have another five weeks to go. Like many, I have been enjoying quiet family time. I do understand how privileged I am, to have everyone working safely at home in these strange times.
One of the joys of being home, is having a chance to work on updating my website and finally document some of my favorite recipes. I have been making fruit tarts for as long as I can remember. They are one of my 'signature bakes' (followers of The Great British Bake-off will understand what I am talking about, and if you are not a follower, then you should be!) I am excited to be finally sharing the recipe and method with you.
New Video
Better still, my lovely daughter, who should be in her final year of college at Santa Clara, has created a video to show you exactly how to make the fruit tarts in your own home. It is a much more professional video than my recent offerings, with music and opening titles and I really appreciate the time and effort she has put into helping me with this project.
In the video, I show you how to make large fruit tarts, the perfect size for a dessert. Normally, I make small fruit tarts, the ones I serve at my afternoon teas, more bite sized. The recipe and method are the same for both, so make whichever size works best for you.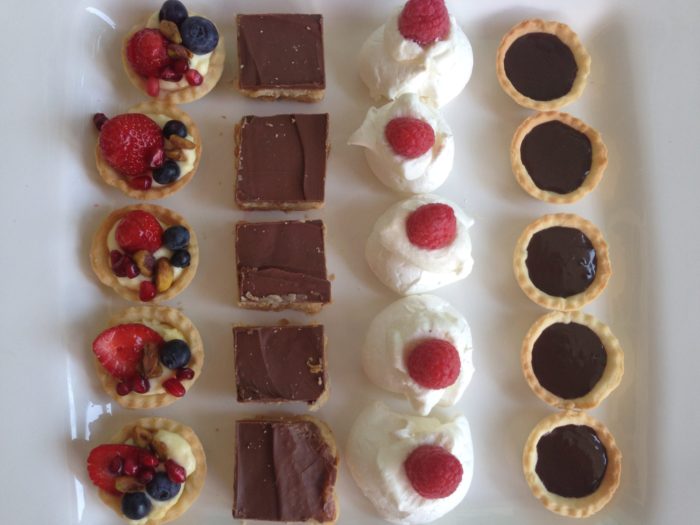 Core Recipes
I have shared both the recipe for the pastry and the custard already on my website. I have just not put them both together before. Both recipes are what I regard as 'core' recipes. Great recipes to have in your cooking and baking repertoire.
Sweet Pastry
The pastry is my go to sweet crust pastry. I use it for all my sweet pies and tarts and, of course, my Christmas Mince Pies. It is easy to make and handles really well. You can re-roll it multiple times and still have lovely crisp pastry. I have to say thank you to my friend Cathy, from London, who gave me the recipe many, many years ago. She claims to have found it on the back of a pack of stork margarine.
Custard
The custard is also a fabulous recipe. Technically, you make this sort of custard in a Bain Marie or in a bowl over a pan of hot water. Sadly, I never had any success with that method. I would stand for ages, stirring my custard mixture, and it would never thicken. The other way to make a thick custard is to add flour. Most confectioners custards add cornstarch or regular flour, but I find you can always taste the flour, and that is not the taste I want in my custard.
The method I use for this custard is the one for making Créme Brûlée. You gently cook the custard in the oven in a pan of hot water. It works every time and is foolproof. I use this custard for filling tarts, but it is also my trifle custard and, more recently, I used it to fill profiteroles. (more recipes to come in the next few weeks!)
Absolutely Fabulous Fresh Fruit Tarts
These custard filled fresh fruit tarts are truly spectacular. They require a little effort, but are well worth it. As we are all staying home, with only family to feed, I have given small amounts of ingredients.
The pastry comfortably makes 8-9 large tarts.. The uncooked pastry freezes well, so any leftover can be saved for another time. Once cooked, the tart shells will keep for up to five days in an airtight container.
The custard is truly delicious. If you make it in several small containers, and have some leftover, you could add sugar and caramelize it to make Créme Brûlée. It is perfect with any form of Fruit Crumble , especially rhubarb. (Rhubarb and Custard holds a special place in the hearts of us brits.) Custard keeps in the fridge for five days (but it will be gone long before that!)
The tarts are best filled close to when they will be served. They will not really keep for very long, so only put together as many as you plan to eat.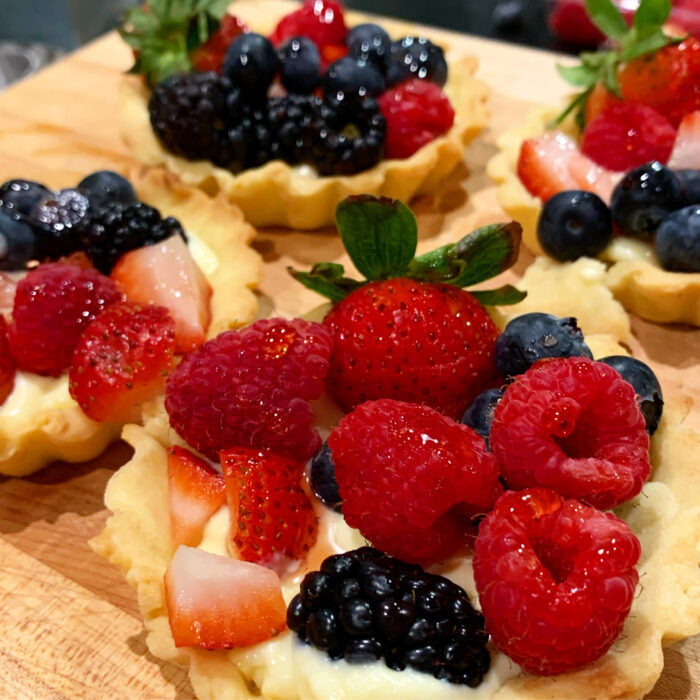 Ingredients
Custard
1 cup/1/2 pint heavy/double cream
Splash of vanilla
2 egg yolks
2 TBS sugar
Pastry
1 2/3 cup/8 ounces/225g of all purpose flour
1/2 scant cup/2 ounces/55g icing or confectioners sugar
1 egg yolk
1 TBS ice cold water
1/2 tsp lemon juice
1 1/4 sticks/5ounces/140g softened butter
To Finish
Fresh fruit such as strawberries, raspberries, blueberries, blackberries, nectarines
redcurrant jelly or some strawberry jam
Method for Custard
Preheat oven to 300F
Pour the cream into a pan and place over a medium heat. Bring the cream just to boiling point, technical terms for this is scald, then remove from heat. While the cream is heating, beat the egg yolks with the sugar and vanilla. Slowly mix the hot cream into the yolk mixture, whisking all the time. Pour mixture into ramekins, or one large dish, and place them in roasting tin. Pour water into roasting tin to reach halfway up the containers. Bake until the mixture still has a little wobble in the center, anywhere from twenty minutes to forty minutes depending on the size and depth of the container. Cool, then refrigerate.
Method for the Pastry
Add half of the flour and icing sugar to a mixing bowl together with the softened butter. Mix the egg yolk with the water and lemon juice in a small bowl, then add to the flour and butter. Cream the mixture together (I use my Kitchen Aid). Add the remaining flour and sugar. Beat again until just combined. Tip mixture onto a floured surface and lightly knead the dough into a round disk. Wrap in clingfilm and refrigerate for at least 20 minutes.
To make tarts
Preheat Oven to 400F/200C
Roll out the pastry on a floured surface to a thickness of just over 1/8 inch. Cut out pastry to fill your chosen pastry cases. In my video, I cut my pastry into rough squares, line my tins, then trim the overhang. If you have pastry cutters which fit your tins, use them! Prick the pastry, then bake blind in the oven for between 8-10 minutes. Cool in the tins, then carefully remove the pastry shells to a plate.
To Assemble
Fill each pastry case with a layer of cooled custard. Arrange the fresh fruit on top. You want to pile the fruit so you cannot see the custard. The best finish comes from glazing the fruit. I use a little redcurrant jelly or strawberry jam diluted with a small amount of boiling water. Use a pastry brush and lightly cover the berries and other fruit with a thin layer of glaze.
Present the tarts to an admiring audience and wait for the lavish praise!