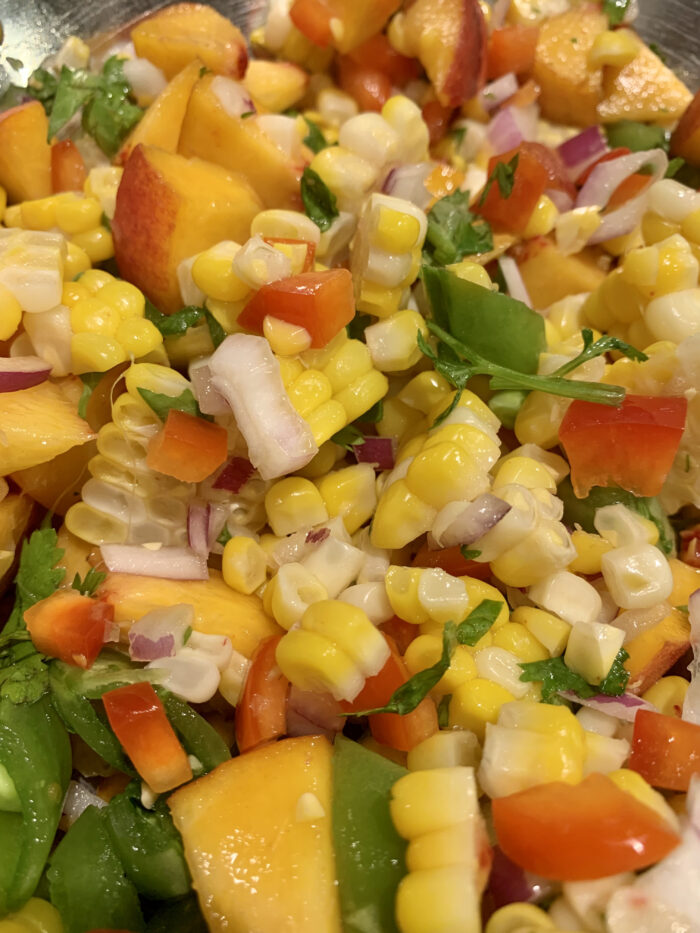 I love the summers in Connecticut, and this Fresh Summer Sweetcorn with Black Bean Salsa is summer on a plate. Long days filled with sunshine, balmy (sometime a little too balmy) evenings sitting out with a cold beer or a glass of rosé or that illicit can of soda. Magical fireflies, not so magical mosquitos, keeping us company as we eat outside. A desire to eat fresh, real food, with real ingredients. To get the best out of the season, to not complain about the heat because we know winter is coming!
Recently, I have become slightly obsessed with this Sweetcorn and Black Bean Salsa. I love celebrating the seasons, and this salad seems to be perfect.
Take some farm fresh, newly shucked sweetcorn, add tiny tomatoes bursting with flavor, some sugar snaps to give a little crunch, red onion for some bite and mix it all together with lime juice and chopped cilantro. Oh, and black beans, diced red pepper and cucumber and maybe some edamame.
The salsa works really well as a side for both grilled meats and fish. Or throw it in a bowl, and scoop it up with tortilla chips. You can make it a day ahead, bulk it out with summer greens, transport it easily and instantly add color to any plate. Perfect for backyard barbecues or summer picnics. Or eating straight out of the fridge. So, what are you waiting for?
I apologize for the slightly random photo below. It seems that despite this salsa being on the menu for almost every event I have catered recently, I have never taken the time to photograph it properly. As a result, the photo is a bit of a teaser. Half Sweetcorn Salsa and half Pesto Orzo. And it looks as if it is a variation, no black beans in sight!
Quantities, as always, are more of a suggestion. Feel free to increase or omit certain ingredients!
Fresh Summer Sweetcorn and Black Bean Salsa (generous 6-8)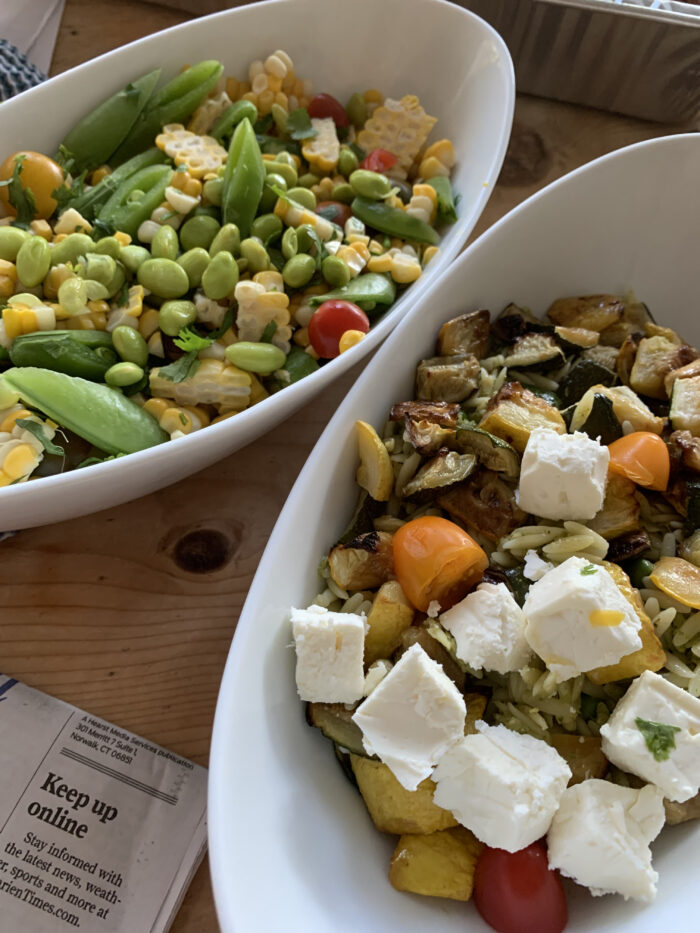 Ingredients
4 cobs of corn, see cooking instructions below and of course frozen or out of a tin can would work too)
pack of edamame (Trader Joes)
can of black beans, rinsed and drained
handful of sugar snaps, topped and tailed, string removed and sliced into three on the diagonal
1 TBS diced red onions
1/2 red pepper, diced
12-15 small tomatoes, cut in half
1/4 small cucumber, diced
juice of 2-3 limes, depends how much they yield
1/3 bunch cilantro (coriander), finely chopped
Method
I did not grow up with sweetcorn, so it is not something I have always known how to cook. However, my favorite, and seemingly foolproof way to do it, is to bring a large pot of salted water to the boil. Add the corn, bring back to the boil and then turn the heat off. Set a timer for ten minutes, then drain the corn. Once the cobs are cold enough to handle, slice the corn off and put into a large bowl.
Add all the other ingredients, and add salt and pepper to taste.
Slight variation.
I added peaches to my Salsa night night, omitted the black beans, as I had none and upped the sugar snaps to add more crunch. Seems you can't go wrong with this recipe! It was so good!