Fabulous Scones, sweet, savory and gluten free options!
I hope this finds you safe and well.
I have just created a video showing how to make these scones, together with suggestions for variations.
This is one my original recipes which I have updated. I have added a few comments on measurements and links to different versions together with Strawberry Jam and super easy Lemon Curd recipes. I have also found that if Clotted Cream is hard to track down the following will work after a fashion. In Darien, you can buy clotted cream at Palmers and Wholefoods.
Clotted Cream
Take a coffee filter and line with a paper. Place in a deep jug or snug bowl. Pour heavy cream in and allow to drip through. As the cream filters through you will see that what is left behind on the filter is clotted cream (which is just a high fat cream). Add more cream and repeat. It yields very small quantities, but does sort of work.
Scones are best eaten on the day they are made, but freeze and reheat really well. Make a batch and freeze the rest for a wee treat later. Because, with all of us hanging out at home together, we need a wee treat.
Driftway Lane Scones
When I still fairly new to town I was invited to a meeting at a neighbour's house. My neighbour entered the room with a plate piled high with freshly baked scones, lightly dusted with icing sugar. I was so impressed and decided that I wanted to be just like her when I grew up (I had since changed my mind and want to be Idina Menzal, but I am trying to Let it Go!)
I think the recipe below came from my neighbour, but the recipe is well known in town and has appeared as 'Shakespeare on the Sound' Scones and 'Tokeneke School' Scones too. It is so fun to tell people that there is no butter or eggs in the scones, ( just a rather large amount of heavy cream).
You can make plain scones buy all means, but they work really well with
blueberries
strawberries
fresh (frozen) cranberries and blueberries
all sorts of dried fruit
a little lemon or orange zest
poppy seeds (with lemon zest)
chocolate chips (never tried but my friends Kathy assures me they are delicious
gluten free – just swap out the flour for gluten free
savory…omit the sugar and add a handful of grated cheese and some chopped chives or parsley if you have it to hand (See picture at the bottom)
I have been handing out this recipe from memory for years and my dear American friend Amy quite rightly commented that it really is a biscuit recipe. This rather appeals to me as I am a Brit passing off a biscuit recipe as a scone, whilst a biscuit in the UK is the name we Brits give to a cookie!
The original recipe calls for each disk to be divided into six, which yields 18. I think eight gives a better size and a very pleasing two dozen.
Click on the above link for my full observations on the perils of converting cups to ounces. This recipe works really well for cups. If you can find self raising flour then honestly any cup will do. I am going to say that in Denmark I discovered a cup of flour was somewhere between 4.8 and 5 ounces ie around 135 – 140 g. If using ounces add the smaller amount first ie just over 400 grams together with baking powder mixed in if using plain flour. If the mixture seems too wet and sticky add a little more flour/ too dry a little more cream. You know the drill.
Scones
3 cups all-purpose, plain or gluten free flour and 4 1/2 teaspoons baking powder mixed together before adding the wet ingredients or 3 cups self raising and no baking powder( In Denmark if I used self raising flour I found I needed to add a little 1/2 tsp baking powder.
1/3 cup sugar/ 21/2 ounces/ 65g or just add a little depending on how sweet your flavor is…bit more for tart blackcurrants, a bit less for strawberries
2 cups/ 16 uk fl ounces/480ml heavy cream
optional 1 cup dried fruit or a good handful! – I use Raisins but you can use cranberries, apricots etc or, if you are my friend Kathy, chocolate chips! Since writing this original recipe I have also discovered that Blueberries or Blackcurrents also work well, and Strawberries are delicious. Just be careful not to over mix or you will end up with a rather horrible looking scone. In fact my latest scone, named the Cape Codder, mixed fresh cranberries and blueberries in a homage to the amazing scone made at the Flying Fish Cafe in Wellfleet, Cape Cod.
Method
Combine fruit with cream, stir to break up lumps, if using dried fruit.
Combine all dry ingredients. Add cream and fruit and mix until combined.
Knead a few times on a lightly floured surface. Divide dough into three.
Pat each third into a round, 3/4 to 1″ thick. Cut each round into eights.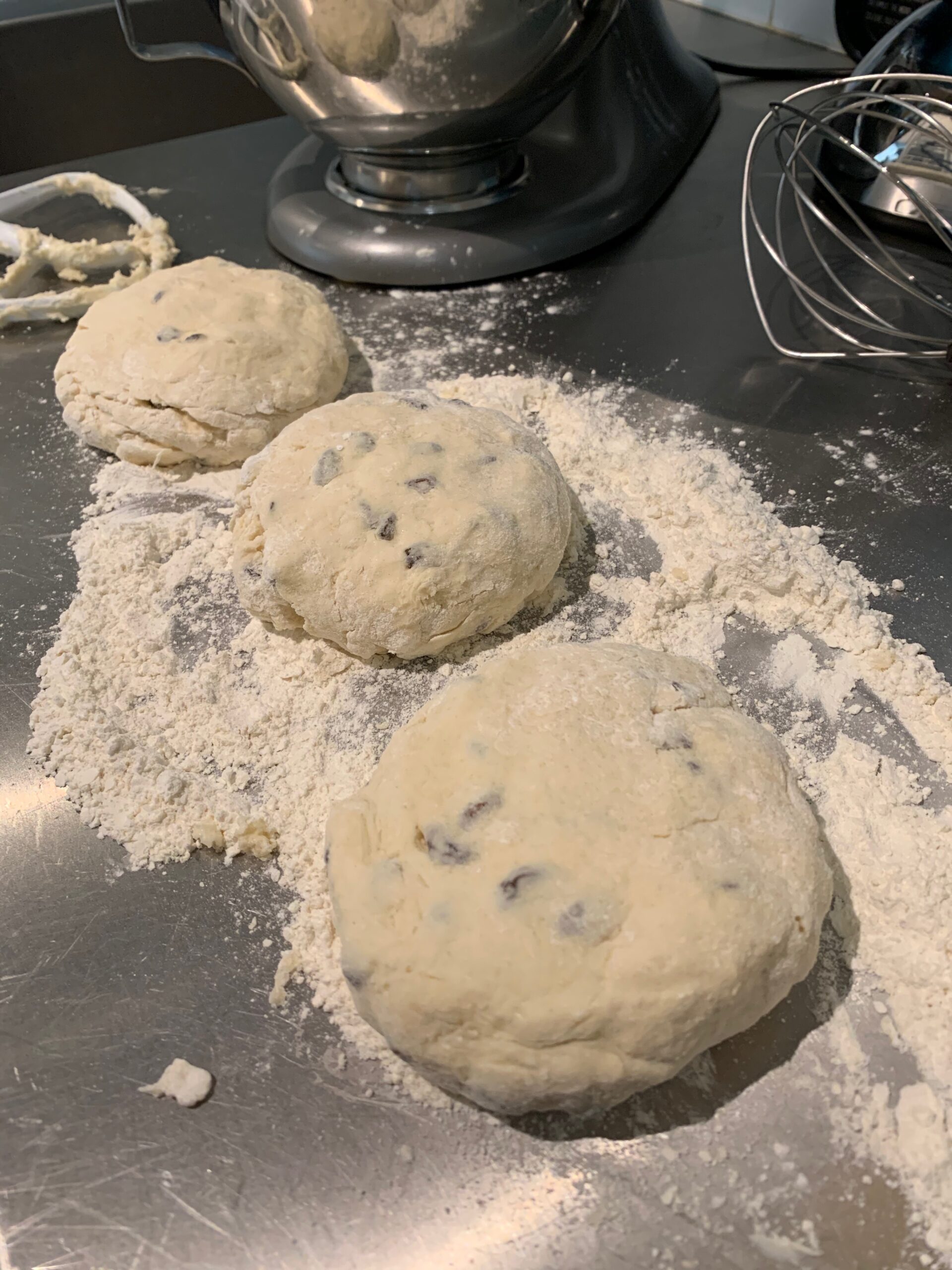 Place scones, slightly apart, on lined baking sheet. Bake at 400 f for 15-20 mins until beautifully risen and golden brown.
Remove, cool slightly on a baking rack, then dust with powdered sugar. As with all scones best eaten quickly, preferably with jam or lemon curd and clotted cream.
They do not really keep beyond the day of baking, although I have discovered they freeze well.
They can be frozen fully or part baked. Once defrosted reheat in a moderate oven.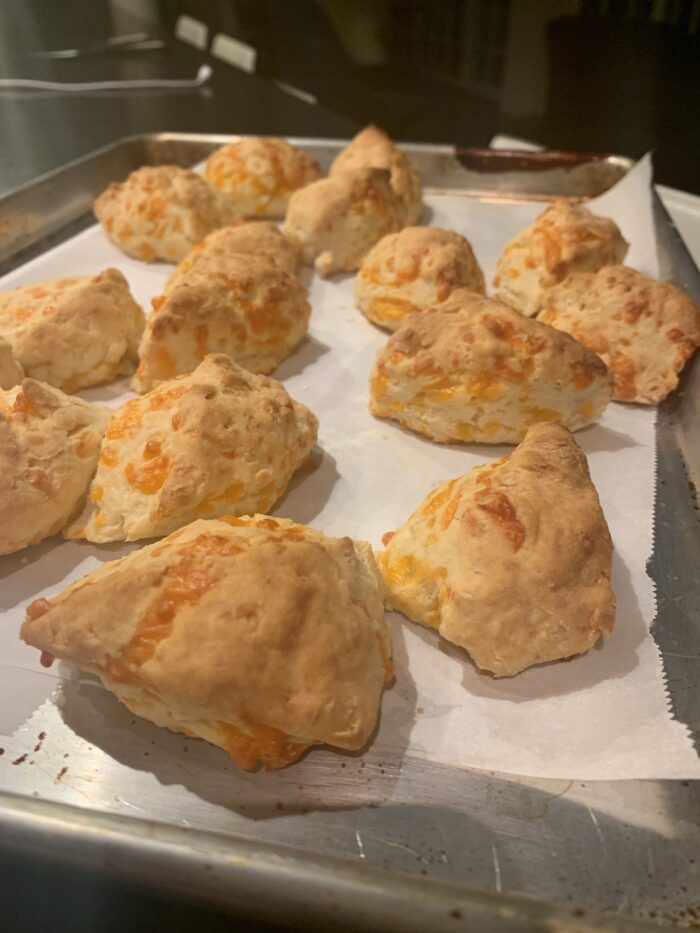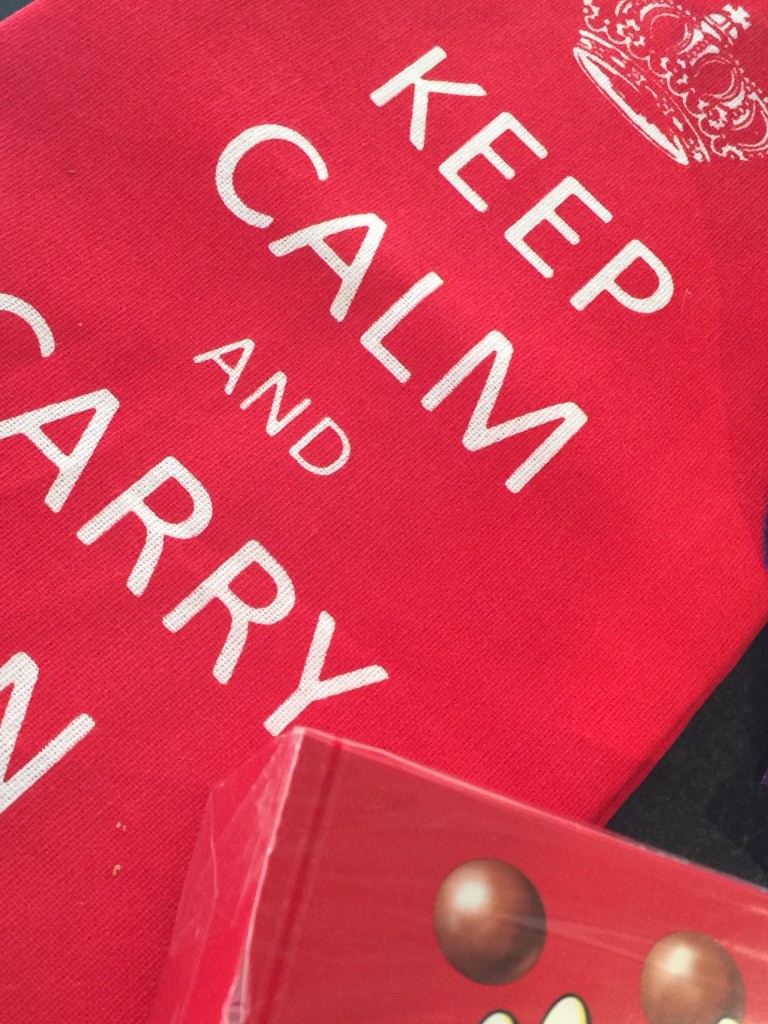 Stay safe my friends!
These scones make great gifts. Recently, I have been packaging them up with some jam and cream. Also, in these uncertain times, it is safer to have everything wrapped in individual portions.
Cookie bags
Individual portion containers for clotted cream and jam