Afternoon Tea
It is Mother's Day on Sunday 9th (in the States).
If you are home together, or celebrating virtually (the new normal), I though putting together all or part of a Mother';s Day Afternoon Tea might be a fun way to spend the day. If you are in Darien, I am offering a limited number of curbside pick-up, boxed afternoon teas. Message me for details!
During this crazy time, I have been amusing myself by making cooking videos. So, you can now watch me making my top favourites, chocolate caramel squares, shortbread, scones and coconut macaroons. Simply click on the highlighted links to get the recipe and video.
This Afternoon Tea menu printed below is a slightly shorter version of the one Carolyn's Absolutely Fabulous Events, The Fabulous Girls, and I have offered when we were playing at being caterers at the DCA (Darien Community Association) in Connecticut. Read more about the DCA here!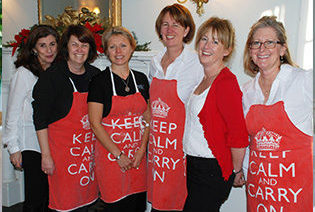 It contains many of my favourite recipes, most of which I have already shared on my website. However I have gathered them all together in one place and added a new recipe for Chocolate Dipped Coconut Macaroons, based on the recipe by the ever fabulous Barefoot Contessa, Ina Garten. For recipe links and videos, click on the highlighted links. I have added an Asterix for the recipes which now have videos.
Mother's Day Afternoon Tea
Amuse Bouche
Pesto
Goat Cheese
Tomato Heart
Selection of Sandwiches
Egg Salad
Coronation Chicken
Cucumber and Herbed Cream Cheese
Smoked Salmon and Tzatziki
Assorted scones with
lemon curd, strawberry jam and clotted cream
Desserts
Mini Lemon Meringue Pies (see below).
Chocolate Dipped Strawberries
Chocolate Caramel Squares*
Mini Pavlovas
Chocolate Dipped Coconut Macaroons* (see below)
Afternoon Tea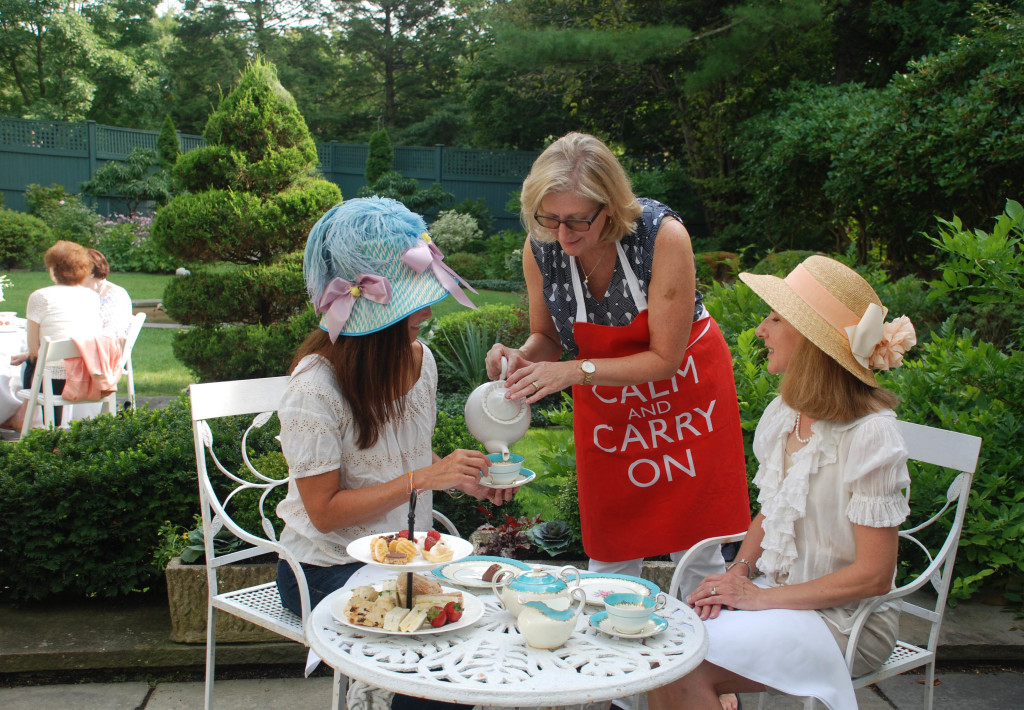 For those of you unfamiliar with Afternoon Tea, it is a light meal typically served between 4 pm & 6pm. This very British custom originated amongst the wealthy classes during the 1840s. However by the end of the 19th century, afternoon tea was being enjoyed by both upper and middle classes, as a way of bridging the gap between lunch and dinner.
Traditionally, tea is brewed in a teapot using freshly boiled water. The tea is then served in a porcelain cup and saucer, with the addition of a little milk and if necessary some sugar. There is much discussion about whether the milk should go in first or after the tea has been poured into the cup. Mention the topic to a group of Brits and stand well back as the matter is hotly debated. (I pour my milk in first!)
For the working class, tea was accompanied by a sandwich or baked item such as scones. For the upper and middle classes, afternoon tea included sandwiches made with luxury ingredients such as cucumber, egg & cress, fish paste, ham or smoked salmon. This was followed by scones with clotted cream and jam. The last course of this mini feast was cakes such as Battenberg Cake or Victoria sponge.
Afternoon Tea Traditions today
Afternoon tea is still very popular in Great Britain and is enjoyed in hotels, teashops and private homes across the country. In London yesterday I even saw a double decker bus which serves afternoon tea whilst driving around the center of London. Sadly, it was disappearing into the distance before I had a chance to take a photograph, so you have to take my word that this is not just a regular red London Bus.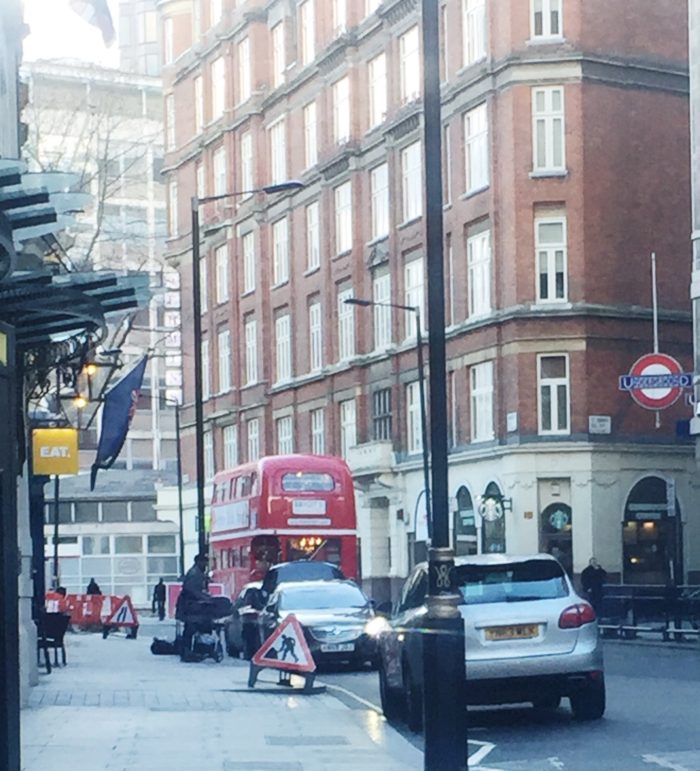 The treats are generally served on a tiered stand. One works up from the bottom of the stand, starting with the sandwiches, progressing to the scones and finishing with cakes and biscuits. Cakes may be large, served in slices, or individual and no more than a bite.
Sourcing Ingredients
In Darien, I have just managed to source all the ingredients I need to bake my favourite foods. I am fortunate that both Palmers and Wholefoods stock Lyle's golden syrup, an essential ingredient in Chocolate Caramel Squares. Clotted cream is also fairly easy to find. Trader Joes had an excellent range of nuts and fabulous Belgian Chocolate.While I was living in Copenhagen, my new challenge turned out to be coconut.
I love to make Chocolate Dipped Coconut Macaroons as they are naturally gluten free ( always check the chocolate as it can sometimes contain gluten). In America I was used to 14oz bags of sweetened coconut, the perfect amount for one batch. In Copenhagen, I could only find unsweetened bags containing 200g. I discovered that I could reconstitute the unsweetened coconut by adding half a cup of weak sugar syrup for every cup of coconut. The resulting macaroons were more reminiscent of the ones found in British cake shops, slightly less luscious than their American counterparts but, once dipped in milk chocolate, perfectly acceptable. I have included the recipe below.
Chocolate Dipped Coconut Macaroons
Chocolate Dipped Coconut Macaroons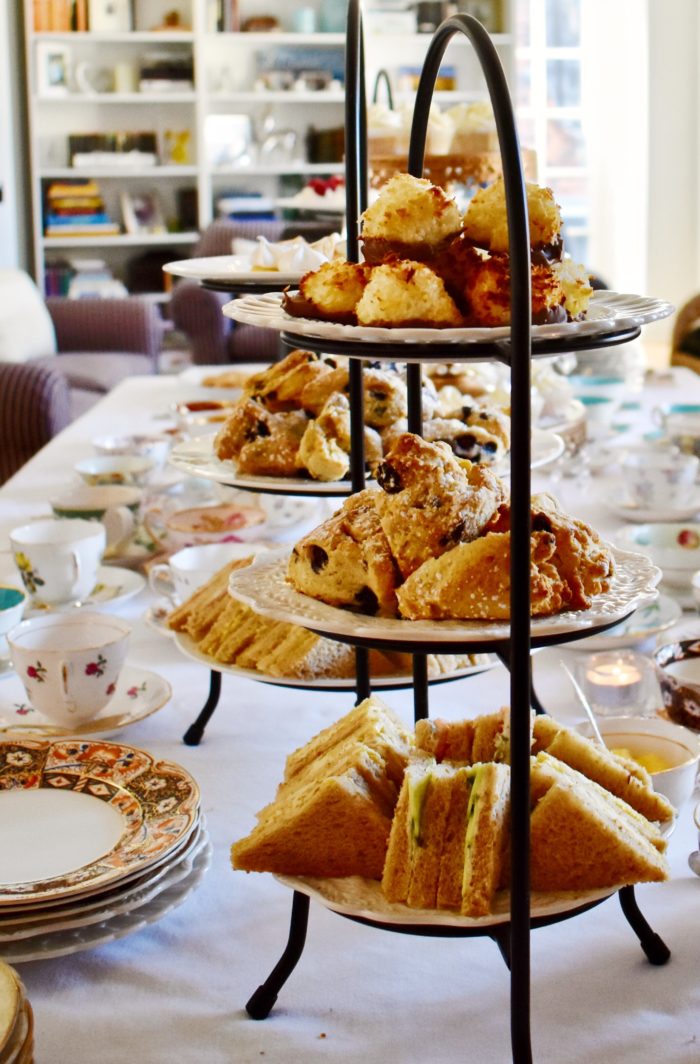 Ingredients
14oz bag of sweetened coconut or 2  200g bags of unsweetened coconut and 2 Tablespoons of sugar
Large tin of sweetened condensed milk
2 egg whites
Splash of vanilla (optional)
Half a pound of chocolate of your choice.
Directions
Step 1

To reconstitute Coconut

Step 2

If using unsweetened coconut make a weak sugar syrup by dissolving 2 Tablespoons of sugar in 2 cups/ 480ml of water. Add the coconut and mix thoroughly. Spread on a baking sheet and allow to dry slightly before using in the recipe.

Step 3

Method

Step 4

Add the coconut to a large mixing bowl and combine with the condensed milk and vanilla, if using.

Step 5

In a separate bowl, whisk the egg whites until they form stiff peaks.

Step 6

Carefully fold the egg whites into the coconut mixture.

Step 7

Line two baking trays with parchment paper.

Step 8

Using a teaspoon drop spoonfuls of the mixture onto the trays. I shaped the macaroons to make them slightly rounder. but a slightly more rustic look works too. You should get around two to two and half dozen.

Step 9

Bake at 325F/165C for around twenty to twenty-five minutes until the base and spiky bits are nicely browned.

Step 10

Cool on a wire rack.

Step 11

To dip or not to dip?

Step 12

Now it is perfectly acceptable to eat the macaroons sans chocolate, but why? Also they can get a little soggy bottom so the hard chocolate serves a double purpose of being a perfect compliment to the coconut and also giving them a little extra structure.

Step 13

Melt the chocolate in a small bowl placed snuggly over a  bowl of simmering, not boiling water.

Step 14

Dip the base of each macaroon in the chocolate and then turn it to lay chocolate side up on the parchment paper. I try and find room in my fridge for the macaroons as the chocolate sets better and does not develop the white bloom which sometimes happens with untempered chocolate. Now Danish fridges are a tad smaller than the Americans ones I am used to but, luckily, our back staircase is unheated and the steps make a perfect 'larder'.
Mini Lemon Meringue Pies
These are little fun bits that you can put together using ingredients from other parts of the afternoon tea.
Make tiny round bases from leftover Linzer Cookie Mixture or classic sweet pastry.
Top with a teaspoon of Lemon Curd
Finish with tiny meringues which you can make as the same time you are making the mini pavlovas.
To give a real lemon Meringue Pie finish toast the meringues with a kitchen blow torch. If you do not have a Kitchen Blow torch, then you now have an excuse to go and buy one.
HAPPY MOTHER"S DAY!