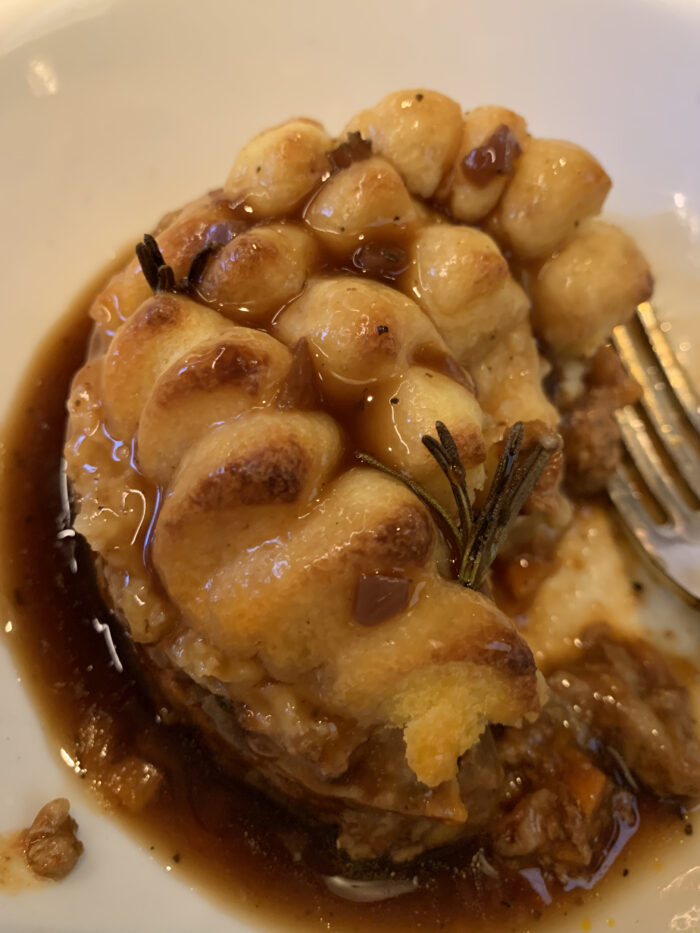 Introducing the British classic, Cottage pie!
I have just returned from the United Kingdom, where we were catching up with family, old friends and neighbors in London and around Scotland.  It was two weeks of visiting castles, churches, The Harry Potter Exhibition, walking on glorious sandy beaches and climbing favorite local hills. Two weeks of dining in familiar homes or at trendy restaurants, eating meat and fish pies, sweet and savory puddings, white, black, haggis, sticky toffee. Two weeks of general excess. It was marvelous! Limiting myself to one holiday pic from Hogwarts.
So, obviously, I now need to share a recipe for one of those very traditional British dishes. I have chosen Cottage Pie with a mashed potato topping, because, as we head into winter, it really is the ultimate in comfort food. The photo is from a restaurant in Wimbledon Village, called The Ivy . The Cottage Pie was absolutely delicious. I was so keen to try it, I had already taken one forkful before I remembered to take a photo! If you feel a need to serve anything with this pie, may I suggest green peas or some very British Heinz baked beans. The beans can be found in Wholefoods and the international section of Stop and Shop!
Shepherd versus Cottage Pie?
For those of you who are confused, Shepherds Pie is made with with minced lamb. In all honesty, this is a dish which for most Brits does not require a recipe. Minced beef in gravy (and in the Uk this would be made with the help of Bisto) and mashed potatoes or 'tatties' as they say in the Northeast of Scotland is in our DNA. We were born knowing how to make this meal. In Scotland, we would also add a white pudding. A delicious mix of heart stoppingly good Scottish oats, lard and salt!
Luxury Cottage Pie
Ingredients
2 lbs. beef mince
3 TSP olive oil
1 large onion, finely chopped
3 carrots, chopped
2 celery sticks, chopped
1 tbsp tomato purée
large glass red wine (optional)
2-3 cups beef stock or enough to cover
2 tbsp Worcestershire sauce
few thyme sprigs
For the mashed potatoes
21/2 Lbs. potatoes, chopped
¾ cup milk
2 Tbs butter
¾ cup strong cheddar
Freshly grated nutmeg
Method
Heat 1 tbsp olive oil in a large skillet and fry beef mince until browned – you may need to do this in batches. Set aside as it browns.
Put the other 2 tbsp olive oil into the pan, add finely chopped onions, carrots and celery and cook on a gentle heat until soft, about 20 mins.
Add 1 tbsp tomato purée, increase the heat and cook for a few mins, then return the beef to the pan.
Pour over a large glass of red wine, if using, and boil to reduce it slightly before adding the beef stock, Worcestershire sauce, and few thyme sprigs
Bring to a simmer and cook, uncovered, for 45 mins. By this time the gravy should be thick and coating the meat. Check after about 30 mins – if a lot of liquid remains, increase the heat slightly to reduce the gravy a little. Season well, discard the thyme stalks.
Meanwhile, make the mash. In a large saucepan, cover the potatoes which you've peeled and chopped, in salted cold water, bring to the boil and simmer until tender.
Drain well, then allow to steam dry for a few mins. Mash well with the milk, butter, and three-quarters of the strong cheddar cheese, then season with freshly grated nutmeg and some salt and pepper.
Spoon the meat into a large ovenproof dish Pipe or spoon on the mash to cover. Sprinkle on the remaining cheese.Heat oven to 400f and cook for 25-30 mins, or until the topping is golden