Food for parties and pre-dinner drinks
I think everyone should have a few favourite appetisers up their sleeves to serve to guests at parties or the bit before dinner is served. Food they can put together in a fairly effortless way, leaving hosts free to enjoy the evening. Most of the truly easy stuff I suggested in my earlier post,
QUICK AND EASY APPETIZERS PART ONE
which gave ideas for pick-up food that could be served cold or at room temperature. In this post I am going to offer recipes for food that is better served hot or requires a little more cooking or effort. All the appetisers are ones I have used in my old catering business, tried and tested, and still not particularly difficult.
Appetisers for everyone!
When putting together appetizers, try to have something for everyone. Consider the vegan, gluten-free and lactose intolerant as opportunities to be creative. But also remember the meat loving ones too. If I am throwing a party and 'real' food is being served later, I generally have four different appetizers. When I was catering, and I was serving only appetizers, I would offer at least seven or eight different ones. I think it is more fun to have a smaller number of each appetizer and once they are gone, they are gone!
Play with Presentation
The old adage, that we eat with our eyes first, applies equally well to pick up food. I like to serve appetizers on selection of pretty boards and plates. I also love to decorate the plate with something seasonal. In summer, I will use a small bunch of flowers or herbs tied with cooking string or raffia. In winter, it is great to use evergreens from the garden, I love a sprig of red berried holly for Christmas!
Of course, for some, a drinks party is only appetizers. Personally, I always have a bit of ballast reserved for the later part of the evening, something more substantial when guests get a little peckish. I like simple food that can be made ahead of time like Beef Bourguignon or Fish Pie. For a full party menu take a look at my post A Special Lunch menu.
And, of course, dessert of some description. My favourite at the moment is my holiday pavlova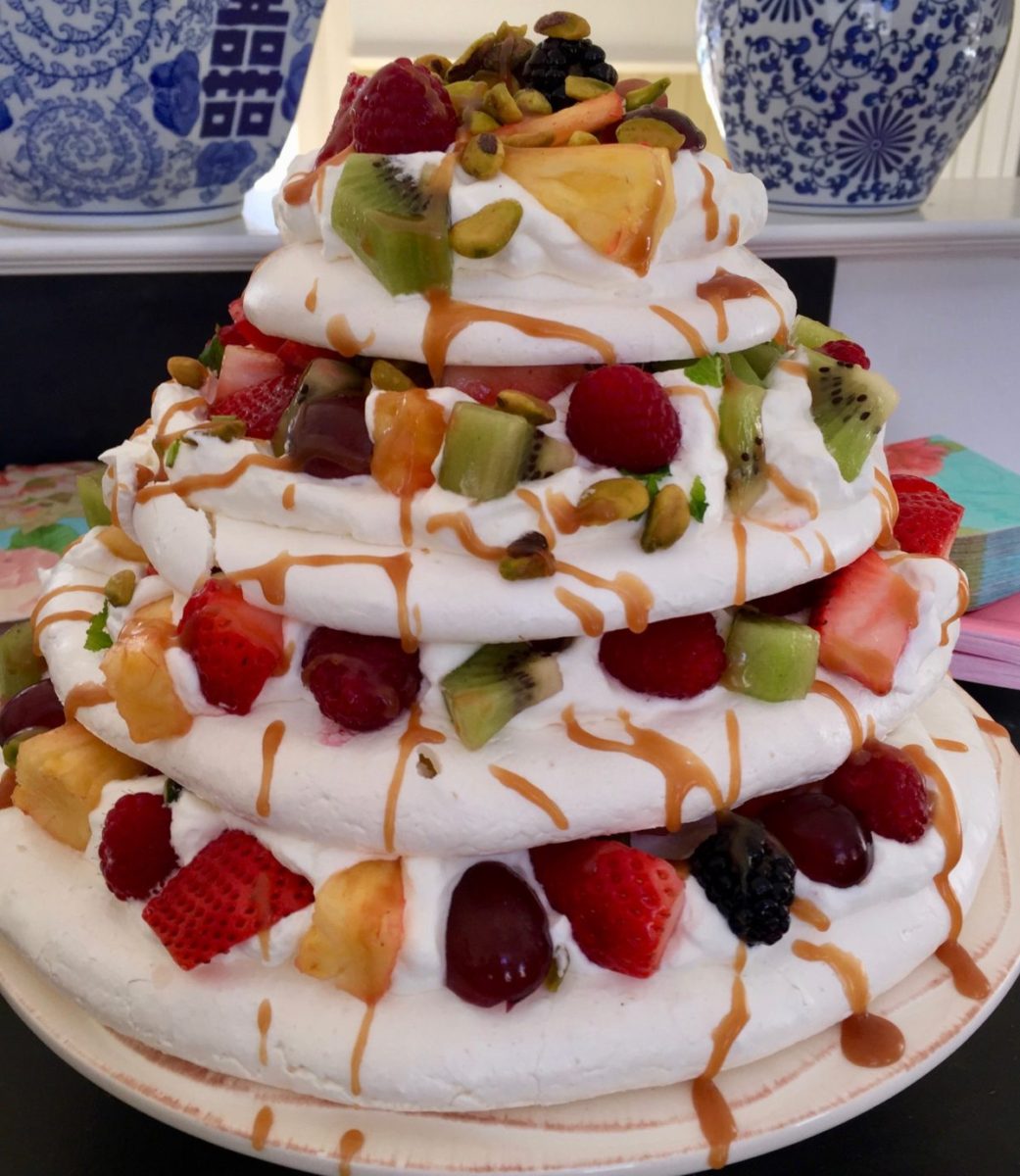 Easy Appetisers – Part Two
Sausage Rolls (Food of the Gods)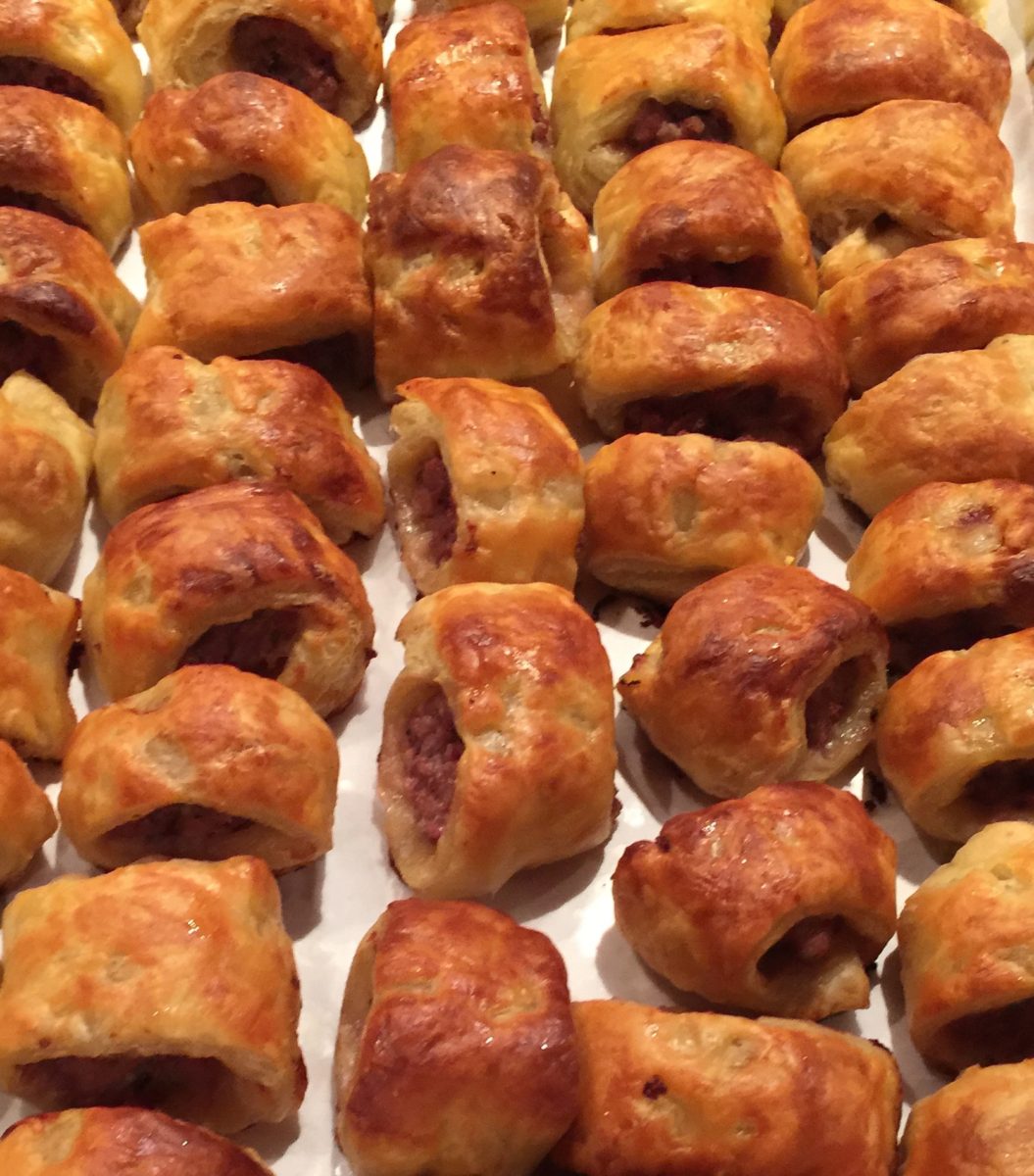 My favourite appetizer just might be sausage rolls, which have already been the subject of their own post. I am having a slight problem sourcing sausages here in Copenhagen, so have resorted to smuggling sausages in my case each time I come back from the U.K.
Chorizo and Figs
I love the chorizo and figs they serve at Barcelona, our local Spanish restaurant in Stamford. I am a big fan of sweet and savoury and love the combination of savoury chorizo and sweets figs in a sticky glaze. For years I have been using a variation of a recipe I found online, but now the website seems to have disappeared. Argh. This is part of my motivation for gathering all my recipes in one place. I keep making things and thinking I will remember how I adjusted or combined ingredients only to discover that my memory is rubbish.
What I do remember is that the key to this dish is finding the right chorizo sausage. I like to used the ones which are already cooked and fairly mild in flavour, avoiding anything with the words hot or spicy. Uncooked works too, but just takes a little longer. For this dish you want to cut the sausage into chunks so thinly sliced chorizo will not work either. You also need to use dried figs. The black mission figs work well, or the larger Turkish figs cut into two. You are ultimately pairing a piece of chorizo with a fig so I just keep adding figs until it looks about right.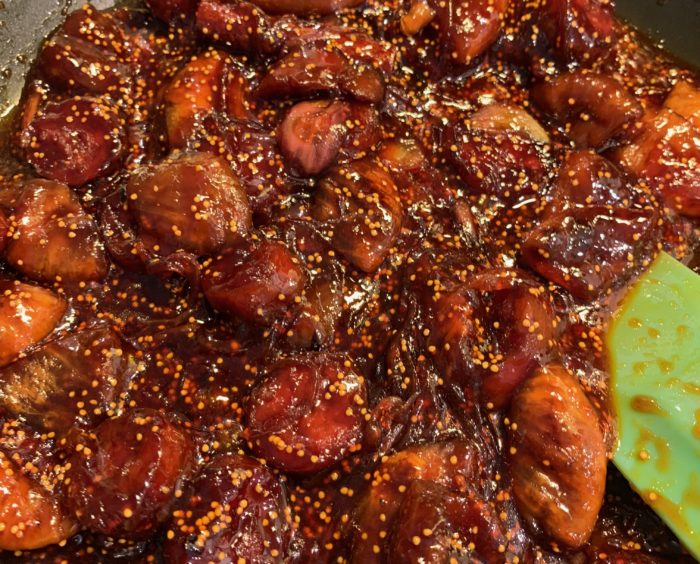 Chorizo and Figs
A sweet and savoury Spanish Tapas dish, absolutely delicious and very moreish.
Ingredients
Ingredients
Glug of olive oil
1 lb. cooked mild Chorizo (taste it first before you ruin the whole dish, there are some wild flavours out there), cut into small chunks
1 clove garlic, minced (optional!)
1 small red onion, sliced lengthwise
1/2 c. red wine
1/2 c. sherry or red wine vinegar
1/2 c. sugar ( I use white)
1 1/2 c. dried figs, trimmed and quartered
1 stick cinnamon (optional)
Greens to serve
Directions
Step 1

Heat the oil in a frying pan or skillet over medium-high heat. Add the sliced onion and sauce for five minutes until soft. Add the chorizo and brown on all sides. Lastly, add the garlic, if using, and carefully sauté it. If burnt, garlic becomes bitter, which is why I rarely use it.

Step 2

Add the sugar and mix thoroughly being sure to coat the chorizo and cook for approximately 30 minutes, until the sauce has reduced

Step 3

Serve immediately, or cool and reheat before serving.

Step 4

Skewer a piece of chorizo with a piece of fig and serve on a bed of greens.
Bacon Wrapped Prunes
This unlikely pairing is a classic British appetiser. They are also called Devils on Horseback, as originally they were served on a small piece of toast or fried bread. They are delicious hot out of the oven but take care not to burn yourself on the hot prune!
Bacon Wrapped Prunes
Salty and sweet, a surprisingly good combination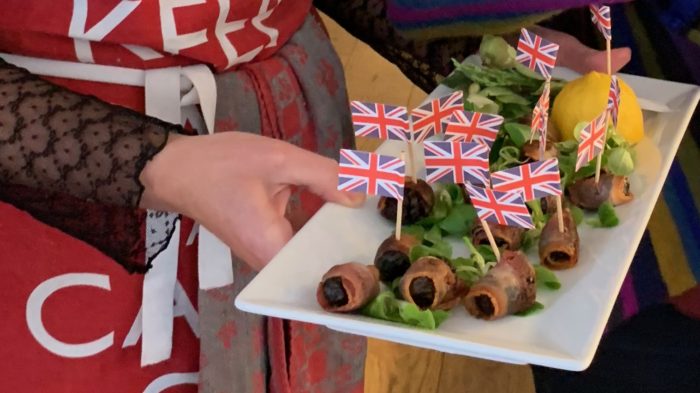 Ingredients
30 prunes
15 rashers of bacon sliced in half
cocktail sticks
half a lemon or lime tp collect used cocktail sticks
Directions
Step 1

Preheat Oven to 400f/200C

Step 2

Wrap each prune in bacon.

Step 3

Place in roasting tray and cook until bacon is crispy, turning over after ten minutes.

Step 4

Use paper towel to remove excess fat.

Step 5

Serve hot!
Hummus and Crudities
Hummus is such a staple. Ultimate children's food, great for dips and perfect for barbecues. I became completely obsessed with it after going for lunch to at MEDITERRANEO in Greenwich, Connecticut a few years ago with my lovely daughter. As we sat down, they brought us warm crusty bread and lemony hummus. So simple and so good.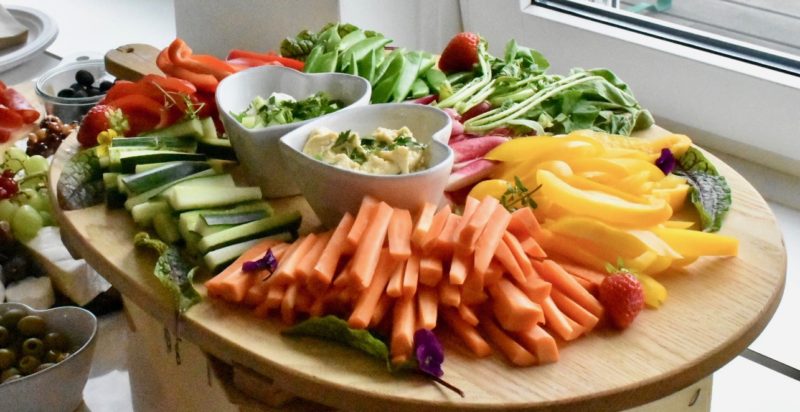 Crudités can either served on a large platter or in little containers. If going for the platter then add broccoli florets and mange tout which have been blanched quickly
To blanche vegetables, bring a large pot of salted water to the boil. Tip vegetables such as broccoli, sugar snaps and carrots into the water. Drain immediately. You do not want the vegetables to cook, you simply want the boiling water to bring out the colour. Run under cold water to stop the cooking process, or, if you have enough plunge, them into iced water.
Crudities
Ingredients
Carrots
Red and Yellow pepper
Cucumber
Mange Tout
Asparagus
Directions
Cut all vegetables into 21/2-inch strips.
Arrange in groups around a bowl of hummus
Hummus
Ingredients
One large tin of chickpeas, drained and liquid reserved
2tsp white tahini
Extra Virgin Olive Oil
Lemon Juice
Salt and Pepper and minced garlic (optional)
Few parsley leaves to garnish
Directions
To make super smooth hummus, you can skin the chickpeas. It is not, however, necessary. Put chickpeas, a little of the reserved liquid, tahini, a glug of olive oil and a squeeze of lemon juice in a blender and whiz until smooth. Add more liquid as necessary.  Adjust to taste, I like mine salty and lemony, but do not care for garlic.
To serve, drizzle with a little olive oil and a squeeze of lemon.
Garnish with a little sprig of parsley.
Pesto, Goat Cheese and Tomato Hearts
I love these little heart shaped tarts, which I often served as an amuse bouche at my afternoon teas,.  Although my recipe calls for pesto, goat cheese and tomato feel free to experiment.  Mushroom, onion and bacon would be great too, maybe with some gruyere?  Also, do not be bound by the heart shape, round would be perfectly acceptable.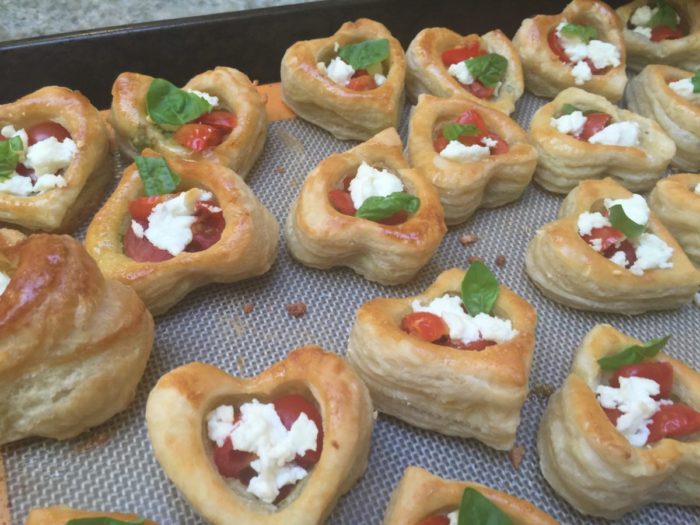 Ingredients
Makes approximately 17 hearts
1 pack of frozen puff pastry, I use Pepperidge Farm
Small log of goat cheese
Pesto, I love the one from Costco
Baby tomatoes, quartered
1 Egg, beaten
To Finish
Fresh basil
Pine nuts would be great on these too
Directions
Pre heat oven to 400F/200C
I love the new silicone tray liners and always use them with pastry. They seem to really spread the heat evenly and help you avoid the dreaded soggy bottom. You will also need two heart cookie cutters, one smaller than the other.
Defrost pastry and, with the larger heart shaped cutter, cut as many hearts as you can from both sheets.
In half the hearts cut out a smaller heart from the middle of the larger heart. I always cook the tiny hearts, sprinkle them with some parmesan and use for a small nibble, but it is the 'outside' heart that you need to use for this recipe.
Place the uncut hearts on a baking tray, which is either lined with parchment paper or one of the silicon liners.
Dampen the edges of the hearts with a little water, and place the cut-out hearts on top.
Prick the inside of the hearts to stop them puffing up too much during cooking and brush with egg
Cook for approximately 10 mins until the pastry is risen and a golden-brown color.
Fill each heart with a scant teaspoon of pesto, some crumbled goat cheese and two to three quarters of tomatoes.
Return to the oven and bake until the edges of the cheese are just starting to catch.
Garnish with a little basil and pine nuts and serve.
Peking Duck on Lettuce Leaves
These little lettuce cups make an impressive, but super easy appetiser. Cook the duck breasts ahead of time and julienne the cucumber and spring onions. Then you only need to assemble just before serving.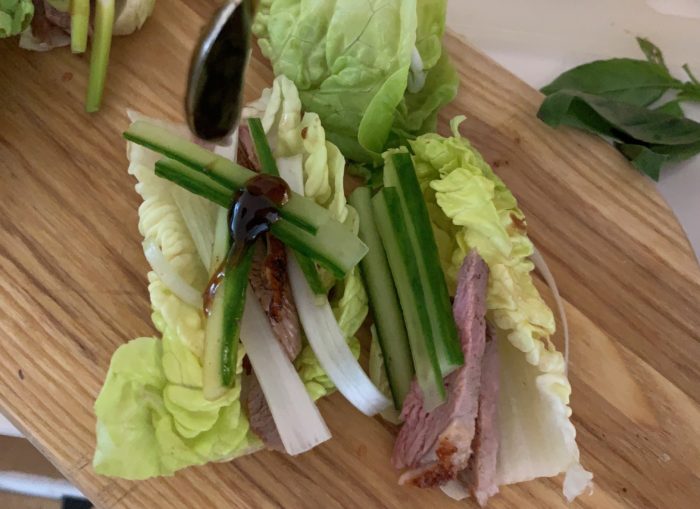 Peking Duck in Lettuce Cups
Ingredients
Duck breast (one large or two small)
1tsp five spice
1tsp salt
½ English Cucumber
5 Spring Onions
Lettuce Cups
Hoisin Sauce
Directions
To Cook the Duck
First of all, start with the duck breast cold from the fridge. This helps render the fat.
Place the duck breass skin-side down into a dry frying pan over a medium-high heat. As the fat releases from the duck pour it out. Cook the breast for 8–10 minutes, by which time the skin should be deeply golden and crisp If not, continue cooking until it is.
When you are happy with the duck breast, remove it from the pan. Remove most of the fat with some kitchen paper. Mix the five spice powder and salt and use to season the duck breast all over.
Return the duck to the hot pan, this time flesh side down. Cook for 4 minutes, then flip back to skin side and cook for a further two minutes. Remove and leave to rest.
Thinly sliced duck
Deseed cucumber and chop into thin batons
Trim spring onions to around 2 inches and cut into thin strips – the technical term is julienne
To assemble, top lettuce leaves with some shredded duck, vegetables and Hoisin sauce!
Smoked Mackerel Pâté on Wholegrain Toast Points
My husband reminded me of this appetiser recently. He now keeps coming home with smoked mackerel and asks me to rustle up some pâté on a regular basis. I had forgotten how easy it was to make.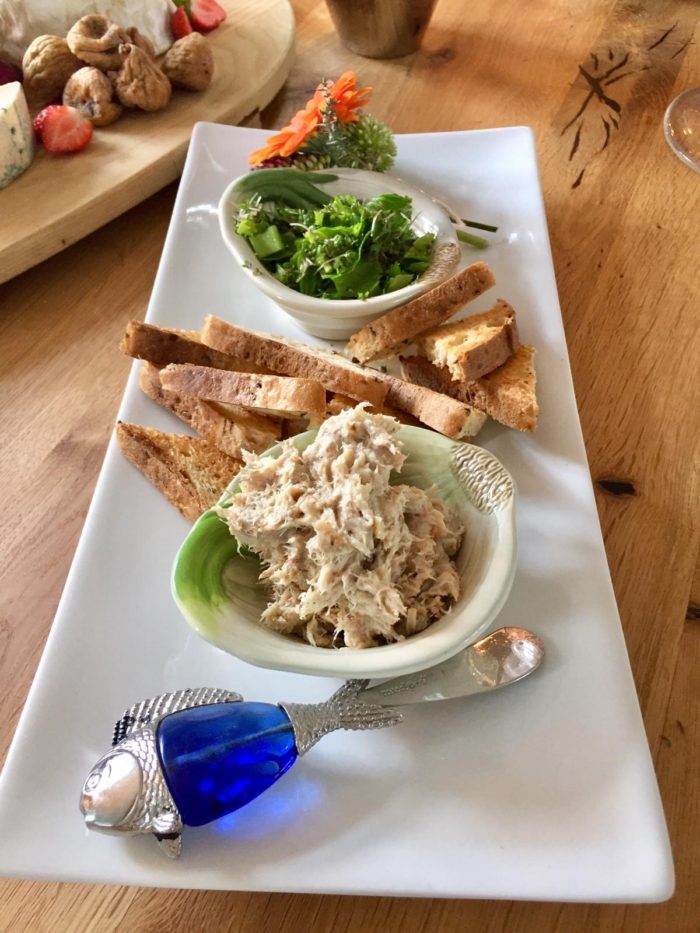 Ingredients
200g Smoked Mackerel (two fillets)
100g sour cream, Greek yogurt or crème fraiche (or cream cheese)
1 Ounce softened butter
Zest and juice of half a large lemon (keep the other half for garnish)
Salt and Pepper
Few Parsley leaves, finely chopped
If you like a little heat, you could also add some horseradish
To Serve
2 sticks of Celery, stalks and leaves thinly sliced
Cress
Parsley, thinly sliced
Lemon juice
Olive oil
Salt and pepper
Wholegrain sliced bread
Directions 
Skin the mackerel
Whiz all in the ingredients in a small food processor. I just smash them all together with a fork.
Adjust seasoning and add more cream etc. if it feels too stiff. Put in a little serving dish. Drizzle with lemon juice and add a sprig of parsley.
Dress the greens with a little lemon juice and oil with salt and pepper.
Make toasts and cut into quarters.
Arrange Pâté, greens and toast on a platter and let people help themselves.
Happy Holidays!
If you are wondering where I got the cute flag toothpicks, I ordered them from Amazon. I also use pastry bags when making mini pavlovas or for piping fillings and toppings on appetisers.