Christmas Pavlova
I am working on a post about Danish Christmas traditions but until then I have updated my Christmas Pavlova recipe, repeated general notes on meringue making and added the method for caramel sauce. At this time of the year the pavlova is a perfect way to use egg whites leftover from making a traditional trifle. You can use any fruit in the tower but I love the combination of the red strawberries, raspberries and pomegranate seeds and the green pistachios. You may be beginning to notice a slight obsession with caramel, and you'd be right. Whilst you could drizzle chocolate or fruit sauce, for me, caramel sauce is the perfect way to finish this dessert.
Origins of the Pavlova
I hope we all know that the Pavlova was created in honour of Anna Pavlova, the Russian prima ballerina of the late 19th and the early 20th centuries. Pavlova was most recognized for the creation of the role The Dying Swan With her own company, she became the first ballerina to tour ballet around the world, which is when the meringue dessert was 'invented'.  Australia and New Zealand both claim the honours. For me however Anna Pavlova brings me back to Banff Primary school and the reading books we had.  They were full of little stories about famous people, but the two I remember were this one and the origins of Pear Belle Helene.
Some important points to note about making meringues.
Do not attempt to make them if it is raining or very humid as this affects the amount of air in the mixture and they will not work well. Saying that egg whites freeze well.
It is important to have only egg whites and no shell or yolk. I always separate my eggs into two little dishes and add each egg white individually to the mixing bowl. With the egg yolks I make proper custard.
I use a Kitchenaid which is very powerful and allows me to add all the ingredients at once. If using a hand whisk you need to whisk the egg whites first then gradually add the sugar.
Whisk until the meringues forms stiff peaks, do not over whip as you will end up with rubber meringues which will never dry out.
I cook my meringues until they just lift or come away clean from the parchment paper, generally after an hour in the oven. At that stage I turn the oven off and leave them in the oven until it is completely cold.  Probably best to leave a sticky note on the oven, especially if you leave them overnight.  More than once I have forgotten and switched the oven on to start cooking something else only realizing my mistake when the smell of something burning reaches me!
Christmas Pavlova with Caramel Sauce
Preset the oven to 100c/200f . You will need two half sheet baking trays or Swiss roll tins lined with parchment paper
For the meringue
Ingredients
8 egg whites
16 ounces/450g/2 cups of sugar
Method
I have a kitchen aid so I just throw the egg whites and sugar in together and whisk until the mixture is stiff and glossy and  forms soft peaks. You should be able to 'write' with the meringue and the 'writing' should not be absorbed back into the mixture. Otherwise whisk the eggs and half the sugar using an electric hand whisk, until stiff peaks form when the whisk is removed, Be careful not to over whisk. Add one tablespoon of the sugar to the egg whites, and continue to whisk until the mixture comes back to stiff peaks and is smooth and glossy.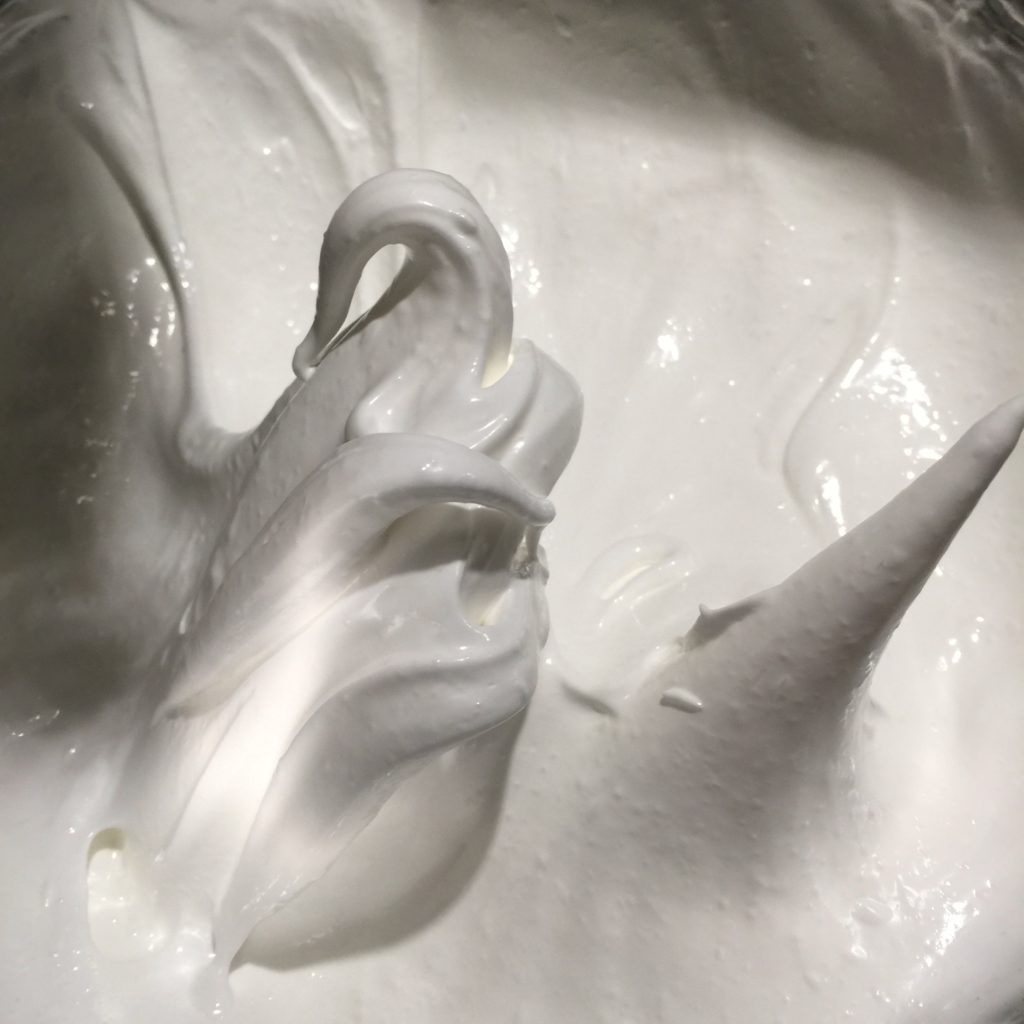 To make the layers of the tower divide the mixture to make four disks starting with 10 inches, which will take about half the mixture, eight inches, six inches then four inches..
Cook for an hour or until the base of the disks start to harden, then turn the oven off and leave the meringue until the oven is completely cold.  Once cooled, wrap the meringue or store in an airtight container.  It will keep up to two weeks which is why I love making them.  There is an element of 'if all else fails 'at least I can serve pavlova, which I find very calming.
To assemble ( do not assemble too far ahead as meringue will become soggy)
pint of heavy cream, whipped to soft peaks consistency
a mix of fresh fruits such as strawberries, raspberries, pomegranates
pistachios
caramel sauce (see below)
silver balls or leaf
Caramel Sauce
101/2oz/300g/11/2 cups sugar
3fl oz/80ml/1/3 cup water
10 fl oz/310ml/11/4 cup heavy cream
splash of vinegar or lemon juice
In a heavy bottomed pan add sugar, water and a little splash of vinegar. The vinegar stops crystals forming but does not affect the taste. Melt the sugar over a low heat until it is dissolved. Do not stir. Increase heat to medium and boil until sugar turns a deep brown, be careful as mixture goes from perfect to burn very quickly. 5-7 minutes. Be careful caramel is very hot! Once it has reached the desired color take pan off heat. Slowly add the cream. Return pan to a low heat and, stir constantly until the mixture is smooth. Leave to thicken for a couple of hours.
 To Assemble
Place biggest layer on serving dish and cover with a layer of cream, top with about half of the fruit and nuts. Repeat with remaining two layer and then place smallest layer on top. Drizzle with caramel sauce and sparkles.
Voila!