Jump to recipe
We first travelled from Los Angeles to San Fransisco thirty years ago when we were newly married and still living in London. We drove along the heart stopping Big Sur and visited Hearst Castle on the way.  Little did we think that in the years to come we would be making the journey on a regular basis. Two of our children chose to go to school at opposite ends of California.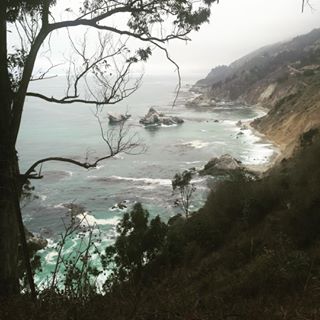 Each time I visit California I fall a little more in love with the state, the scenery the weather and the Good Vibrations!
My dear friend Paula gave me the perfect description of the weather.
Spring in the morning
Summer in the afternoon
Fall at night
It really does not get better than that!
The weather and soil combine to make perfect growing conditions.  You pass by fields full of raspberries, strawberries, almond trees, lemons, artichokes and let us not forget grapes.  And avocados!
Avocados are super healthy, full of the good kind of fat, and are the perfect breakfast food.
The picture in this recipe is breakfast at a fabulous little boutique hotel Granada Hotel & Bistro in San Luis Obispo, where we stayed last February.  The avocado was fully loaded with red onions, cilantro, tomatoes and poached eggs and was delicious.
When my daughter rowed for Connecticut Boat Club  we often served avocado toast for breakfast at regattas, making the toast on the outdoor grills.  It was the perfect athlete food.
Now I am living in Copenhagen I use the danish ryebread. Honesty it is so good for you, and  I am convinced that the more you eat the more weight you lose.
You are welcome to add anything you want to your avocado toasts but I am going to give you the basic version as a starting point. I recommend mashing not slicing the avocados, although you use slices for garnish. Salt and lemon juice are essential.  My children seem to favor hot sauce, I think it is a California thing. You can take it from there.
Ingredients
makes two portions
2 Lovely thick slices of bread,your choice, toasted
one beautifully ripe avocado
salt and pepper
lemon juice
optional extras
cooked bacon bits
poached eggs
cilantro
tomatoes
lightly pickled red onions
Instructions
Take half the avocado and mash it.
Slice the other half.
Season with salt and pepper.
Spread mashed avocado on the toasts and arrange the slices on top.
Squeeze with lemon juice
Top with poached eggs, bacon etc!
Post Script
Living in Copenhagen is sometimes not too shabby. One of Tivoli's 'Free" concerts this year featured Brian Wilson of the Beach Boys.  It was the 'Pet Sounds' tour, featuring songs from his groundbreaking concept album. I was there with my 'boys' which was very special.  Brian and the band played all the best Beach Boys hits, in the rain, in Copenhagen. It was fabulous!
Some vintage Beach boys for you