It is something of a relief when January finally arrives.  It has been fantastic, and I have loved the food and drinks rollercoaster that is Thanksgiving to New Year's Eve, but even I welcome a little downtime.  My waistline certainly does.
As my dear dad would say in the 'doric', the language of the Northeast of Scotland, it is time for "auld claes and porridge'. Translated, that means we can put away our sparkling finery for another year, and dig out our old comfy clothes. We can also return to a slightly less rich diet, and what better way to start the day than with a bowl of rib sticking porridge,
Now we Scots take our porridge, or oatmeal as my American friends would say, very seriously.  Oatmeal is one of the staples of the Scottish diet. Traditional porridge uses only three ingredients, oatmeal, salt and water, which you cook in a pan. You stir the oats during cooking and In Scotland this is traditionally done by a 'spurtle', something of a cross between a wooden spoon and a magic wand.
Every year, the Annual Golden Spurtle World Porridge Making Competition takes place in Carrbridge, a small village in the Scottish Highlands. For the last 25 years, entrants from all over the world have competed for the coveted Golden Spurtle trophy, and for the title of 'World Porridge Making Champion'.  In addition there is also a speciality category and past winners have included  Sticky Toffee Porridge, Fruity Date Porridge and Pinhead Risotto with Lemon and Thyme and Parmesan. This year both categories were won by Swedish entrants and last year the top prize was won by Bob Moore of Bob's Red Mill fame.
Oatmeal is a bit of a wonder food and is regarded a good way to reduce cholesterol. Of course porridge can be made with other grains and turns up as grits made from corn in the American south, congee, a rice dish favored by Asians or even gruel, where all the trouble started in Charles Dicken's 'Oliver'.
Although not part of their traditional food culture, the Danish are fond of their porridge or grød too. In fact, one of the new fun restaurant chains that has opened up recently is called Grød, and that is what it serves. Admittedly totally trendy sweet and savory grød, lots of different types of grains with all sorts of variations on toppings like dulch de leche, apples and roasted almonds.
The most danish of porridge like dishes however  is something called Øllebrød. It is made with leftover rye bread, and beer, and served with milk or whipped cream. Øllebrød dates back many centuries and many Danes have grown up eating it from when they were babies.
I will confess that I can find plain porridge just a little, well, plain.  However it is a perfect foil for all sorts of wonderful toppings.  When Katherine was rowing for Connecticut Boat Club all the girls loved oatmeal.  We gave them a wide variety of toppings and they put their own selection together. From memory they were coconut, chocolate chips, nuts, all types of fruit, yogurt and honey or maple syrup. Rowing thousands of meters a day, they needed fast fuel and healthy options.  Here in Copenhagen one of my favourite breakfast cafes, 'Mad og Kaffe', tops its oatmeal with pureed mango, coconut, pomegranate seeds and a little flower.  It is very cute. In fact their whole breakfast concept of small bowls of breakfast type foods is rather fabulous and one I may well steal if I ever make it back to Darien.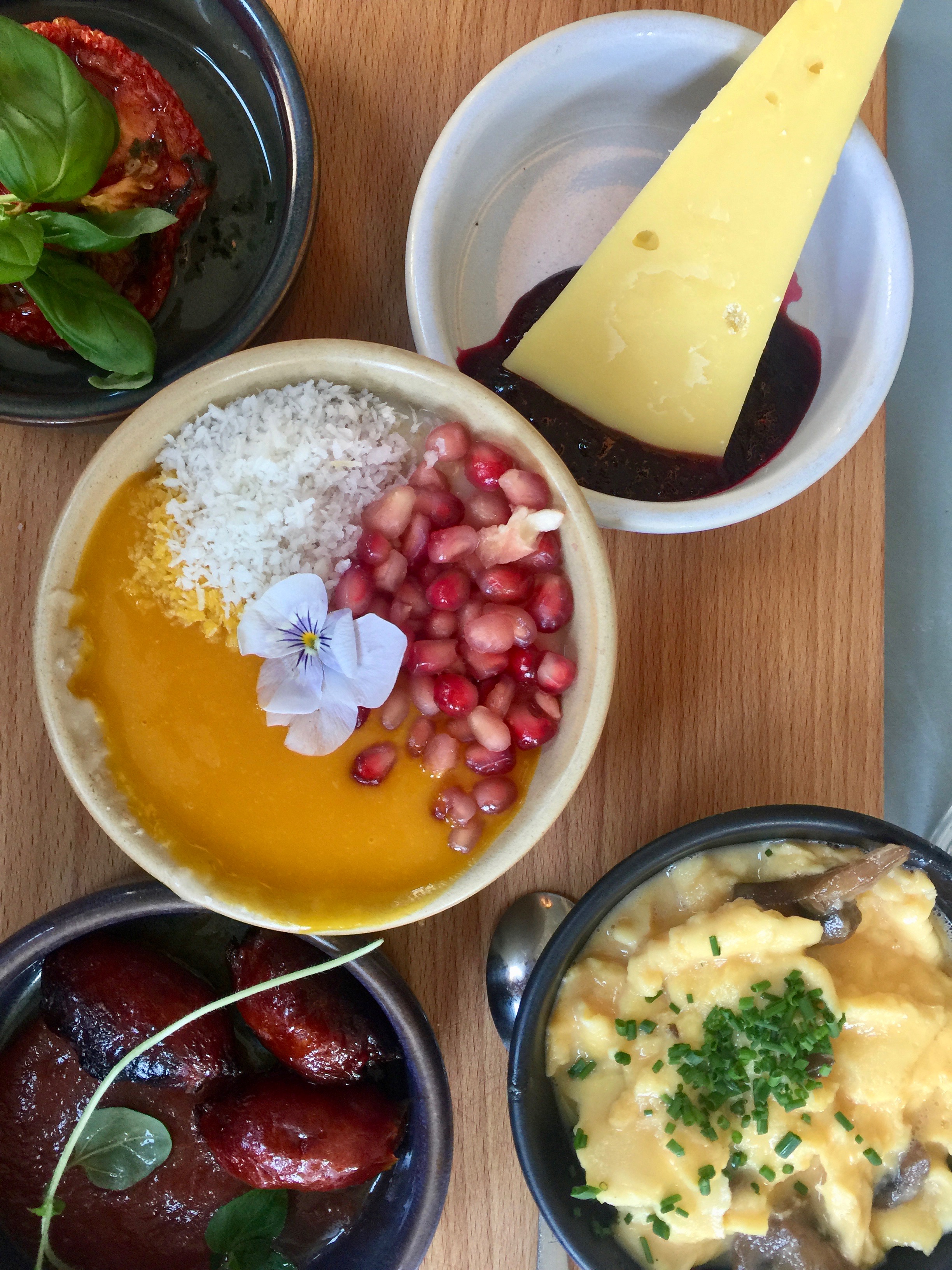 My own personal way of eating oatmeal I think may have started with a bowl made by the very clever Grace Hansford.  Grace introduced the concept of creme fraiche or yogurt  and nuts I think.  I now also love to add red fruit such as raspberries or strawberries, a few blueberries and some sliced bananas.  Can I also confess to a little drizzle of real maple syrup.
For many months I made Alan porridge which he carried to work in a little thermos flask, or 'helio' as they would say in my part of the world. These are my toppings but do not be constrained by my suggestions.
Great way to start the day porridge
Ingredients
2 ounces/50g/1/2 cup of oatmeal
1/2 pint/300ml/cup of water (or if you are feeling decedent a mix of water and milk). I sometime times have to add little more liquid if I  have not been paying attention. Also I do not like my porridge too thick.  It does have a tendency to congeal if left for any length of time.
A dollop of creme fraiche or thick Greek yogurt
Some sliced strawberries or raspberries and a few blueberries
Sliced nuts
Drizzle of maple syrup or honey if you prefer
Method
Refer to the instructions on the packet but generally you add the oatmeal and water and simmer for 2-3 minutes. Pay attention.
Remove from heat and add toppings as desired.
Feel very healthy!