Social Media is not for the Fainthearted
In this post I will confess to an act of great stupidity, it involves sausages. But first let me give you a little background.
Obsessions
I think most of you probably know about my potato obsession. Well I now have to confess to another; 'the search for the perfect pork sausage'. My final meal on leaving London was sausage and mash (thanks Karen!). In America I was dismayed to find most sausages were either Italian, sweet or spicy, both containing fennel or made with chicken, chicken ? I finally discovered Wholefoods sold pork Irish bangers. Before they opened a store in Darien I would drive two towns over just to stock up, and I rarely left town otherwise. In all fairness, it is not just me.  As a nation, we Brits take our sausages or bangers very seriously. A quick look online will lead to many posts by expats lamenting the lack of a decent banger in their new home. One of my friends, Liz, a real chef and a well travelled soul was so frustrated by never finding a proper banger that she bought all the equipment to make her own. We spent a very happy afternoon in Darien mincing pork and threading it into natural casings.
The perfect sausage
What makes a good sausage? In the UK sausages contain all sorts of thing.  There is pork meat obviously, a minimum of 70%,  but there also has to be a decent amount of fat and since the second world war rusk (cheekily referred to as sawdust).  I suspect it is the final ingredient which makes the difference. The most celebrated sausage is the Cumberland, but each region tends to have its own offering.  Herbs and other odd ingredients are generally kept to a minimum, although I have no objection to the addition of a little apple in the mix.
Denmark (oh the shame)
Since coming to Denmark my search for the perfect sausage has begun again. Admittedly it has not been so pressing as I have been able to nip back to the UK on a regular basis and smuggle back packs of Tesco's Finest together with our other famous Scottish sausages McSween's Haggis and Stornoway Black Pudding. I was also fairy confident that my search would be easier as, after all, this is a land with 15.5 million pigs, or roughly 3 pigs per person. Everyone in the UK was brought up on Danish bacon, so what did they do with the rest of the pig, apart for making it the center of their Christmas celebrations?
The Danish Christmas meal is roast pork, red cabbage and special roast potatoes, yum!  I kept buying sausages only to find out they were more like frankfurters or Polish kielbasa.
And now confession time.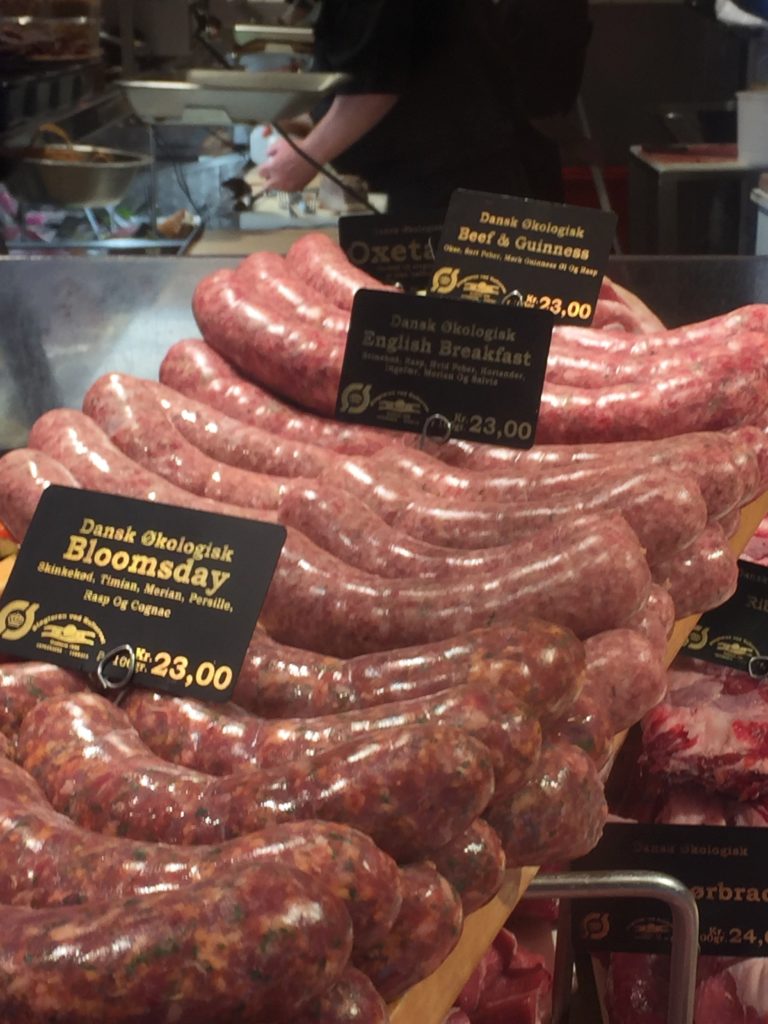 I was very excited when one day last week I saw one of the butchers in town had a sign in the window offering English Breakfast sausages. Denmark still has proper butchers and bakers ( sadly have not seen any candlestick makers)
I made a special point of stopping in and bought a kilo which I then stewed with onions. I must point out that both Alan and Robert enjoyed the meal but for me the sausages were still not quite tight. The next morning I decided to post a comment on facebook about my sausage experience, and this is when I begin to worry that I am becoming addled.  I made some disparaging remarks about the sausages under the above photo, then PINNED THE BUTCHER!  For those. like me. who do not understand pinning  it seems I sent a message to the butcher telling him I had just said something about him on facebook.
Within minutes I started getting chatter on my facebook post, things like  'LOL this has made my day' and emails headed up 'chuckle'. I still did not realize my stupidity until suddenly there was a post from the BUTCHER. He was very polite, saying he was sorry I had not enjoyed the sausage and suggesting I try some his other sausages to see if I liked them any better.  He also pointed our that the sausages were based on an authentic English recipe from a butcher in London.  I offered that they were probably too upmarket for me and in not liking them I was simply showing my lack of class.
I was mortified. The post was meant to be lighthearted but I had unthinkingly disrespected one of Copenhagen's most respected butchers. It was 'badly done' ( Jane Austin- Emma). I began to understand how twitter wars start.
I started privately messaging the butcher apologizing for my post and promised to come past to try some of their other offerings. Later that day I finally plucked up courage to go back to the shop.  I introduced myself as the idiot who had posted on facebook and all the guys working there said 'Oh we know all about you!  They were very sweet and I ended up with one of every different type of sausage that they had for sale. Plus some Danish black pudding just for good measure.
I let my master griller, Alan, cook the second batch of sausages on the barbecue and for the second time that week we had bangers and mash.  Grilling them produced a much better texture and I can hand on heart say I enjoyed them all, but especially the longer thinner ones. The butcher also very kindly offered to make some sausagemeat which might be more to my taste, with more fat and less meat. To date I have not been brave enough to go back but sausage roll season is upon us so I will keep you posted.
The moral of the story is to remember the power of the internet, that 'loose lips sinks ships' and finally to quote Thumper's father (thanks Emily for chasing down that reference) 'If you can't say something nice, don't say nothing at all!'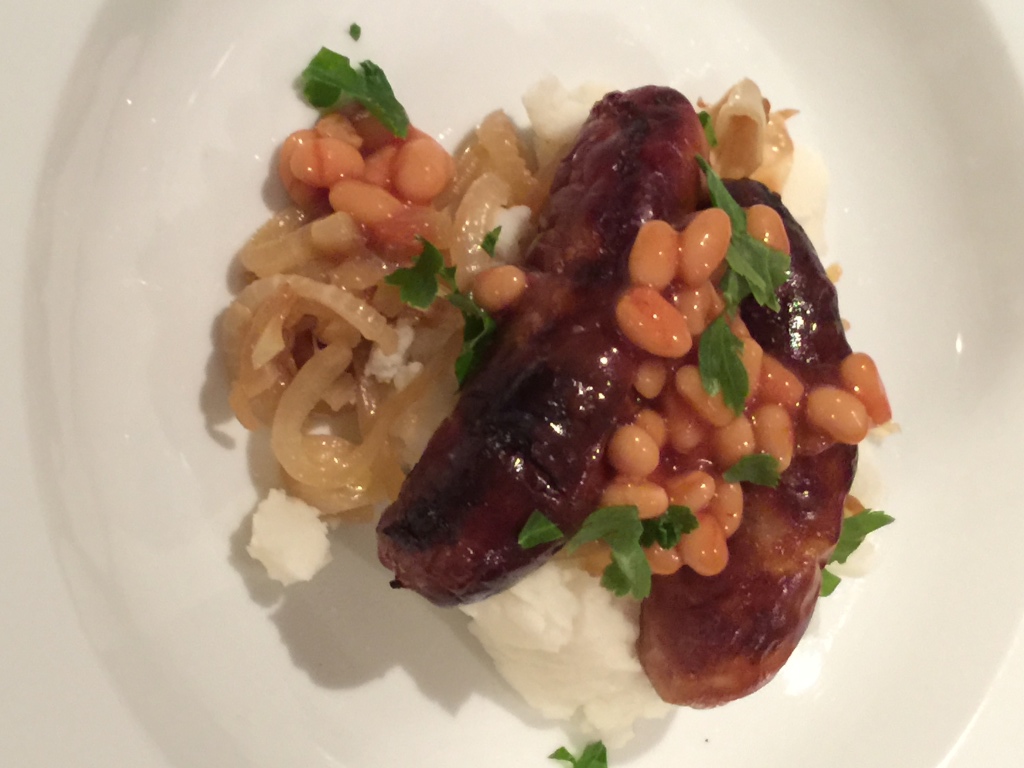 I am finishing this post with a link to an old recipe for bangers and Irish mash, which I served at a Woman's group lunch a couple of years ago.  I am also leaving you with a clip of an old Irish comedian from my youth, the wonderful Dave Allen. Dave finished every show with the same line 'and may your God go with you'. In a similar vein may I suggest that you can make the above dish with any sausage you choose!