Old dog new tricks!
I have been making meringues for a very long time. When I lived in London I sometimes suspected I was only asked to parties so I would bring mini pavlovas with me. British parties do not normally involve bringing a dish so I was generally the only one in the kitchen, whipping my cream to sandwich the mini meringues together whilst everyone else was out partying. I was always very happy!
Meringues have a wonderfully long shelf life. They can be cooked up to two weeks ahead of time and stored in an airtight container. To make them in London I used my Kenwood Chef mixer and defied conventional wisdom by dumping both egg whites and sugar in together at the very beginning and whisking at high speed.  One of the first things I bought in Darien was a Kitchenaid (special offer at Macy's). My lovely husband carried it all the way in the middle of winter from the train station to our house in Delafield Island. It was only a little bit over a mile.
In Darien I extended my meringue repertoire to include pavlovas and loved stacking disks of meringues in ever decreasing sizes for an impressive showstopper. However last summer I was blown away when my lovely friend Trudi made these beautiful swirled meringues.  They are so pretty and make a stunning dessert.
The swirl is created by taking a little fruit puree and drizzling it on the whipped meringue. You then use a skewer to make a swirl pattern. Violá!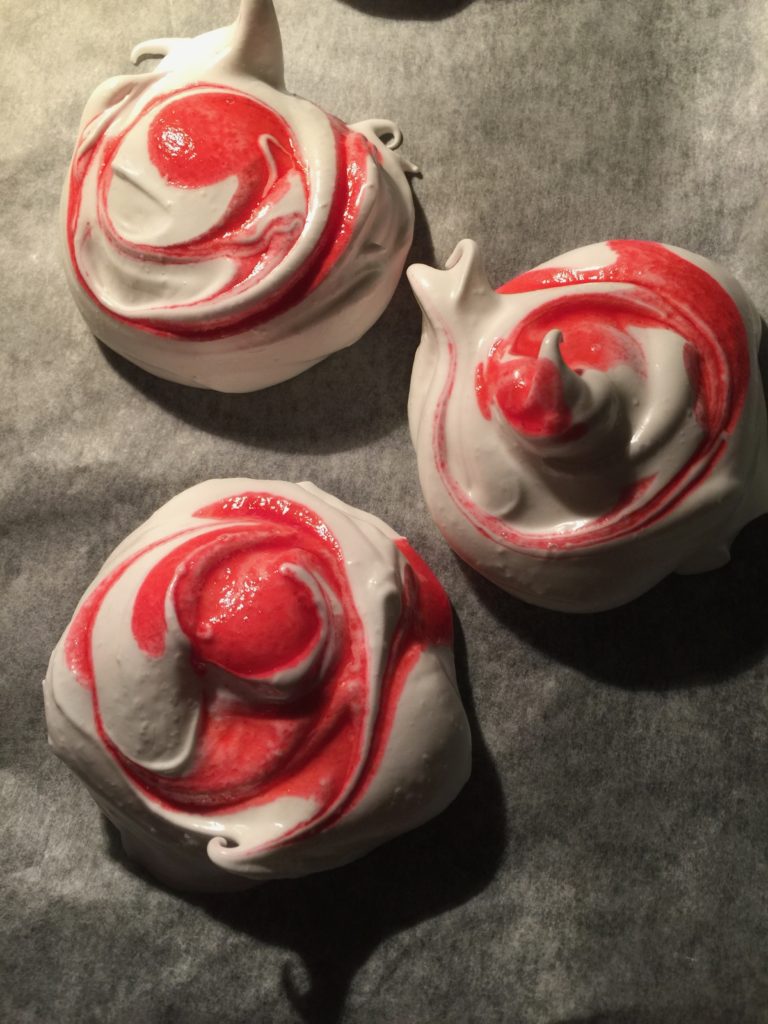 Some important points to note about making meringues.
Do not attempt to make them if it is raining or very humid as this affects the amount of air in the mixture and they will not work well. Saying that egg whites freeze well.
It is important to have only egg whites and no shell or yolk. I always separate my eggs into two little dishes and add each egg white individually to the mixing bowl. With the egg yolks I make proper custard.
I use a Kitchenaid which is very powerful and allows me to add all the ingredients at once. If using a hand whisk you need to whisk the egg whites first then gradually add the sugar.
Whisk until the meringues forms stiff peaks, do not over whip as you will end up with rubber meringues which will never dry out.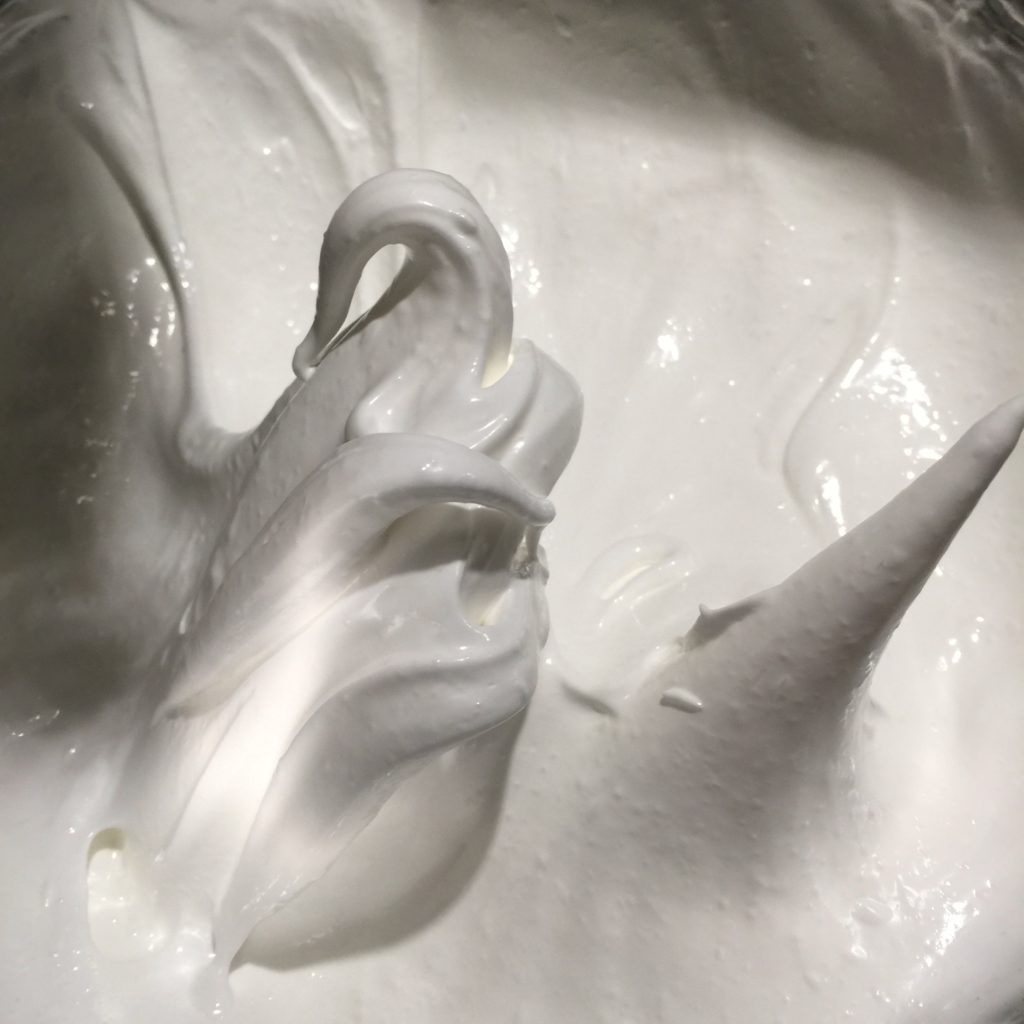 I cook my meringues until they just lift or come away clean from the parchment paper, generally after an hour in the oven. At that stage I turn the oven off and leave them in the oven until it is completely cold.  Probably best to leave a sticky note on the oven, especially if you leave them overnight.  More than once I have forgotten and switched the oven on to start cooking something else only realizing my mistake when the smell of something burning reaches me!
Pretty Red Current Meringues
November 9, 2017
: 12 meringues
: moderate to easy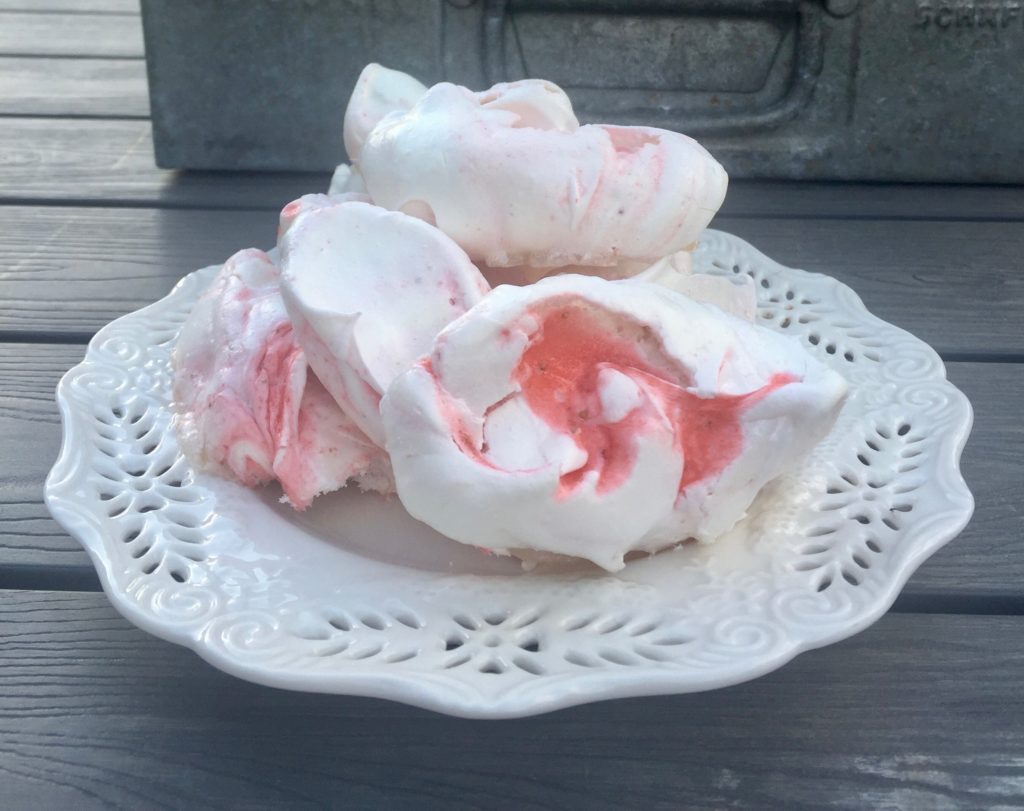 Ingredients
For the puree
6 ounces/150g/ punnet of red currents or a mix of red berries fresh or frozen
1 TBS sugar
For the Meringue
3 egg whites
6ounces/150g sugar/3/4 cup of sugar
Whipping cream and red fruit to finish
Directions
Step 1

To make the Puree

Step 2

Make the puree ahead of time to allow it time to cool. It really is delicious so go ahead and double the quantities as it will be perfect with ice-cream or breakfast pancakes

Step 3

Put the berries in a small saucepan with the sugar and if using fresh fruit add a tablespoon of water

Step 4

Simmer for 5-10 minutes until the fruit has collapsed then sieve to puree.

Step 5

Cool in fridge.

Step 6

To make the Meringues

Step 7

Preheat Oven to 200F 100C

Step 8

If using an Kitchenaid add egg whites and sugar and whisk until the mixture forms soft peaks. You should be able to 'write' with the meringue and the 'writing' should not be absorbed back into the mixture.

Step 9

Otherwise whisk the eggs and half the sugar using an electric hand whisk, until stiff peaks form when the whisk is removed, Be careful not to over whisk.

Step 10

Add one tablespoon of the sugar to the egg whites, and continue to whisk until the mixture comes back to stiff peaks. Add the sugar one tablespoon at a time until it has all been used, and the meringue is thick and glossy.

Step 11

Spoon 12 equal egg shaped mounds onto a baking sheet which has been lined with parchment paper.

Step 12

Drizzle a tiny bit of the puree on each mound and using a skewer swirl slightly to create a marble effect.

Step 13

Cook in oven for an hour then test to see if meringues are done. Meringues are ready when they lift cleanly off the parchment paper. If not quite ready leave for another ten minutes then retest. Once meringues are done turn oven off and leave until completely cold.

Step 14

To serve top each meringue with some whipped cream, red fruit and drizzle with the fruit sauce