I have sad news. My wonderful Auntie Gertie died on December 30th 2022. She was a force of nature, a real character, loved by her family and friends and will be sorely missed. But her legacy will live on. Not least in the gift she gave me. Auntie Gertie's Coffee Cake.
I first tasted Auntie Gertie's coffee cake when I was eight. And it changed my life! I went home and started baking. I have never stopped, and now have a small event catering company. I make many different types of cakes, pastries or, as they say in the north east of Scotland, 'fine pieces', but Auntie Gertie's Coffee Cake is still my favorite.
Hygge
In this post I am going to talk about hygge, and my favourite cake, my Aunt Gertie's Coffee Cake.
I am sure by now we have all heard of Hygge, the uniquely Danish concept. Hygge loosely translates to cozy, but is so much more. The Danish winter is longer than all the other three seasons put together. However rather than complain about the constant grey skies and damp weather the Danes, also known as the happiest people in the world, have embraced their climate and come up with 'Hygge'. It is a rather fabulous concept.
It seems to involve a lot of candles setting the mood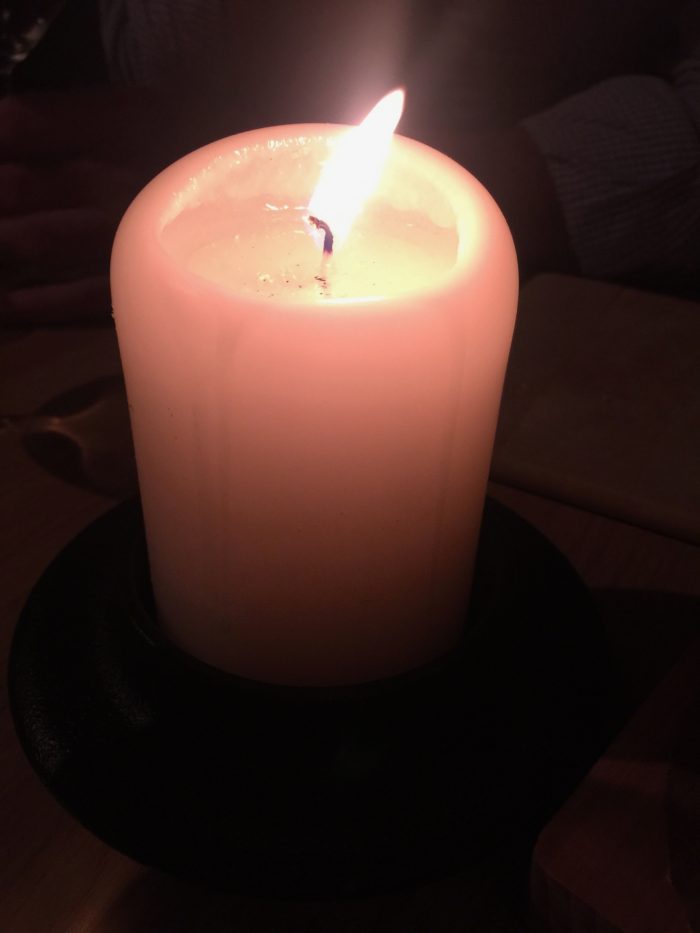 and warm and furry things like sheepskins and blankets. and a snuggly dog lying sleeping!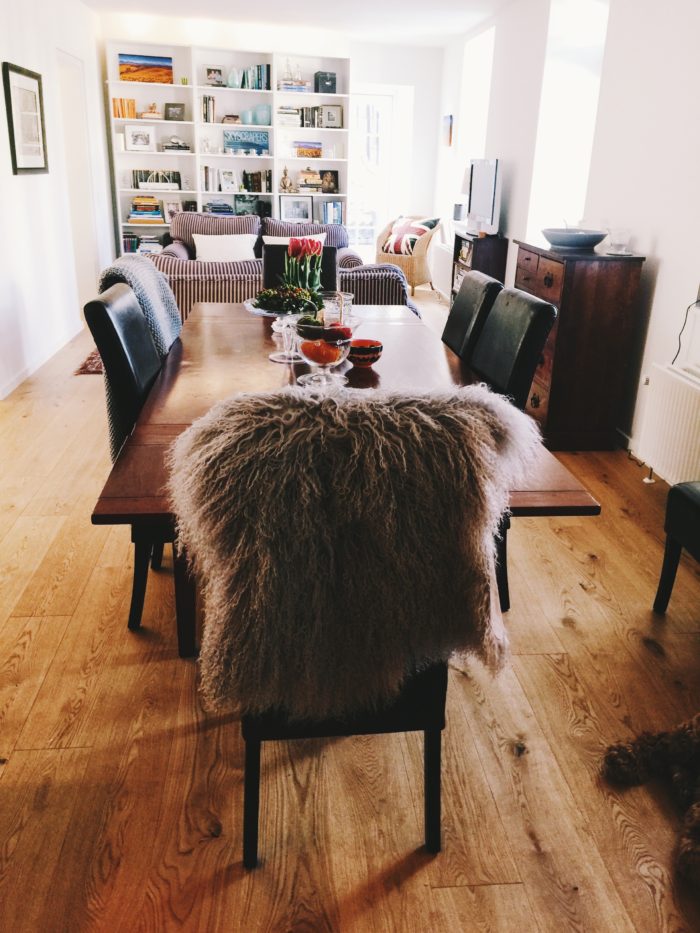 Food and drink shared with friends is part of it too, although you can hygge yourself.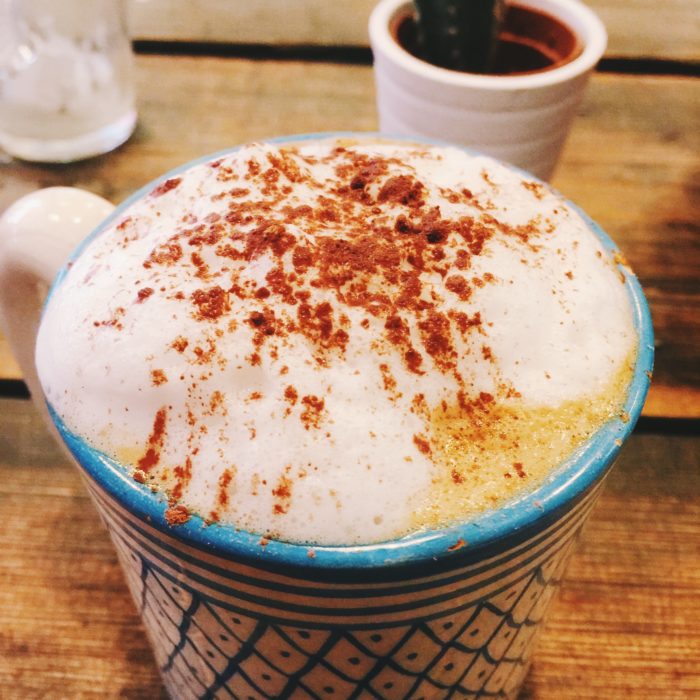 It is that feeling of contentment that comes with truly enjoying your surroundings. Hanging out with family or friends, sharing a meal or playing board games. You can be at home or in a cafe or restaurant. It is mainly about community but not exclusively. Perhaps you are reading a book in your favourite armchair in front of a roaring fire. Add a cup of coffee, a bit of cake and perhaps snow outside and you are beginning to get the idea. Mind you, my most hyggly experience recently was playing bridge at the Country Club of Darien, shout out to all my lovely bridge mates, and there was not a sheepskin or a candle in sight.
Danes become very sweet when they talk about hygge. I have been part of conversations with grown men who turn positively 'adorable' when they mention the word. It really is part of the fabric of their society. Possibly helped by a climate where you have a lot of opportunity to snuggle inside.
So you are sitting in your favourite armchair, reading a book with a cup of tea and a piece of cake. But what kind of cake? For me there is only one answer. My Auntie Gertie's Coffee Cake.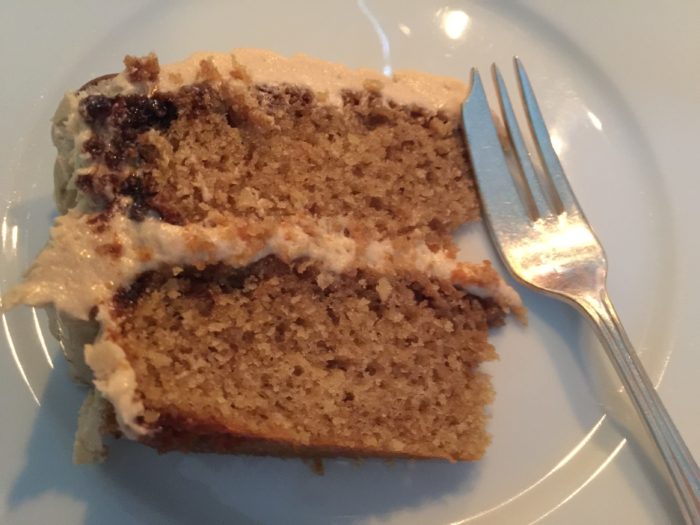 Coffee Cake
My Auntie Gertie makes fabulous coffee cakes, obviously not her only talent. I just have to clarify, we are talking about a cake that is flavoured with coffee. I spent years in America ordering Coffee cake and wondering why I could never taste the coffee. Americans eat their coffee cake WITH coffee, hence the name.
It was tasting Auntie Gertie's coffee cake that made me want to learn how to bake. My mum gave me full run of the kitchen and I make my first cake at the age of eight. It was truly awful. I had no concept of raising agents or how to mix things properly. I still have memories of a rubbery flat disk with a thick sticky layer of coffee at the bottom and a drizzle of thin icing on the top, which my lovely parents ate with a smile.
Luckily I have improved. The cake is the go to birthday cake for Robert and me (hence the flags on the cake, Danes do flags not candles for birthdays) , but I have to keep it out of the house at other times. I find it absolutely irresistible. Robert and I both agree it is even better after a day, when the coffee icing has developed a crisp outside edge.
I am going to be little vague about how much coffee to add as I truly do not know. I mix instant coffee with a little boiling water and some milk (evaporated is the best, another of Auntie Gertie's tips.) It is a feeling as to how much is just right, you have to look at the colour of the cake batter or icing and stop adding when it looks about perfect. And perfection is what we are talking about, because every so often I produce a truly marvellous cake against which all others are measured. The measurements quoted are from the cake I was forced to make today just to check the amounts were in the right ballpark. Use common sense as always when baking. Feedback always welcome!
Victoria Sponge
The cake itself is a flavoured version of the British classic sponge, a Victoria Cake. It is the cake that any self respecting eight year can remember how to make. For every egg you take 2 ounces of self raising flour, sugar and butter and beat thoroughly. If you prefer you can cream the butter and sugar together and then slowly beat in the eggs and finally fold in the flour. That is the traditional way to make a Victoria sponge but I find the 'all-in-one' method works just fine. I have tried to give conversions from ounces to the American cups. I have found that flours vary so I would recommend using a set of scales if at all possible, see my post on Conversions . Do not mix methods of measurement, stick to one!
7 minute frosting
The icing or frosting is just to be awkward is a variation of the Magnolia Bakery's (where the girls from Sex and the City always went for cake) 7 minute frosting. It is a recipe originally in cups which translates to an alarmingly high icing sugar to butter ratio when converted to ounces. To be honest I only recently started measuring ingredients for icing. I used to just throw butter and icing sugar into my mixing bowl and then keep adding sugar and the coffee mix until it seemed about right!
Kahlua
NOT part of the original recipe.
Auntie Gertie's Coffee Cake
June 22, 2020
: 12 slices
: easy to moderate
My favourite sponge cake with coffee flavouring in the cake and frosting (icing as we Brits would say)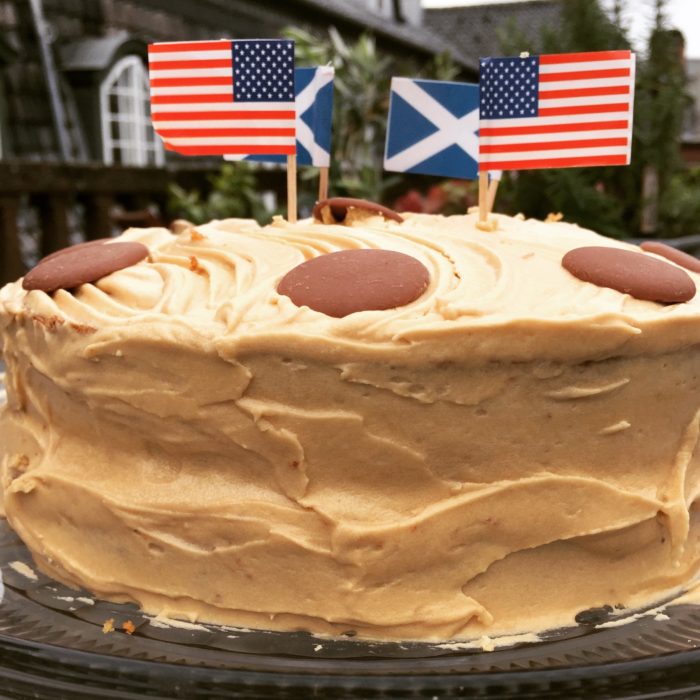 Ingredients
2 8 or 9 inch ( 20cm- 22.5cm) round baking tins, greased and lined with parchment paper (see below for link to pre cut parchment paper)or if making the simple sheet cake a quarter size sheet pan
Coffee Cakes
8oz* self raising flour (220g* / 11/2 cups) or 8oz all purpose flour (220g) or 11/2 cups with 2 tsp baking powder
8oz* butter (220*g)/2 sticks at room temperature
8oz* sugar (220*g)/little over 1cup plus two level TBS sugar
4 eggs, beaten, at room temperature
2TBS of instant coffee granules dissolved 2TBS boiling water, then diluted with 12TBS of milk until you have a pale coffee colour.
Frosting
8oz/220g /2* sticks butter, at room temperature
20-24 oz/500g-700g/6-8* cups icing sugar
A little milk
a little instant coffee dissolved in hot water
Little Kahlua (optional)
Directions
Step 1

Pre-Heat oven to 400F/200C

Step 2

Coffee Cakes

Step 3

Add all ingredients to a large mixing bowl apart from the coffee and beat until you have a smooth mixture. Gradually add 4TSP coffee mixture until the mixture looks coffee colored, but not too dark!

Step 4

Divide mixture evenly between the two prepared tins and bake in preheated oven for 15-20 minutes.If using the quarter sheet cooking time will be 30-40 minutes.

Step 5

Cakes are ready when they are golden brown, risen and spring back slightly when touched. Cool on a wire rack.

Step 6

Frosting

Step 7

Beat together butter, the lower amount of icing sugar 8TBS of the coffee mixture and 3 TBS milk until totally combined and fluffy, around 5 minutes.

Step 8

Gradually add icing sugar and remaining coffee mixture (there will be a little coffee mixture left, as required until frosting reaches a soft spreading consistency. You may not need the full amount of either icing sugar or coffee. You can always add a little more coffee mixture or milkif it does not seem to be enough.

Step 9

If using drizzle a little Kalhua over the cooled cakes before adding frosting

Step 10

Spread a thick layer of coffee frosting on the bottom layer. Add the second cake and cover top and sides with remaining frosting. You may have some leftover, it can br frozen.

Step 11

Decorate with walnut halves or as we have with chocolate buttons
NOT part of the original recipe.
Top Tip
I have become completely addicted to pre cut parchment, as it saves time and stress when baking!
Measure the ingredients. Kitchen scales are a great addition to your kitchen and make baking so much more consistent!