I am growing zucchini in my Victory Garden, which reminded that I wanted to share this recipe for Zucchini Fritters with you last year, then ran out of summer months.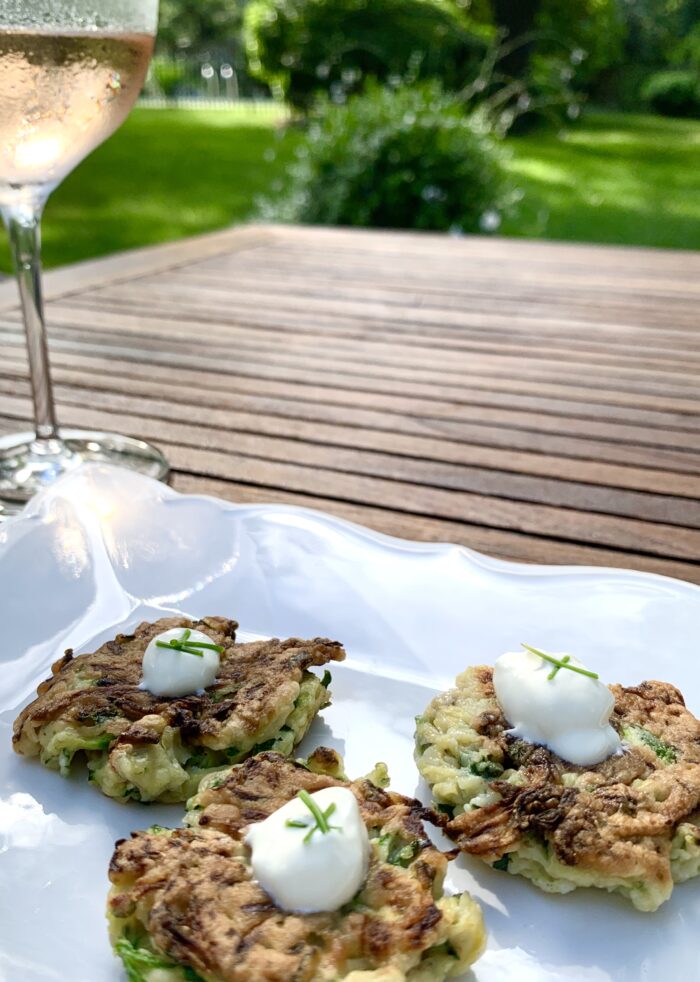 As I write this, the sun is shining and I am sitting in my garden enjoying the slight breeze. Can I confess that I have been very content over the last few months? My flower beds have never looked better, I started a small Victory Garden and I am now the proud mother of six chickens. Who constantly try and see what our 'coop' looks like!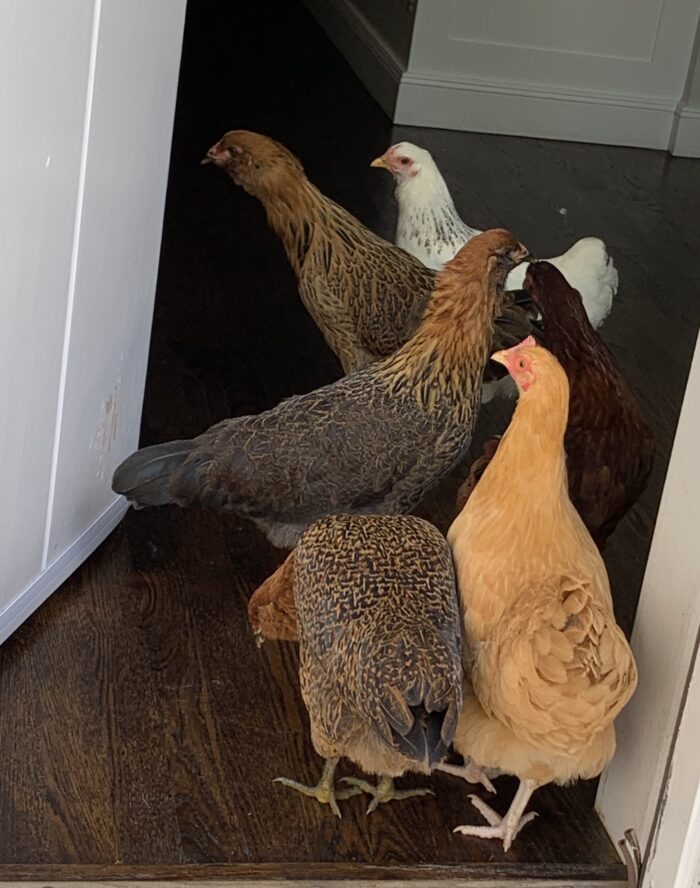 Summertime and the living is easy!
I am a member of the DCA Greenhouse. We are all enthusiastic gardeners and, most years, spend the summers visiting each others gardens. We drink wine, but are home before dark. It is very civilized. A few years ago, the lovely Eve served up these Zucchini Fritters. I am embarrassed to think of how many I ate, and was so glad when she shared the recipe with me. I think this method would work with other vegetables, say sweetcorn. Great as an appetizer, or as a side.
Community Supported Agriculture (CSA)
This year, I have signed up for a share of an CSA through Stoneledge Farm. I pay up front, at the beginning of the season, and every week I take delivery of a gorgeous box of fresh organic produce.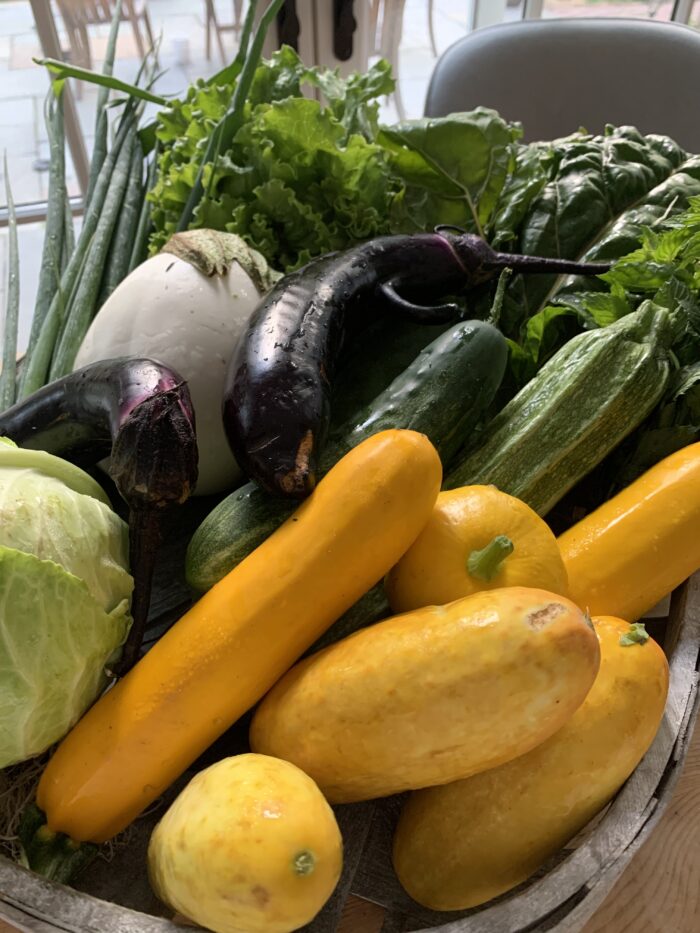 I recently did a webinar at Hayvn called Cooking with Community Supported Agriculture (CSA) and gave a demonstration of this recipe. So, if you want to see me making the fritters, click on the link below!
Zucchini Fritters with a Sour Cream Dipping Sauce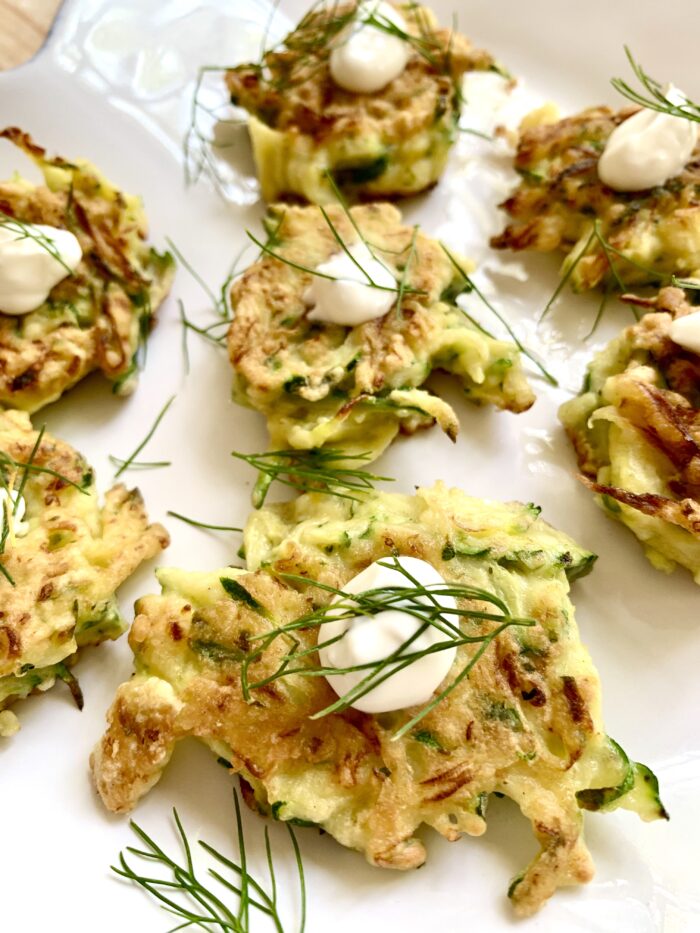 Fritters (makes around twenty-four)
2 pounds (about 4 medium) zucchini
2 teaspoons Kosher salt, plus an extra 1/2 teaspoon
1 Tablespoon finely chopped fresh chives
Grated zest of 1/2 lemon
2 large eggs, lightly beaten, or three/some extra milk if the mixture looks a bit dry
Freshly ground black pepper
1 cup all-purpose flour (around 5.3 ounces or 150g) – or gluten free flour
1 teaspoon baking powder
Olive oil
Chives, parsley or fennel fronds for garnish ( I use the fronds in my Beet, Orange and Goat Cheese salad)
For the dipping sauce mix
Sour cream or Crème Fraîche or yogurt with some freshly squeezed lemon juice plus some zest
Method
Top and tail the zucchini, then grate them. Use a food processor, a mandolin, or a handheld grater.
Put the grated zucchini in a colander then sprinkle with 2tsp salt. Leave for ten minutes. You need to get as much of the water out of the zucchini. The best way is to tip them into a clean tea towel and squeeze!
In a large bowl, mix the zucchini, herbs, lemon zest, ½ tsp salt, pepper and eggs. Mix the flour and baking powder together in a small bowl, then add to the zucchini batter.
Pre- heat the oven to 300f/150c to keep the fritters hot once cooked.
Add some olive oil to a cast iron skillet and place over a medium heat. Once the oil is hot, drop teaspoons of the mixture into the pan, and flatted with the back of a spoon. The size is really up to you, I like mini fritters, as they are easier to handle. Do not overcrowd the pan!
When the fritters are nicely browned on one side, turn them over and cook the other side. Once cooked, drain them on some paper towel and keep warm in the oven. Continue until all the mixture has been used. Serve with dipping sauce.
Fritters will also reheat beautifully. Use as an appetizer, side or top with an egg for a rather fabulous brunch!
My Favorite Things
In the video I share some of my favorite kitchen utensils. I am giving you details of my recommendations (I may receive a small reward if you buy buy through the links but there is no difference in the price charged to you)
Offset Spatula
Mandolin
Microplanner