Vegetarian Challenge
Alan and I are continuing with the vegetarian challenge. So far we are finding it very easy, last night was a stir fry. On Saturday night I made Puy Lentils with Caramelized Onion Chutney, Roasted Butternut Squash, Feta, Pomegranate and Sliced Broccoli salad . It might possibly be the best salad I have ever tasted. And it looked really pretty!
The recipe was inspired by my visit with Kat to the Union Kitchen in Copenhagen. The restaurant is a super trendy brunch place. It offers an inspired selection of vegetarian dishes along side the more traditional burgers. Kat chose mildly curried lentils hidden in the bottom of a bowl, covered by trendy greens, roasted sweet potato and goat cheese. Do not be put off by the curry in the lentils, it simply adds to the melodty. The dish was topped with a poached egg, yum. The real genius of this dish however was the addition of the Caramelised Onion Chutney to the lentils. The chutney, the subject of yesterday's post, lifts the dish from tasty to absolutely fabulous.
Quantities and Variations
I have tried very hard to pay attention to quantities but you are free to alter the amount of ingredients according to what you have to hand and your own preferences. I am giving guidelines for a hearty salad eaten by two hungry adults as a main course on a Saturday night. As a side dish with other options this would feed 4-6 people.  Simply add more salad greens and adjust the quantity of salad dressing for an easy way to make it go even further.  Let me know in the comments section if you discover a better combination of ingredients.  I am on a bit of a roasted butternut squash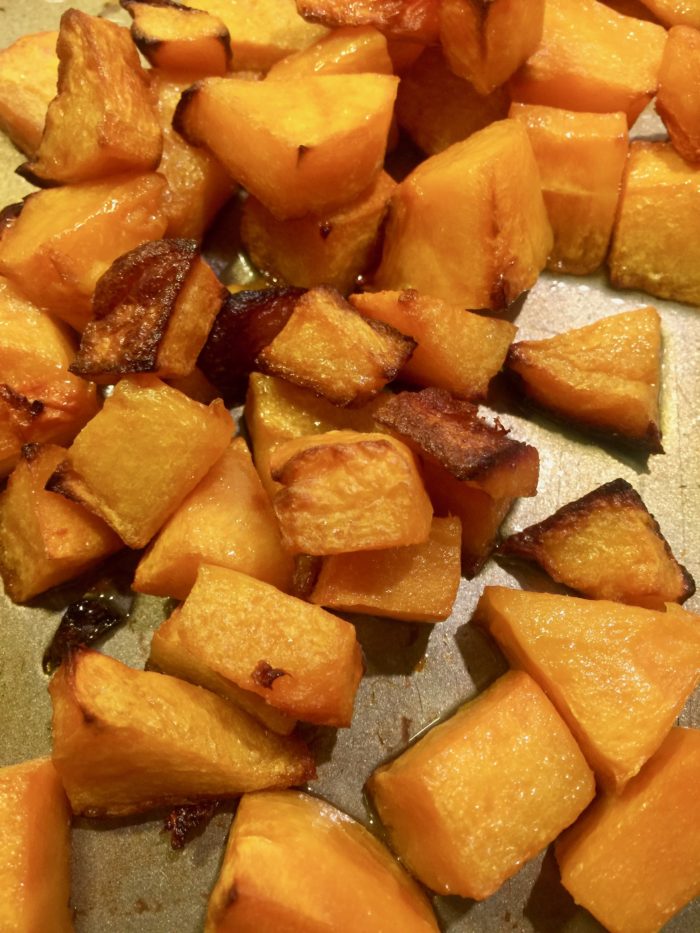 and feta cheese kick.  I do feel however this would work with any roasted vegetable and goat or other cheese.
Curried Puy Lentils with Caramelized Onion Chutney, Roasted Butternut Squash, Feta, Pomegranate and Sliced Broccoli
January 9, 2018
: 2 greedy people as a main course, 4-6 as a side
: Easy
A beautiful mix of tastes and textures and a super healthy vegetarian salad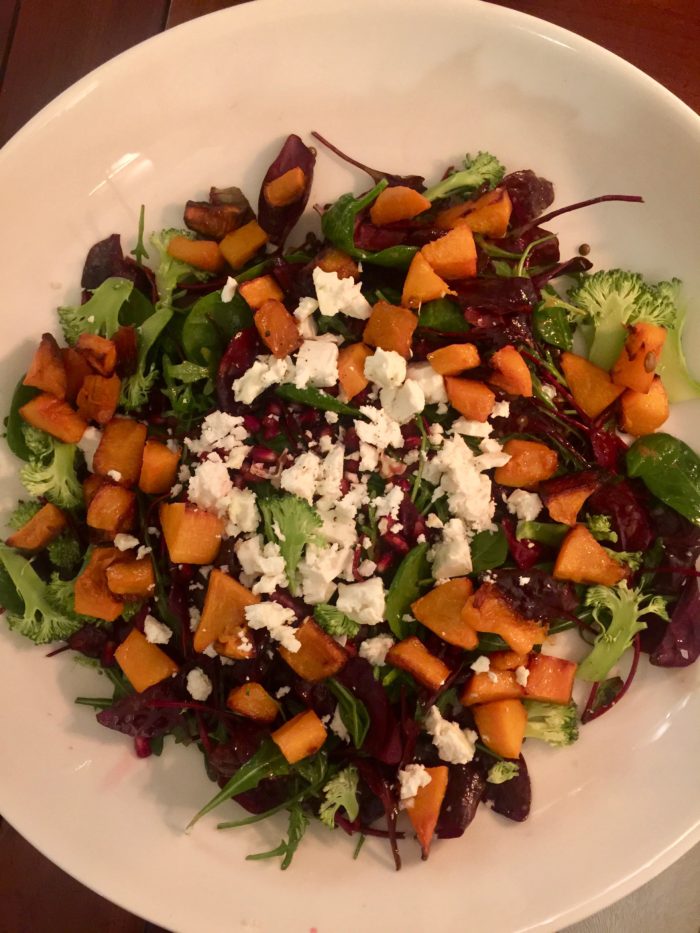 Ingredients
Olive oil
4.2oz/120g/1/2 cup puy lentils, rinsed
curry powder to taste
One butternut squash, peeled and cubed
100g/3-4 oz feta cheese
One Tbs pomegranate seeds
Three broccoli florets, very thinly sliced
Couple of handfuls of salad leaves
Two tsp balsamic vinegar
Six tsp olive oil
Half tsp French mustard
One Tbs Caramelised Onion Chutney (See recipe below) or half a sliced onion and a little brown sugar and balsamic vinegar
Directions
Step 1

The beauty of this salad is that everything can be prepared ahead and then put together when required. I did heat up the lentils and serve them warm but room temperature would work too.

Step 2

Cook the lentils according to the instructions on the packet, around 30-45 minutes until tender. Drain and leave to one side.

Step 3

Preheat Oven to 400f/200c

Step 4

Place butternut squash in a baking sheet and drizzle with olive oil. Cook for 40-45 minutes until starting to brown at the edges. Total time will depend on the size of the cubes.

Step 5

Make mustardy dressing by mixing the oil, balsamic vinegar and mustard with some salt and pepper. I keep empty jam or mustard jars with their lids especially so I can shake the ingredients. Whisking them together will work too.

Step 6

Just before assembling add a little olive oil to a frying pan or skillet and add the lentils. Shake in a little curry powder to taste and then stir in the caramelised onion chutney. (If using the quick version, best to fry the onions for a little before adding the lentils. Sprinkle with a little brown sugar and a tsp of balsamic vinegar)

Step 7

Place the lentils in the base of a large shallow bowl.

Step 8

Dress the salad leaves with the mustard dressing and layer on the lentils.

Step 9

Sprinkle over the butternut squash, feta cheese, pomegranate seeds and the broccoli slices.

Step 10

Sit back and admire
Caramelised Onion Chutney
January 9, 2018
: one large jar, and maybe a small one
: Easy
A lovely onion chutney to serve with cheddar, sausages and add flavor to all sorts of salads and other dishes.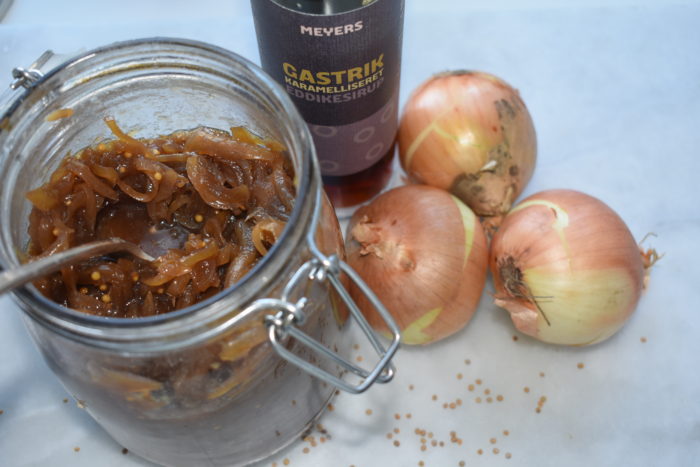 Ingredients
1.5kg / 3 Lbs onions, peeled, halved and thinly sliced ( I used white cooking onions but suspect red onions would be fantastic too)
splash of olive and a knob of butter
225g/8oz/11/3 cups dark brown sugar
125ml/4fl oz/1/2 cup balsamic vinegar
150ml/5fl oz/5/8 wine vinegar
one tsp mustard seeds
bayleaf
pinch of salt
Directions
Step 1

Heat oil and butter in a large skillet or frying pan.

Step 2

Add sliced onions and cook gently for around 20 minutes being careful not to let them brown.

Step 3

Add three TBS of the brown sugar and continue to cook slowly for another twenty minutes.

Step 4

Finally add remaining ingredients and simmer slowly for another 30 minutes.Once cooled add the chutney to a sterilized jar.  I sterilize mine either by running them through a cycle of the dishwasher or filling with boiling water, making sure to pour water over the lid and seal.

Step 5

I still also keep the jar in the fridge just in case!