Proper Puddings
I think this Marmalade Bread Pudding with Cointreau Soaked Golden Raisins (sultanas to us Brits) may have been my first introduction to bread pudding.  Those of you who have been following me for a while, know that I LOVE bread puddings. I already have two versions on this site, New Orleans White Chocolate Pain Perdue with Bourbon Caramel Sauce and Pumpkin Bread Pudding with Caramel Sauce and Pumpkin Spiced Pumpkin Seeds
Today's recipe is a much more traditional take on the classic British Proper Pudding.  You soak slices of old bread, spread with butter and marmalade, in an egg custard as a way of 'using up' leftovers that had become stale. I love the idea of nothing going to waste and something truly spectacular coming from fairly modest ingredients. I never ate this dessert or pudding growing up in Banff. Was it possibly because we never had any left over bread?
Recipe Origin
When I worked in Lombard Street in London, at the trusty Clydesdale Bank, my office was next to the Executive dining room. I used to hang out with the lovely chef who worked there and beg recipes from her, we all did. I think this orange based pudding was one of her creations, but I am bit vague on the details as it was almost thirty years ago.            .
However my main memory, is of my colleague Tom, making it at his home. He used a round cutter to serve individual portions of the dessert, and dusted it with powdered sugar. That was a very fancy presentation of pudding for a young 'quine' from the North East of Scotland. I was most impressed! (Click on Quine, for a great introduction to the doric language from Scotlands premier newspaper, The Scotsman)
Healthy (ish) Version of Bread Pudding
I am giving a January version of this dessert, perfect for a lazy Sunday. In this recipe I am replacing half of the cream with milk, and reducing the amount of sugar as we already have the sweetness from the marmalade and dried fruit.  I am not suggesting any fancy brioche or even french bread.  I always make this particular dessert with regular old white sliced bread. Obviously I cut the crusts off, but, if that is a step too far, leave them on.  It will just make the top slightly crunchier.
Although I am suggesting Cointreau, I think I used to drink a lot of Cointreau in those days, any orange liquor would do.  In our alcohol free (ahem) start to the year, orange juice would also be perfectly acceptable.
Marmalade Bread Pudding with Cointreau Soaked Golden Raisins
January 14, 2018
: 6-8
: Easy
An easy dessert using left over sliced bread, eggs and a mix of cream and milk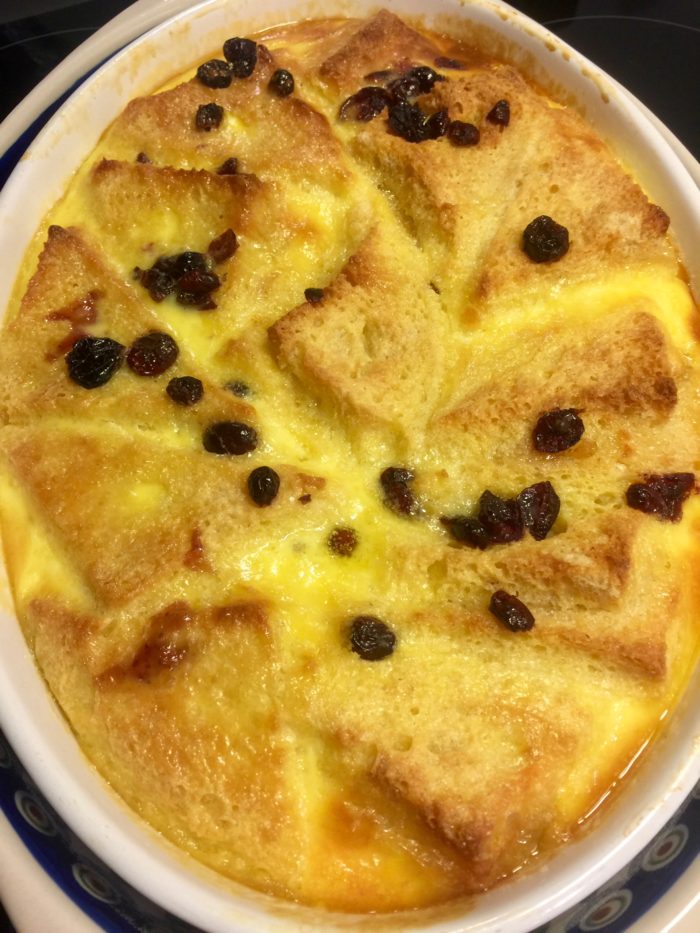 Ingredients
You will need one medium sized casserole dish for the pudding itself and a larger dish to form a Bain Marie.(see picture)
6 slices of bread
butter
marmalade
8 eggs
1 pint/480ml/2 cups heavy or double cream
1 pint/480ml/2 cups milk
2oz/50g/1/4 cup sugar (I always keep a vanilla pod in my sugar but if you do not add a little drop of vanilla)
handful of sultanas/golden raisins/(cranberries would work too)
2 TBS(Ish) cointreau or other orange liquor of orange juice
Directions
Step 1

In a small bowl cover the dried fruit with the cointreau or orange juice. Leave to one side.

Step 2

Spread each piece of bread with butter and make marmalade sandwiches.

Step 3

Cut the crusts off the bread and cut each sandwich into four triangles.

Step 4

Arrange the triangles in a single layer in the smaller casserole dish.

Step 5

In a large bowl beat the eggs together.

Step 6

Add the milk and cream to the eggs, add the sugar.

Step 7

Pour the egg mixture over the bread and leave to soak for a few hours or overnight.

Step 8

Preheat the oven to 350f/170c

Step 9

Add the soaked fruit to the bread and egg mixture.

Step 10

Place the smaller casserole dish inside the larger dish. Fill the larger dish with about an inch of water.

Step 11

Bake until the egg mixture has risen and the custard is set, around 40-50 mins.

Step 12

Remove from the oven and leave to cool slightly before serving.

Step 13

You may cut out rounds and sprinkle with confectioners sugar if you want to impress. A little cream always goes well!