Hadrian's Wall
Honestly? Walking Hadrian's Wall was hard. Much harder than I thought it would be. But it was also a fabulous experience. Read on to find out why in this post with additional photos and collages by my, oh so talented friend, Kate Stoupas. I have credited Kates individual photos and the fabulous daily grids are also her work. All other photograph are mine!
To see more of Kate's work follow her on Instagram @katestoupas or facebook https://www.facebook.com/Kate.Sampson.Stoupas or on her blog aroundtheworldwithkate.com
The Scoop
When my mate Trudi asked if I wanted to join her in walking Hadrian's Wall as part of her birthday celebrations, I jumped at the chance. Walking for a week in the English countryside with mates, pubs, afternoon teas and ancient history in mid Autumn? Life really does not get much better.
We even signed up with The Walking Holiday Company. They booked all the accommodation, arranged the bag transfers and sent us maps and walking instructions. Which I looked at, sort of, before I left. Well, enough to know that each day was between 12 and 15 miles. After hiking hills in Scotland, Yosemite and Norway, Hadrian's Wall, pretty flat obviously, was going to be a breeze. Then, there was the added bonus of assured weight loss with all the exercise. And lastly, Kate, my talented photographer friend was part of the group. This time, I was going to try and learn as much as I could about how to take great photographs.
The Reality
Turns out walking along Hadrian's Wall was a little different from my expectations. I envisaged country lanes with village pubs every few miles, bucolic countryside, Fellowship of the Rings sort of stuff, second breakfasts and elevenses. You know, the jolly part before the Ringwraithes show up.
And we definitely got that, beautiful landscapes, great company and lots of food. However, following the wall took us mainly cross country; there were way more hilly bits, and much fewer places to stop and eat, or go to the loo. On the plus side, unlike my previous walking in America and Norway, there were very few other hikers walking as we were quite late in the season. So we had the wall pretty much to ourselves for most of the time. Not that we always saw the wall; it disappeared for miles and sometimes days.
As for the photography. I could stand in the same spot as Kate, take the same photograph but her ones were always brilliant and half of mine had my thumb in them! Do not even mention weight loss!
History of Hadrian's Wall
For almost three centuries, Hadrian's Wall, named after the  Emperor Hadrian, was the northern frontier of the mighty Roman empire that once covered the known world. At times, the wall was an active fortified front, keeping out the barbarians, mainly us Scots. At other times it simply marked the frontier and would have seen traffic passing freely in both directions.
The wall was built around AD 122, by a force of 15,000 soldiers. In under six years, they constructed a stone wall which stretched almost 80 miles from Newcastle on the East coast of Northern England to Bowness on The Solway Firth on the West Coast. There were also forts at regular intervals and Milecastles, you guessed, every mile. In front of the wall they built a deep ditch and behind it they constructed a broad road to allow for the easy movement of troops. There was a further deep broad ditch, called a vallum, which ran behind the road. No-one really knows what  purpose the vallum served; possibly it allowed the wall to be defended from both sides?
I found it amazing that, after over seventeen hundred years, so much of the wall is still standing. Over the years, bits have disappeared as the stones were 'borrowed' for new construction. Victorian engineers used the hard work of the Romans to built new roads and railways. Newcastle grew along the first section. Nature has also reclaimed much of the wall. But even then, the evidence is still there in deep valleys and ditches. Okay, so perhaps you cannot see Hadrian's Wall from space, but it is still pretty impressive.
Before you GO!
Do a little reading about the terrain and the level of difficulty. Know what to expect.
Wear cow friendly colours, know the difference between cows and bulls.
Bring walking poles. (Luckily my friend lent me one of her ones, as I left mine behind)
Expect rain and bring waterproofs, a backpack cover and bags to keep everything dry inside.
Practice walking in the boots you will be using, make sure they are up to the job (mine turned out to not be waterproof)
Whistle and torch in case you get lost or are out after dark.
Reusable water bottle and flask for hot drinks. (We dreamed about stopping for a reviving cup of tea!)
Lots of layers as conditions can change quickly.
No such think as too much compeed, or blister plasters of your choice.
Loo roll!
Oh I do like to be beside the Seaside!
For the first night, we stayed at the seaside town of Whitley Bay. As we arrived after sunset, Kate and I sneaked out before breakfast to take a look at the beach. There is a reassuring feel of regeneration and affluence in the coastal town, which looks out to the North Sea, my sea. The beachfront is gorgeous with its blue railings, white sands and Edwardian houses. The crowning jewel is the newly renovated Spanish City,
made famous by Dire Straits in the song Tunnel of Love. Once the heart of Whitley Bay's amusement park, you can now eat fish and chips, enjoy afternoon tea or drink champagne in the rather beautiful domed building. We felt obliged to eat fish and chips.
Day One (Wallsend to Heddon-on-the-Wall-15 miles)
After a hearty breakfast of sausage, bacon, black pudding and eggs at The York House Hotel, the first of many full English Fry-ups,
we set off on our great adventure.
Begin at the beginning
To reach the start of Hadrian's wall take the metro to Wallsend, the only station in the U.K. where the signs are also in Latin. The start of the walk is at Segedunum, a Roman fort which marked the eastern end of the wall. Open to the public from 10am, it is worth a stop to get a birds eye view of Roman ruins and one last coffee/loo break.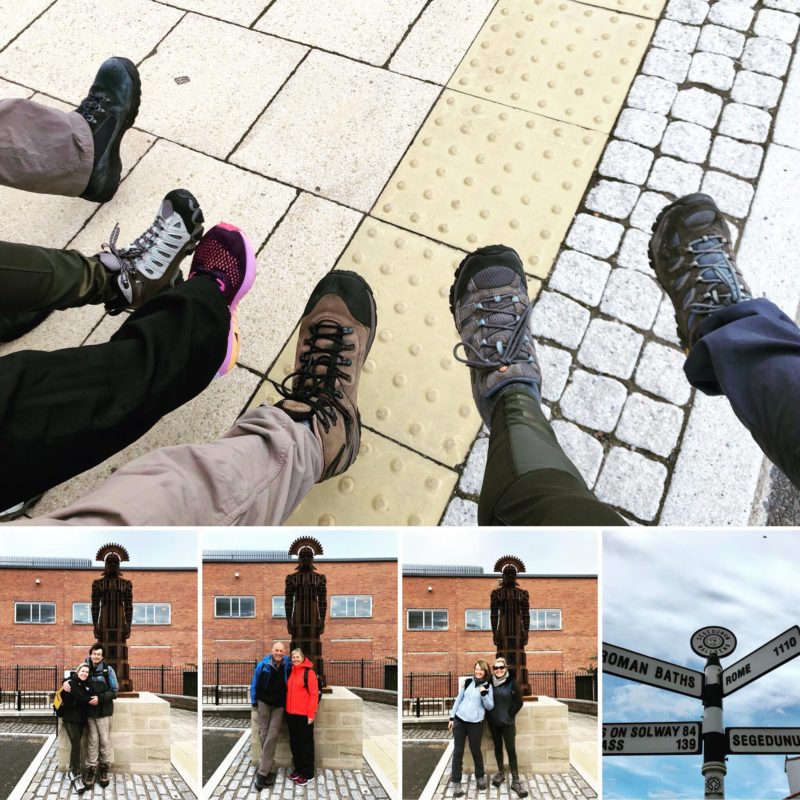 I was hiking with Trudi and Andrew, their lovely neighbours Wynne and Robert and Kate. Between them, their skills and accomplishments included being an ex-marine, trekking to Everest Base camp, skiing, sailing, and horse-riding. Yeah, I was absolutely the weakest link!
Newcastle Upon Tyne
The walk begins in the industrial part of Newcastle, where you pass a tiny bit of the wall. It is an easy stroll into the heart of Newcastle, along the Tyne. Soon Newcastle's seven bridges come into view,  starting with the Millennium Bridge.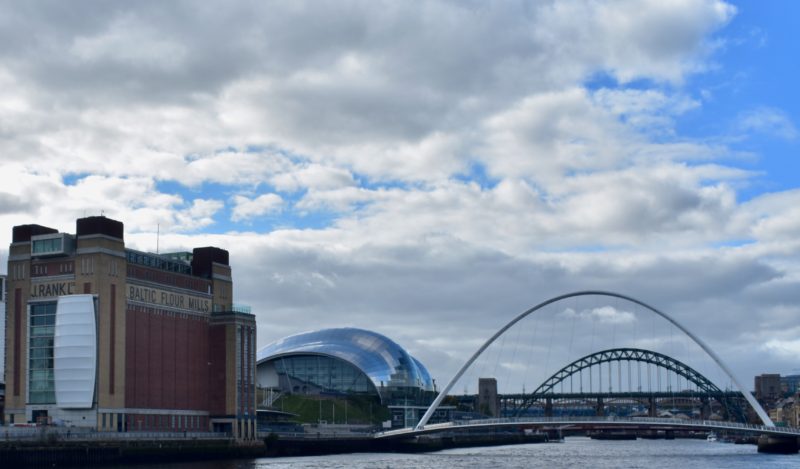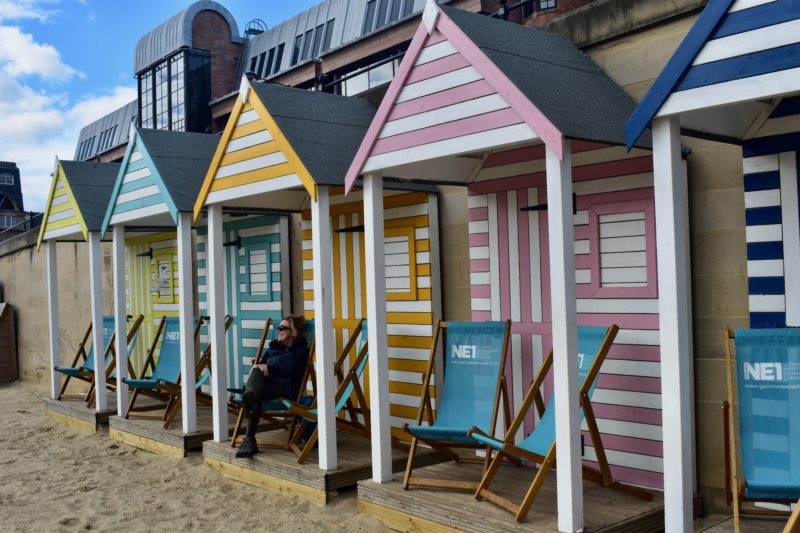 The space-like Sage Centre Performing Space sits easily next to the old Baltic Flour Mills and the city shows its sense of humour with a fake beach complete with candy striped huts.
I was pleasantly surprised with Newcastle, a far cry from the industrial town I was expecting. Sadly, with constant stops to take photos and a full days walking ahead of us we had no time to detour from the path and explore (or shop).
Remember to buy sandwiches before you leave the centre. There is one last little parade of shops just outside Newcastle, then nothing for miles. The walk continues through a city park, and then on through a golf course. The last bit mile is uphill, to The Swan in Heddon-on-the Wall. After over 16 miles, I was a little challenged by the hill and crawled my way into the pub. Never good with decisions, I celebrated the end of the first day, sitting in the Swan's hygge lounge, with a cup of tea AND a glass of wine.  By this time my feet were really sore from a full day of walking on hard surfaces, and my first blister was coming along nicely.
We stayed in a nice little hotel which served dinner and breakfast and provided a decent packed lunch.
Thoughts for the day!
We were beginning to realise that we were going to be hiking further each day than the advertised mileage. That simply represented the length of wall walked. Also, maybe walking boots were not the best footwear for city pavements and something softer like trainers or running shoes would have been kinder to our feet. And I should have definitely packed more Compeed.
Day Two Heddon-on-the-Wall to Chollerford (15 miles)
We had a bit of a later start as we had to taxi back to Heddon-on-the-wall from our hotel to rejoin the walk. We stopped briefly to marvel at the first proper section of wall, but were itching to get some of the 15 miles under our belt before lunchtime.
The morning took us through rolling countryside and the walking was easy. This is however when we realised that we were going to be walking mainly through fields and away from civilisation. The map showed only one stop, but we kept hoping that each little knot of buildings we saw in the distance would have a cafe, or somewhere to go to the loo. No such luck.
We were so grateful when we finally reached the Robin Hood pub. Although tempted by the cheese toasties, I ate my packed lunch outside before fortifying myself with a coffee in the lounge bar.
After lunch we started hiking through fields full of the sheep and cows. The path continued through a lovely wood, a welcome change from fields, and we emerged into fading sunlight, a piece of the wall and more sheep. The second day was taking us much longer than the first.
But this is when we discovered that, yet again our destination was not on the wall itself, but a detour of another mile. And that if, as happened with us, we became separated, we should all really know the address of our hotel!
We finally got to our hotel around 6pm and were delighted to discover that we were eating there too. I wore my slippers to dinner.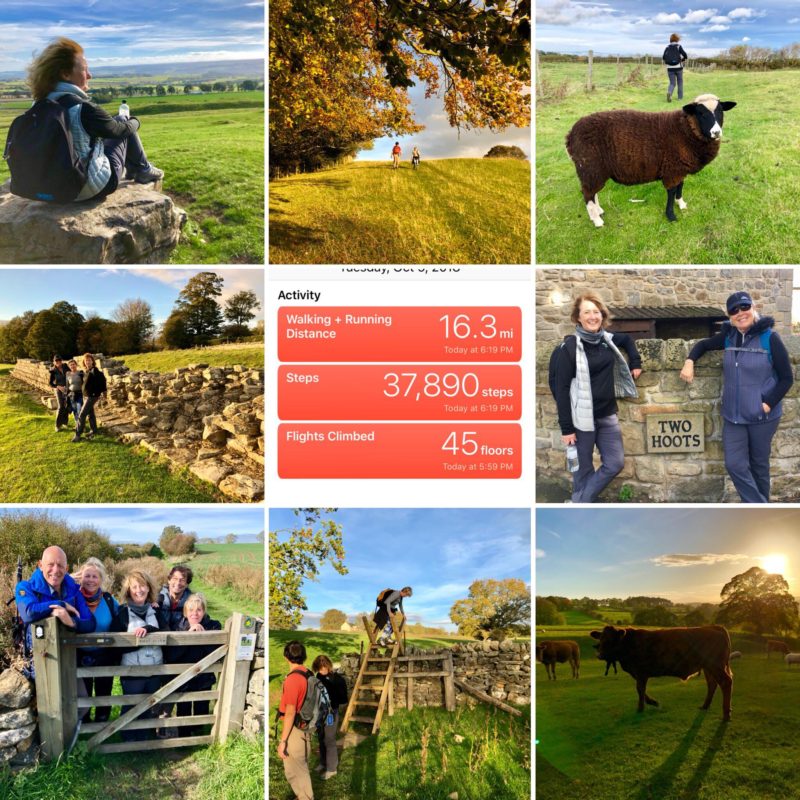 Day Three Chollerford to Once Brewed (12 miles- easy!)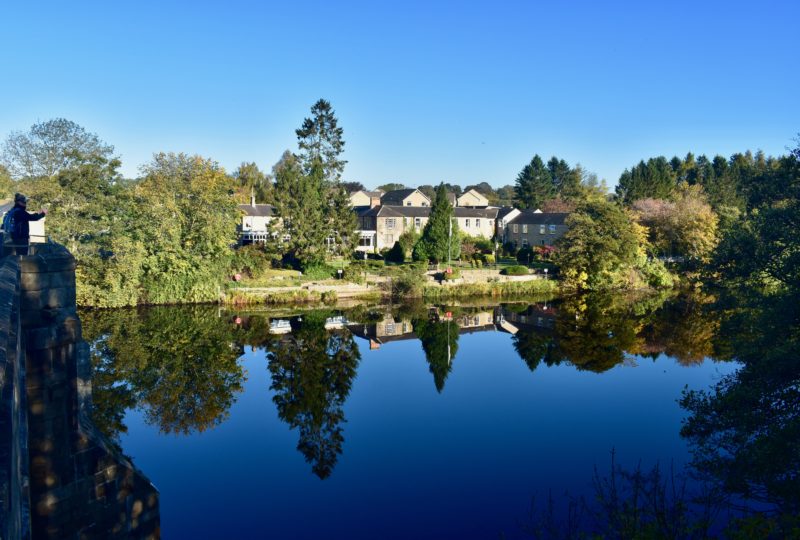 We had a mile to walk to join the wall again, passing more sheep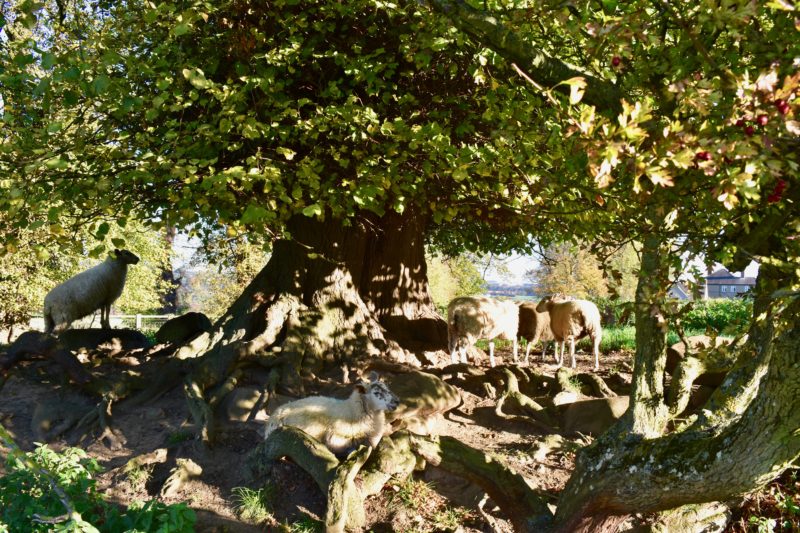 and luxury Spa Hotels, we wished we had known about. Our hotel was totally lovely but by this time we all had aches and serious blisters and the thought of a massage or a foot treatment at the end of the day was very appealing.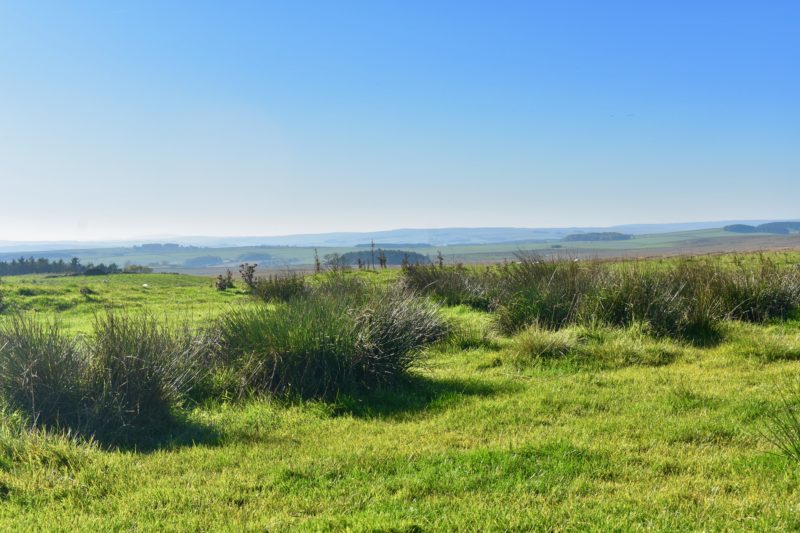 We were lulled into believing this was going to be the easy day. The morning was again through fields
and an increasing number of styles
and the weather was balmy. We stopped for lunch at a Roman Temple, as you do, and marvelled that we were wearing shorts in October in the North of England.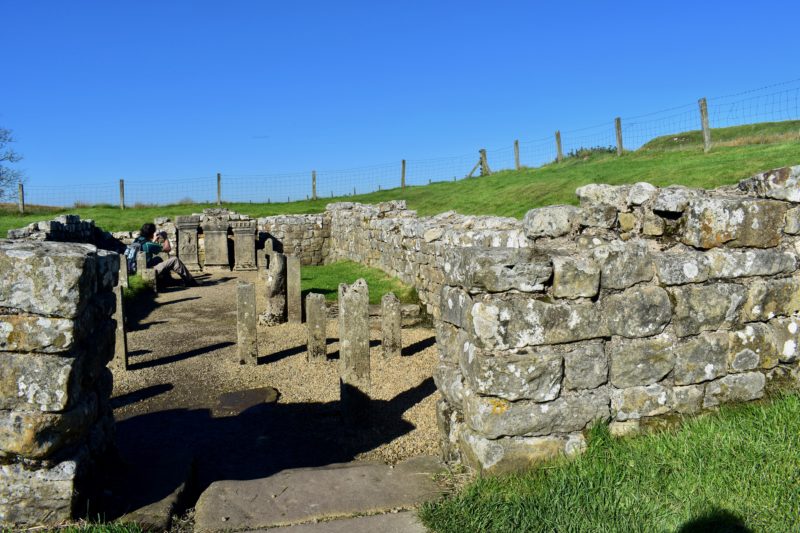 And then we came to the Crags. Why did I not know about the Crags?
The Crags
On day three we walked about seven miles on the Crags of Whin Sill. The Wall is magnificent at this stage and runs for miles along some of the most dramatic countryside. We climbed up and down stone steps, thankful for the glorious weather. This is a part of the walk I would not wish to attempt if it was wet underfoot.
I had a renewed respect for those Roman soldiers on the edge of the empire, lugging large stones uphill and building a wall which stands to this day. At times the land on the other side of the wall fell away sharply, a natural defence against the barbarians (us Scots) with no need for an additional moat.
Eventually we stumbled  into Housesteads, probably the largest and most fabulous ruins on the wall.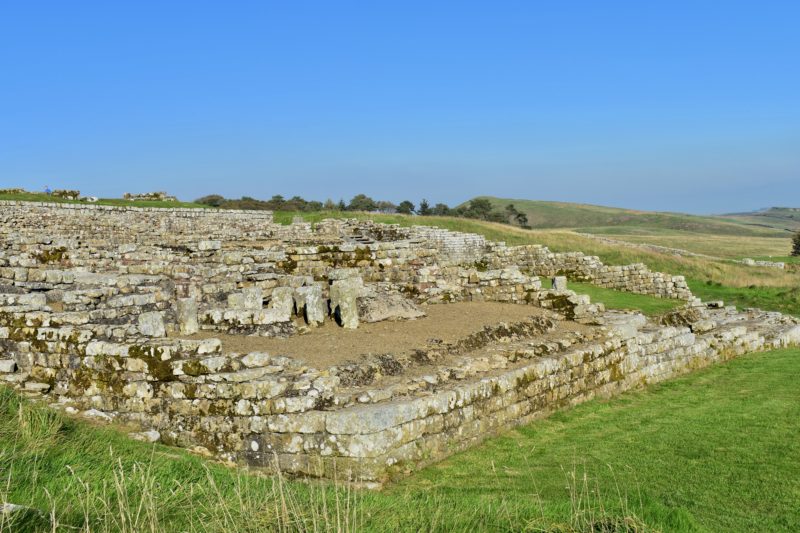 There is also a lovely little gift shop selling super cute tea towels and mugs with sheep and maps of the wall. Things you might actually want to have in your home. Sadly, I did not buy any as I, wrongly, assumed I would have a chance later in the week.  We did buy drinks, much need as we were out of water and were overjoyed to find a portable loo 'round the back'.
Incredibly, here was still a few more miles to go before we reached our next bed and breakfast. This was supposed to be the easy day and was turning into the most challenging. We trudged on and were beginning to suspect that the walk was intentionally making life difficult. At times it seemed as if we were walking up and down hills just for fun, as there seemed to be perfectly good paths which would have taken us round the hills.
Sycamore Gap and the Robin Hood Tree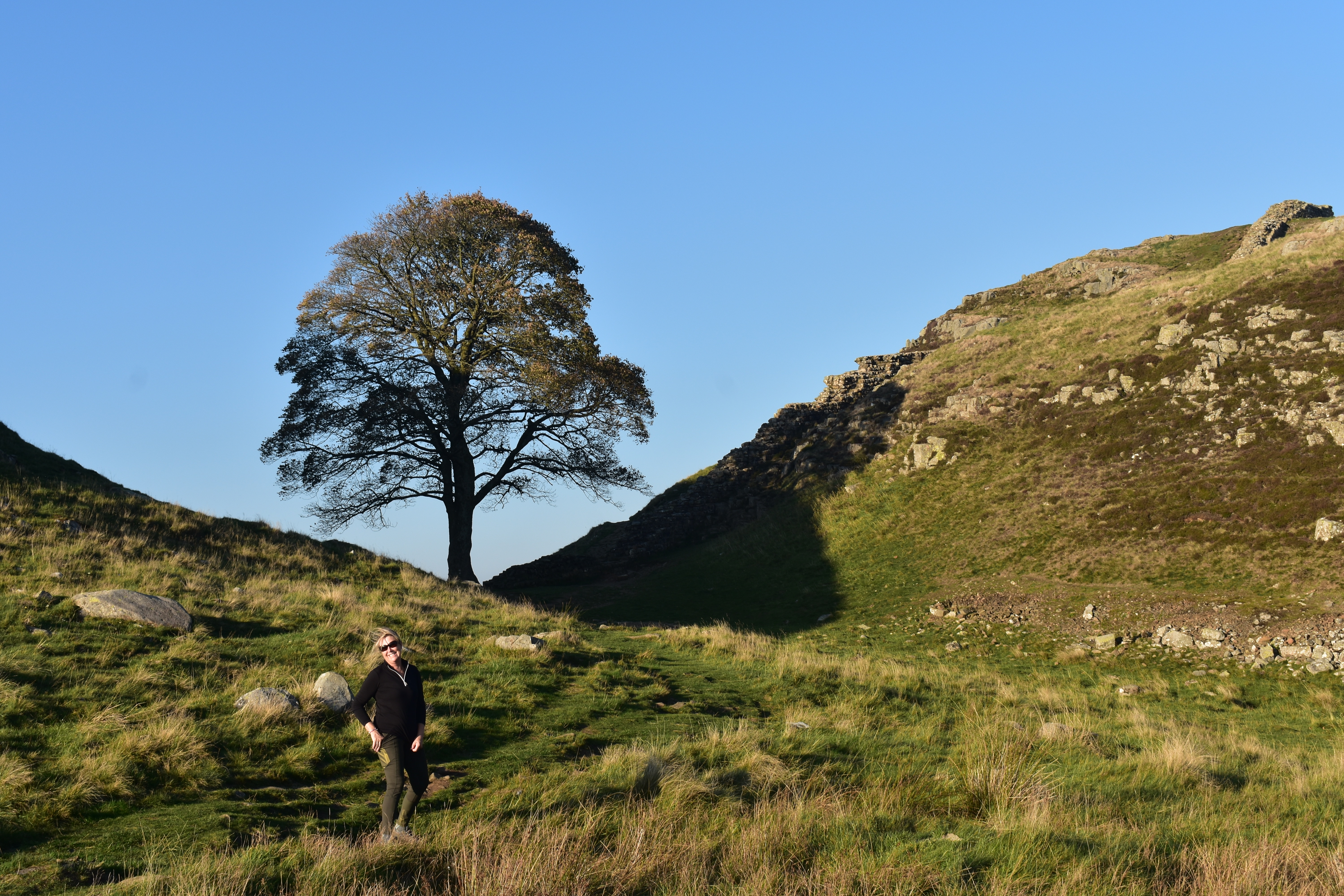 Kate and I had become separated from the others at this stage, and were delighted when we met up with Trudi and Andrew at Housesteads. More so, as Andrew pointed out one of the most famous spots on the walk, Sycamore Gap. Unlike me, Andrew had actually read the literature and could follow a map. The tree stands in a dramatic dip on the Whin Sill caused by melting glacier water and is one of the most photographed tress in the country. More recently it achieved fame by featuring in the opening scene of the film, Robin Hood, Prince of Thieves.
Once Brewed
We finally reached Vallum Lodge. The town of Once Brewed consists of a youth hostel, a pub called Twice Brewed and Vallum Lodge itself. All the building are on a small stretch of main road with no pavements. The only place to eat is the pub. We had a serious sense of humour failure when we realised that the only way to get dinner was to risk life and limb walking along a dark road with no streetlights and busy traffic. Thankfully, the sausage and mash were worth the risk!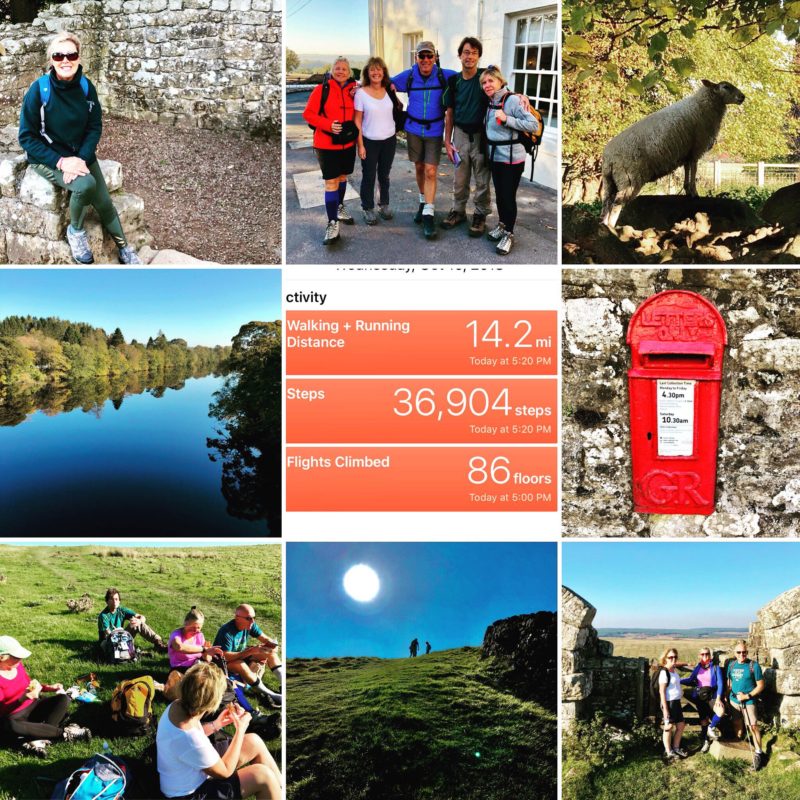 Day Four (Once Brewed to Lanercost -14 miles?)
After a good night's sleep and another hearty breakfast we were in better spirits. So the good news from our landlady was that we only had another seven miles of Crags before the terrain flattened out. ONLY seven miles! And it was starting to rain! Luckily, my mate lent me one of her walking poles and I felt instantly energised and ready to take on day four.
It was a fabulous but very technical walk along the The Crags. There were lots of ups and downs. We took two hours to walk two miles, but the Autumn colours were outrageous and the rain held off so it was all good. After a few hours, we walked past a quarry which had a loo and then the terrain started to level off. This was turning out to be a great day.
We knew there was a pub en route so did not take a packed lunch with us. As we sat in the pub, we checked the weather and more rain was forecast. There was talk of taxis, but I knew that I had to keep walking, whatever the weather. I was too thrawn, good Doric word meaning stubborn to the point of stupidity, to give up.
Luckily the weather held and we had a glorious walk through farmlands, past more Roman ruins. Do not ask me what they were. By this stage, we were all too focused on just walking to want to stop and explore. And then, on a what was probably my favourite day, we reached our accommodation for that evening.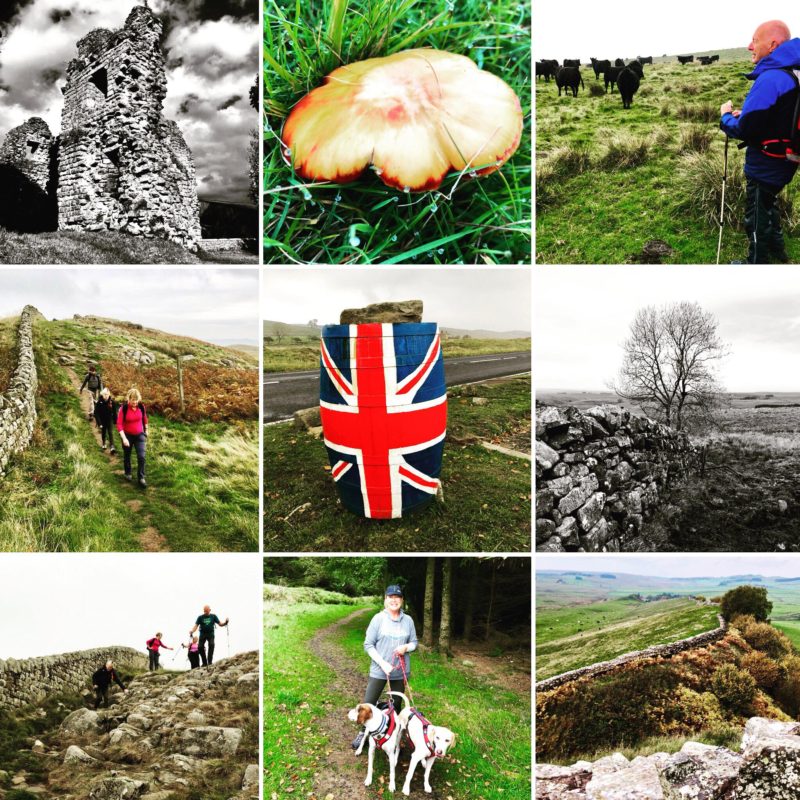 What a treat, we loved staying at the Lanercost Equestrian Center. The rooms were gorgeous and the home cooked meal was fabulous. We even managed a little singing! Outside you can visit their heritage sheep and chickens and wander up to the Priory.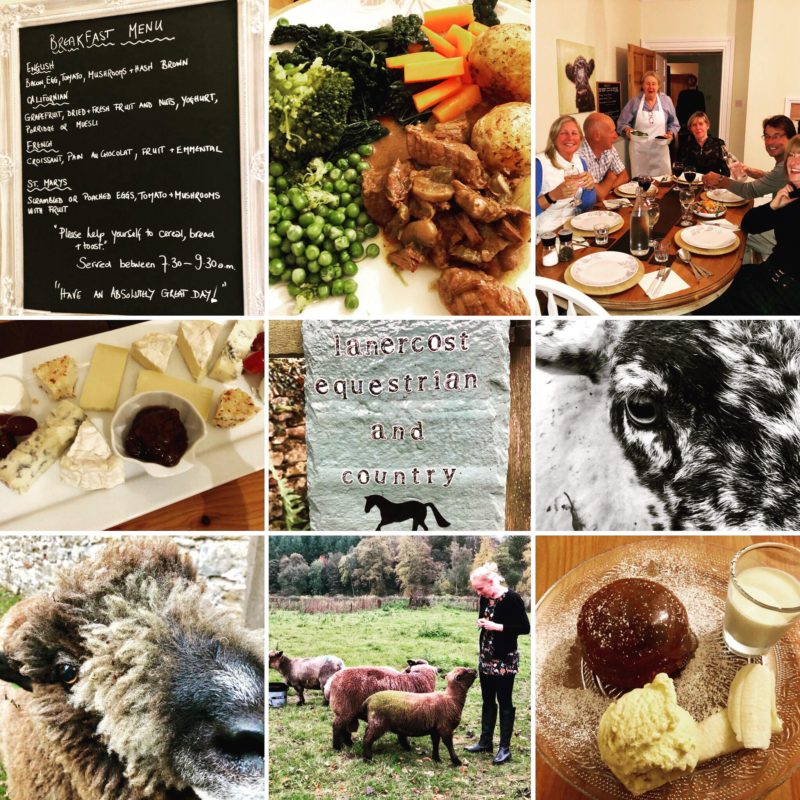 Day Five (Lancaster to Carlisle-14 miles, really?)
We started day five taking a quick detour to The Priory.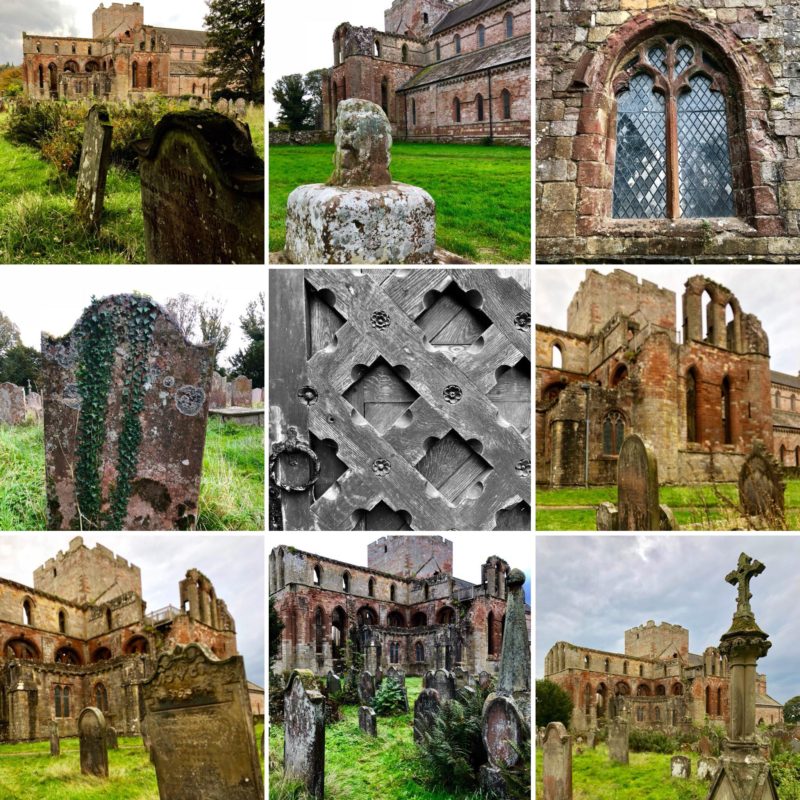 The Priory was built in 1166.  Edward I spent the last six months of his life here, Robert the Bruce and his army occupied it and Henry VIII dissolved it. Now, just ruins, it is managed by English Heritage.
We continued through working farmyards, and more sheep and cows. The first coffee stop was only a little over three miles into the day. We somehow missed it, and the chocolate caramel squares on offer, but would probably have kept going anyway. The wall disappeared and we were walking along thick grassy paths where Roman soldiers had walked.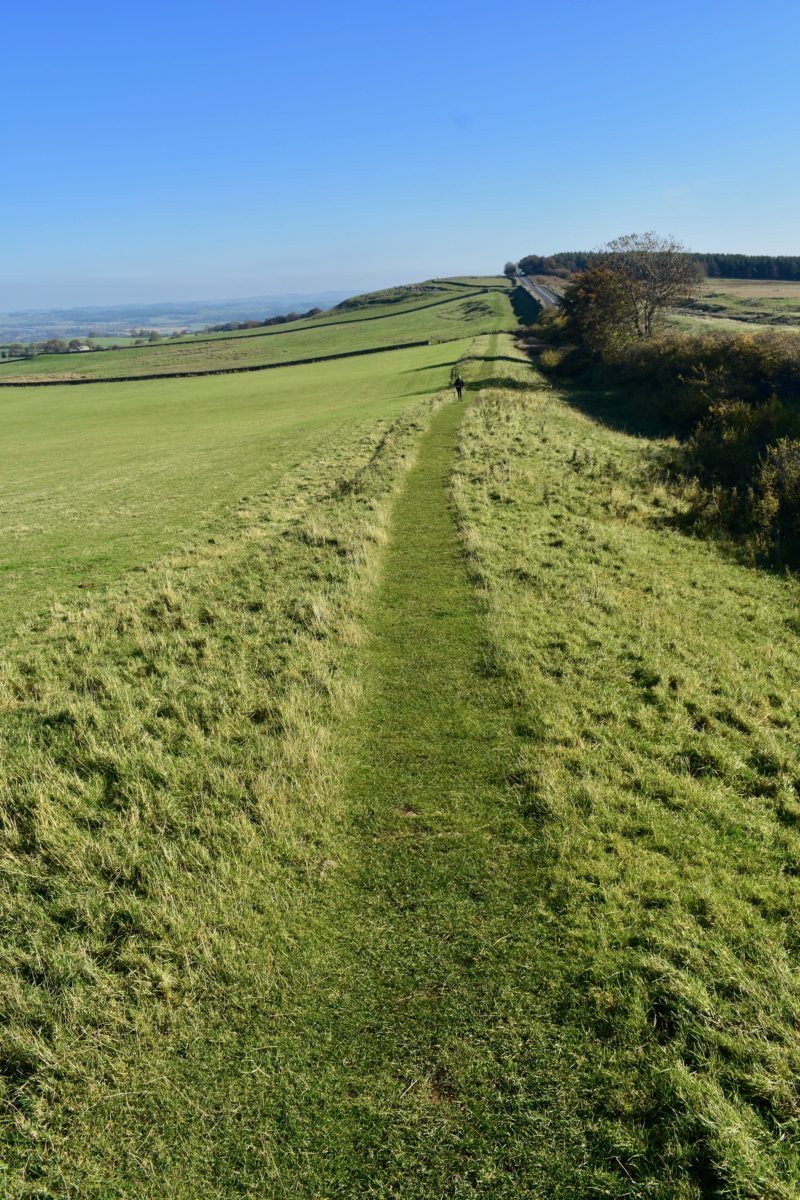 There were more farms, more sheep and more cows. With no packed lunch we were anxious to get to the only pub before they stopped serving lunch at two. We arrived to the sound of Bay
City Rollers, Leo Sayer and David Essex. We were in the 70s!
In the afternoon the rain started, and it got really miserable really quickly. After following the river we crossed the motorway and continued on the road into Carlisle. At this stage we just concentrated on reaching the guest house as quickly as possible.
For dinner we walked a short distance to Davids, one of the Carlisle top 10 restaurants where we had an excellent meal.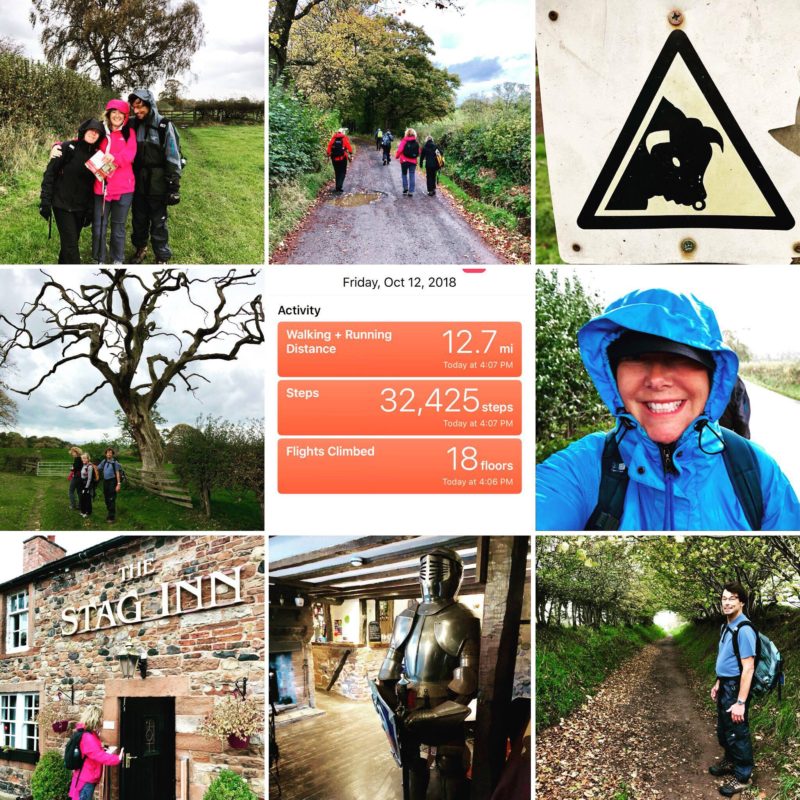 Day Six (Carlisle to Bowness 14 miles oh yeah?)
We started off in heavy rain. The walk continued along the river which was in full spate, through woodlands, over small wooden bridges and up and down mossy stone steps which quickly became treacherous in the rain. I very soon regretted leaving my borrowed walking stick behind as we carefully stepped through the tree roots along the waters edge.
We left Carlisle behind, having seen nothing of the town. The path continued through fields and farms. More sheep and cows, the threat of a bull and increasingly muddy paths. By this time I was realising how not waterproof my boots were. I squelched through sodden glass and deep mud and my boots filled with water. I was sloshing as I walked. We all found out that, despite starting out dry and warm, we could not keep the rain out. Our waterproofs were no match for the conditions and we definitely reached a low point. We knew the first pub was around the 14km/9 mile mark, but getting there seemed to take for ever.
So Wet!
By the time we arrived at the pub, we were all soaked through and a little despondent. I could barely take off my waterproofs my hands were so cold. I discovered that I was soaked to the skin, and there was a puddle of water in the bottom of my rucksack. Luckily my spare socks and top had somehow stayed dry and I could get out of my wet clothes.
The pub was fantastic. In addition to pots of tea and hot vegetable soup they turned the heating up and let us drape every available radiator with wet clothes. We sat for a very long time in the pub. To be honest, we discussed the dangers of trench foot, and considered giving up and hiring a taxi to the end.
But, after a wee while, the food renewed us and we managed to dry out all our clothes. We only had just over seven miles to go and we decided to get back outside and get going.
Burgh Marshes
I am so pleased we continued, as I think the next four miles were the most magical of the whole trip. The rain stopped as we reached the Burgh Marshes bordering the Solway Firth. The way through the marshes is a straight tarmac road worthy of the Romans. There are warning signs about the dangers of flooding, the road can be under three meters of water and completely impassible at high tides. At low tides the marshes are dangerous with quicksand and sudden currents. There were a few houses in the distance. This landscape was a far cry from the family friendly seaside town of Whitley bay. This was the landscape of Tolkien or Dickens. Ethereal, slightly bleak but also entrancing with views of the Solway Firth and beyond over the forbidding and forbidden marshes.
Keep right on til the end of the road!
We were really close to the end by now, but obviously we had a few more mud baths and rain soaked fields to navigate. We came across two more pubs along the way, but by this time we were focused on getting to Bowness before dark. It started raining again, but in a more manageable "singing in the rain' sort of way, so we sang.
And suddenly we were there, we had done it!
Our final guesthouse, appropriately named Wallsend Guest House was brilliant. There was a fire waiting for us, dryers for our clothes and boots and a pot of tea with scones. It was a short walk to The Kings Arms, the local pub and traditional end point for all walkers, and the next morning, they provided us with a final fabulous breakfast to end our adventure.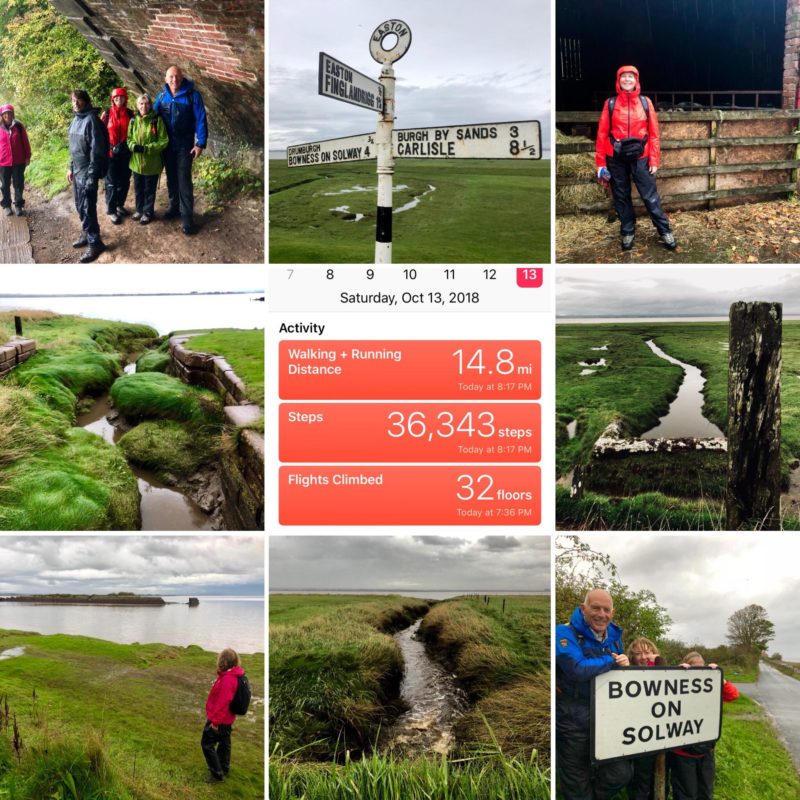 Postscript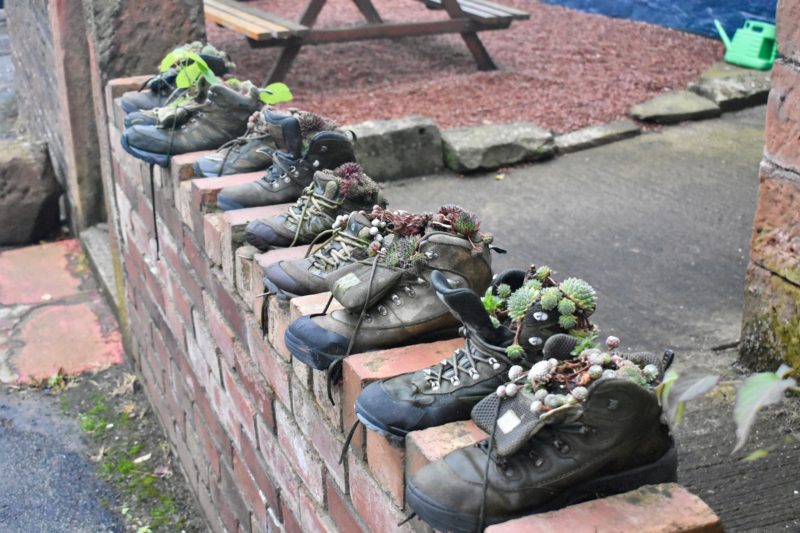 Thank you Trudi! What a glorious adventure. It was so lovely to get a chance to spent time with old friends and to make some wonderful new friends. When walking, you get to really be part of the countryside and I loved getting to know a different part of Great Britain. In addition to Hadrian's Wall we even were on The Pennine Trail for half a day.
The weather was magnificent for most of the walk, we were truly blessed. We only really had two half days of rain, and the rest of the time we had perfect walking weather. The bag service worked well, and the accommodation booked by the walking company varied from very good to excellent. By the end, I could read the maps (thanks Andrew for the tutorial) and could work out where the pubs were.
The food was fantastic, sausages, beef and ale pie and endless sticky toffee pudding.
Get the recipe for Sticky Toffee Pudding here
I managed to gain weight, which I think is fairly impressive. We also saw a lot of different gins on our travels but thankfully that is not my poison! For some go the others, the walk turned into a gin tasting (I stayed with wine!), as gin is super trendy in the U.K. just now.
In hindsight, we think ten miles a day might have been more our speed, with maybe a day off in the middle for good behaviour. That way, we might have had time and energy to explore some of the Roman ruins that we passed and let our poor feet recover.
I would definitely be up for more long walks. Now what was that wall you can see from space?