Victoria Sponge
A Victoria Sponge is a classic British cake, named for Queen Victoria who was known to enjoy a slice of cake with her afternoon cup of tea. It was a patriotic cake, created to celebrate a fabulous new British invention, baking powder! The one in the picture above was for my dad's birthday, made by my wonderful sister-in-law and master baker, Teresa!
Baking Powder
In 1843, Alfred Bird created baking powder. Before this invention, a sponge cake was made with equal parts eggs, butter, sugar and flour and was like a pound cake in texture. With no rising agent, the lightness of the cake depended on the amount of air created in the beating of the eggs, sugar and butter and trapped in the sieving of the flour.  The new cake, which was made with the addition of baking powder, was lighter and rose higher than any cake previously. Revolutionary!
This was not Mr Bird's first invention. Earlier he had invented egg-free custard, still loved today by Brits everywhere and known as Bird's Custard. (Call me Nancy Drew, I have just made the connection after updating a post about Sticky Toffee Pudding earlier today! )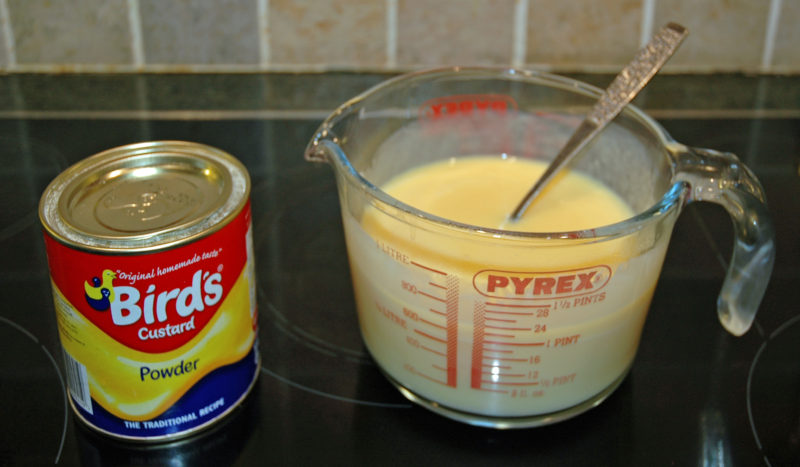 Easy recipe
A Victoria Sponge is the cake that any self-respecting eight year can remember how to make. For every egg you take 2 ounces of plain flour mixed with 1/2 tsp baking powder, 2 oz of sugar and 2 oz of butter and beat thoroughly.  If you prefer you can cream the butter and sugar together and then slowly beat in the eggs and finally fold in the flour.  The latter method is the traditional way to make a Victoria sponge, but I find the 'all-in-one' method, where you throw everything into the bowl and just mix, works just fine.
It is even easier in the U.K. as you can buy self-raising flour, which already has the baking powder added in. You can also add a drop of vanilla essence. It was not some thing I grew up with, vanilla was a bit posh for Banff.  I compromise now, and use sugar which has a vanilla pod in it. I find it gives a less harsh flavour.
Filling and Topping
A traditional Victoria Cake has two layers. It is normally sandwiched together with raspberry jam and either cream or buttercream. The top is lightly dusted with confectioner's sugar. For my buttercream or icing, I have started using 7 Minute Frosting (see below)
7 Minute Frosting
The icing or frosting is a variation of the Magnolia Bakery's (where the girls from Sex and the City always went for cake) 7 minute frosting. It is a recipe originally in cups which translates to an alarmingly high icing sugar to butter ratio when converted to ounces.
To be honest I only recently started measuring ingredients for icing. I used to just throw butter and icing sugar into my mixing bowl and then keep adding sugar and milk until it seemed about right! I use slightly less liquid and sugar than the Magnolia Bakery version, but love the texture you get from whipping the icing for seven minutes.
A Very British Cake
A Victoria Sponge is a wonderful thing. It is terribly British. I remember as a small girl entering my Victoria Sponge in the competition at the Banff Flower Show. I never won.
Probably, every British town and village, holding an annual local 'show' or 'fair' of all that is great and good, has a competion for the best Victoria Sponge. I presume Apple Pie holds the same place in the hearts of Americans. Need to find out what the Danish equivalent is?
One Cake to Rule them All!
In a way a Victoria sponge is a basic cake. I use it as a base for most of my other cakes, such as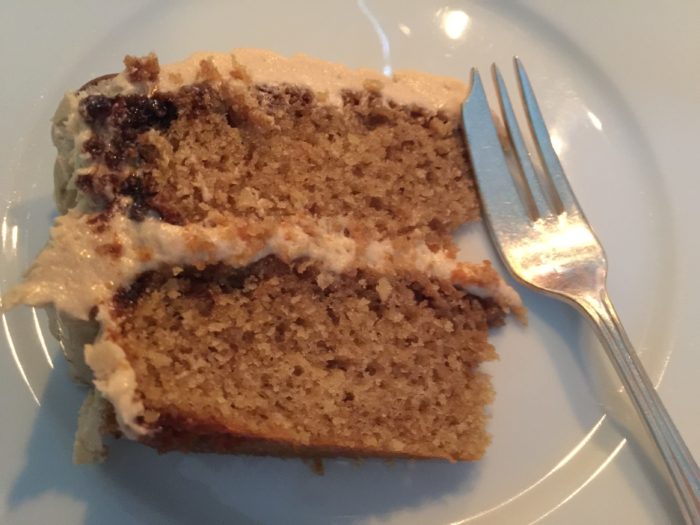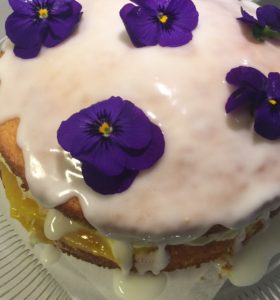 and it is the base for all my cupcakes
Elderflower and lemon Cupcakes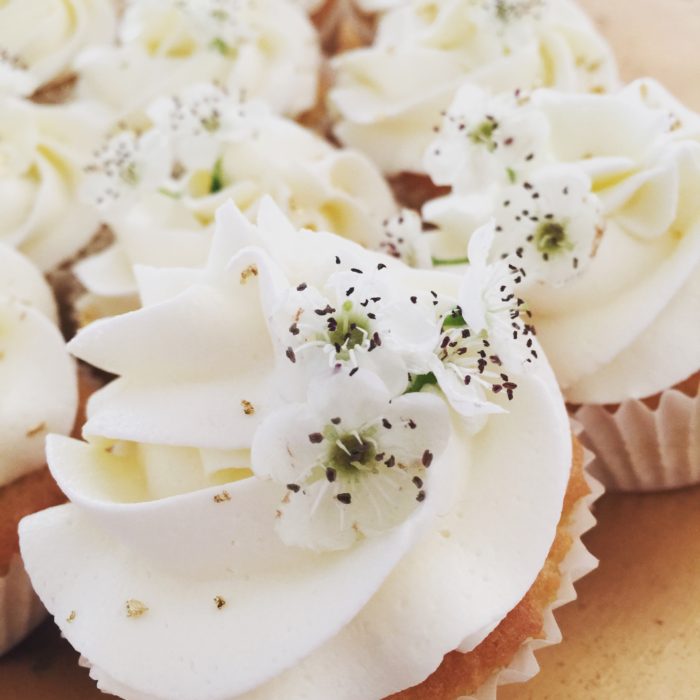 However a properly made Victoria Sponge is anything but basic.
If you only make one cake, let it be a glorious, fit for any purpose Victoria Sponge. It is perfect for every day, for special occasions and for afternoon teas. It can feed the most humble and is also fit for a queen.
For the last two years, it has been my go-to birthday cake for my bridge group. I confess I sometimes add a few strawberries, as can be seen by the picture below, painted by my very talented friend Monica.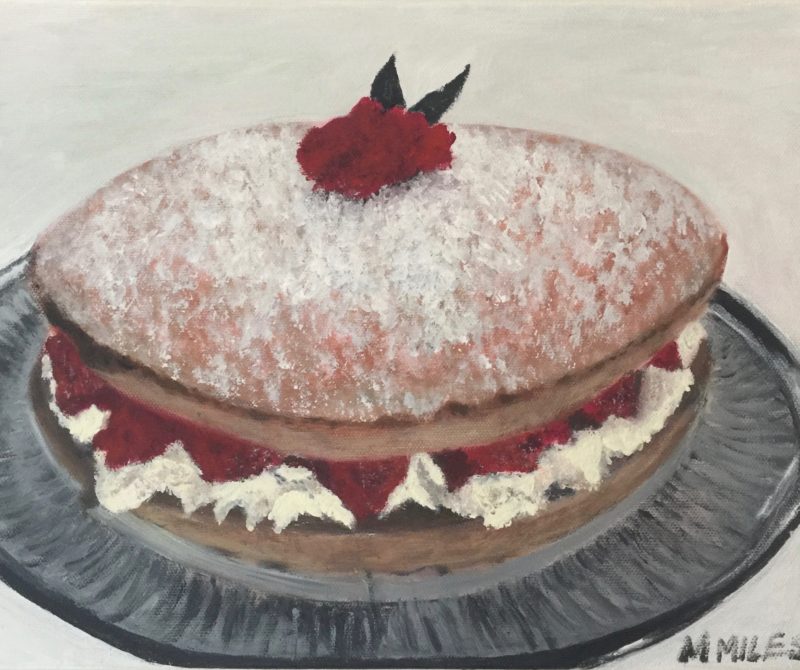 Conversions
I have tried to give conversions from ounces/grams to American cups.  I have found that flours vary so I would recommend using a set of scales, see my post on Conversions . Do not mix methods of measurement, stick to one!
Classic Victoria Sponge
July 6, 2018
: 8-10
: moderate
A classic Victoria sponge is a perfect treat for any occasion. Master the basic sponge recipe, and the world's your Oyster!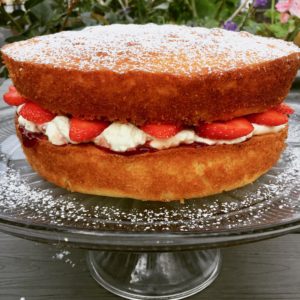 Ingredients
2 8 or 9 inch ( 20cm- 22.5cm) round baking tins, greased and lined with parchment paper
8oz self-raising flour (220g/11/2 cups) or 8oz all purpose flour (220g/11/2 cups) with 2 tsp baking powder
8oz butter (220g/2 sticks) at room temperature
8oz sugar (220g)/little over 1 cup plus two level TBS sugar
4 eggs, beaten, at room temperature
2-3 tbs milk
Frosting
2oz/85G /1/2 stick butter, at room temperature
9-12 oz/200g - 250g/11/2-1/34 cups icing sugar
100ml/1/3 cup milk
Instead of Frosting you could use some whipped cream.
To Finish
Raspberry or Strawberry Jam
Confectioner's sugar
Strawberries, optional
Directions
Step 1

Pre-Heat oven to 400F/200C

Step 2

Cakes

Step 3

If you are using all-purpose or plain flour, cake sure to mix the baking powder thoroughly before adding the other ingredients

Step 4

Add all ingredients to a large mixing bowl and beat until you have a smooth mixture. The batter should have a 'dropping' consistency, i.e. if you take a spoon of the mixture it should 'drop' from the spoon. If the batter is a little thick, add a little more milk

Step 5

Divide mixture evenly between the two prepared tins, and smooth the top with a spoon

Step 6

Bake in preheated oven for 15-20 minutes.

Step 7

Cakes are ready when they are golden brown, risen and spring back slightly when touched.

Step 8

Cool in tin, then turn out onto a wire cooling rack, remove parchment paper

Step 9

Frosting

Step 10

Beat together butter, the lower amount of icing sugar and the milk until totally combined and fluffy, around 5 minutes.

Step 11

Add icing sugar as required until frosting reaches a soft spreading consistency

Step 12

To assemble

Step 13

Spread jam of choice on the top of one of the cooled sponges.

Step 14

Top with either frosting, or whipped cream.

Step 15

Add some sliced strawberries, if desired, to the whipped cream.

Step 16

Top with the second layer.

Step 17

Dust with Confectioner's sugar.

Step 18

Make a cup of tea and cup yourself a nice big slice of cake!