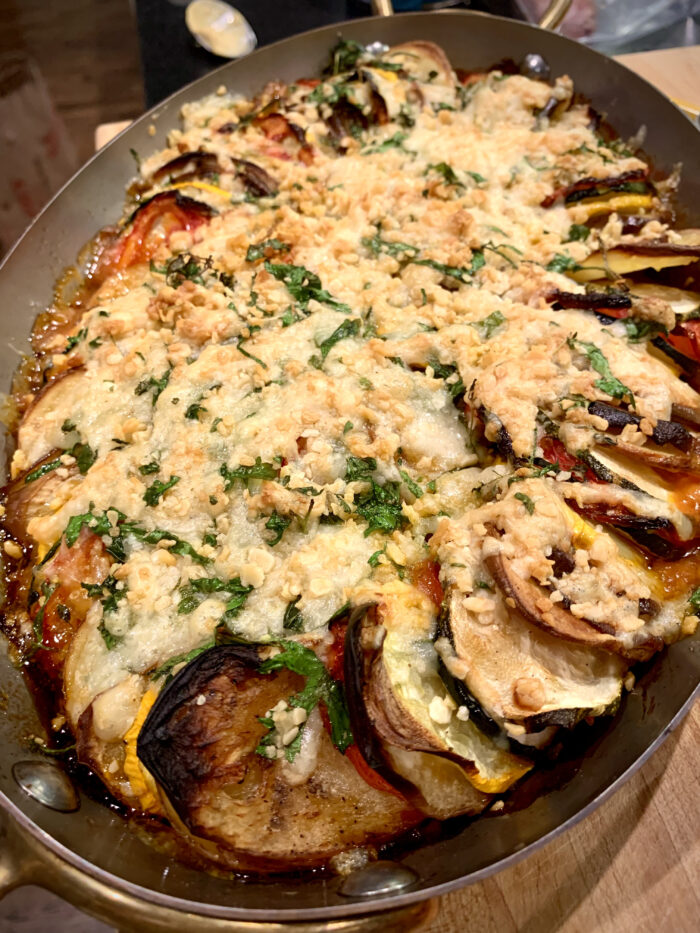 I am going to introduce you to my version of a Provençal Summer Vegetable Tian. Super easy, healthy, seasonal and incredibly impressive!
So, if you are suspecting there might be something FRENCH in the name, you would be absolutely correct. But what exactly is a tian? The word itself means an ovenproof earthenware dish. However, it also is the name of the savory dish cooked in the tian, a dish consisting of layered sliced vegetables. Tian squared, so to speak. You sometimes use a sauce and can add breadcrumbs or grated cheese, au gratin, if you will. One of my favorite potato dishes, dauphinoise, is a tian. Layers of potatoes, cooked in garlicky cream.
Provençal Summer Vegetable Tian
Today, we are talking about a Provençal Summer Vegetable Tian, or a version of the famous ratatouille made in the eponymous Pixar film. It is a classic French recipe, using the vegetables grown in the south of France, elevated to a dinner party worthy dish with some very clever, but super easy, presentation.  It is a fabulous dish to cook at this time of the year, when the stores are full of so many different types of eggplant and squash (or aubergine and courgettes).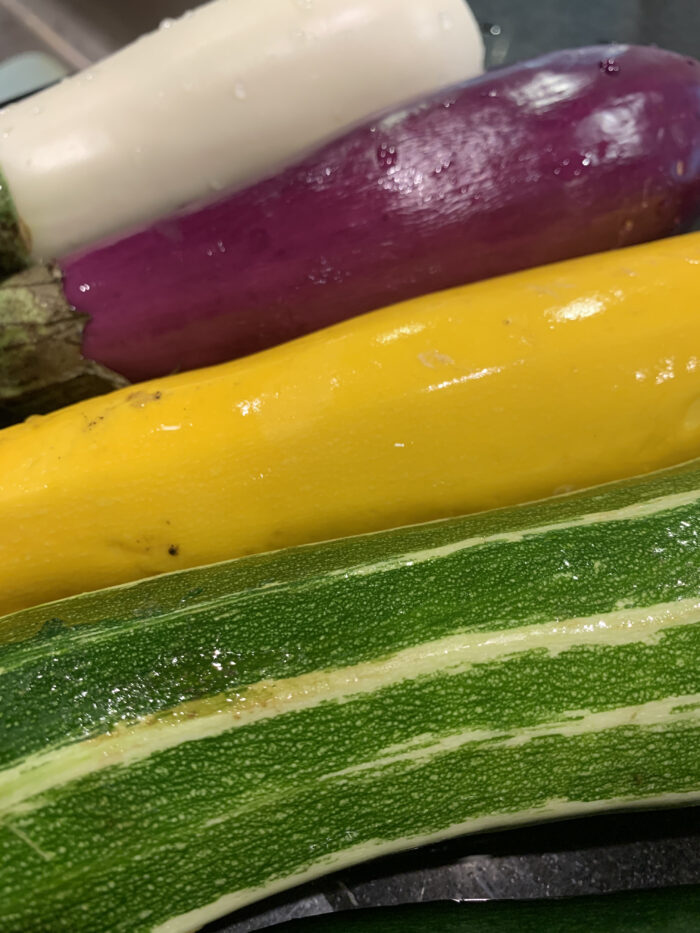 This dish is easy to scale up. I am giving quantities for three to four people, but this works well with a larger casserole dish and more ingredients. And for some reason, I have added potatoes into the mix. Now that I see the original recipe does not have them (you know about my potato obsession?), feel free to omit them. The key is to try and find vegetables which have the same diameter. but it still works and looks great if you end up with different sizes.
Ingredients
Tomato Sauce
½ small onion, finely diced
1 clove garlic, minced
Tin of diced tomatoes
lug of olive oil
salt and pepper
Or some lovely good quality bought tomato sauce.
Vegetables
Yellow squash and/or zucchini, topped and tailed
Small eggplant (aubergine), topped and tailed
Two or three small tomatoes
Three small potatoes
medium sized tomatoes
To finish
Breadcrumbs or Panko
Grated cheddar or gruyere
Fresh basil, parsley and/or thyme
Method
Preheat oven to 400f
First, choose your tian. I recently treated myself to a fabulous new copper gratin dish, see details below. I love it and use it as much as I possibly can, as it makes so happy!
Add the olive oil to a small pan, and sauté the onion for five minutes. Add the garlic and cook for another minute. Tip the the tomatoes into the pan, and, using the tin, add a third of a tin of water and a little salt and pepper. Cook gently for a further ten minutes. Or open a jar of bought tomato sauce, which makes this an even easier dish to make.
Cover the base of your tian with a layer of tomato sauce. Slice all the vegetables into ¼ inch rounds. Then layer upright, alternating in the same order, around the edge of the dish. Fill the center too, and push any extra vegetables in to fill up any gaps. Drizzle with a little more oil and add salt and pepper. Cover with foil for the first half hour.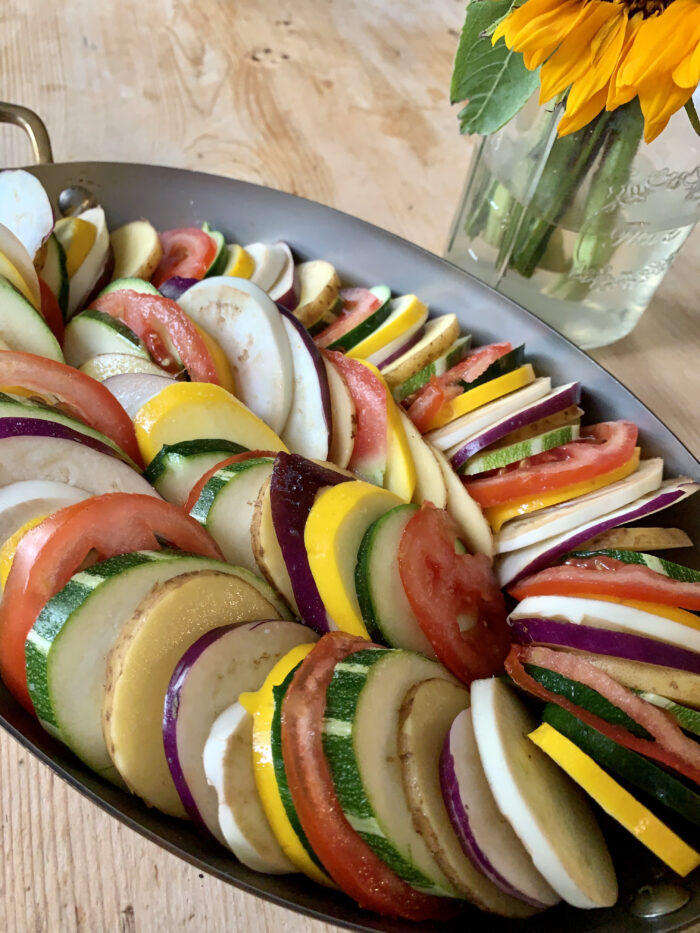 The time taken to cook this will depend on how much of it you are cooking.
I usually set the timer for 30 mins and then take a look. The main vegetable to check is the potatoes, as they need to be fully cooked, so prod with a sharp knife to see how they are coming along. Once the potatoes are fully cooked, the other vegetables should be done too.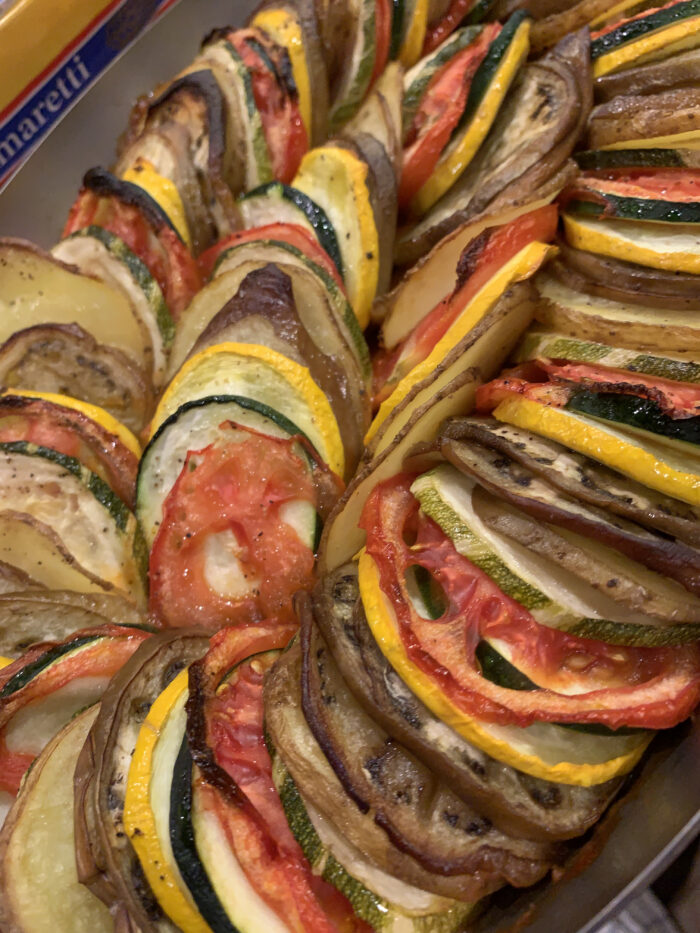 Add the cheese and breadcrumbs for the final ten minutes of cooking, or when everything seems to be almost ready. Garnish with basil. The Tian is wonderful without the final breadcrumb topping, so feel free to omit and enjoy a dairy and gluten free version.
Eh voilà. Bon Appétit!
I bought the first copper dish, which seems to be on special offer just now. If you click and purchase through this link, the price is the same for you but I receive a small commission:)