Jump to recipe
Where is the Love?
By Carolyn Eddie | May 15, 2017
Update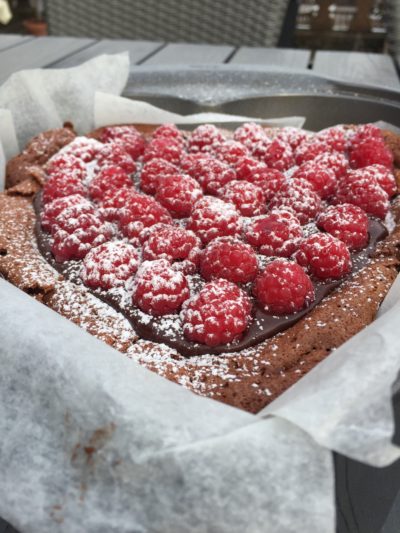 This post is for a Heart Shaped Chocolate Almond Cake with Chocolate Ganache and Raspberries – see recipe below. It was written a few years ago, after the terrible bombing at a concert in England.
I am updating this post to tell you I also have a flourless cake which does not need almonds, which is possibly easier in these days of limited shopping and supplies.  Easter Chocolate (or Valentine's) Ganache Cake
Both cakes have a dense consistency, more like a brownie. They are not dry chocolate cakes, so if you are looking for a regular chocolate cake, these are not the recipes for you!
I also recently did a video for The Darien Community Association showing how to make the original cake, adapting the recipe for Easter by replacing the raspberries with mini chocolate eggs.
As you can see from the picture below, I had a few issues getting the cake out of my tin, so I would recommend using a round springform cake tin as you can release the cake in one piece!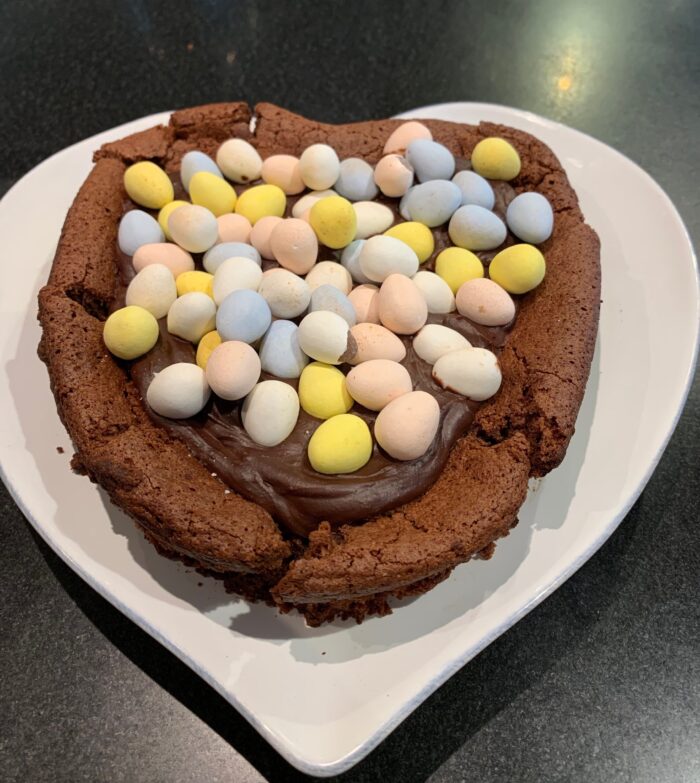 The video is here! The picture is from my subsequent efforts, much prettier!
Original Post
One of the many things I loved about America was people showing they cared with gifts of food.  When we moved into our neighborhood we received plates of cookies. In our town a new baby, illness or bereavement prompted 'food trains' allowing friends to sign up to volunteer to bring supper over a number of days or weeks. So often we feel powerless when watching friends struggle with a life changing event, and whilst a lasagne or cookies might not solve any problems it is a practical way to show you care.
Some of us, however, can do more than bake cookies and I have to pay tribute to one very special American, Ariana Grande. She used her influence to bring together top artists in the 'One Love Manchester' Concert to give the world a little joy in response to a very bleak moment. Francis Wilkinson, in Bloomberg.com, wrote that Grande offered "a face that was brave and kind in the wake of terror while accomplishing several useful goals – raising money for victims, bolstering courage and making the attacks look both puny and pointless. Whatever the terrorists had hoped to produce in Manchester, it certainly wasn't this party."
As many of of you know I love dancing and singing so indulge me as I have included two clips from the concert. 'Angels'  by Robbie Williams holds a very special place in my heart, as it does for many Brits, although it is not widely known in America.  My husband always finds it funny that I listen to the lyrics in a song. I thought the Black Eyed Peas "Where is the Love" was spectacular, and the lyrics were perfect for this event.
So to the cake.
This cake does not use traditional baking powder and relies on the air captured by whisking the eggs to provide the lightness, so make sure to gently fold them in.  I am sure ground hazelnuts would work well instead of the almonds.  The cake tastes even better if left for a day in the fridge.
The extra ganache can be heated and served along side with, obviously, some whipped cream or it would be great as a fudge sauce on ice-cream or profiteroles.  The other option is to roll teaspoon of the chilled mixture into truffles, just a thought.
So with this heart shaped cake I think 'love actually is all around.' to quote one my favorite movies.

Ingredients
Heart shaped cake tin or 9inch spring form tin lined with parchment paper
Chocolate Almond Torte:
4 large eggs, divided
1 cup /100 grams/31/2 oz ground almonds
3/4 cup /150 grams/51/4 oz granulated sugar, divided
6 ounces (170 grams) chocolate,I use a mix of dark and milk, coarsely chopped
6 ounces (12 tablespoons) (170 grams) unsalted butter, cut into small pieces
Ganache
1lb/450g chocolate, I use dark/milk in a 2/3 to 1/3 ratio, coarsely chopped
2 cups/16oz/470ml heavy or double cream
little honey
To finish
Instructions
Pre-heat oven to 350F/175C
To make cake
Add butter and chocolate to a large bowl and place over a pan of simmering, not boiling, water until melted then cool slightly.
Whisk egg yolk and 2/3 of the sugar until pale and creamy.
Add egg mixture to melted chocolate and fold in ground almonds.
Whisk egg whites with remaining sugar until stiff and glossy.
Fold egg whites into chocolate mixture.
Pour into prepared tin and cook for 40-50 minutes until toothpick comes out clean. Cover if top becomes too browned.
Ganache
Scald cream in a pan (bring to almost boiling)
Place chocolate in a bowl and pour in scalded cream, then leave to stand for five minutes.
Add a little honey, maybe a pinch of salt and stir until chocolate and cream are fully combined.
Leave to cool either on the counter or in the fridge, it will thicken as it cools.
To assemble
Remove cake carefully from the tin and place on serving platter.
Pour ganache, probably around half, into the indentation left when the cake falls...totally normal.
Top with raspberries and dust with confectioners sugar. Voilà