Jump to recipe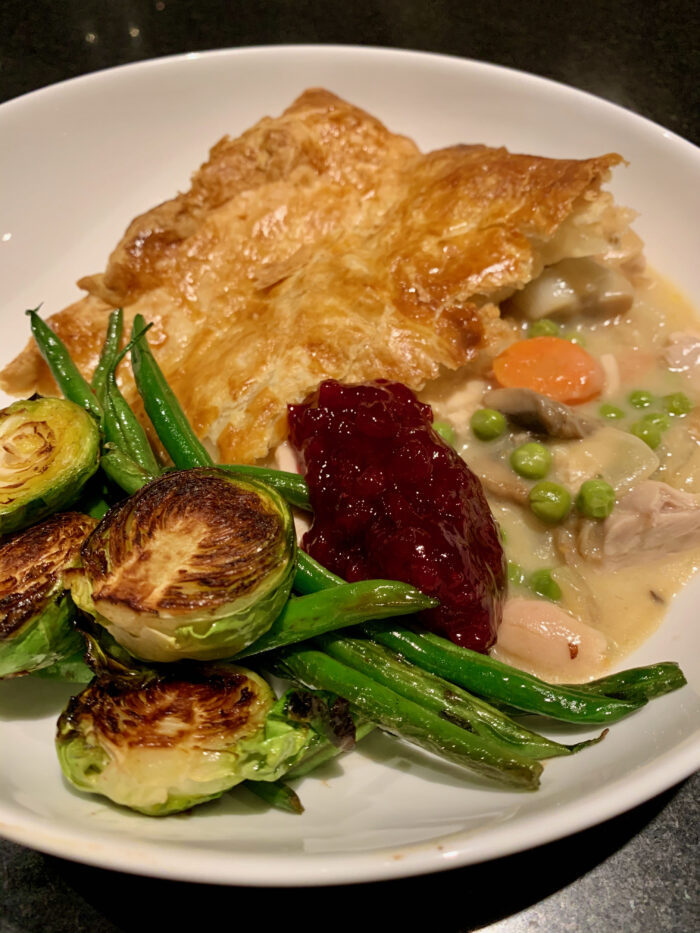 Chicken Pot Pie is the Ultimate Comfort Food
This chicken pot pie is the ultimate in comfort food. Chicken, carrots and peas in a rich creamy sauce, covered with a snuggly little blanket of puff pastry, totally hygge. Perfect for a snowy winter's day.
The sauce falls into the 'basics' category.  You make a standard 'roux' with butter and flour, then make the sauce using chicken stock.  I enrich the sauce with the addition of cream and a little sherry, both are optional but I find they add a wonderful creamy depth to the pie.  The roux method for making a sauce is also the basis of my Fabulous Fish Pie
You can also make the Chicken Pot Pie in individual pie dishes, ideal if you have family members eating at different times.  If I remember correctly my dear friend Ellon may have been responsible for the excellent finishing on these pies in the photo.  I think we made around 80 on that particular day, and Ellen, a pie novice discovered a secret talent for crimping the edges. All her pies looked way better than mine!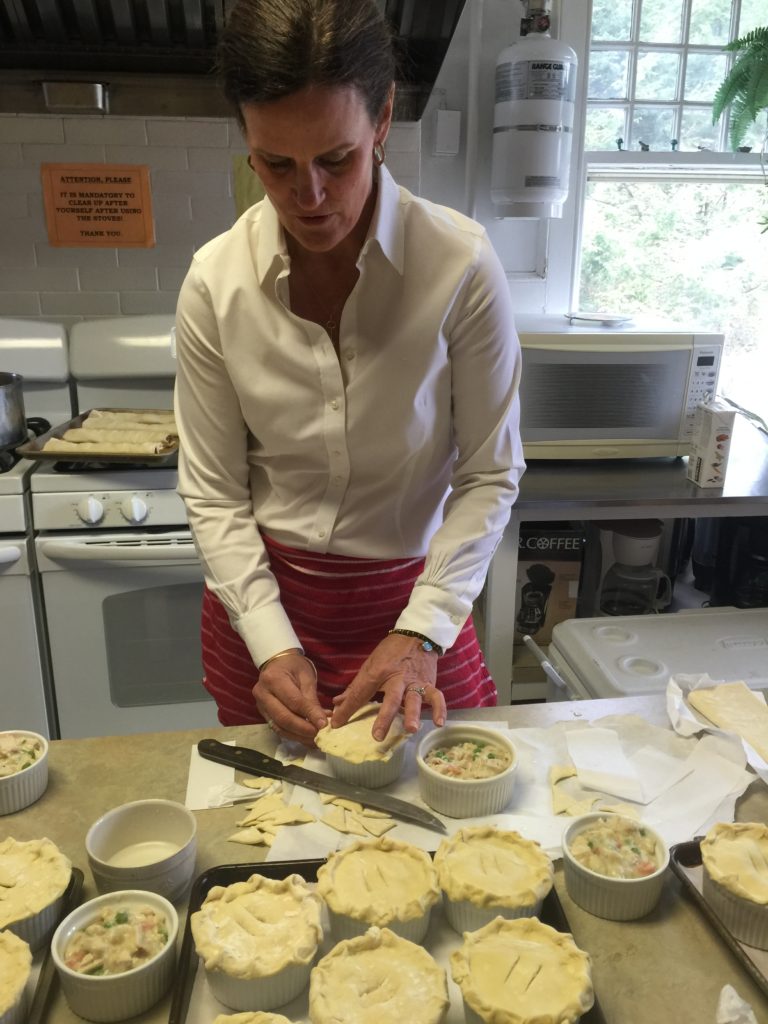 Variations on Pie
The recipe I have given here make a large pie, probably enough for 6-8 people. Half the amounts for a smaller family dinner.
I also have to clarify, I have said to use a whole cooked chicken but obviously any combination of cooked chicken is totally acceptable.  After Thanksgiving  you could also use left over turkey as well.  At Christmas, any ham lurking in your fridge would also be very tasty, and then it would become a chicken and ham pie! Feel free to supplement the meat with additional vegetables too. You could add mushroom, broccoli or green beans, just cook them al dente first.
If making the pie ahead of time, allow the filling to cool down before covering with pastry. Then store in the fridge, until ready to cook.
Time Saving Hack
If making this in the States may I recommend a time saving hack. I often substitute Trader Joe's 'Mirepoix' in place of the chopped onions, carrots and celery.  They do all the chopping for me and I do not end up crying while cutting up the onions.
This would be lovely served with roasted Brussel Sprouts with Cranberries and Pecans and  Little Baby Roasted Potatoes.

Ingredients
One cooked chicken, cut into large chunks
Medium onion, chopped
2 sticks of celery, sliced
One stick or 4 oz/100g of butter
4 Tablespoons of all purpose flour
about a quart or a litre of chicken stock, bought or homemade
Two cups of carrots, sliced ( thats about two good handfuls, honestly its up to you how much you add)
Pack of frozen peas
1/4 cup of heavy cream
1/4 cup of sherry
salt and pepper
Pack of frozen puff pastry
Egg, beaten
Instructions
Pre Heat Oven 400F
Defrost puff pastry.
Melt the butter in a large pot and sauté the onion and carrots for ten minutes.
Add the flour and cook the roux mixture for two minutes.
Gradually add the chicken stock, stirring well to avoid lumps.
Cook for a few minutes then add cream. sherry and seasoning to taste.
Finally add the peas and cooked chicken.
Pour the chicken mixture into a large casserole dish or individual large ramekins.
Dampen the edges of the dish/dishes and cover with the puff pastry.
Depending on which brand you have bought you may have to make a join at some point sticking the edges together with a little more water.
Trim the edges and use the trimmings to decorate the top of the pie.
Crimp the pastry round the edges of the casserole.
Remember to cut small slices in the pie to allow the steam to escape
Brush the pastry with the beaten egg.
Cook for a round 40-50 minutes or until the pastry is risen and golden brown.