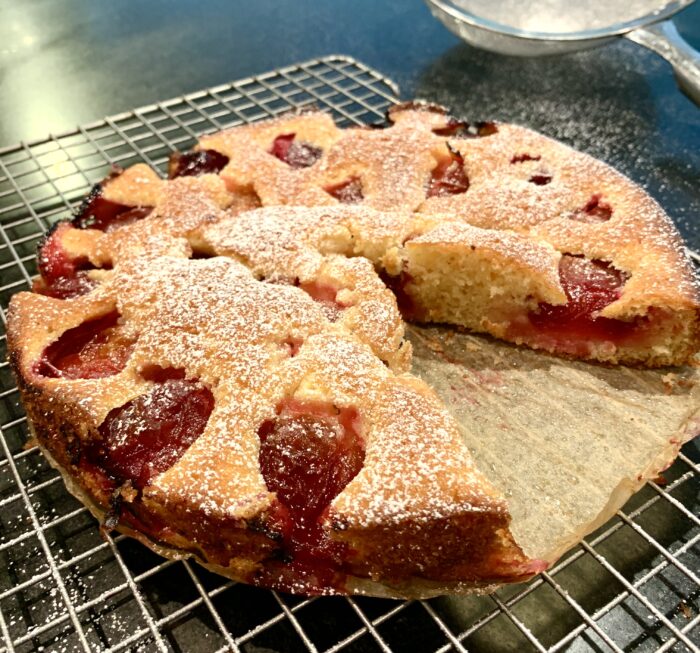 Plum Cake!
I have been making a version of plum cake or Plum Torte ever since I found the reference to the famous New York Times recipe of 1983. The recipe for Plum Torte, written by Marian Burros, was printed in the cooking section of the Times every September until 1995 and became the most requested recipe in the history of the famous east coast paper. It is a well-loved recipe, and a clipping of it from those heady days of physical print has found a home on many a fridge door.
I have offered this cake in my home both here in Copenhagen, Denmark and in Darien, Connecticut. It was a staple of many a Darien Men's Association breakfast, miss you guys, and appeared on a regular basis at tennis events.
Any time of day
I usually make plum cake as a breakfast cake. Together with scones and a fresh fruit salad, it is perfect for an informal coffee morning. It is also an easy, crowd pleaser dessert. As with all British 'puddings', plum cake is best served with Crème fraîche or a little whipped cream. Even better if the cake is still warm.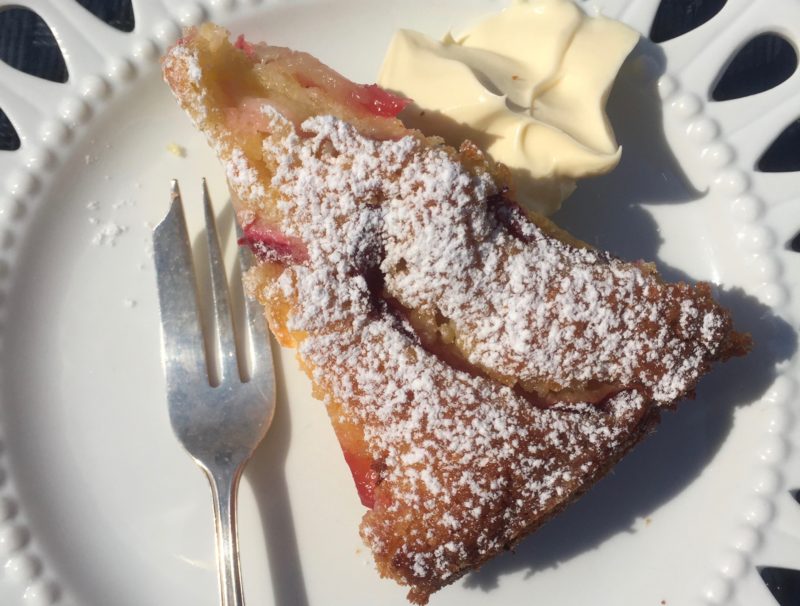 Less is More
Like many, I have adapted the recipe to make it my own. When I looked at the original ingredients I was horrified by the amount of sugar. The newest version calls for only 3/4 of a cup as opposed to a full cup and suddenly the recipe becomes a version of our old favourite, the classic Victoria Sponge. So that is the recipe I use!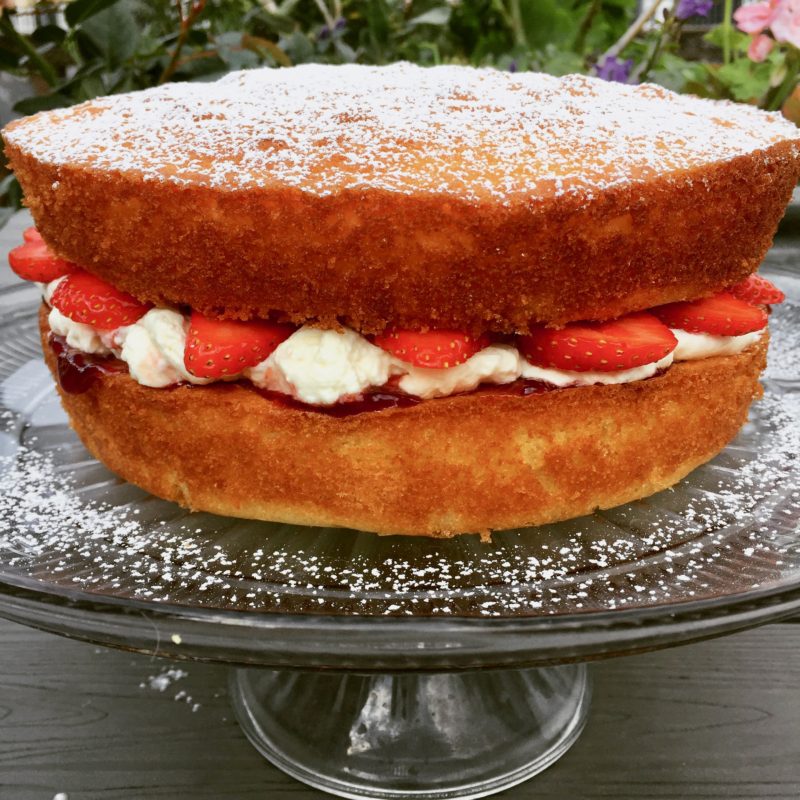 Plums, Peaches or Apricots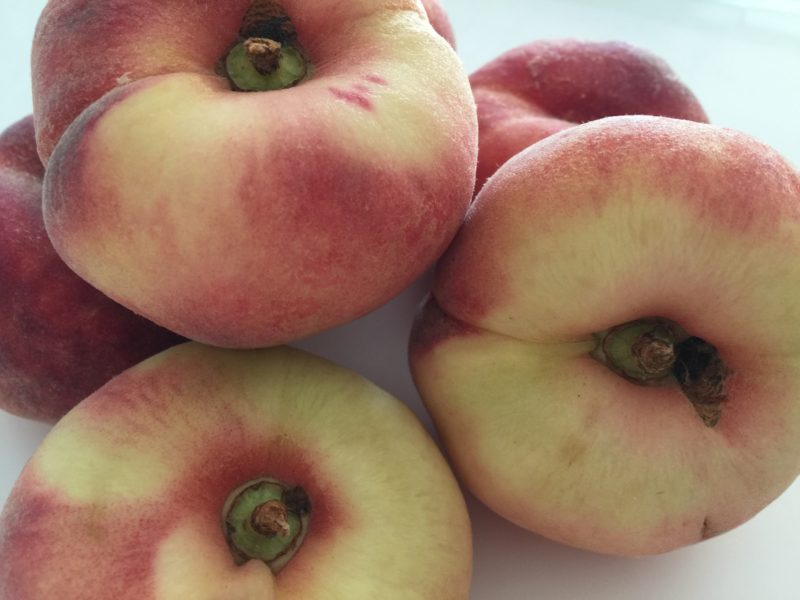 Whilst the original recipes uses small dark plums I have found that all soft stoned fruits work well. Over the summer I have made this cake with apricots, peaches and any type of plum I can lay my hands on. The picture shows the fruit sliced, but if time is short or I am feeling lazy I just cut them in half and arrange them in a single layer. If putting half on the top, putting them skin side down gives you little pools of jamminess, skin side down looks a little prettier in my humble opinion.
The cake mixture rises up around the fruit, and the fruit adds extra moisture to the cake. Now I think about it I have put cherries in this cake too! I tend to push the fruit into the mixture as if it is too prominent it can start to catch slightly.
Variations and toppings
The quick version simply uses a plain Victoria Sponge Recipe. I sometime add a little almond flour. No extra butter or eggs are required. The almond flour comes with its own oils and adds a lovely dense texture to the cake. For the sake of argument let's say I add 2 ounces, 50g or a third of a cup. Honestly, I tend to just throw some in. I have recently made this cake with equal amounts of almond meal to flour. The batter is thicker and takes longer to cook. Definitely more almond-y and richer in texture.
Likewise, the original recipe suggests topping the fruit with a little sugar, butter and cinnamon. Sometimes I do, and sometimes I do not. Sad to say, I rarely notice the difference!
Plum Cake
July 24, 2020
: 8-10
: not that hard
Perfect little sponge cake topped with plums, apricots or peaches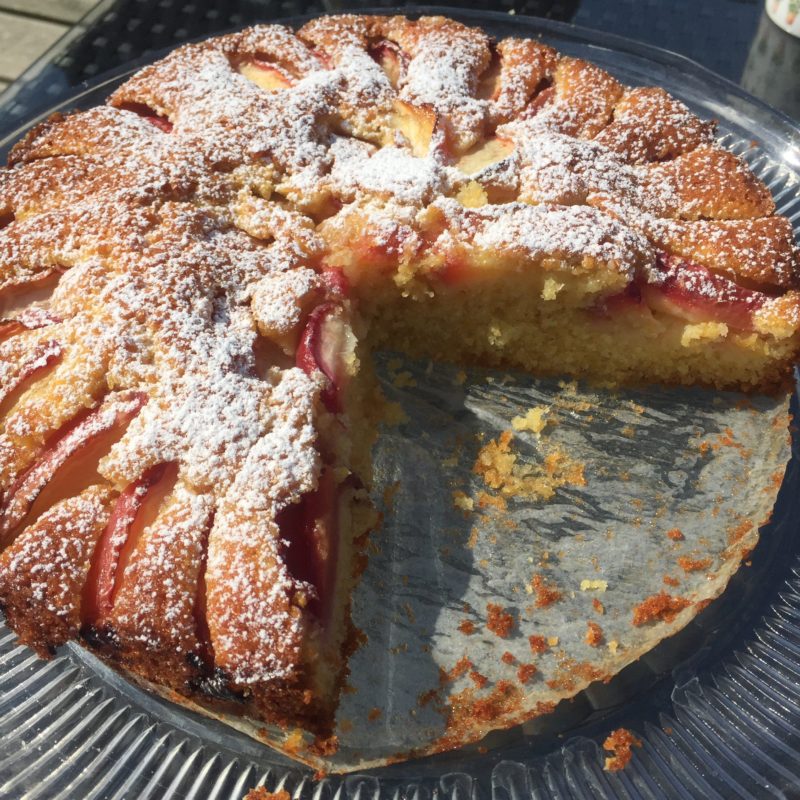 Ingredients
8 or 9 inch ( 20cm- 22.5cm) round spring form baking tin, greased and lined with parchment paper
4oz self-raising flour (110g/3/4 cup plus 1 TBS) or 4oz all purpose flour (110g/3/4 cup plus 1TBS) with 1 tsp baking powder
4oz butter (110g/1 stick) at room temperature
4oz sugar (110g)/little over 1/2 cup plus one level TBS sugar
2 eggs, beaten, at room temperature
1-2 tbs milk
2oz/55g/1/3 cup almond flour (optional)
plums, peaches or apricots
Topping (optional)
little sugar mixed with cinnamon
knob of butter
Directions
Step 1

Pre-Heat oven to 400F/200C

Step 2

Cake

Step 3

If you are using all-purpose or plain flour, cake sure to mix the baking powder thoroughly before adding the other ingredients

Step 4

Add all ingredients to a large mixing bowl and beat until you have a smooth mixture. The batter should have a 'dropping' consistency, i.e. if you take a spoon of the mixture it should 'drop' from the spoon. If the batter is a little thick, add a little more milk

Step 5

Tip mixture into the prepared tin, and smooth the top with a spoon

Step 6

Fruit

Step 7

Either slice or half fruit of choice and arrange on top of the cake batter.

Step 8

If using dot with butter and sprinkle with sugar cinnamon mix.

Step 9

Bake for 30-35 minutes until the cake if risen and a toothpick comes out clean when inserted in the middle of the cake.

Step 10

Cool in tin, then turn out onto a wire cooling rack, remove parchment paper

Step 11

Dust with confectioners sugar!
This cake really is super easy and I am sharing it now as I promised my bridge mates I would give them the recipe. On the evening of our last day we were discussing breakfast and someone asked if we could buy a coffee cake (American call any cake eaten with a cup of coffee 'coffee cake'). Well I think you can all guess my reaction, and this is the cake I produced on the last morning of their stay!
If you buy through any of the following links, I receive a small percentage of the price, at no extra cost to you. (USA only so far!)
Useful kitchen Equipment
Kitchen Scales
Although I give the cup equivalent for flour and sugar, let me recommend that you get hold of a set of inexpensive kitchen scales.
8 Inch Springform tin
Love these cut to size parchment sheets