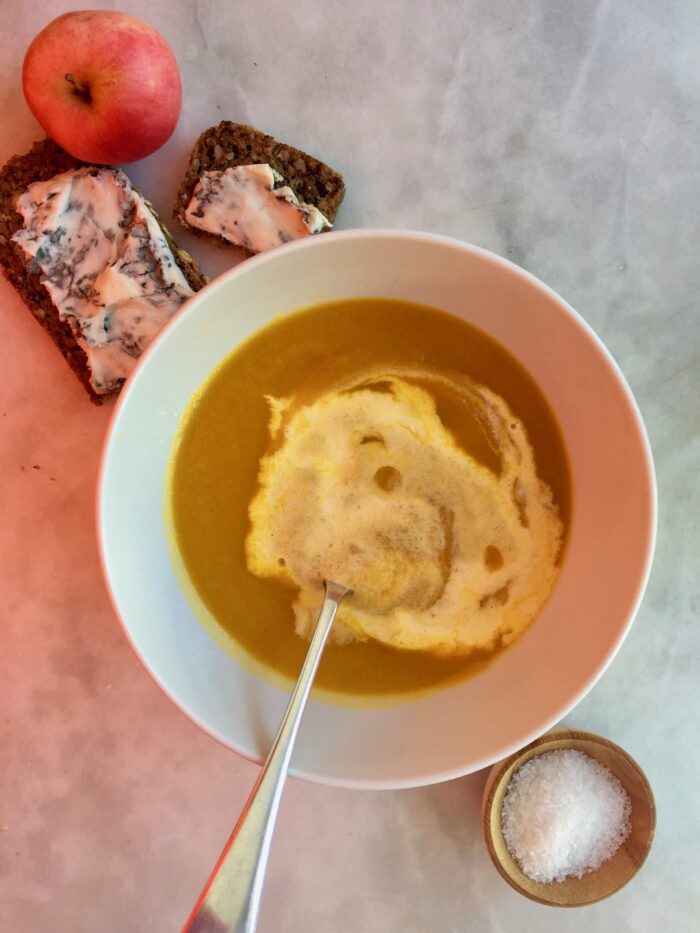 April 13th 2020
I am reposting one of my old recipes, Granda Crying's Carrot Soup, as I have just added another dodgy video to the original post. It is a perfect day for making soup. It is blowing a gale outside, and we have now two reasons to stay safe and warm inside. This recipe uses simple ingredients, and can be made in a matter of minutes. Once a week, I serve 'soup and pudding' for dinner. Pudding can be anything from fruit crumble or bread pudding the ultimate Sticky Toffee Pudding! Tonight is Rhubarb and Strawberry Crumble.
Going back to my roots!
Original Post
After a summer of traveling I feel it is time to get back to my roots and share one of my favorite soup recipes, Carrot Soup. (Roots, carrots, joke?)   My father in law (Granda Crying) taught me how to make this and my children have always loved it.
It is super easy and can be made in under an hour with the aid of bought stock.  It is extra delicious with home made chicken stock, click on the link for the recipe, but when the weather is still great outside who wants to stuck in the kitchen all day long? I make this soup extra quickly by buying the bags of little carrots that do not need to be peeled, but don't tell anyone. The potatoes thicken the soup without the need for flour.  Delicious served with crusty bread and cheese.  Alan Sr always served it with melba toast, so I have included the recipe for that too.
Granda Crying
Feel I should also share where the name Granda Crying comes from.  When the children were little, Alan, my father in law ( and yes that is also my husbands name, and incidentally my brother's although his is with two lls, that's because in Scotland we are too poor to have many names) would pretend to cry whenever the children left or were being naughty in some way.  The name stuck and twenty odd years later he is still Granda Crying.
The Legend
Granda Crying also has another name – 'The Legend'. He is famous for commenting on my son's Facebook account. All Andrew's friends think he is brilliant.  We were so pleased when 'The Legend' joined us in California for Andrew's graduation. At the Graduation party he was treated like a hero!
Scroll down for bonus classic track by Odyssey 'Going back to my Roots'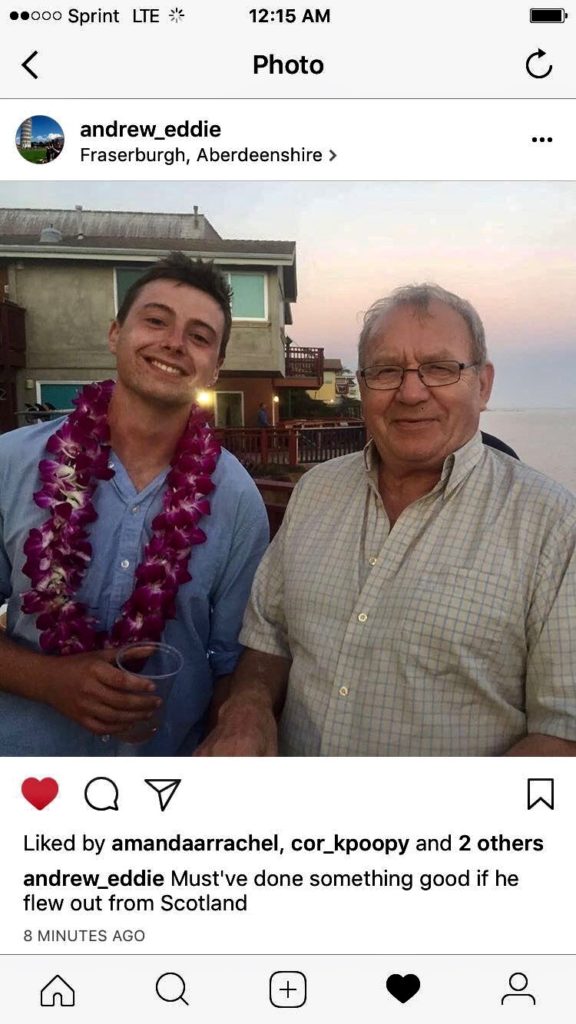 Granda Crying's Carrot soup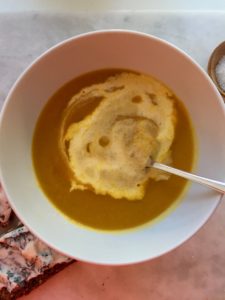 Ingredients
splash of oil
knob of butter
small onion or half a large onion, finely chopped
2 sticks of celery, finely chopped
2 medium sized old potatoes, cubed
11/2 pounds/750g carrots, peeled. topped and tailed and sliced
approximately a quart of chicken stock, buy maybe a little more depending on how thick you like your soup ( you may also use vegetable)
heavy or double cream to finish
Directions
Step 1

In a large pan melt the butter and add the oil, heat gently

Step 2

Throw in all the vegetables and saute for 5-10 minutes, taking care not to allow them to colour.

Step 3

Add the stock, taking care to fully cover the vegetables.

Step 4

Simmer until the carrots and potatoes are fully cooked.

Step 5

Puree with an immersion blender until smooth, adding a little more stock if it seems too thick.

Step 6

Season with salt and pepper to taste.

Step 7

Pour hot soup into a bowl and finish with a swirl of cream.

Step 8

Serve with some crusty bread.
.
Melba Toast
Directions
Step 1

Toast the bread lightly

Step 2

Cut off the crusts, then cut the toast through the doughy part.

Step 3

Cut each side into 4 triangles.

Step 4

Toast the uncooked side under a preheated grill until brown.

Step 5

Serve with butter!