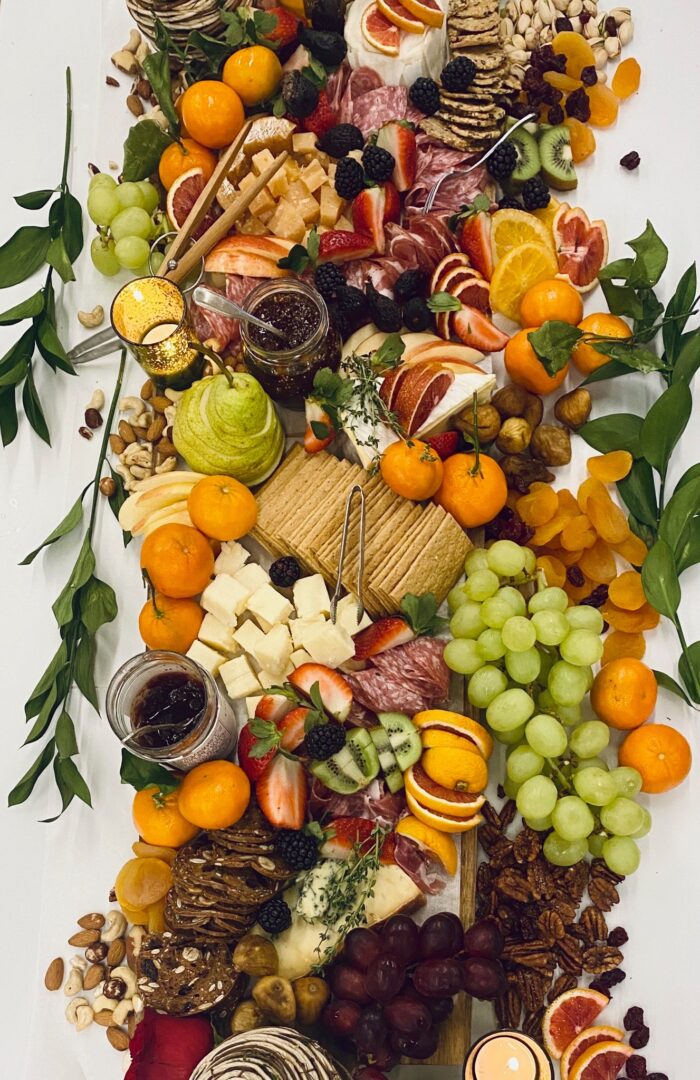 The Big New Trend!
Since I have returned from Copenhagen, I have been having a lot of fun with a new trend in cheeseboards. Let me introduce you to The Grazing Table.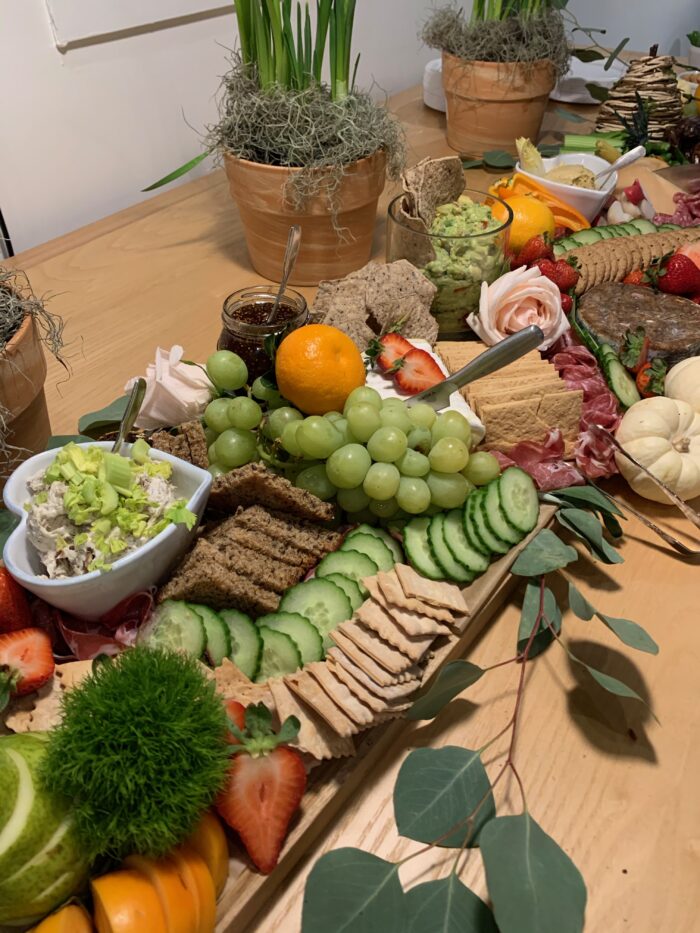 My catering partner in crime, Charlotte, introduced me to the concept. The idea, which originated in Australia, takes all the elements of cheese, charcuterie and crudities platters and artfully arranges them directly on a board or tray. Seasonal fruit, herbs and flowers are added to create an edible work of art.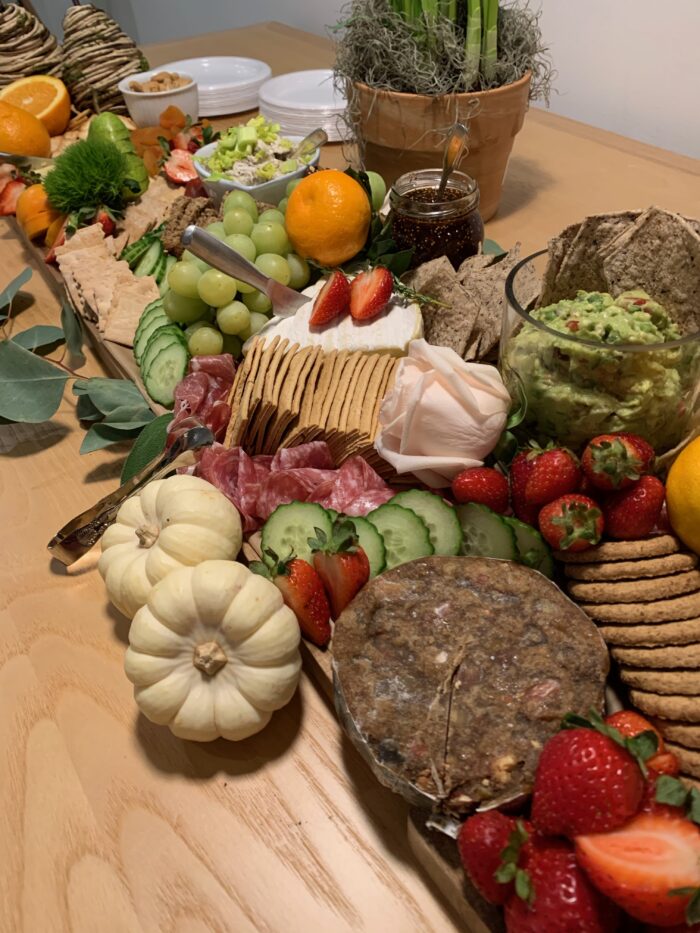 The tray in the first picture came from Costco, and Home Goods also have a great selection of fun serving pieces. Line the tray with parchment paper and let's get started!
Begin with cheese!
When putting together a grazing platter, I always select an assortment of cheeses with different textures, flavors and shapes. The following cheeses are my favorites for the holiday season, all from the fabulous Darien Cheese Shop. Paired with champagne, wine and port, a grazing board is a great way to start any holiday party.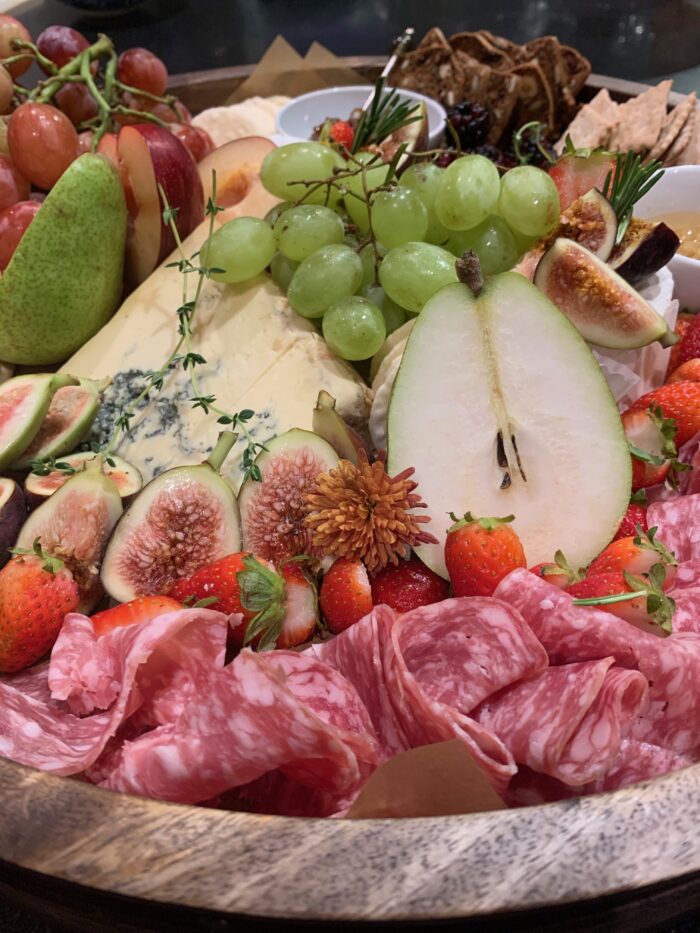 My Favorite Cheeses!
Creme de Lyon, a cow's milk double crème. is a Brie like cheese with a smooth creamy texture and fabulous rich taste. Pair it with fig jam and my favorite crackers from Urban Oven (Palmers/Wholefoods). Add strawberries, grapes and fresh figs. Drink Champagne!
Ewephoria, a hard sheep's cheese, is a Dutch caramelized Gouda, which has been specially created for the American market and is slightly sweet and nutty. Great with chutney, plums and the sourdough flatbreads from the Rustic Bakery (Cheese Shop). Other options are Old Amsterdam, a classic Dutch gouda or a cheddar from the Isle of Mull. Great with Sauvignon Blanc.
Stilton is an English creamy blue cheese, made with cow's milk, with a mellow flavor and is traditionally served at Christmas with port. Pair with pears, apples, walnuts and Bath Oval Biscuits (Cheese shop). Also works well with big reds.
I always include a goat cheese to balance out the cheeseboard, generally based upon appearance. I like the ones rolled in ash. My current goto, however, is Le Tur, a blend of goat, sheep and cow's milk. Serve with local honey, my new obsession, and Rainforest Crisps (Palmers and Wholefoods, sorry).  Fresh and dried figs and dates compliment these types of cheeses!
Trader Joe Cheese
You can a couple of really fun cheeses to use on your board. One of my favs is Unexpected Cheddar, a mild crumbly cheddar with an amazing flavor. You can also find a slicing brie, which looks great on a board, and some purple cheeses a gouda and a cranberry goat which also slice well. Pro tip, freeze the goat cheese for twenty minutes and it will slice much more easily.
My favorite breads to use are the nut and fruit breads, such as pecan and cranberry.  Add a selection of salamis to your cheeses. The perceived wisdom seems to run a salami 'river' through the board. Trader Joes do a nice selection, which is reasonably priced.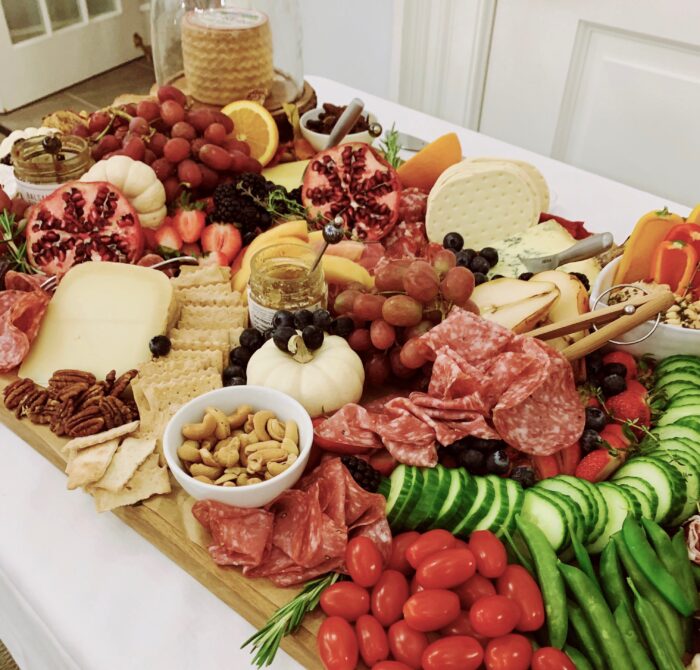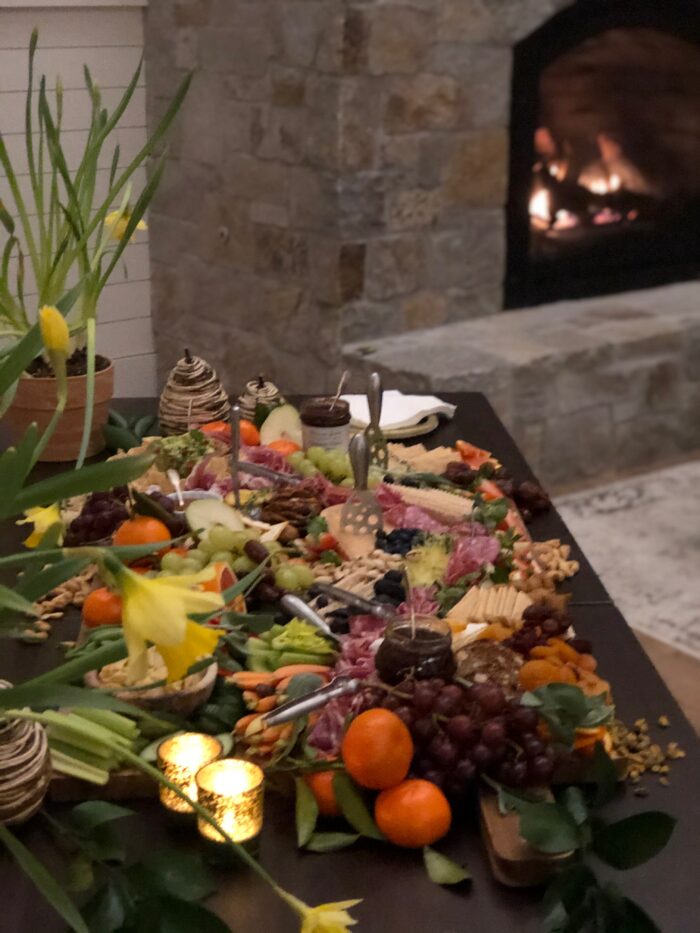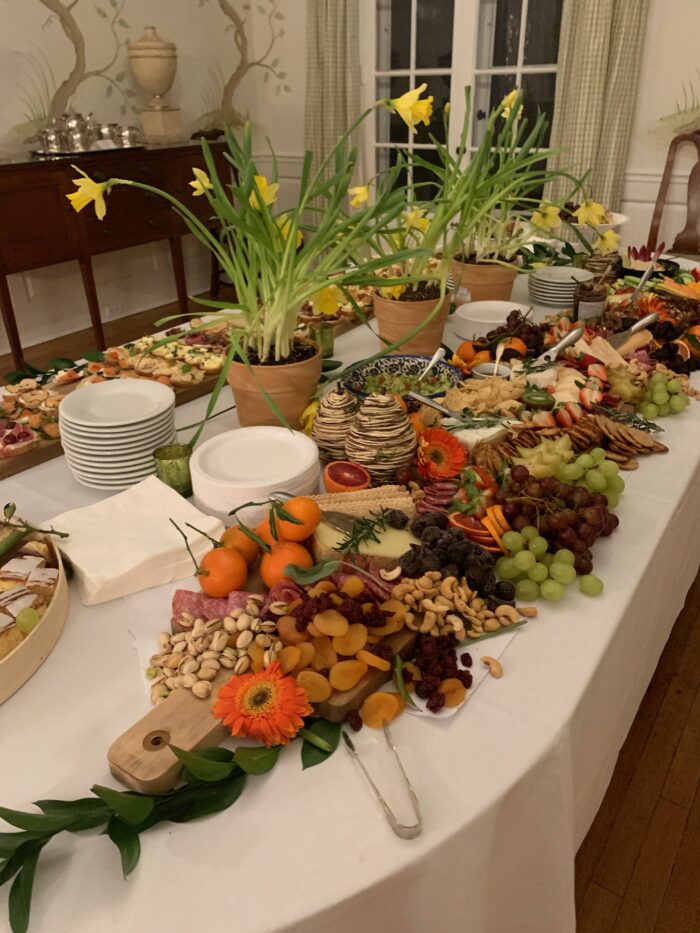 Add Crudities and Fresh Fruit
I like to incorporate some vegetables, such as carrots (great tricolor ones are on sale at Trader Joes), cucumber, mini peppers and endive, arranged around a hummus or ranch dip. Up your game and make (or buy) guacamole. I sometimes add a little coronation chicken with some bread if I have any left over from a lunch. Flank the cheeses and meats with seasonal fruits such as pears, plums and pomegranates cut length ways. Squeeze in some olives, cornichons and then scatter some chips and nuts to fill in any spaces. (love the multicolor Terra Chips.) Add some fresh greens or herbs and Voilá!