More fabulous ways to eat your porridge!
I just wanted to share what I have been doing with porridge recently, so this an official 'oatmeal update'.  In my post about Auld Clothes and Porridge, I mentioned the new porridge restaurant in Copenhagen names Grød.  It has started serving oatmeal topped with all sorts of things such as apples and Dulche de Leche or caramel sauce, so I started experimenting at home. Turns out the team at Grød (Danish for porridge) are total geniuses. A little drizzle of caramel, with both apples and bananas, is absolutely delicious, and adds just the right amount of sweetness. I love caramel and I am officially adding it to my list of obsessions along with mashed potatoes and sausages.
For those of you not following me on instagram, I have pictures of the various combinations I have tried recently. They are all unbelievably good.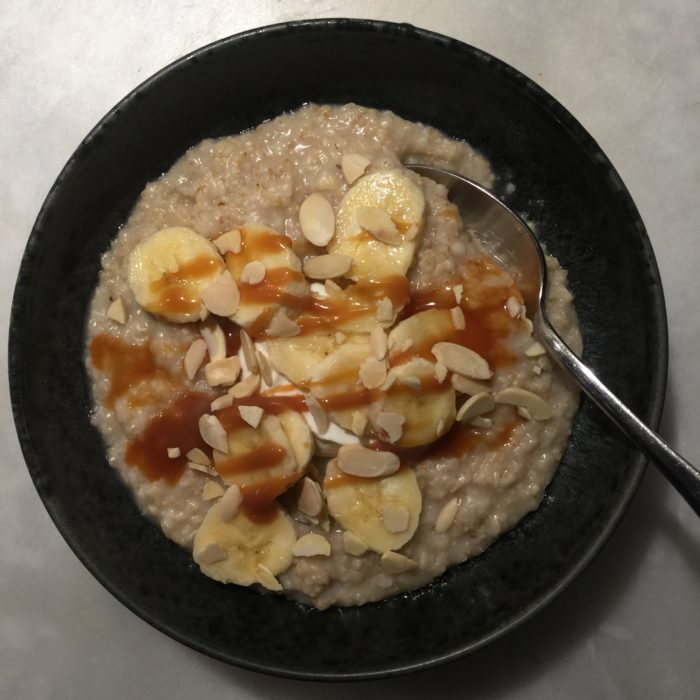 Porridge with Bananas, Creme Fraiche, Caramel and Slivered Almonds
Add a dollop of creme fraiche or plain greek yogurt and top with sliced bananas, caramel sauce and slivered almonds (Thank you Trader Joes).
A variation, suggested by Kat,  is to slice the bananas into the oatmeal whilst you are cooking it.  You get a banana flavored porridge, yum.
(I must also mention that I have bought new bowls, pictured above, and I am in love with them.  I have spent the last year gazing at them in Illums, the fabulous department store in the center of Copenhagen. They are ceramic, totally on trend in Copenhagen, and the sort of thing used by most restaurants around town. I finally bought a few, I can only carry so much, and cannot believe how much joy they are giving me. Once I brought them home, I discovered that the father and son team, K H Wurtz, who make each piece by hand was discovered by Rene of NOMA. They are now used world wide by top restaurants and only sold at a few locations. That might explain the ridiculous price tag, although worth every penny.)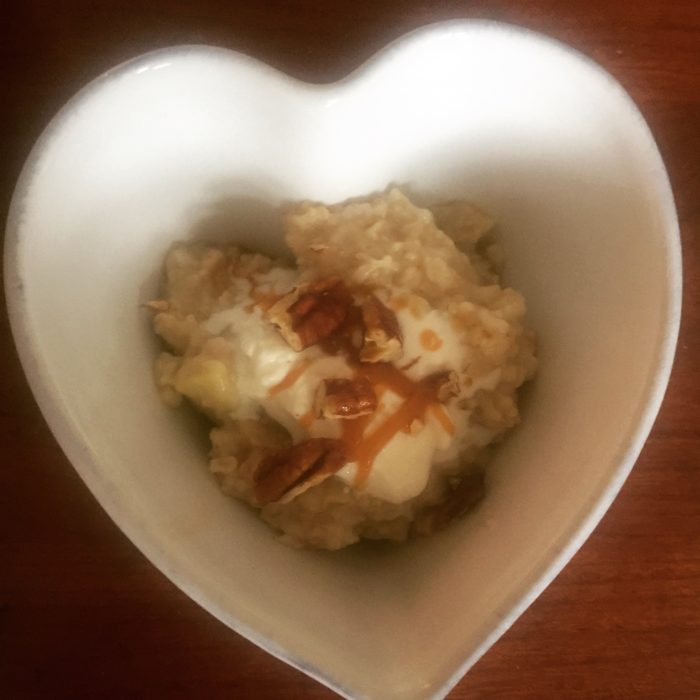 Porridge with Cooked Apples, Caramel, Creme Fraiche and Pecans
This version has bits of apples cooked with the oatmeal to give an apple flavored oatmeal.  Alternatively you could add chopped apples or even apple sauce once the oatmeal is cooked. Again, top with creme fraiche or plain greek yogurt, caramel sauce and chopped pecans (thank you Trader Joes). If the caramel sauce is beyond you, a little brown sugar would be wonderful too.
The super cute heart bowls are from the White Company, a fabulous UK company that delivers to the US.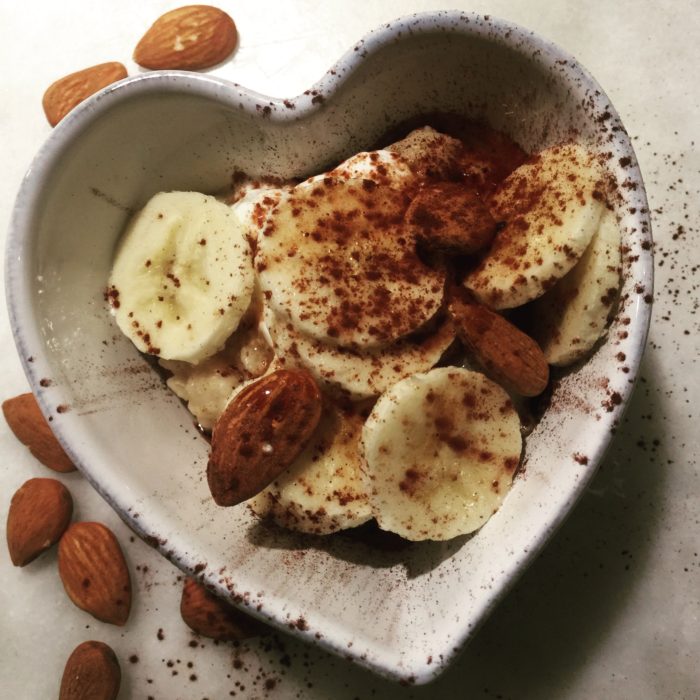 Porridge with Bananas, Cocoa and Almonds
My final photo is of porridge, again topped with our friend greek yogurt, bananas, I think a tiny drizzle of maple syrup, whole almonds and a dusting of cocoa powder.  So good!
As you can see there really are no rules.
Rule No 1
Please try using creme fraiche, plain greek yogurt or skyr, the new yogurt from Iceland. They are proteins and are a fabulous addition to the oatmeal, especially when mixed with fruit and nuts. Avoid the sweet, sugar filled vanilla yogurts which overwhelm the taste buds and have little heath benefits. The tartness of the plain yogurt is wonderful, and, together with a LITTLE maple syrup (or your favourite healthy syrup) or caramel sauce, provides a satisfying rich creamy mouthfeel.
Caramel Sauce
I make my own caramel sauce. I have a jar which I keep in the fridge and use to add a little sweetness here and there ( Not just for Christmas Pavlova and Brandy Baskets). You can buy caramel sauce, but once you have mastered the technique of making it, there is no need as a once made it will keeps for weeks.
Caramel Sauce
A delicious sauce to have in the fridge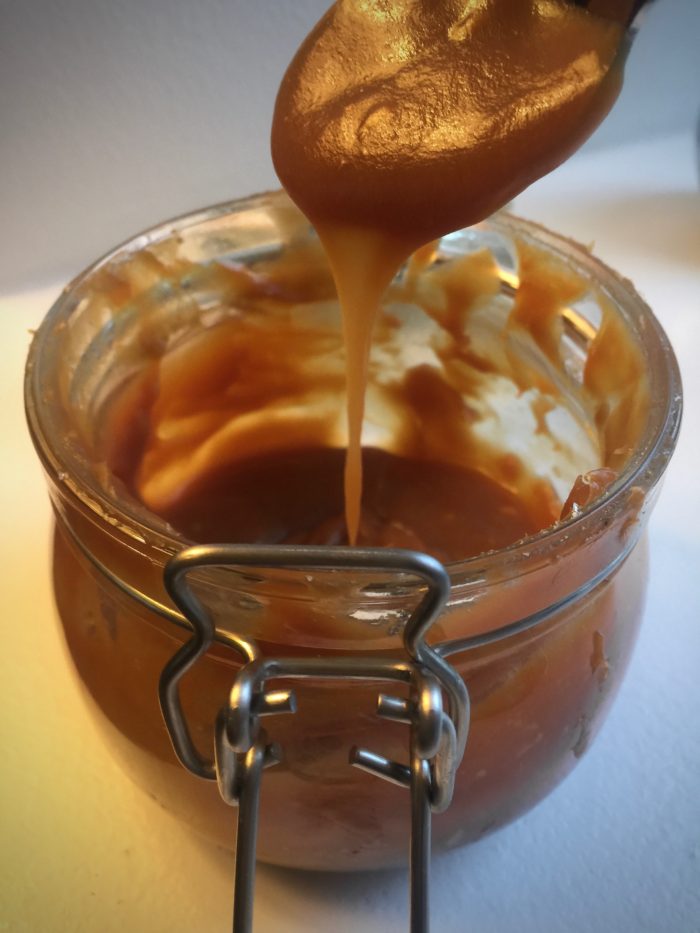 Ingredients
101/2oz/300g/11/2 cups sugar
3fl oz/80ml/1/3 cup water
10 fl oz/310ml/11/4 cup heavy cream
splash of vinegar or lemon juice
Directions
Step 1

In a heavy bottomed pan add sugar, water and a little splash of vinegar.

Step 2

Melt the sugar over a low heat until it is dissolved, without stirring, again I say do not stir as this only produces crystals, fine for a chemistry experiment, but not caramel.

Step 3

Increase heat to medium and boil until sugar turns a deep brown, pay attention as mixture goes from perfect to burnt very quickly. 5-7 minutes

Step 4

Be careful caramel is very hot!

Step 5

Once it has reached the desired color take pan off heat.

Step 6

Slowly add the cream, which will make the caramel, it will react with the cream and do a little volcano thing,

Step 7

Return pan to a low heat and, stir until the mixture is smooth and glossy.

Step 8

Leave to thicken for a couple of hours
CARAMEL