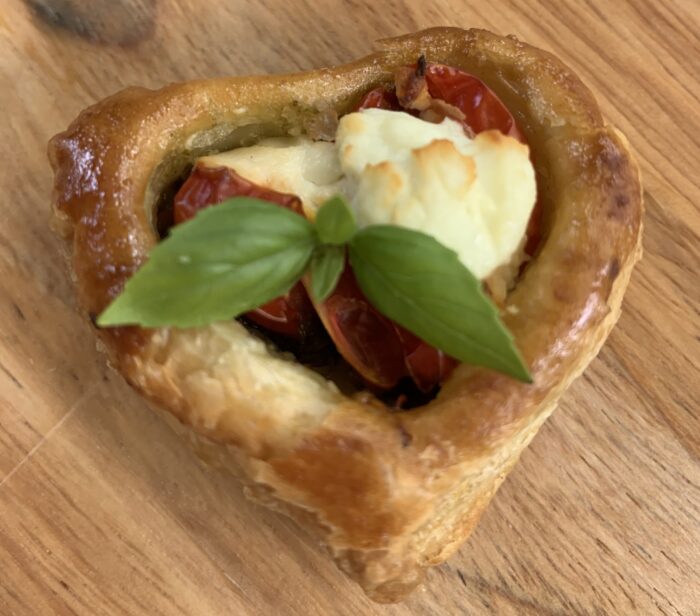 I love these little heart shaped tarts. I make them as an Amuse Bouche for for my Afternoon Teas at the Darien Community Association ( DCA). They are a perfect size and super cute, a fancy vol-au-vent, that retro party favorite.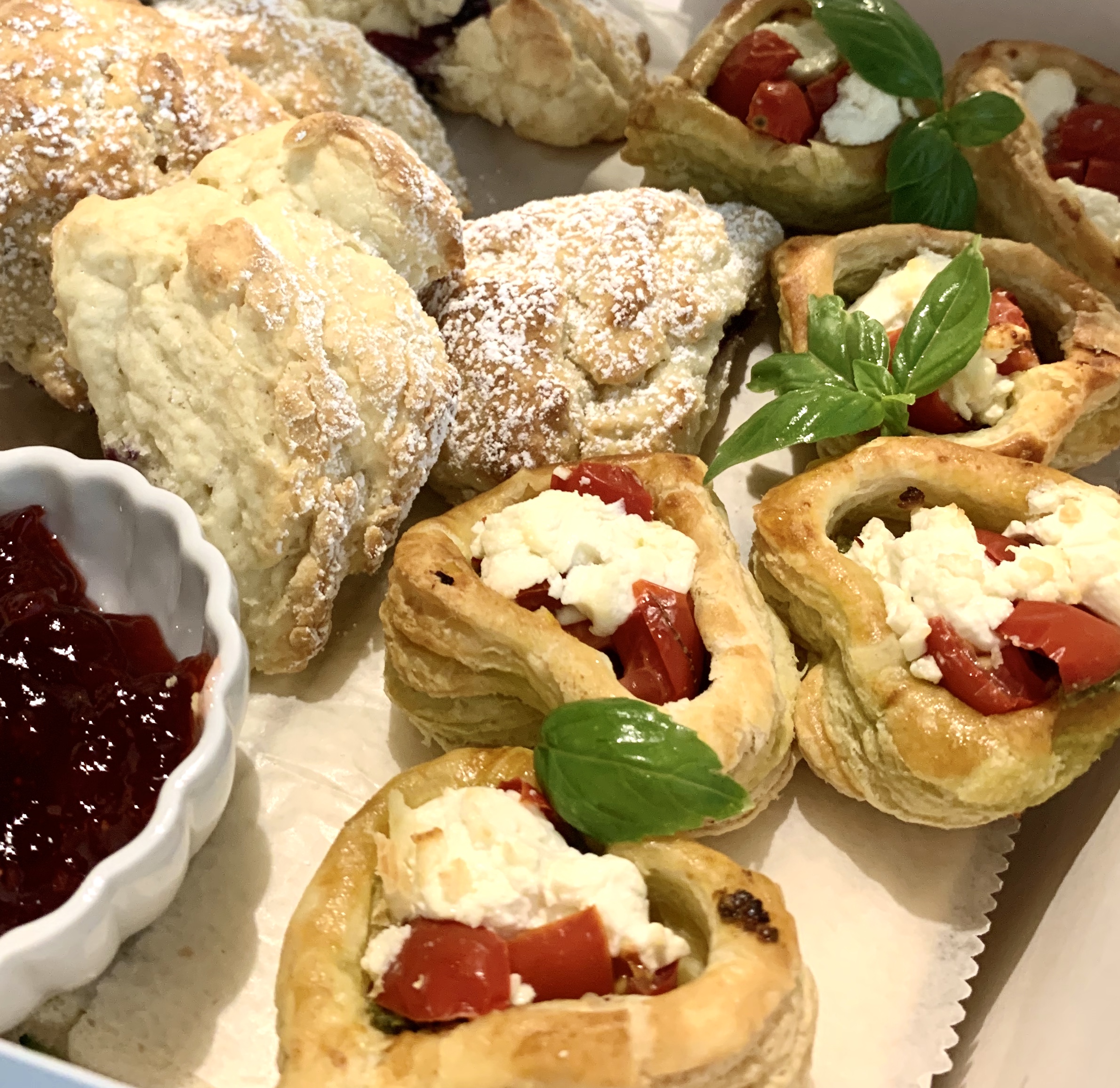 I have just made a video for the DCA, showing how easy they are to put together. In the video, I think I make seven. When we are offering Afternoon Tea, we generally make one hundred!
Although my recipe calls for pesto, goat cheese and tomato, feel free to experiment. Mushroom, onion and bacon would be great too, maybe with some gruyere? At Christmas, I often fill the tarts with brie and cranberries. Also do not be bound by the heart shape, round would be perfectly acceptable too. If you like the heart shapes, I have found some good cutters on Amazon, and have listed them at the bottom of the page.
Pesto and Goat Cheese Hearts
Ingredients
Makes approximately 17 hearts
1 pack of frozen puff pastry, I use Pepperidge Farm
Small log of goat cheese
Pesto, I love the one from Costco and, obviously the one from the Darien Cheese shop is fantastic.
Baby tomatoes, quartered
1 Egg, beaten,
To Finish
Fresh basil
Pine nuts would be great on these too, totally optional
Method
Pre heat oven to 400F
I love the silicone tray liners and use them with pastry. They seem to really spread the heat evenly and help you avoid the dreaded soggy bottom.
Defrost pastry and, with the larger heart shaped cutter, cut as many hearts as you can from both sheets.
In half the hearts cut out a smaller heart from the middle of the larger heart. I always cook the tiny hearts, sprinkle them with some parmesan and use for a small nibble, but it is the 'outside' heart that you need to use for this recipe.
Place the uncut hearts on a baking tray which is either lined with parchment paper or one of the silicon liners.
Dampen the edges of the hearts with a little water and place the cut out hearts on top.
Prick the inside of the hearts to stop them puffing up too much during cooking.
Brush with egg.
Cook for approximately 8-10 mins until the pastry is risen and a golden brown color. Leave to cool.
Fill each heart with a scant teaspoon of pesto, some crumbled goat cheese and two to three quarters of tomatoes.
Return to the oven and bake until the edges of the cheese are just starting to catch, again 8-10 minutes.
Garnish with a little basil and pine nuts and serve.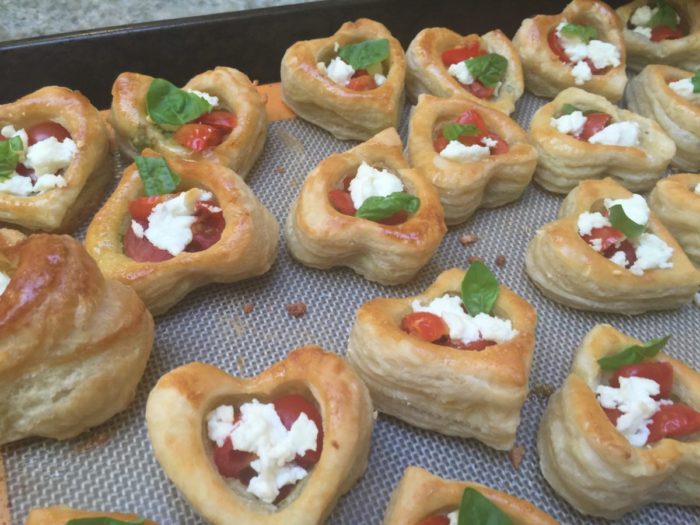 Pastry hearts, silicone liners and precut baking parchment sheets
I thought I would gather the products that I use in this recipe, love the pre cut parchment. You can see in the video of the recipe, that I ran out over the lockdown. I did not want to order anything non essential.
I am an affiliate of the products that I occasionally promote on this website. What this means is that if you purchase a product by clicking on a link or image on this website, I may earn a small affiliate commission. (This is like a referral fee). There is no additional cost to you.
I think these heart shaped cutters would work best for this recipe
These silicone sheets are brilliant for baking.
However, my new favorite is the precut parchment sheets. No more searching for scissors and having to patch sheets as you have ripped the paper into a slightly too small size